Rancho Cordova, CA
Hangtown Motocross Classic
Lucas Oil AMA Pro Motocross Championship
The great outdoors are back! The 2012 Lucas Oil Pro Motocross Championship kicked off with a bang at the FMF Hangtown Motocross Classic, presented by Coors Light this past weekend. The supercross season is pretty long with seventeen races in eighteen weekends, but the outdoors, well, that's another animal all together. Five weeks in a row, two weeks off, three in a row, two weeks off, two more, one week off and then to wrap it up, two in a row. In short, there's not a lot of rest for any of the guys. The races are hot, they're long, the tracks are rough and it's a real hardship on your machine.
How do I know? I did it for twelve years! I was a mechanic for twelve seasons on the tour and I can tell you firsthand that the outdoor series is really, really, really hard. The mechanics and team personnel are working 12-hour days in the sun, the riders are pushing themselves to the limit and it's not uncommon to see guys walking around after the races with cotton balls taped to their arms where they had just gotten an IV in order to avoid feeling like a zombie. I've seen riders pass out on and off the track, riders throw up on and off the track from exhaustion and I've seen the weirdest things break on bikes because of the heat and impacts.
For example, at Binghamton in 2001 my rider Kelly Smith was running fifth when his bike would just quit for a few seconds and then resume running at a normal pace. After it started getting worse and worse, he was forced to pull in but when I checked it out, there was nothing outwardly wrong. Upon closer inspection back in the pits however, it was discovered that the choke had backed out of the carb. The choke! Whoever heard of that coming loose? Welcome to the outdoors. What about in '04 when Tim Ferry was running third at Unadilla and the brass insert that goes into the petcock (the valve on the tank the fuel line attaches to) just wiggled its way loose, pouring fuel everywhere? Welcome to the outdoors. And lastly, at Hangtown in '05 Ferry was once again running third when, with three laps left, the main bearing retainer plate screw's head snapped off and he DNF'd. We had brand new cases that weekend, too. Welcome to the outdoors people. The tagline for the outdoors should be "The 2012 Lucas Oil Pro Motocross Championships- Where you push your bike and body so much, weird shit happens!" I'm no marketing major but that would work, methinks.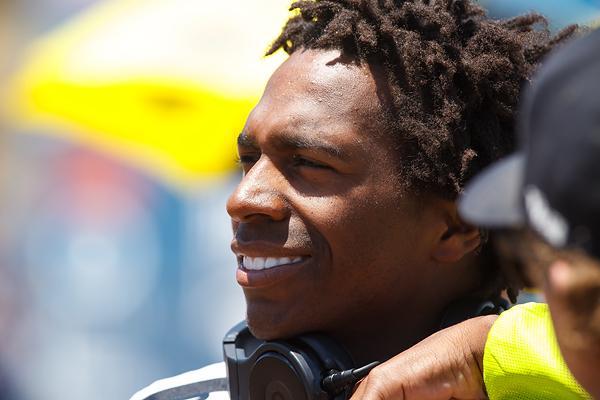 Stewart was impressive in his return to the Nationals.
Simon Cudby photo
Hangtown has come a long way from its early days. And by early I mean since I was going there in 1996. That's practically the pioneer wagon-wheel era nowadays, kids have no reference point beyond Ricky Carmichael! Back in the day the Yamaha guys told me they were testing with Damon Bradshaw at Hangtown when one of the guys that ran things asked Bradshaw what they could do to make the track better and Bradshaw said, "Put a closed sign on it," which apparently crushed the guy. Anyways, I've ridden Hangtown the day after the National a few times back in the day and it was terrible. Hard pack and slippery with dust thrown in, the place was not good. The last seven to eight years have seen a remarkable improvement; it's watered better, rice hulls and sawdust are thrown down, the track layout has changed for the better (except the silly year they had 180 degree corners strung together to make an "S" section that was terribly one-lined) and it's a pretty good track. But even still, by the end of the second motos the old mistress makes an appearance. The hard pack shows up, the ruts and the bumps come up and it turns into a pretty tough track.
The sport was rocked by the news of James Stewart leaving JGR Toyota Yamaha to go to Yoshimura Suzuki a couple of weeks ago (or if you read my stuff, you knew this was going down for a while and no, I'm not tooting my own horn here. Let's just say my sources were pretty strong), and then rocked further by the news he was racing outdoors this year. So going into Hangtown the questions were out there, big ones like:
1-  Was it really the Yamaha that caused Stewart's winning percentage to fall from something like 93 percent to the Mendoza line?
2-  Is it really the bike?
3-  Was he in shape to do the Nationals for the first time full time since 2008?
4-  Was there enough time to test with the factory Suzuki guys and get the bike to where he wanted it?
5-  C'mon, the bike? Really?
Well, Virginia, I think we got the answers to the questions above when Stewart went 1-1 at Hangtown in pretty dominating fashion. I myself thought that James was obviously going to be fast, and there was only going to be one guy out there that could beat him. But could Stewart stay off the ground, something he hadn't really been able to do on the Yamaha? The time on the bike wasn't that big of a deal, he's been riding a Suzuki (that he bought) at his house and he knows the stock bike pretty well. The two questions I had were, was he going to stay on two wheels, and was he going to be in shape?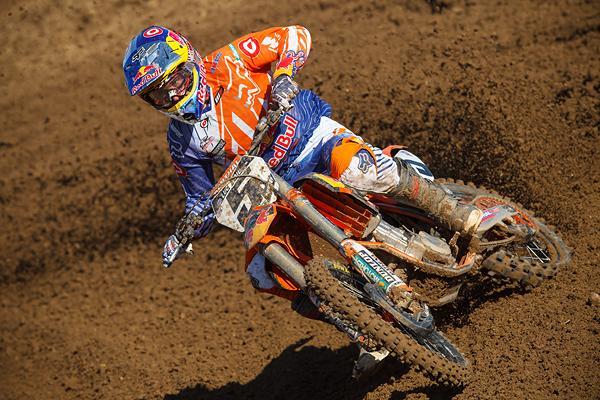 Ryan Dungey came to play at the opener, finishing second behind Stewart.
Simon Cudby photo
I took some flack on Twitter for saying that he looked like he was cruising and surely had another gear if he needed it, but it was true. And none other than Mitch Payton said the same thing on the Pulpmx Show on Monday night. Maybe you can call me a dummy for saying Stewart had more in the tank, but there's no way you could possibly think Payton is a dummy. Stewart looked effortless out there! He was pushed by Ryan Dungey a bit (more on him later), but he really looked as amazing as one could look. No crashing, no obvious fatigue setting in, and it was quite a ride, all things considered.
This just in, that sound you hear is the marketing people at Yamaha jumping out of their windows on the second floor in Cypress, California. It appears that whatever it was that troubled Stewart for the last two years in supercross was fixed by the move to Suzuki. I know it's early, but stamp it people. James bet on himself with this move and it paid off, big time. His skills are fine, his fitness is fine and he's just going to get faster.
Is he going to go 24-0 like the last time he raced motocross? No chance of that because Ryan Dungey will beat him at some point this summer. He may even beat him as soon as this weekend, because for as good as James was, let's not forget that Dungey was also riding his first motocross race on the KTM, and his speed will certainly improve as well. It looked a little jumpy out there to my trained eye (try not to laugh right there please).
I think Dungey was getting ready to make a push late in the moto to really test Stewart's fitness, but some lappers got in his way in the absolute worst part of the track and cost him some time. That was it for the push and he had to settle for second. It's got to be a bit discouraging for Dungey to be passed by Stewart in the second moto, but then again, it's early and I think if I was Dungey I would have approached the race the same way. Just ride behind Stewart and test his fitness and ability to handle pressure, which is something other riders feel is his weakness. Dungey knows, I know, and everyone else in the free world knows, that Dungey can go 30+2 at an insane speed. The first battle went to Stewart, but you know that Dungey is going to get a few of these before it's all over. This weekend in Texas is a track that Dungey really rides well and it's going to be hot as balls there. He'll be on point, and we'll see what Stewart has got this weekend.
Stewart's old teammate, Davi Millsaps, got second in the first moto in a great ride which forced Dungey to settle for third. Millsaps really rode great on the Yamaha, and don't think for a second that I didn't hear a JGR guy tell me that JS7 would have won on their bike too, because Millsaps' second place in the first moto is proof that the bike works well. They're somewhat right, but Stewie himself didn't believe in it, and that's all it takes. Anyways, back to Millsaps and his great ride. Dungey was on him when he dropped his lap times by three seconds late in the race to secure the second spot. Millsaps has always been fast at Hangtown and even though he says he doesn't like it, the proof is there that somewhere deep down, he does. If he hadn't fallen in the second moto, we would have seen him involved in a great battle.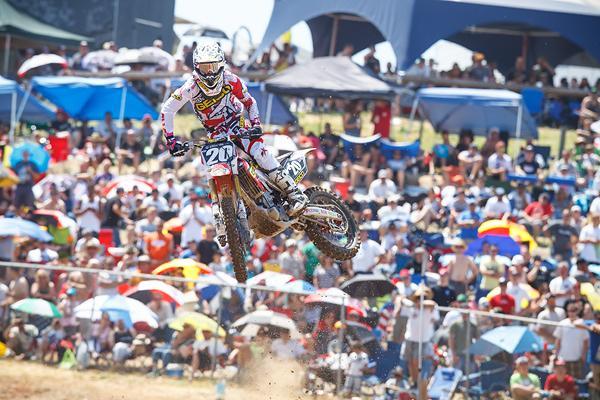 Justin Barcia lead the charge for GEICO Honda at Hangtown finishing second overall.
Simon Cudby photo
Coming into the season, we thought that the race for third would be good, and at Hangtown, it was. Brett Metcalfe, Andrew Short and Mike Alessi all tied for third overall with Alessi getting nod due to his superior second-moto performance. A 7-3 moto score is certainly a unique way to do it, but hey, good on the 800 and the MotoConcepts Team. Short caught and passed Metcalfe with only about a half lap left to make the tie for third, and what a bummer for Metty. He was that close to standing on the box with Stewart at the end of the day, which certainly would have made Yoshimura Suzuki team manager Mike Webb burst into tears and spontaneously start hugging everyone within reach.
Webb's got to be smiling inside with this Stewart thing. A longtime Suzuki employee, Webb inherited Ryan Dungey and his title defense after Roger DeCoster and Ian Harrison left, and found himself in a no-win position. It showed, as Dungey never really trusted him or put his belief in Webb to get the job done. I remember talking to him at RedBud last year and he was pretty much resigned to Dungey leaving. He made a comment about how DeCoster's bikes have broken, and that he doesn't walk on water. You could sense the frustration in his voice as he wanted to be on the same wavelength with Dungey but it just wasn't happening. And now, with the signing of Stewart, he was risking a lot in the fact that it wasn't the rider, it was the bike. As Glen Frey would say, the heat was on.
Alessi didn't look good in the first moto, as he quickly went backwards. He told me after the first moto that he wasn't happy with the performance of his bike, and MB1 Suspension went to work for the second moto. Whatever they did worked wonders because Alessi was a different guy in moto two, bringing it home for a solid third. Yeah, he was 25 seconds off Dungey but guess what? He was still hauling ass out there.
Let's take a look at the results shall we?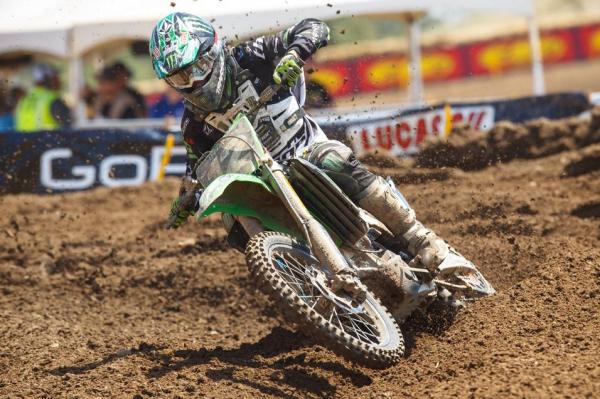 But at the end of the day it was Blake Baggett that took the overall.
Simon Cudby photo
250 Overall
1. Blake Baggett Kaw 1-1 - Baggett's ride at Hangtown was unbelievably ridiculous. He came from the back and Justin Barcia and Ken Roczen were powerless against his charge. Second moto, he dominated by a big margin. It was a perfect way to start the year, but remember, last year he was also pretty good at the opener. We know he can ride well at Hangtown, and we know he can come from the back. This was stuff he showed us last year before he faded a bit. The thing working in his favor is there is no Tyla Rattray or Dean Wilson, who were the only guys that could run with him last year. Maybe Baggett walks to the title, maybe not, but this Hangtown race, this was the Mona Lisa of outdoor riding.
2. Justin Barcia Hon 3-2 - Bam Bam was solid, but I expected a bit more fight out of him. But hey, it's the first round, no need for silliness at this point.
3. Ken Roczen KTM 2-3 - Roczen's the real deal. In other news, the earth is round.
4. Ivan Tedesco Kaw 6-5 - Besides the terrible, skinny number 9 iron-ons, there was nothing bad about Tedesco's day. 6-5 for fourth is being rewarded a bit by the moto gods, but he still did better, with limited time on the bike, than most people thought he would.
5. Eli Tomac Hon 4-10 - Tomac faded a bit in the first moto, and went down in the first turn in the second moto. The real test will come this weekend in Texas where the heat has already claimed Tomac two years in a row.
6. Martin Davalos Suz 14-4
7. Kyle Cunningham Yam 9-8 - Cunningham twisted an ankle, I guess pretty badly, in one of the motos, so these are good finishes for him.
8. Jason Anderson Suz 8-9 - This is what Anderson needs to do, just get top tens and everything will be fine.
9. Marvin Musquin KTM 5-14 - Marvin faded badly in the second moto, which is very uncharacteristic of him. I checked in with ace tuner Frankie, and he said that Musquin's hand (which was in a cast last week) bothered him on the rough track.
10. Wil Hahn Hon 7-13 - Wilbur went down in the first turn so a thirteenth is a nice comeback for him. What if you're Hahn and you read the PR saying that GEICO Powersports Honda has signed amateur Zach Bell for next season? This is coming on the knowledge that Zach Osborne has signed with them as well (GEICO is going to have two riders named Zach on their team next year, that's got to be some sort of record). You know Justin Bogle isn't going anywhere and chances are that Eli Tomac is going to stay, so, yeah, that means Wil is out. Tough deal but it's the way our sport works.
11. Jake Canada Hon 10-11 - I could have sworn that I heard Canada was going to ride the 450 class outdoors, but when I asked MotoConcepts team owner Mike Genova about it, he looked at me like I was nuts.
12. Blake Wharton Suz 16-6
13. Travis Baker Hon 15-12 - Good ride for Baker.
14. Gareth Swanepoel Yam 12-15
15. Justin Bogle Hon 21-7- I guess Bogle had a bad crash in practice that left him shook up. We'll see more out of him soon.
16. Jessy Nelson Hon 13-17 - Did you know that Nelson only has one thumb? Yeah! Gnarly! I want to see it.
17. Kyle Peters Yam 11-30 - Peters was right out front early in the first moto before dropping back a bit. You've got to get a taste of that speed before you can make it work.
18. Hunter Hewitt Suz 17-16
19. AJ Catanzaro KTM 18-18
20. Shane Sewell KTM 19-19 - Life is better with a Sewell brother inside the top twenty.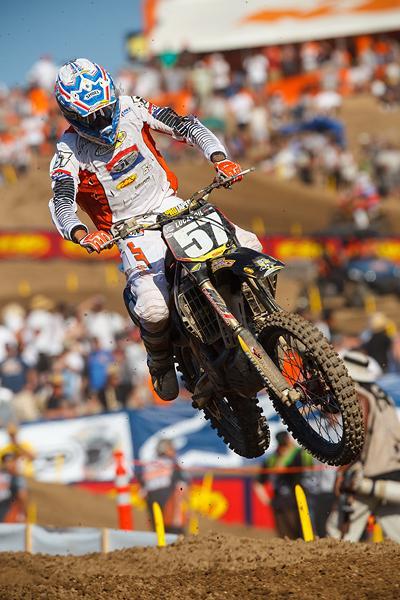 MotoConcepts' Jake Canada finished 11th overall via 10-11 moto scores.
Simon Cudby photo
450 Overall
1. James Stewart Suz 1-1 - Stewart's mechanic is Lee McCollumn in case you were wondering. Yeah, the same guy that took Tim Ferry to the '97 Eastern Regional 125 Supercross title.
2. Ryan Dungey KTM 3-2 - You want a bold prediction? You want a, "stamp it"? How about this, Dungey will win a moto this weekend in Texas, and don't be surprised if he wins the overall. Take that, bro.
3. Mike Alessi Suz 7-3 - The MotoConcepts team switched from JT helmets to Shoei helmets and I realize that I may be alone with this opinion, but I think their style points fell dramatically with this move.
4. Andrew Short Hon 5-4 - Shorty was solid. In other news, the sun came up today.
5. Brett Metcalfe Suz 4-5
6. Broc Tickle Kaw 6-7 - If I had told you before the day that Tickle would be the top Kawasaki rider, would you have poured gasoline on me and lit me on fire to end my personal craziness? Yeah, exactly. The "French Tickle" had good speed and great fitness as he charged through the pack. When was the last time you saw Tickle get a top three start and go balls out for a little bit? Yeah, exactly. That's what he needs to do, though.
7. Davi Millsaps Yam 2-14
8. Jake Weimer Kaw 10-6 - Weimer was down on the first lap and remounted last. So good for him to get a tenth, and in the second moto, he caught and passed Tickle.
9. Josh Grant Kaw 9-8 - Just build the base up and then slowly get back to the Josh Grant that we've seen in the past time and time again. A 9-8 is nothing to be worried about.
10. Nico Izzi Yam 11-10- Izzi is good, and we know he can go fast, but he appeared to be in shape and showed some heart out there. Good for him.
11. Kyle Chisholm Kaw 13-9- The Chiz was outside the top twenty in the first moto (I had him at twenty-fifth) but charged forward. In the second moto, he and his teammate Josh Grant had a little battle going on that saw them trade spots at different points.
12. Robby Kiniry Yam 12-13 - Bobby Kiniry just did what Bobby Kiniry does. Start outside the top twenty and finish outside the top ten.
13. Jimmy Albertson Suz 17-12 - Top Jimmy likes the outdoors better. Can you guess?
14. Tommy Hahn Hon 8-27 - Hahn's first race since Phoenix and he was good. He's got the factory Honda so you know he's going to get good starts.
15. Matt Lemoine Kaw 19-11 -Lemoine rode great in the second moto, he charged hard and moved forward.
16. Vince Friese Suz 15-18
17. Sean Collier Hon 14-24 - Sean just shows up, does well and then goes away for a few years again. Peculiar.
18. Ryan Sipes Yam 25-15 - Sipes was my sleeper pick and unfortunately for him and I, he just went to sleep at Hangtown. There's no way that Ryan Sipes finishes this bad without being injured and yep, turns out he's got a bad hand from the Jason Anderson parade lap takeout at SLC.
19. Justin Brayton Hon 24-16 - There's no way that Justin Brayton rides this bad without being injured. Oops! He's not injured at all. Turns out, he just had a bad day. Obviously he'll get better and sometimes guys are still in the supercross mode of riding where they try to make doubles and triples out of the bumps on a motocross track. Maybe that was Brayton's issue, I don't know.
20. Nick Wey Kaw 16-36 - Wey is doing four Nationals this year and they'll all go better than Hangtown did.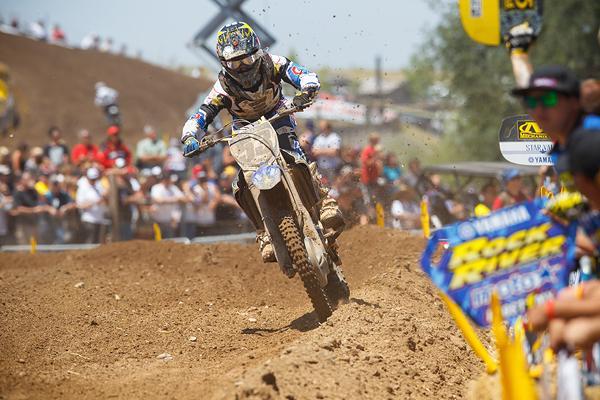 Ryan Sipes was hindered by a hand injury at the opener.
Simon Cudby photo
Silly season is already started, and  the talk in the pits is growing. What I've heard is that Dean Wilson does have an offer from CLS Kawasaki in Europe, but will most likely stay here. I bet he stays another year at Pro Circuit. This shoulder injury has thrown his attempted jump into the 450 class for a loop. Why not just hang out a while longer?
Justin Barcia signed with Honda for next year, and I heard from two different gear companies that were going after him that he signed with Alias gear, SPY goggles and Alpinestar boots for 2013. And I heard from two people that Ricky Carmichael is going to come onboard the Hart & Huntington program and bring some help from Suzuki with him. The team will try to go after a bigger name in the 450's, and has committed to doing the outdoors next year. The last part was confirmed to me by manager Kenny Watson but the first part was told to me by two different agents.
Thanks for reading, see you guys next week at Texas! Email me at matthes@racerxonline.com if you want to chat.