Hangtown Motocross Classic
Rancho Cordova

,

CA
Hangtown Motocross Classic
Lucas Oil AMA Pro Motocross Championship
From post-race press conference
Ryan Dungey, Red Bull KTM, 2nd in 450 class (3-2)
First moto, I didn't get off to a great start, but we made up a lot of ground and got ourselves into third, and salvaged as much as we could. Second moto we got a better start and I was right there behind James [Stewart] most of the way. I tried to make a move, but we ended up running into a couple of lappers and lost a little bit of time, and he ran away with it. But obviously, first outdoor race on the KTM 450, it's good to get a little guage and just build from here, really. I think this is a really good start.
There was a rhythm lane and we saw you use a bunch of different lines there, where James kept going to the outside line and doubling down it.
Yeah, that was my biggest struggle on the whole track. It was either inside double single, or outside triple. I did the triple one time and landed in a big rut, it just didn't seem any faster. James was making up a lot of time on me there. I really feel like that was the biggest downfall there. You had to be really creative with line choice, and I watched some of the 250 moto on TV and found some new lines and put that to use in the second moto.
Did lappers play a factor?
Yeah I don't know, I mean, he [James] has to deal with the same thing I do. He got around them and I did the best I could. It's one of those things where sometimes it works out well for you and sometimes it works out bad for you. I think sometimes they need to pay more attention that there is a race coming to them from behind. It seems like it's the same guys a lot of the time. But, no complaints and no excuses. It was a good race.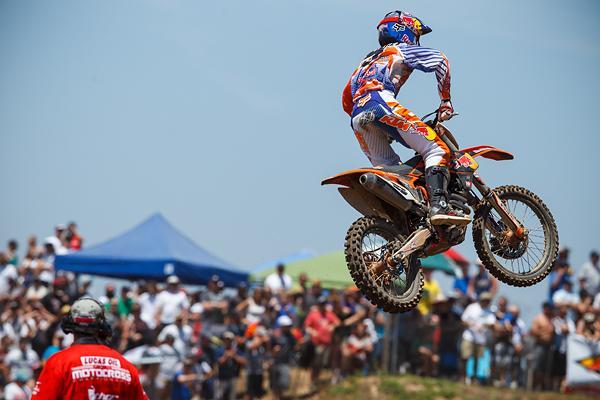 "No, I wasn't pacing myself, we were going out and doing the best we could." - Ryan Dungey
Simon Cudby photo
Your thoughts on seeing the pace and running with James?
Yeah, we had a good pace going. You either sit behind the guy and get roosted a lot, or you make the pass early. James is a tough competitor, he has a great history outdoors, so I look forward to racing him.
Were you pacing yourself behind him and waiting for something to happen?
No, I wasn't pacing myself, we were going out and doing the best we could. It was more of a track where you kind of had to be patient in areas. It was bumpy and rough, and kind of that slow rough. I don't sit there and hold back, for the main part I think we were going pretty good.
Mike Alessi, MotoConcepts, 3rd in 450 Class (7-3)
First moto, really, really struggled for sure with the bike setup. I wasn't happy, didn't get a good start and didn't ride well at all. Second moto, we made some changes to the suspension, got the holeshot the second moto, and the bike was working exceptionally well. We still have some more changes to make. It's funny, you do all this pre-season testing and you think you have a good setting, and you realize it's good but you still have a long way to go. I'm glad we could come out swinging in that second moto and get a podium.
You do well at this track.
I think I just get along with the dirt well here, and the start, too.
Last year you had a big crash in practice. I know you try not to think of that stuff as a racer, but could you really block it out of your mind?
Yeah you try not to think about those things, but that crash was big, and it was running through the back of my mind every lap when I hit that jump. You know, I definitely didn't want that to happen again.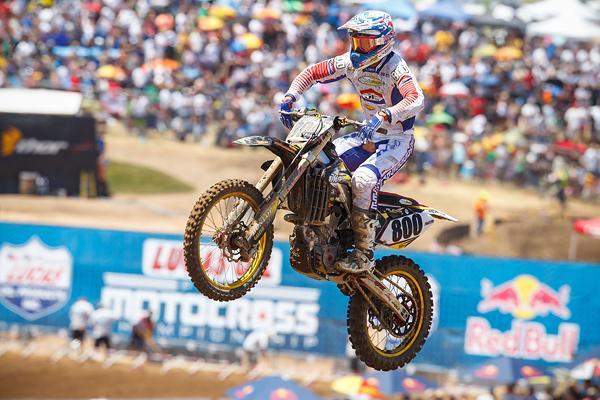 "I think I just get along with the dirt well here, and the start, too." - Mike Alessi
Simon Cudby photo