Play Free Motocross Fantasy
MotocrossFantasy.com
is back for 2012 MX with their FREE Bench Racing divisions.  Make sure take advantage of this free league and get in the action of Fantasy MX. It's simple to play and adds a ton of excitement to cheering on your favorite riders all season. They assign handicaps to riders and give bonus points to underdogs to make you think twice about the riders you want to hire. Become a team manager and lead your riders to victory.
You can also up your game and join in the "Pro Series". This costs just $19.99 to play and is giving out a total of $2500 in Grand Prizes to 3 different winners. This series is also giving away prizes like gear, apparel, accessories and much more to 6 different winners weekly for all 12 rounds. This was all made possible with the help from MotocrossGiant.com and Cernic's Racing.
The racing starts Saturday May 19th, get signed up in the "Pro Series" now.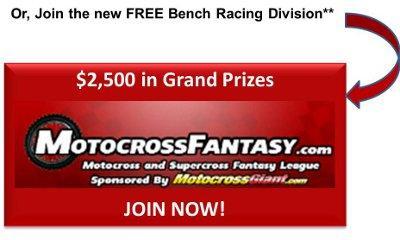 Also, don't forget to share with your friends.
About MotocrossFantasy.com:
They originally kicked off their fantasy leagues in January 2011 offering both SX and MX seasons and have been successfully growing ever since. They have given out over $25,000 in prizes such as helmets, boots, chest protectors, bike stands, and even 3 new Honda CRF 250 motorcycles. The league was started by a local racer who was just looking to stay in the industry and provide a way to get all fans involved in pro racing. With the gaining experience and added support from companies like MotocrossGiant.com and Cernic's Racing, they can offer better prizes and more enjoyment for everyone.