Hughes to Rock River/Moto Star for Hangtown
Hangtown Motocross Classic
Rancho Cordova

,

CA
Hangtown Motocross Classic
Lucas Oil AMA Pro Motocross Championship
Ryan Hughes will emerge from retirement for the Hangtown National aboard the Rock River Yamaha/Moto Star backed YZF450F
Santa Barbara, CA- Not many riders earn an iconic nickname without doing something special on the bike. We have the G.O.A.T., Bubba, MC and Fro to name a few that need no introduction. Ryan 'Ryno' Hughes  is one of those rare riders that have earned a nickname and he is coming back to the professional motocross circuit for the 2012 FMF Hangtown classic, and season opener  this weekend in California.
Ryno is as fit as ever at 39 years of age do to his success of marketing and reinventing himself into the brands we now know as Ryno Power Supplements and Rynoland Training Facility where he trains and produces the best riders in the world.
The whole Rock River Yamaha/Moto Star crew is very pleased to be part of this big moment in our sport where we get to see one of our past heroes take the track again and do battle against the world's best active riders. The whole team is behind Ryan and ready to cheer him on during his path toward success in the circuit again. Rock River Yamaha/Moto Star is putting a potent Yamaha YZF450 under him that is race ready and loaded with some of the best equipment in the business with the help of many sponsors. Everyone is thrilled to be a part of Ryan's historic comeback and are fully behind him on his search for glory.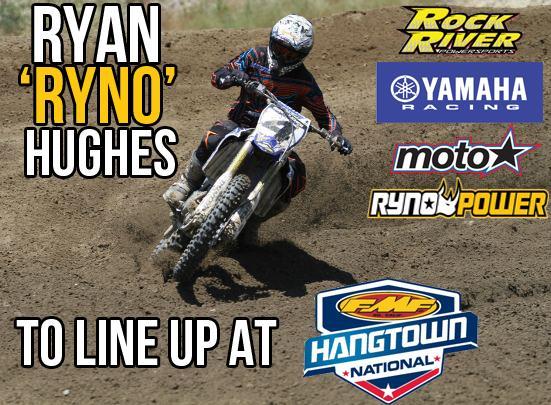 Come out and cheer Ryno on at the Hangtown National, Saturday May 19. The whole Rock River Powersports rig will be present at the National so stop by and give Ryan Hughes a visit! Show to the world that you are still a Ryno fan and come grab an autograph or a photo with the newly signed Rock River Yamaha/Moto Star rider at the team's semi  at the season opener.
Rock River Yamaha/MotoStar is Faithfully Supported By:
Rock River Powersports, Roost MX, Yamaha Motor Co, GYTR, Yamalube, FMF, Hinson, XTrig, EVS, MotoConcepts, Renegade Fuel, Hammerhead, GUTS Seats, Boyesen, Lift Masters, Millenium Technologies, Vertex, Hot Cams, Hot Rods, Dunlop, We Are MX – Gloves, Moto Tassinari, Tokyo Mods, Moto Star.
About Ryno:
Ryan Hughes has been racing professionally in the motocross industry since 1988. Ryan also had a very impressive amateur career. In 1990, Ryan had ten amateur titles to his name and in his first National Motocross moto, he placed an impressing fifth place. Ryan has been fortunate enough to have had an awesome career in the motocross industry. Turning professional at the age of only 15, Ryan has carried out a career of factory rides for over 19 years. That's not an easy feat for most racers, as the sport stays very young.
With an outstanding list of accomplishments, Ryan was a top-ten racer in the industry for over 19 years and has raced many different types of events. His list boasts racing Super cross, Motocross Nationals, The FIM World Championships, World Super Cross, Endurocross, Supermoto, GNCC's, WORCS Races, The U.S. Open of Supercross and he was also a three-time attendee of Motocross De Nations.
Don't forget to check out a few of many groundbreaking brands Ryno has made:
Ryno Power Supplements
Ryno Power Gym
Visit us online where we always are doing something fun and giving back at:
www.facebook.com/motostarglobal
www.facebook.com/RockRiverRacing