Sam Boyd Stadium
Las Vegas

,

NV
Las Vegas
Monster Energy AMA Supercross Championship
For every Ricky Carmichael, James Stewart or Ryan Villopoto that reels off one amateur title after another, there are kids that take the path less traveled. With amateur motocross growing bigger and bigger with each passing year, and the media coverage growing right alongside, it's a rarity for a relatively unknown to crack into the professional ranks.
Hailing from South Jordan, Utah, which lies inside the Salt Lake City metropolitan area, Landen Powell wasn't showered with amateur hype. Actually, he really didn't consider motocross as a profession until late in his teens. He, like most of America's youth, played basketball, baseball and football until his sophomore year in high school. But now in his third full season as a professional Powell is beginning to make a name for himself. After finishing a season high 12th at his home town race in Salt Lake City, Powell secured his first career top ten in the West Region finale in Las Vegas. We caught up with the Utah native earlier this week to talk Vegas, his plans for the Nationals and more.
Racer X: You captured your first career top ten in Vegas. What did it mean to you to finally breakthrough and get that monkey off your back?
Landen Powell: Man, it was awesome! I almost actually didn't believe it. I was so focused on my race I wasn't even looking at the pit board or anything so I actually didn't know what position I was in. Then on the white flag lap I saw tenth place on the pit board and it was kind of shocking. I was so stoked that on last lap I was grinning ear to ear the whole way around. That's what I've always worked for and that's where everybody wants to be. To finally get that out of the way it was really cool.
Obviously your top ten was a big career achievement, but was it a little deflating knowing that you missed the Dave Coombs Sr. East/West Shootout by one position?
Yeah, for sure. I was so stoked on the top ten but at the same time my mechanic was like, "You were one away from the Shootout." It would have been really cool to get one more spot and get into the Shootout and be one of the top guys in the West going against the guys in the East. But it was definitely exciting to get inside the top ten so I tried not to think about missing the Shootout by one position.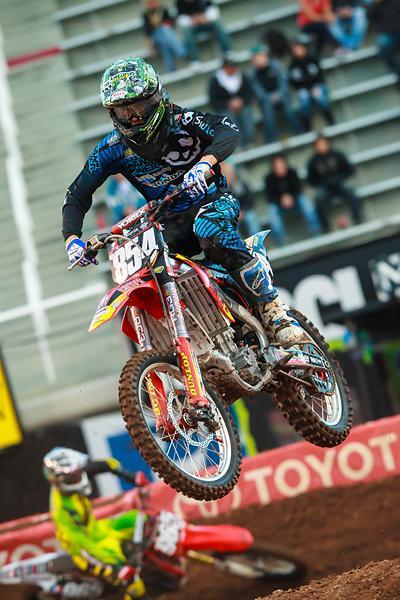 Powell made his first main event of 2012 in front of his home town fans in Salt Lake City. He would finish the night 12th.
Simon Cudby photo
You had another shot of making the Shootout in the LCQ, but finished ninth. Can you take us through what happened there?
A got a decent start in the LCQ and kind of stayed right there. Myself, Michael Akaydin, Ryan Smith and Chris Plouffe all had a battle for the four laps. That race is so short that if you don't get a top two or three start it's hard to make it up there. And obviously it was still all the main event guys so it was a more stacked field than usual.
You struggled early in the season, missing every main, but came out of the break swinging—making your first two mains of the year. What, if anything, can you attribute your turnaround to?
I think I came into the year without the confidence I needed. I missed the night show at Anaheim 1 and I think that deflated my season a little bit. I came into Anaheim 1 with high expectations and to miss it and qualify 43rd there I think that set the tone for my whole season. When we went on break the few weeks leading up to Salt Lake City and Vegas I had a really good couple of weeks. Myself, Bracken Hall, Ryan Smith and Scott Champion all had a couple of really good weeks of riding and I was having fun riding my dirt bike and I went into Salt Lake just excited to race in my home town.
Growing up in Utah, what did it mean to make your first main of the year in front of all your friends and family?
That was really cool! It was awesome to have all my friends and family and all my sponsors out there. I felt a little added pressure but luckily I was able to come out with a pretty good main. To not make any mains all year and to get a 12th at Salt Lake was really awesome.
Do you think being in familiar surroundings helped you break out of your slump?
Yeah, I think so. A lot of people struggle coming to Utah because of the different elevation, the bikes run a little slower and it's a little hard to breathe. I'm used to all of that so I think that gave me an advantage over the other guys and helped my confidence a little bit.
How would you assess your 2012 Monster Energy Supercross season? Do you feel you meet your pre-season expectations?
I wouldn't say it went the way I expected. I trained really hard this year and expected to a little better at the start of the season. But to end it the way I did was really good. I would rather end it on a good note than start on a good note and end on a bad note. I think that I learned a lot and kind of figured some things out that will help me coming into next year. I just need to put together a whole season and not two races.

Powell hopes to carry his late season hot streak over to the Nationals.
BrownDogWilson photo
Now that supercross is in the books, what are your plans for the Nationals?
I probably won't be at all the outdoors. I will be at the first couple for sure. Bracken Hall and myself are hoping to hit at least six rounds this year—depending on how things go at the first couple. Hopefully we can go out there and put in some solid results and just go from there.
Have you been able to get any outdoor testing in?
I actually just dropped off my suspension today [Tuesday] to get it switched over for motocross, so I haven't done any outdoor testing. I've been training a ton with Charles Dao all winter, so I'm definitely ready physically. But as far as riding goes I'll train this week and next week and show up at Hangtown and see how it goes.
You mentioned earlier about ending the season on a high note and what that has done for your confidence. Do you feel that will translate over to the Nationals?
I think it's huge. This sport is so mental it's crazy. I can be at the practice track and running the same speed as everybody there that's doing motos but if you're not mentally there it can definitely get you. To end on a high note and be really confident after that—and I feel like my mental game is there—I think outdoors should be good.
How hard was it for you to get to where you are now growing up in Utah? Obviously, the weather plays a major role in how much riding you can do in that part of the country.
Living in Utah I pretty much only raced locally for fun and then I would have to park my bike for the winter. I actually played football, basketball and baseball into my sophomore year of high school. I didn't really get serious about motocross until I started racing supercross. I did two supercross races in 2009 and made my first two night shows, so that's kind of where my career started as a professional. I kind of just took it from there and started going down to Temecula in the winter and have just been going from there.
Thanks for your time, Landen. Who would you like to thank for helping you out this season?
I want to thank my parents first of all, they have been behind me 100 percent since I was 4 years old and have gotten me where I am today. Shawn Hall with High Desert Services, Bryan Kinsey at Escape Motorsports, Troy and Kelly Davis with Tuff Country, Jason Kimball at Skullcandy, Charles Dao with Icon Sports, Jays Tire Pros, Leatt Brace, Oakley, Answer, Ryno Designs, Ogio, Vortex, Bell, Yoshimura, my mechanic Rob, my girlfriend Kolbyanne, and the rest of my family and friends who have been behind me.