Las Vegas, NV
Las Vegas
Monster Energy AMA Supercross Championship
BTO Sports is your number one source for all of your motocross parts, gear, accessories and apparel. BTOSports.com is a motocross company who is truly dedicated to the sport and to the customer. Proud sponsor of your Racer X Podcasts and the BTO Sports/BBMX Suzuki race team.
And that's a wrap! The 2012 Monster Energy AMA Supercross Series was declared over when Red Bull KTM's Ryan Dungey crossed the finish line in Vegas for a dominating fourth win of the season. And if the series had gone much longer, a mercy rule might have gone into effect, as this year has been one, long injurious train wreck. Still, the folks at Feld put together a great show as usual, gave away some money to the riders and aside from failing to have the over/under bridge at every single race, did a great job.
The Las Vegas track, to use a popular athlete's term, is what it is. It's hard and slick, and not easy to do much with. The addition of the start outside the stadium a few years ago is still a source of debate for me. I like it because it offers more track space on the stadium floor, but on the other hand, the anticipation of the drop of the gate and first turn action is pretty cool also. That's lost when you can't see it happening. I noticed a few years ago that a ton of racers were crashing in the opening laps due to over-watering the slick track, but the situation seems to have improved in the last two years. Not sure if Dirt Wurx changed something up, but the dust was under control and the opening laps weren't completely filled with carnage.
Last week I wrote about how the top guys come back from injury and are still generally the top guys (except for that whole Chad Reed Kawasaki thing, he was basically just riding around after returning from injury). I referred to Ryan Dungey's win in Salt Lake City as proof of this, as Dungey was able to get the win there even after being punted off the track by Jake Weimer early in the race. In Vegas, Dungey grabbed the lead from Mike Alessi early and just disappeared. It's got to be a bit depressing for racers like Weimer, Davi Millsaps, and Justin Brayton when one of the big dogs comes back and immediately shows everyone the back of his jersey, but that's the way the moto world works; he who shall be at the front shall immediately always be at the front no matter what.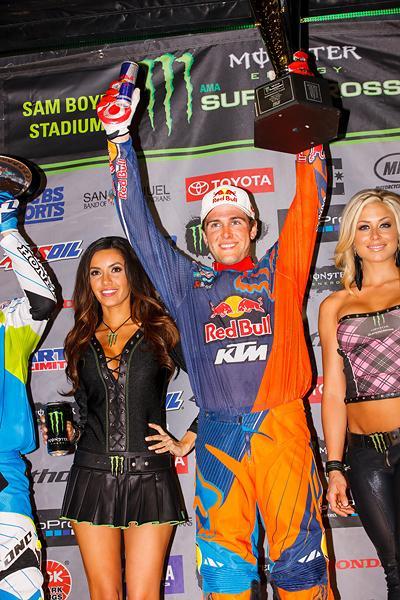 Ryan Dungey made it look esay in Vegas.
Simon Cudby photo
Even though Dungey ended the series in third (he tied with Justin Brayton in points, but won more races) because he got hurt, it was still a very successful year for Dungey and KTM. Dungey got four wins, was a scant few points out of the championship before he got hurt, and really, experienced no drop-off in performance when he switched from Suzuki to the brand-new KTM. That's a huge deal for Dungey and KTM in my opinion. Remember, KTM has NEVER made the podium in the supercross class until Dungey came along. The bike was better than I thought it would be, and RD was also better than I thought he would be. 2012 turned out to be a true success story for Dungey and KTM, and they should be proud of what they've accomplished.
Although I said that it has to be a bit depressing for some guys to see Dungey win so easily, JGR Toyota Yamaha's Davi Millsaps still rode a great race to get second and finish the season second overall. Millsaps was a real surprise this year, and he got better as the year went on. For years everyone in the pits knew that Davi had the skill, but thought that he wasn't working hard enough to maximize that skill on the bike. And yes, if nobody had gotten injured this year he probably wouldn't have ended up in second, but there's more to it than that. Davi rode great this year, jumped things that only a few guys did at some of the races, charged from the back to catch and pass his main competition, and basically looked like a player. These things aren't always obvious, which in my opinion, is why you have to go to the races in order to write accurately about them.
For as much as the James Stewart signing was a disaster for JGR Yamaha, the signing of Davi Millsaps was a real bonus for the guys. He's not going to like me for saying this, but his high-dollar, multi-year deals at Honda were probably part of the reason why we saw what we saw over there. This year he's on a low money (compared to what he used to make), one-year deal with JGR and has a lot of motivation to get another contract. I'm not saying it's the only reason he rode great, but I have no doubt it's one of the reasons.
As I mentioned earlier, Brayton tied Dungey for third in the standings. but ended up in fourth because Dungey had more wins. Brayton even had a top-three bonus program in his contract, so that definitely sucks for him. He wouldn't tell me how much it was, but it's probably around 75K or so. Just think about all those places where he could have gotten one more point to pull ahead of Dungey! That will probably haunt Brayton all year.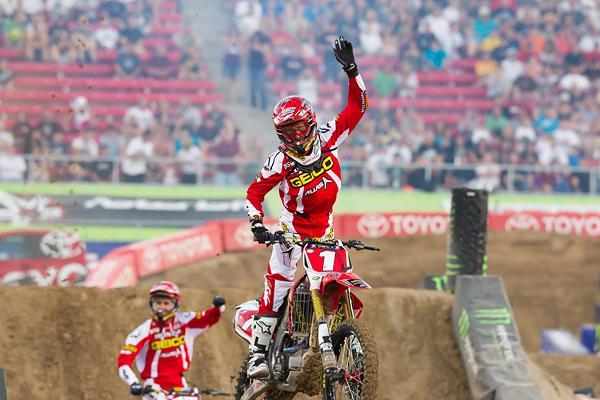 Justin Barcia cleaned house in Vegas, taking wins in both the East Region finale and the Dave Coombs Sr. East/West Shootout.
Simon Cudby photo
Even thought it was a great year for Brayton, I, and a few others, wondered why he couldn't capitalize on the momentum he had built up about three-quarters of the way through the season. He holeshot and led a race and even pressured Ryan Villopoto a bit here and there. You would think that it would have been the boost that Brayton needed to consistently be in the mix for second, or maybe even the occasional first. Instead, he seemed to go back to his old ways; it was a weird deal. Maybe inside he still doesn't think he belongs with the top guys. After all, he does drop the occasional reference about how he never thought he'd make it this far in the sport, and how he started racing Arenacross on a privateer bike years ago. Well I say he does belong with these guys. He's on one of the best bikes in the pits, he's a hard worker and should battle every race for a podium. Sometimes he doesn't do that and it's weird to me.
As far as the 250 class in Vegas, well, it was a GEICO Powersports Honda runaway. Both the east and west champions won their respective mains, and then in the Dave Coombs East/West shootout, West Coast Champ Eli Tomac and East Coast Champ Justin Barcia battled hard for first before Barcia squeaked out the win. What a year for the red team!
With team manager Mike LaRocco working on bike set-up a bit, the addition of Justin Bogle (who's got a bright future) to go along with Barcia, Tomac, Trey Canard, Josh Grant, etc., the team seemed to be able to do no wrong this supercross season. Discontinuing their involvement with Pro Circuit seems to have been a great move for them, although the GEICO team is very careful to downplay this - no sense in poking the bear. In addition, changing gear, bars, sprockets, helmets, goggles, boots, exhaust pipes and just about everything else, is risky but they made it pay off. The mechanics are all top notch guys, the motor guys have been there forever, and to top it all off, they have Kevin Windham on the 450, who is the most popular rider on the circuit, even though he hasn't won a race in a while.
These things have ebbs and flows, and right now, the GEICO guys should be enjoying their time at the top. They've earned it and deserve it, but in a week and a half, everyone will start at zero once again when the gate drops at the Hangtown Motocross Classic. Those guys know that, and they'll be ready.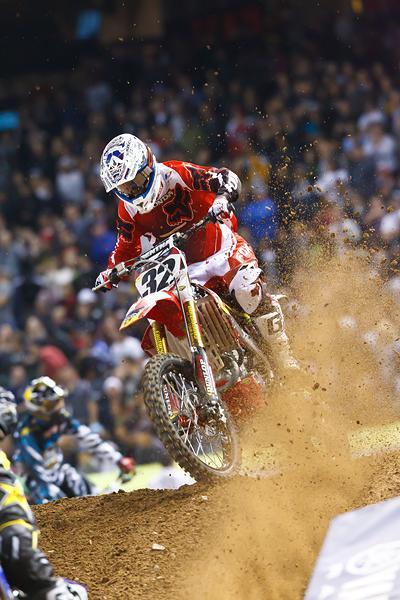 It looks like Tommy Hahn is on his way to Factory Honda for the summer.
Simon Cudby photo
Speaking of the outdoor season, the Monster Energy Pro Circuit Kawasaki guys swept the top three in points last year, and it wasn't even close. Barcia underperformed (before moving to a 450 and hauling ass), Wil Hahn was hurt for most of the year, Bogle was a raw rookie in the few races he entered, and Tomac, while he did alright, wasn't much of a factor week in and week out. The motocross season is where the tough get going and it's going to be interesting to see what the GEICO guys can do. I'll say this, with defending champion Dean Wilson having a shoulder problem, Tyla Rattray out of the class, Darryn Durham out for three months, the PC guys are ripe for the picking. I believe that Barcia knows this is his last chance at really making a mark in the 250 class, and Tomac will be better too. Bogle will also be better just by having some experience, and as for Hahn, well I can tell you that no one likes to be the worst guy on a team. He'll be hungry.  Can't wait until Hangtown!
The worst kept secret came out in Vegas when Team Muscle Milk Honda announced that they had signed Barcia to a 450 ride for 2013. This was always going to happen, and good for both Honda and Barcia that they could stick this thing out and ride it a little while longer; Barcia's going to be one of the future stars in the class.
Following the announcement, my Twitter blew up with questions about his teammates, because both Canard and Brayton's contracts are up. I've spoken to both guys recently, and both of them told me that Honda has indicated they want them both back. Obviously Trey will probably get a bit of a pay cut due to missing out on so many races with injury, while Brayton might even get himself a raise. But I also know that other teams are circling Canard and trying to interest him in leaving the red guys. If healthy, Canard has shown that he can beat almost everyone at any time, and remember what I wrote earlier about the top guys establishing themselves as top guys even after coming back from injury? Yeah, well Canard is a top guy.
Did you hear about James Stewart going to Suzuki? Yeah, we knew that for a while but it officially happened this week. And it makes Hangtown all that more exciting to me! I'll have more on this later, but let me just reinforce that I'm:
A- VERY surprised that Stewart is racing The Nationals this year
B- I'm a firm believer that he is going to get a lot of fans back this year for racing. I've seen it before firsthand with a Reed, Chad.
C- Have I mentioned that I'm excited????

Eli Tomac had a big night in Vegas as well, winning the West Region finale and finishing second in the Dave Coombs Sr. East/West Shootout.
BrownDogWilson photo
Tommy Hahn is going to fill in on Team Muscle Milk Honda for the summer, and that's the next press release that's going to drop. The Kyle Regal-to-replace-James Stewart-at-JGR-Yamaha thing happened today, and that's a great deal for both Regal and the JGR guys. He can make some money wearing gear, and he's a potential top five guy on any weekend, if not better at Millville and a couple other tracks.
There were two main events for the 250 guys but for the sake of everyone, I'll just cover the shootout results and go from there. Let's take a look!
Dave Coombs East/West Shootout Overall
1. Justin Barcia Hon - Barcia's gear sponsor put a cigarette butt on the back of his pants for this race but the GEICO guys made him take it off. I see both sides, as Barcia likes to make a joke about smoking with his team and it's become a bit of a funny thing. On the other hand, in the super politically correct world we live in, I can see some people getting their panties in a knot over it.
2. Eli Tomac Hon
3. Martin Davalos Suz - I had an industry person come up to me and comment that Davalos (who in case you haven't noticed, I've been critical of) made me eat my words with this podium spot in the shootout. I'd agree except for the fact that A, he was leading at one point and B, Ken Roczen was all over him and would have passed him if there was one more lap and finally C, ask any team if they'd take a third in a shootout over the holeshots and fades we saw from Davalos in the other races this season. If it wasn't for injuries, Davalos would not have finished top ten in the points and on that bike, with that many seasons in the class, that's brutal. But yeah, a third in a shootout that no one will remember in three weeks sure showed me. Just like I wrote about Ryan Sipes, it's time to get out and try your luck on a 450 next year because clearly, this 250 thing isn't working.
4. Ken Roczen KTM - I'm excited to see how Kenny can do outdoors. I've seen him at a couple of GP's over the last few years and as you can guess, he's amazing outdoors.
5. Marvin Musquin KTM
6. Wil Hahn Hon
7. Ryan Sipes Yam - I talked to Sipes after the race and it was really, really late (or maybe early), and I could have been a bit tipsy but I swear he said he wants to race a 450 next year full time. For now, he's going to ride the 450 outdoors.
8. Malcolm Stewart KTM - Mookie's got to shed some pounds for the outdoors. He's a big dude.
9. Blake Wharton Suz - Not a great Vegas for Wharton but after missing so much time with an injury and maybe under-delivering a bit for the GEICO guys, he's reestablished himself as a top guy.
10. Matt Moss KTM
11. Dean Wilson Kaw - Wilson is going to try and ride The Nationals with a bad shoulder. It's a risky thing because it could end up causing him to go under the knife nine rounds in and miss the rest of the 2012 Nationals and the 2013 supercross season (it's a six month recovery). But then again, he's Dean Wilson and his future is still bright. I'll say this right now: it's expected that he's going to a 450 next year, but if this outdoor season doesn't go well for him and he does get hurt, how much you bet he'll sign back up with Pro Circuit for the 2013 season to ride 250s again?
12. Blake Baggett Kaw - Baggett took third in his main, which is a good ride.
13. Justin Bogle Hon
14. Kyle Cunningham Yam - Cunningham usually does well at Vegas, but not this year. I'm sure Cunningham would like to forget this supercross season and move on to the outdoors where he shined last year.
15. Matt Lemoine Kaw
16. Billy Laninovich Hon - Laninovich got Cole Seely's ride for Vegas but had to go to the LCQ to make it into his main. He didn't have the night he wanted to have, and was passed in the points by Davalos and Sipes. He still had a great season as a privateer and will ride the TLD 450 for half of the outdoor season.
17. Jake Canada Hon
18. Hunter Hewitt Suz
19. Jason Anderson Suz
20. Scott Champion Hon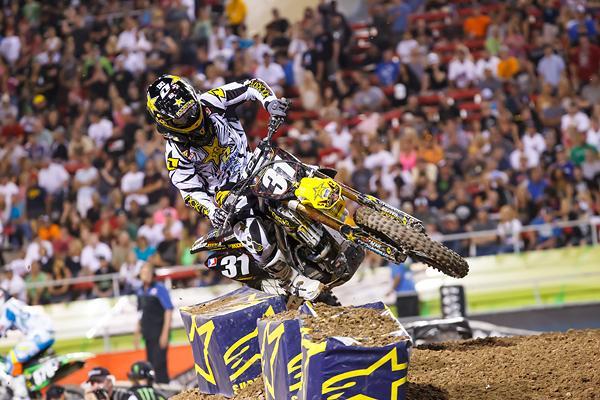 Martin Davalos had an amazing run in the Dave Coombs Sr. East/West Shootout.
Simon Cudby photo
Supercross Overall
1. Ryan Dungey KTM
2. Davi Millsaps Yam
3. Justin Brayton Hon
4. Jake Weimer Kaw
5. Josh Grant Kaw - Great ride for Grant, as he came from the back to get fifth.
6. Nico Izzi Yam - Izzi's career best on a 450, and it's good to see him get a good result after teasing everyone for a few weeks with some great speed. He'll be on the 450 outdoors as well.
7. Mike Alessi Suz - Not a good race for Mike, as he holeshot and went backwards. He may have been riding outdoors for a few weeks (months?) and it's possible he was just looking to get out of Vegas alive. He still ended up sixth in the points and that's something to be proud of. He and Millsaps were the only guys to go all seventeen rounds and finish each one.
8. Weston Peick Yam - Peick delivered for the Star/Valli Yamaha team in his fill-in role in every which way.
9. Andrew Short Hon - After winning in Seattle, Shorty had terrible races in SLC and Vegas. It wasn't good, and a bit mystifying to Andrew and his team. His manager Larry Brooks told me that he instructed Andrew to just get away from bikes for a week to regroup. When I asked Larry what Short should do he said, "Just whatever people do that doesn't involve dirt bikes. I don't know because that's all I do, but do what normal people do."
10. Nick Wey Kaw
11. Broc Tickle Kaw - With Tyla Rattray moving to the Factory Kawi team on a 450, it looks like Tickle's going back down to the 250 for the summer, which doesn't make him happy. Oh well, his supercross season (his first in the 450's) was so-so. Some great rides, some not so good rides.
12. Justin Sipes Kaw - Great ride for Pooh Sipes. He's going to get some help from the Ti-Lube guys as he privateer's it for The Nationals.
13. Chris Blose Kaw - Blose did what Blose does, which is get just outside the top ten.
14. Gavin Faith Yam - Faith's going to get some help for the nationals from JGR in terms of bikes and support so that's good to see.
15. Tyler Bowers Kaw
16. Jason Thomas Suz - I guess practicing and running over to the Monster Energy pool party to try and drop game on Monster chicks works. Who knew? I must have missed that part in all those Marty Smith MX schools I took back in the day.
17. Ryan Clark Kaw - If this was Ryan Clark's last supercross race ever (and I have no clue if it is but you have to figure it's getting close), he can hold his head high.
18. Brett Metcalfe Suz - I said Metty was going to make the box at one of the last supercross races and for a while in Vegas, I was looking like a Kreskin. Unfortunately, his bike broke and I look dumb as usual.
19. Matt Goerke Suz
20. Kyle Regal Kaw
Thanks for reading, email me at matthes@racerxonline.com if you want to share your thoughts about what went down in Vegas. Stay tuned for my coverage of the outdoors each and every week.