Sam Boyd Stadium
Las Vegas

,

NV
Las Vegas
Monster Energy AMA Supercross Championship
Beginning the 2012 Monster Energy Supercross season, Weston Peick was a full-on privateer on a Kawasaki. By the mid-point of the season he was riding for the Rockstar Star/Valli Yamaha Team as a replacement for the injured Ryan Morais and Austin Stroupe. Consistent finishes earned him a solid 15th in the championship point standings, as well as the highest finishing spot for the team. Yet, he's still scrambling for an outdoor ride. We sat down with the 21-year-old in the Sam Boyd Stadium pits after an impressive eighth place ride.
Racer X: Weston, let's begin with some of your recent rides, and your great finish here in Las Vegas.
Weston Peick: Yeah thanks Jim, things have been turning around for me recently after starting out the season somewhat spotty. I really have to thank all the guys at the Rockstar Yamaha Team for giving me this incredible opportunity—and I am very grateful. It's been really great with having to just worry about riding and training, rather than working on bikes, getting to the races, and paying all the bills. So I have been trying to do my part of the bargain, give them as many solid performances as possible, and finish out supercross on a high note. Of course, I am also just trying to do my best for myself, and prove that I can do it. I've been trying to find a ride for the outdoors, so it's critical that I get the results.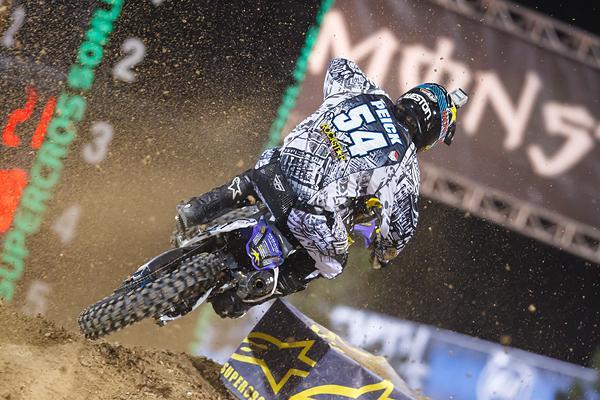 A ninth in Vegas helped Peick capture 15th in the final points standings.
Simon Cudby photo
I would imagine that this is the highest profile team that you have ridden for since you began your professional career.
Yeah by far this has been the best team that I have been on, and the only one that has some true factory support. It's a great team, and I am proud to have been on it! My goal coming into the final round here in Las Vegas was to be top fifteen in points, that was really about the best spot that I could get as the other guys, like Nick Wey, were just too far ahead of me. I accomplished that, so I am pretty happy right now.
You've pretty much been the team's top 450 guy, right?
Yeah, for the most part I have. Actually Bobby Kiniry and I have swapped that spot around a few times, but most of the time it has been me a bit higher in the results [the team's other replacement rider, Kiniry, finished 16th in the championship]. I've been pretty consistent, and more recently I have been getting a lot more used to the bike, and as a result I am riding better than when I first got on it.
But at this point, you don't have anything lined up with the team for the Nationals?
Yes, that is true, I don't have anything going on for the motocross series at this point. As of right now I am not racing outdoors because I don't have a ride. I cannot spend my own money this year, because I don't have anything to spend!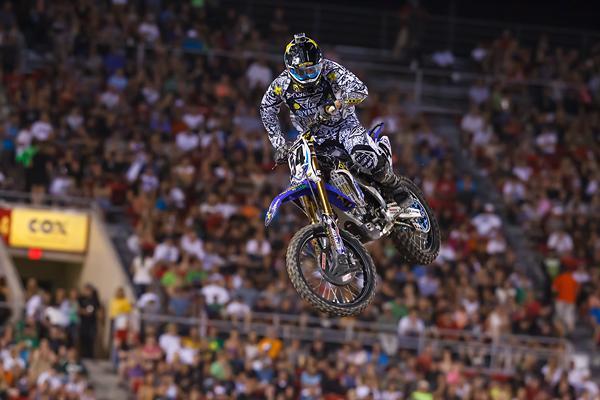 Peick finished eight points ahead of Bobby Kiniry to become the highest placed 450 rider on the Rockstar Star/Valli team in 2012.
Simon Cudby photo
In the short time that I have been here talking to you I overheard another Team Manager telling your dad that he wished he would have known that you were without an outdoor ride—as he would have hired you. Weston, you've been putting in the results on the track, what else can you do to get a ride for the Nationals?
I don't know, but I wish that I did know! I feel that I have searched for a ride as hard as I could. A couple teams have hired some guys that have surprised me, and left me shaking my head, but I guess that they had their reasons. I can only do what I can do, and right now all I can do is go with the flow and hope for the best.
How about this Weston, can you provide an e-mail where someone could contact you if they wanted to help?
Sure, my email is westonpeick@hotmail.com, you can hit me up there. If anyone needs a rider, I am that guy!  I would also like to give a huge thank you to my parents who have always done their best for me, Fly Racing who has been supporting me for a couple years, Revolution 2mx, Rouge Cassles, Max Muscle, Utopia, and Factory Backing for sticking by me, and helping me out.