Sam Boyd Stadium
Las Vegas

,

NV
Las Vegas
Monster Energy AMA Supercross Championship
GEICO Honda team had quite a year this year in capturing both titles in the Lites class and having another promising rookie show up in Justin Bogle. The man managing the program, Mike Larocco, was himself one of the best racers in the 90's and in two years at the helm has really worked wonders on the program. I spoke with Mike on Friday at the press conference about the year and of course, with Eli Tomac and Justin Barcia sweeping the races the next night, things just got better for Mike after this interview.
Racer X: I guess it couldn't have gotten much better for you in winning two championships this year.
Mike Larocco: Yeah, the red number ones look good. Definitely a big accomplishment for the team. We're all super happy for the team.
Talk about working with Eli this year. He almost won the title last year, and this year he had to be motivated to avenge his crushing loss. Talk about working with him and getting the title.
You know, the outdoors last year didn't go well for everybody. All of our guys just kind of got over the season during the middle of the outdoors. So it actually came kind of easy because, by the time I got Eli [for supercross this year], I felt like his speed was already better and I believe we're getting better bikes this year. That was probably an easy transition for these guys going into the season. They just came in and liked the bikes. Then they just took it from there.
Barcia, obviously, won last year. He was a favorite to win this year. But still it was a little eventful along the way.
Yeah, he always gives us some drama along the way, but he does such a great job of putting himself out there, putting himself in a good position and letting things happen behind him. The drama does find him, but he does a real good job of putting that bike out front.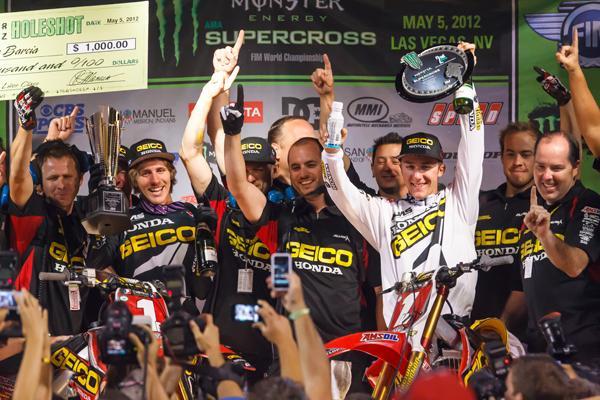 LaRocco helped GEICO Honda to two Lites Championships in 2012.
Simon Cudby photo
As well Justin Bogle had some drama around him and then there was the Barcia stuff. What's your role in that? What'd you tell these guys?
I mean, in our view it's unprofessional and we don't want to have that reflect us as a team. They all know what's right and wrong. They get caught up in the moment. We just have to remind them and hang a little something over their head so it doesn't happen again and hope for the best. I mean, they're good kids and I like that they're passionate and they get frustrated when things don't go right. So, I mean, on one end, I don't want to crush them, but on the other end, I'm like come on guys, we're professionals.
Which rider on your team do you most see yourself in? As far as riding style, and demeanor.
Yeah, I mean Bogle's got his own style. I didn't really have my own style. But he reminds me of myself early years. And Eli. He's quiet and he goes out there and gets the job done and that was a little like me too.
What about [Barcia's trainer and six-time national champion] Jeff Stanton? Working with Justin this year and, obviously, you're a long-time rival of him. Do you work much with Jeff?
No, you know, I think Justin knows what to do. I would prefer to have everyone in California to keep an eye on, but to have somebody like Jeff looking after Justin, that kind of takes a load off my plate. Justin wanted to stay back there in Florida, so it just worked out. I trust Jeff and, obviously, I trust Justin. I knew going into supercross that no matter what he did, he was going to come out and bring something.
You're in your second full year as manager, what do you think about it? You moved from Indiana to California so I'm guessing it's going well.
Yeah, luckily I never sold my house, so it was an easy transition to get back there. I like it. I'm completely surprised with all the drama that comes with it. As a rider, I had no idea how much went into getting those guys to the races and getting the bikes where they need to be. It's a learning curve for me, but it's real helpful having been on the other side.
Talk about the drama. It must be a little weird for you because you didn't get caught up in it. Well, maybe your dad did a little bit, but you yourself, you used to go to races, not talk to anybody, race hard, go home.
Pretty much. I can't do that anymore.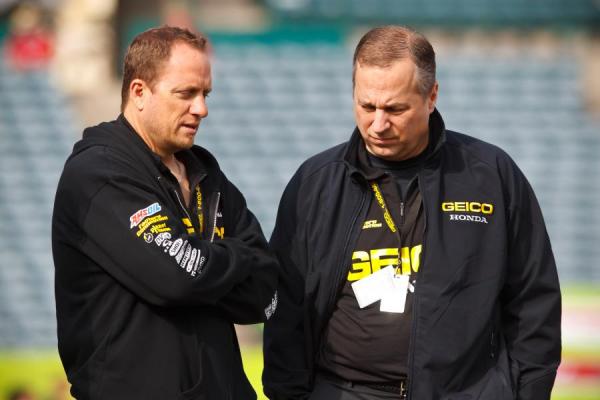 LaRocco (left) was named 2012 Team Manager of the Year.
Simon Cudby photo
I was talking to your guys and they said you had a big hand in developing bikes. You're still riding a lot and testing and working on that. Can you tell us about that?
Yeah, every year I would ride the bikes at the end of the season and I didn't think that they were that, you know, perfect. With me being there this year, I took the opportunity to ride them first and then hand it to the guys.
Supercross also?
Yeah, I would grab a section of whoops. Most of the feeling I can do. It's just a raw feeling. So I'd get it set up and hand it to 'em. If they didn't like them, then I'd get an idea of what they needed and go make it happen. It just seemed to be going well this year.
When I talked to Justin and Eli, they both said that the bike is a better bike this year. It's not so much going away from Pro Circuit as it's just learning more and maybe you're helping quite a bit there.
Yeah, I mean I put some guidance behind it. I think as a team, we've raised up our level. I've got great resources, great people to seek advice from and the owners are giving us a great platform to make things happen. So the combination of all that stuff has really helped.
The Nationals last year wasn't good for you as the PC guys dominated. What are you going to do to change that?
Like I said, just trying to get better bikes. It was painful doing that walk of shame about 20 minutes into a moto last year. We're just trying to get them bikes that are easier to ride and more rider-friendly. I know the guys are on highs right now and, as a team, we're better. We're just crossing our fingers.
Were you happy with Bogle's season overall? I thought maybe he'd grab a win here or there.
Honestly, he's spent the time in California and I really thought he had what it took. But, as a rookie, he had that rookie head and made rookie mistakes. He rode well, showed the potential. So I mean, overall, I don't know that anyone expected him to come in there and have everything figured out. I've seen what he has and I know he can do it.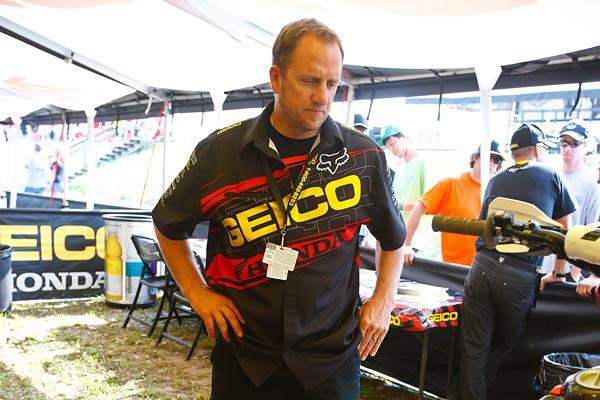 In just his second year LaRocco has already captured three Lites Supercross titles (Barcia in '12 and '11 and Tomac in '12).
Simon Cudby photo
You've been around long time. The 450 class this year was decimated with injuries. Lots of talk about what it was, what happened, what's the deal. What's your take on it? I mean, you raced two strokes early on, you raced four strokes later on. You raced all sorts of tracks. Have you thought much about it?
I mean, I'm going to go with it's one of those years first. A lot of guys, you can dissect what happened and maybe there's really nothing to blame it on. But, like Ryan [Villopoto] was saying in the press conference, things are evolving and speeds are there. When I moved from the two stroke to the four stroke, I used to walk the track on a two stroke going 'I think I could jump that, but it'd be everything I have.' Whereas on a four stroke you say 'I know I can do that, but I don't want to.' It kind of went from offense to defense. I just think that the speeds, even at close racing, to have something happen at 35 or 40 miles an hour, it's just asking for a little bit of trouble.
So do we need to fix the tracks? Tame the bikes down?
It's probably a little bit of a combination of things. I mean, you may find tracks that work better than other tracks. It's even hard to duplicate because of the dirt and the ruts and the things that make things difficult. But I think the bikes have come so far. On the two strokes, to do something out of the corner, if you lost a little bit of power, you'd have to pull out. And these things, they never lose it.
Yeah, you watch some of the old races and it's a game of who makes the least mistakes. You guys are all clipping jumps or getting squirrely.
Yeah, so you've got to blame the evolution of the bike for the speed. The tracks only evolve with the bikes. They've done a much better job preparing them. I remember walking the tracks in the early days, you'd have to walk the track and find the least part of the jump that would kick you. Now everything's like so perfect. Together, everything has evolved.