Jason Weigandt:
The details of how the deal came to be will probably come out at a later date, and surely there's a story there, because it's rare that a rider goes from one brand and team mid-season and switches to another. But those details are for later. For now, we can talk about what we do know: Stewart surely gave up a bunch of money to make this deal.
And that says volumes about his desire to get out there and race (motocross again) and win. His JGR deal did not require him to race outdoors, I hear he could have decided by May 1 to sit out the summer and they still would have paid him. He chose not to take that easy route, and I'm sure the JGR brass was pumped about that—would you rather pay someone who is struggling not to race, or just get out of the deal altogether? If he was holding the SX Championship in his hands, it wouldn't have felt so bad, but that didn't even come close to happening.
The next question is if James can win. He hasn't raced motocross full time since sweeping all 24 motos, but that was in 2008. But I don't think that's a problem. Even his brief return at Unadilla in 2010, billed as a failure by even James himself, wasn't that bad. The dude literally came off the couch, on a team with zero motocross prep, and finished third in the first moto that day. A lot of guys that were in mid-season form finished way, way behind him. The riding isn't an issue.
But then every Stewart deal comes with hype. The vibe was mega, uber positive at the JGR press conference in October, too. But I think one key thing is different in this deal, and it's not the money: it's the lack of excuses. James is surely taking this deal for the bike. And, as much as Stew probably winces to be compared to Chad Reed, this deal holds a similarity to TwoTwo Motorsports: Reed took away all of his excuses and bet on himself. That forced him to step up to the challenge, and rode better.
Stewart just removed the excuses and bet on himself. That plan has worked before.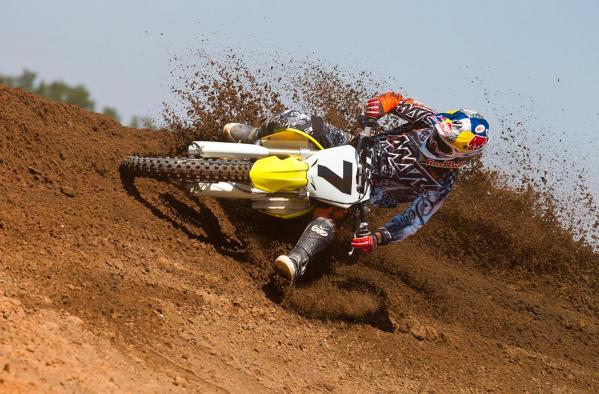 Suzuki photo
Steve Matthes:
Much like that time I did not enter the convent and started pumping gas when I was 16, sometimes things just don't work out and it's best to stop and make a change of direction. This is what James Stewart has done in getting out of his JGR Yamaha deal and switching to Suzuki—starting immediately.
I've written on and on about this deal and how it's coming together, I sometimes feel like my life has become a guy that talks and types about James Stewart for a living. But my stance is the same with this official news as it was when I first heard about it a while back—James could have taken the money and sat at home not riding the Nationals. Instead, he's so frustrated at his poor (for him) performances that he's going to, much like Wesley Snipes did in Passenger 57, bet on black. Or in case that joke went over your head, bet on himself.
I think the Nationals just got 1000000 percent more interesting and I'm excited to see what Stewart's going to do on yellow. It's a bike he's had at his house for a long time (he went out and either tried every color or bought every color before signing with JGR) and he feels comfortable on.
Weigandt and I differ on the next point on whether it was a failure for JGR and Stewart for this to happen. Obviously both sides didn't get what they wanted from the deal and it was indeed a failure in terms of a deal getting broken but my point is that JGR wasn't happy with Stewart's results. So why just keep butting your head against the wall over and over to try and fit a square peg in a round hole? The ability for both sides to realize this and not fight it is a win/win in my opinion. Lots of egos in the sport and for Coy Gibbs to realize that his prize acquisition isn't working out takes fortitude and a forward thinking approach. In my eyes this is a victory for the forward thinkers and people who can be men about something that isn't working out.
And I, like so many others, can't wait for Hangtown!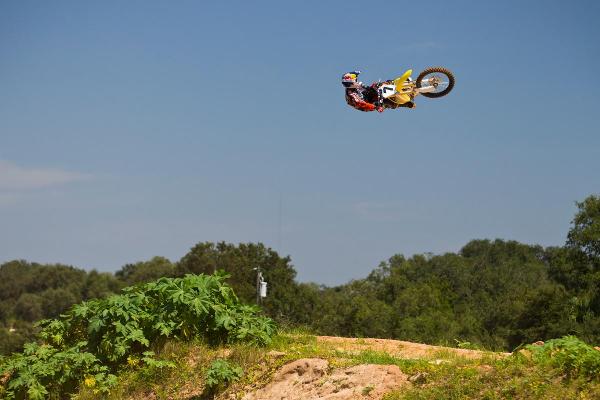 Suzuki photo
David Pingree:
You've got to respect this move. Per James' contract with Yamaha he could of stayed at home all summer and collected a huge paycheck. He didn't have to race the Nationals with JGR. So, he could have made this switch at the end of the summer, put a little coin in his pocket and started looking towards 2013. But instead he left a grip of cash on the table so that he could get to a place where he feels like he can be competitive again. The Suzuki is a motorcycle that is proven and has won many titles [RC's and Dungey's] over the last five years. This could be a very potent duo. Will the old James return at Hangtown or will it be the same old thing we've seen the past few years? Time will tell. But in a summer that was looking to be a clean sweep for Ryan Dungey, things just became much more interesting.
Personally I believe James is going to find more speed and more consistency on this bike. For Stewart that means race wins and winning is fun. Maybe we'll get to see James Stewart smiling again this summer.