Sam Boyd Stadium
Las Vegas

,

NV
Las Vegas
Monster Energy AMA Supercross Championship
The history of moto is lined with storied seasons where one rider or brand underwent a complete reversal of fortune, going from the dog house to the big house, from also-ran to winner, winner to also-ran. It often happens because of injury -- Bob Hannah's water-skiing accident, Ricky Johnson's broken wrist and Ryan Villopoto's busted knee all put dominant periods on the skids. But take injury out of the equation. What about the true paradigm shifts?
10.) HONDA in 1997: After winning the AMA Supercross Championship in 1988, '89, '90, '91, '92, '93, '94, '95 and '96 -- the last four by Jeremy McGrath -- Honda seemed to have the #1 plate on lockdown. But then McGrath split for a unique Suzuki deal that gave him more freedom to market himself, and that led to Honda being shut out for the next six years. What changed? Ricky Carmichael came to the fold.
9.) McGRATH in '01: And speaking of Carmichael, his arrival in 2001 as a solid SX rider turned the tide completely on Jeremy. After winning three more titles on blue, the Yamaha-McGrath went into '01 as the solid favorite for another four-peat like he did on red.  But he hit a brick wall in the form of RC, who went on a 13-0 roll against the champ and everyone else to match Jeremy's all-time winning streak.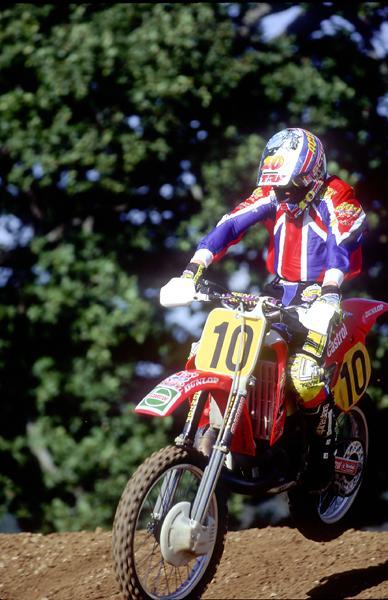 Kurt Nicoll (pictured above) helped the British end the United States winning streak at the MXoN.
DC photo
8.) TEAM USA in '94: And speaking of 13-in-a-row, Team USA was dominant in the Motocross of Nations from 1981 to '93, winning every one as well as the last four of the old Trophee des Nations race (so technically it's 17 in a row). But then the British team of Kurt Nicoll, Rob Herring and MX-Life.tv host Paul Malin upset the Yanks in Roggenburg, Switzerland, and Team USA would begin an up-and-down period of not winning two in a row until 2005-'06...
7.) TEAM USA in '05: What it took was a recommitment by not only top riders like Carmichael, Kevin Windham and then-Lites MX Champion Ivan Tedesco to take back the MXoN, it took Team USA's Roger DeCoster and assistant manager Mitch Payton to really start pushing buttons again and getting the event high up on everyone's radar. Now Team USA is on another streak -- we haven't lost since '05 -- but the sands of Lommel loom large when September comes...
6.) SUZUKI in '85: Up until 1985 the brand had won every 125cc World Championship title, using Gaston Rahier, Akira Watanabe, Harry Everts, Eric Geboers and Michele Rinaldi to run off all ten titles. But 1985 and '86 belonged to the Italian-made Cagiva brand, as first Pekka Vehkonnen and then teenaged Dutch rider Davey Strijbos took home the 125cc Grand Prix titles. Suzuki would not win again until the late American hero Donny Schmit came along in 1990.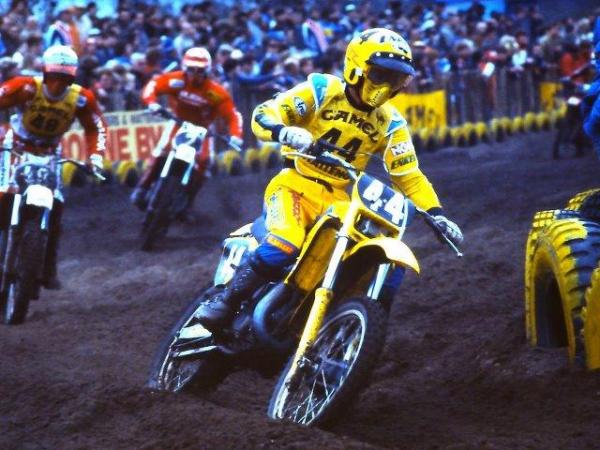 Akira Watanabe was part of Suzuki's 10-year winning streak in the 125 GPs.
Tom Brinkman photo
5.) POURCEL today: Christophe Pourcel has been down before last year -- twice actually, both times the result of injury. But then he did not get picked up by a U.S. factory team, had a short-lived deal with MotoConcepts Yamaha early last summer, then went home to France and ended up riding for his dad's team at the end of the year. But now he's got his own new Kawasaki team, and after a lackluster start in the sand of Holland, Pourcel is going very, very fast. He finished second in Bulgaria, then won last weekend in Italy. He has completely turned his career around again, and he's going after Tony Cairoli's MX1 crown.
4.) WINDHAM in '03: Kevin Windham dropped out of site after breaking his femur in early 2002, but there was more to it than injury. He was struggling on his Suzuki and seemed in need of some kind of career/life intervention. So he took more than a year off, found himself aboard a Factory Connection Honda, and started racing again in the summer of 2003. He beat Ricky Carmichael twice that summer (no easy task, as RC was in between two undefeated seasons) and has been going fast ever since.
3.) Grant Langston in 2008: Langston added to an already long list of achievements in 2007 when he secured the outdoor championship after James Stewart was forced to pull out with a knee injury with just four races left on the schedule. Langston's good fortune didn't stop there; he would go on to win the U.S. Open later that year. Unfortunately, the Zulu Warrior's run would come to an end when he developed a cancerous tumor in his eye the following season. Langston attempted to mount a comeback after overcoming his cancer, but was never able to regain the speed he once had, and ended up retiring in 2010.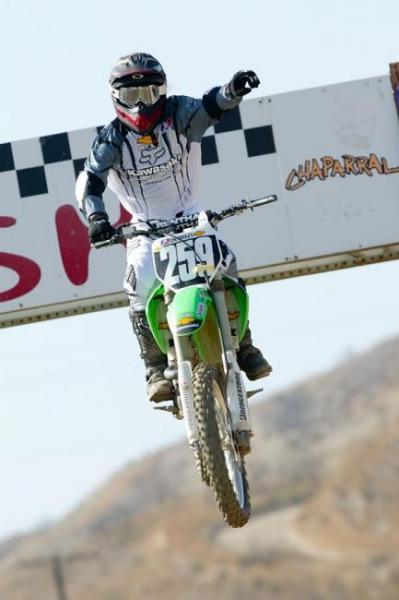 James Stewart took the win at Glen Helen in 2004 on a KXF250.
Simon Cudby photo
2.) The 125: There's an exact date to the end of the beloved tiddler's reign: September 12, 2004. That's the day James Stewart showed up at the season-ending Glen Helen 125 National on a KXF250 rather than the KX125 he had used to win all but one moto up to that point, as well as the East Region SX title. Stewart dominated the field on his one-and-done 250F ride, and then moved up a class. Sadly, no 125cc motorcycle has won (or even led) a Lites SX or national since.
1.) PRO-CIRCUIT/GEICO Honda in '12: Last summer the Monster Energy/Pro Circuit Kawasaki team came within a moto of sweeping every moto in the Lucas Oil AMA Motocross Championships, They went 1-2-3 in the overall standings and won all 12 overalls. But now they are seemingly on the outside looking in at GEICO Honda's sweep on the 2012 SX Lites titles, and with Dean Wilson and Darryn Durham nursing shoulder injuries, Tyla Rattray coming back from his own injury, Blake Baggett not riding like his usual self, and Broc Tickle in the 450 class, things are not looking as perfectly green as they did last summer. GEICO, on the other hand, has Justin Barcia and Eli Tomac hitting their stride just as SX comes to a close.