Sam Boyd Stadium
Las Vegas

,

NV
Las Vegas
Monster Energy AMA Supercross Championship
Running his own CP377 Monster Energy Pro Circuit Kawasaki team Christophe Pourcel is firmly in the process of rebuilding. Throughout 2011 his mind and priorities seemed to be hovering somewhere over the Atlantic, trying to work out where home and life could be. In 2012 the decision to attack the FIM Grand Prix Championship and complete the set (he took the MX2 crown in 2006) is the first phase in filling those remaining CV "blanks". The freest of spirits, Pourcel is surrounded by people he trusts, machinery he trusts and now has the onus to push-on and again become one of the leading lights of the global game. MX1 glory in 2012 and an attack at that missing Outdoors crown shortly after…it's a clear path after a period of uncertainty since 2010 that saw his name and reputation muddied. Above the personality and misconceptions, Pourcel is simply a very gifted racer and he reminded all watching the Grand Prix in Bulgaria and Italy of that fact over the past two weeks.
Racer X: The public has seen a rider in Bulgaria and Italy that was totally different to the one they saw in Holland for the championship opener. How do you explain that?
Christophe Pourcel: Like I said in Valkenswaard, I found the track pretty dangerous with all the rain and because this is a new team it would have been stupid to get hurt in the first race. I wasn't going to push if I couldn't. I didn't do anything there. I tried my best in the second moto and it wasn't too bad [he took ninth] until a lapper pushed me out of the track…some guys are crazy sometimes! We found the hard pack again and this is the stuff for me. We made a good set-up in Bulgaria that also worked here [Italy] and the bike is pretty much like last year. We make little improvements every week, whether on the suspension or engine and it's all good.
How did you find Fermo compared to Sevlievo?
It was pretty much the same except the speed was crazy-fast in Bulgaria. Everyone was wide-open. This track was more technical in sections but a little dangerous because of how it wore in the second moto with some kickers on the jumps.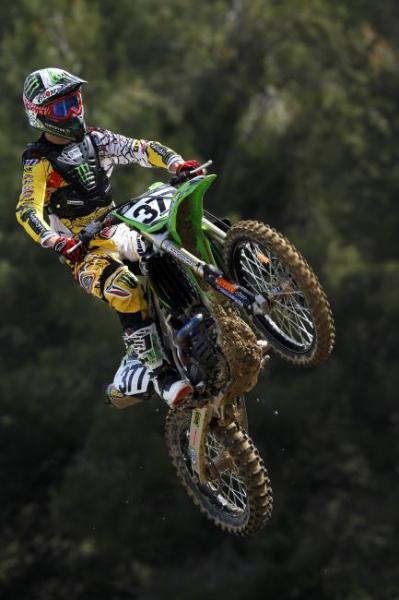 Pourcel won the overall in Italy, his first GP overall since 2007.
Ray Archer photo
How do you find racing with Gautier Paulin? It is two races now that you've both being going for the win.
Right now he's been OK. He's made a few mistakes already and I know that when you get tired on the 450 it can bite you. It is his first year and I don't know how he will manage it through the year. Every time we ride together he is pretty smooth and it is surprising for the championship to get a new guy like this.
You hit good speed and form in the last few GPs of 2011 and you've found that groove again.
I feel like last year was pretty good for me to get back to Europe and feel-out the GPs. I made a few mistakes; I would win a moto and then crash in the other one but I was faster than everybody. All that was good for the approach to this season. Right now, if I am on the podium at the end of the weekend then that's OK and we'll see what we can do at the French GP [round six of sixteen] and onwards.
How is the sport for you and how does it fit in your life now?
It's fun. I don't think any other rider has my life…in the week between Bulgaria and Italy I called my team manager Yann and said, "let's go ride enduro". He thought it was a great idea because he knew I was ready for the GP and working on my fitness. I cycle everyday and even my doctor said I am on the limit of what I can do physically, so I needed to calm down. Enduro was super-fun and I don't think many guys can just get away and do that. I'm enjoying life, that's for sure.
For people who see the team name from the outside and don't know the story behind the set-up, what's the structure and idea behind it?
It was a deal in which I was able to use my name to put it together and Monster Energy helped us. It was a big step for me coming back from the U.S. to Europe and we built a team around my racing. There is a lot going on and we have to pay all the guys working here. It is not easy to make it happen.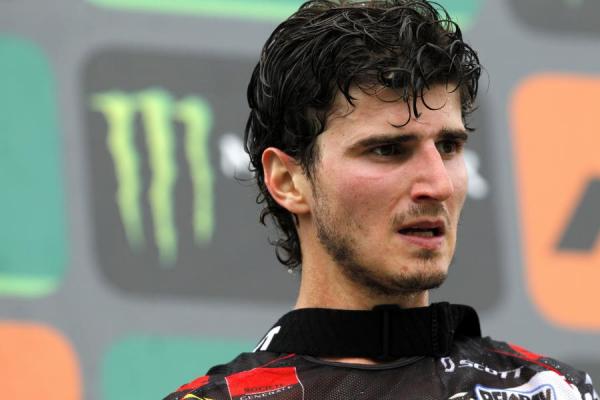 Could we see Pourcel return for the Monster Energy Cup?
Ray Archer photo
Is it similar to what Chad Reed has assembled?
Yeah, pretty much the same. I don't really know how Chad has it set-up but I've known the guys here with me since I was World Champion in 2006. It is something super-important because you know they are going to be at the podium and going to be happy even if you haven't managed to win that day. At Valkenswaard we had a bad weekend and we worked to find the way.
The build-up to the Monster Energy Cup in Vegas is beginning. Is this an event that you'd be interested in doing?
I could go. I don't really know how it works but the whole supercross-motocross thing is really my style. I think supercross can be pretty dangerous if you just go out to do one race. I also have Genoa and Bercy over here and can treat them like one-off events and not take any risks. The Monster Cup could be good for me because it's a "motocross thing" and you don't have to take maximum risk to win.