Anderson, Dale Shine in Australia
By Alex Gobert // MotoOnline.com.au
Carlton Dry Honda Thor Racing broke through for their maiden wins in both the MX1 and MX2 classes at the Wonthaggi round of the 2012 Monster Energy MX Nationals this weekend.
In fine, windy conditions two-time British champion Brad Anderson claimed his first MX1 scalp, while Sunshine Coast's Ford Dale strung together three consistent races to land on top of the MX2 box.
Anderson's 1-2-3 result as boosted him back into title contention and has rocketed him up to second in the standings.
"The first race went really well, I got the holeshot, but towards the end I got a little bit of arm pump," Anderson reflected. "I felt really good, didn't feel as though I was pushing too hard and I was able to control the race.
"When the second one came I got another good start and was leading, but then the dreaded arm pump kicked in again and Todd [Waters] came past. I relaxed a bit and came away with second in that.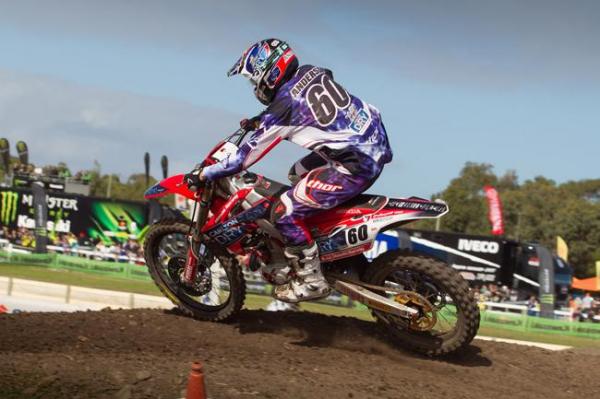 Brad Anderson's 1-2-3 moto results gave him the MX1 overall win, his first this season. Image: Shayne Rice
"The last race came and that was my worst start of the day, but I came through a little bit and was riding pretty solid. I was able to take third, which I'm happy about, and I'm glad to pull some points back on Josh [Coppins]."
Even a tangle with CDR Yamaha's Lawson Bopping in the final moto couldn't stop Anderson.
"Lawson came in too hot into a corner towards the end of the third moto and took us both down, but I was able to get going again quite quickly, which was lucky."
The MX1 class saw some excellent racing, with three different winners over the three races. Todd Waters (Motul Pirelli Suzuki) finished the round second overall after winning moto two, plus he scored third and fourth place finishes in the remaining motos to lock in his second podium of the year.
"The first two motos went to plan and I was able to keep nice and relaxed on the bike and keep the racing nice and clean," Waters reflected. "I dropped it in the third moto and was just too anxious to get to the front. I made a lot of mistakes, but still managed to pick up a third and put Suzuki on the box, which is the main goal."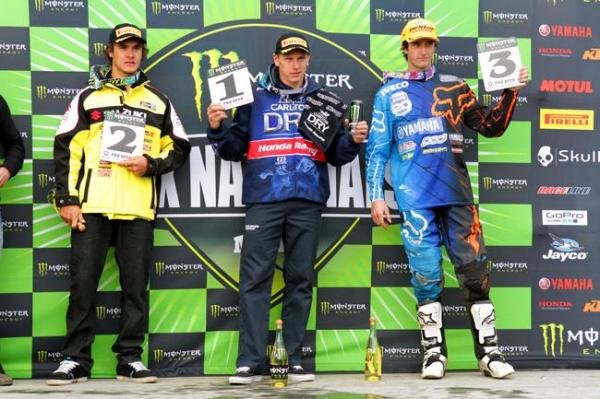 Behind Anderson in the MX1 class it was the young guns Todd Waters and Lawson Bopping taking second and third place honours.
Image: Simon Makker/Makkreative.com
CDR Yamaha's Lawson Bopping brought up his first podium of the year and was pleased with the 2-3-6 result in the three races.
"The first two races were great, but in the final I just started riding like a Joe, got passed by a couple guys, then ran into Brad Anderson and we both hit the deck. It's all good between us – it stays on the track and there are no hard feelings there."
Bopping's teammate Josh Coppins kept his grip on the MX1 series red plats with a fourth overall. Even through it was the first time the Kiwi stalwart has finished off the podium this year, he still holds a 20-point lead in the standings.
"It was tough today. Nothing went really bad, but nothing went really well either," Coppins said. "I had arm-pump and a few little issues, but under the circumstances I think today is one of those days where you take the few positives out of it, and work towards the next round."
Final moto winner Cody Cooper (Motul Pirelli Suzuki) could only manage fifth overall after suffering bad starts all day long. Cooper checked out in the final moto when he snatched the holeshot and led all the way to the checkered flag.
"I just couldn't get starts in the first two races and had to fight through the pack from a long way back," the Kiwi said. "The final moto was awesome though. I qualified fastest and once I had clear track in front of me I could focus on putting together clean laps without banging bars with people."
Carlton Dry Honda Thor Racing's Ford Dale broke Serco Yamaha Metal Mulisha Racing's win streak in the MX2class. Dale won the third and final moto to clinch the overall after a hard-fought battle all day long.
Dale's consistency proved to be the decisive factor as he held down second places in the first two races before hunting down local favourite Adam Monea (Zero Seven Motorsports Suzuki) in the 30-minute final to bring up his first win of the year.
Battling the flu all weekend, Dale was the fastest rider in qualifying, and was ecstatic to come away with his first Overall of 2012.
"I'm feeling hammered now," he admitted. "I used a lot of energy in the first two races, so by the final I was knackered. I had to dig deep and I'm just glad to finally have a win for the Carlton Dry Honda team."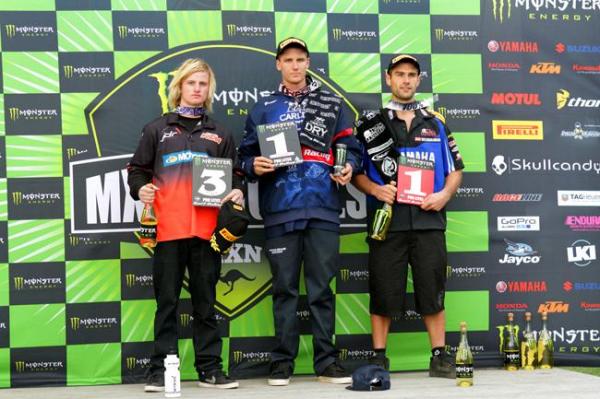 Behind Dale, Luke Styke and Josh Cachia took second and third place finishes respectively, while Styke maintained the red plate and overall points lead.
Image: Simon Makker/Makkreative.com
Styke was again impressive with the red plate and will maintain it into round four for Serco Yamaha, finishing second overall after winning the second moto of the day. Styke finished third in moto one, but a sixth in the third moto denied him of the round win.
"The competition was tough today and the track was brutal. I was able to chalk up one win for the Serco Yamaha team, but I'm looking forward to getting into the sand at Wanneroo, as sand-riding suits my riding style."
Josh Cachia was impressive with a breakthrough win in moto one after coming under all kinds of pressure from Dale. He claimed his first overall podium of the season in third after claiming fourth and seventh places in the final motos.
"Today was just about going out and executing what the team had taught me," Cachia said afterward. "I checked out in that first race and it felt great to lead from start to finish, even though I could feel Ford breathing down my neck for a lot it. It was a good day for sure."
The Pirelli MXD category crowned its third winner in as many rounds of the 2012 season, with New Zealander Kayne Lamont taking his maiden win on Australian soil with a 2-1-7 finish.
"I'm really enjoying the new power of the two-stroke and it seems to get good starts – except for the last race," Lamont said after switching from a four-stroke recently. "I had a moment in the first race and got up to second, then in race two I got the holeshot and won it. In the third moto I was 25th through the first turn and got back into the top 10, so it was a good result."
GYTR Yamaha's Sam Martin raced to his second podium of the year in second overall after dominating the first race.
"I had some mixed starts, and at this round it was as important as ever to get off to a flier," Martin said. "I got a great start in the first moto and pulled away, but I had a shocker in the second and had to settle for eighth. I'm happy with the second overall, as it's now placed me second in the championship."
Another KTM two-stroke rider, Kale Makeham, rounded out the podium, and has seen him to fifth overall in the MXD title chase.
Series leader Dylan Long won the final moto and took fifth overall for Choice Motorsports KTM to hold onto the red plate, one position behind round two winner Dylan Leary on yet another KTM.
The series will next head west to Wanneroo in Western Australia on 12-13 May, marking round four of 10 for the 2012 season. Visit www.mxnationals.com.au for further information on the Monster Energy MX Nationals series.
2012 Monster Energy MX Nationals, Australian Motocross Championship
Round Three – Wonthaggi, VIC
MX1 Overall Results:
1. Brad Anderson 67
2. Todd Waters 63
3. Lawson Bopping 57
4. Josh Coppins 56
5. Cody Cooper 50
6. Jake Moss 47
7. Jay Marmont 44
8. Tye Simmonds 39
9. Dylan Peterson 35
10. Dean Porter 32
MX2 Overall Results:
1. Ford Dale 69
2. Luke Styke 60
3. Josh Cachia 57
4. Adam Monea 55
5. Cheyne Boyd 49
6. Kirk Gibbs 43
7. Kade Mosig 43
8. Errol Willis 39
9. Geran Stapleton 36
10. Lewis Woods 29
MXD Overall Results:
1. Kayne Lamont 61
2. Sam Martin 57
3. Kale Makeham 56
4. Dylan Leary 53
5. Dylan Long 44
6. Ben George 43
7. Joel Milesevic 39
8. Jay Wilson 39
9. John Phillips 36
10. Mitch Budd 36
MX1 Championship Standings (after 3 of 10 rounds):
1. Josh Coppins 181
2. Brad Anderson 161
3. Todd Waters 152
4. Jake Moss 148
5. Lawson Bopping 146
6. Jay Marmont 139
7. Cody Cooper 137
8. Tye Simmonds 133
9. Daniel Reardon 96
10. Daniel McCoy 83
MX2 Championship Standings (after 3 of 10 rounds):
1. Luke Styke 192
2. Ford Dale 179
3. Kirk Gibbs 162
4. Josh Cachia 149
5. Kade Mosig 140
6. Cheyne Boyd 136
7. Adam Monea 135
8. Errol Willis 115
9. Justin McDonald 110
10. Ryan Marmont 91
MXD Championship Standings (after 3 of 10 rounds):
1. Dylan Long 168
2. Sam Martin 157
3. Dylan leary 157
4. Kayne Lamont 155
5. Kale Makeham 152
6. Joel Milesevic 131
7. Jay Wilson 128
8. Mitch Norris 123
9. Mitch Budd 90
10. Dylan Wills 87