Rice-eccles Stadium
Salt Lake City

,

UT
Salt Lake City
Monster Energy AMA Supercross Championship
It's been said that one man's tragedy is another man's fortune, and while nobody is happy to see injuries force the athletes of Monster Energy AMA Supercross to the sidelines, this year's misfortune has created a season that is every bit as unpredictable at the end as it was in the beginning. Eight riders on the starting gate at Anaheim 1 had wins to their credit, now there are only four, despite the addition of
Andrew Short
to the winner's club last weekend in Seattle. As a result, everyone seems to be asking the same question as we head into Salt Lake City: who's going to get the W?
If you were going to place a bet this weekend based on statistics, you'd probably be putting your money on Ryan Dungey. After all, he is the 2010 champ, he's got more career wins than any other active racer, and he's won more races this year than the rest of the active field, despite missing five rounds with a broken collarbone. Yes, it's true that even after Ryan Villopoto crashed out last weekend Dungey was only able to muster a sixth, but his result was affected by a crash, and it was also his first race back from injury. It's likely we'll see a speedier Dungey show up in SLC, but with the Lucas Oil Motocross Championship just around the corner and the supercross title already decided, he's got nothing to prove. The translation? It's doubtful we'll see Dungey go for the jugular this weekend if it means letting it all hang out.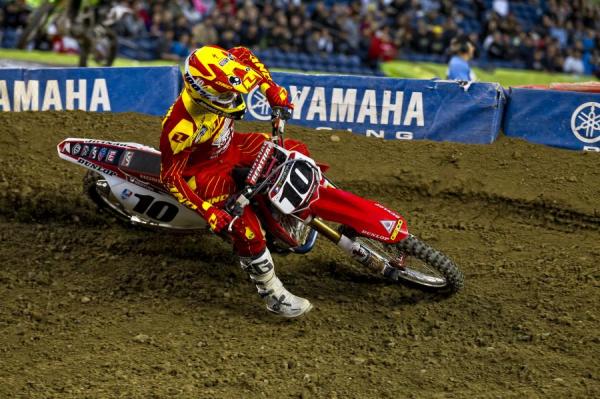 Can Brayton pick up his first career win in Salt Lake City?
Garth Milan photo
Based on the circumstances, Davi Millsaps and Justin Brayton are a bit more likely to take risks and aggressively pursue the W. Separated by only three points, both rides are locked in a tight battle for second overall, and both have yet to take wins this season. For Brayton, the situation is especially urgent, as the next two races will present him with the best odds he's ever had of taking home the first victory of his career (Millsaps has already won a few).
Then there's Jake Weimer, who just can't seem to take one step forward without paying for it later. That's right, before Seattle, Weimer had three podiums, contrasted by two DNFs and one DNQ. Well, Weimer took third place in Seattle, which means that if the trend holds true, he's due for some bad luck this weekend. Fortunately this is racing, and just about anything can happen. A win for Weimer in SLC certainly wouldn't surprise anyone, and it would also be a thriller for the fans, since Weimer's Idaho home is closer to this stop than any other. It'd be a great way for Weimer to forget about some of his more forgettable races while helping raise the team's spirits after the loss of Villopoto.
If you still haven't decided where to place your money, and someone were to give you good odds on Ken Roczen, it wouldn't be a bad opportunity. Despite only having a few days to prepare for life in the premier class, Roczen rode brilliantly and ended up in second place aboard a bike with an engine 100cc's smaller than the ones he was racing against. He had only ridden the 350 for two days before Seattle. What can we expect from the German now that he's had an additional week to prepare?
Of course, Andrew Short, the man who threw a wrench in everyone's plans last weekend, could easily do it again tomorrow night. After dealing with a shoulder injury and the uncertainty of not even knowing whether or not his team would be able to continue to make it to the races, Short is in one of those rare situations where he's simultaneously brimming with confidence and has nothing to lose. His team is back in action with proper funding, he doesn't have points to worry about, and with the weight of that monkey on his back no longer dragging him down, don't expect him to ride any slower this weekend than he did the last.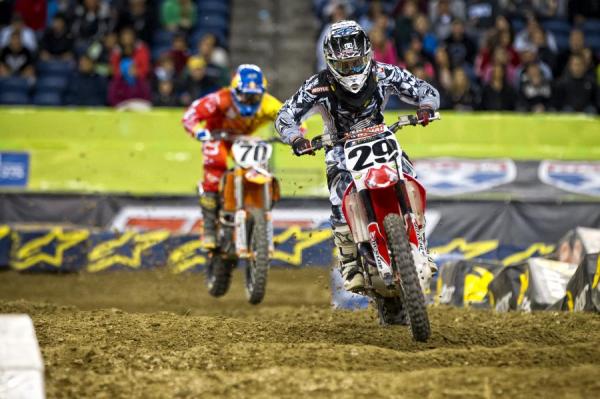 Short is looking for back-to-back wins in SLC.
Garth Milan photo
There's always guys like Mike Alessi, Josh Grant and Brett Metcalfe too, who could pull off a win if the situation presented itself. Alessi has been riding well this season, and even set the fastest qualifying time of the day in Seattle. Grant is doing his best to regain the speed he had before getting injured last year, and if he rides like he did in New Orleans, where he took second place behind Villopoto, he could become the season's newest winner. Metcalfe hasn't lit the world on fire this year, but we know he's capable of going as fast as the boys who have been on the podium lately. What better way to ease the pain of a lackluster season than by nailing down your first supercross win?
With the unpredictability factor currently bumping against redline, it'd be easy to write another thousand words discussing the reasons why any given rider, or group of riders, stand a good chance of winning in SLC. And you know what? They'd all be plausible, that's how outrageous this sport can be sometimes. With the series heading into Rice-Eccles Stadium this weekend, a venue that has yet to produce a first time winner, things could get even wilder. Who's ready?