Qwest Field
Seattle

,

WA
Seattle
Monster Energy AMA Supercross Championship
Welcome to Racerhead. We're in the stretch run for Monster Energy AMA Supercross—three rounds to go before it's time to take it outside. Ironically, tomorrow night's Seattle SX is also outside—it lacks a roof, and it's been raining in the Northwest. Fortunately, the Dirt Wurx track crew and the Feld Motor Sports staff rolled out the tarps and got the track covered. Weather permitting—and it's supposed to be sunny tomorrow—it should be another epic race tomorrow night!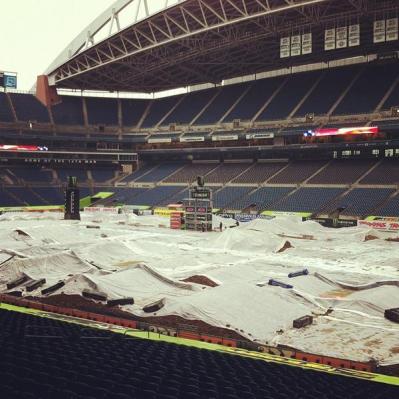 The track in Seattle is wrapped up right now and staying warm and cozy...
Jeff Canfield photo
The Seattle Supercross also means a return to live TV on SPEED, so if you're on the East Coast like I am, it's a 10:30 p.m. start. Locally, the live coverage begins at 7:30 p.m.
Of course Ryan Villopoto already has successfully defended his #1 plate, but he will have extra motivation this weekend: Not only is Seattle basically his hometown race, but his opponent Ryan Dungey of the Red Bull KTM team will finally be back. Dungey has been out since Daytona, though he somehow raced St. Louis the week before and finished a solid second with a cracked collarbone. He's healed up, he's back, and he will likely be frontrunner.
You can also add Ken Roczen to the mix as Dungey's teammate. The German teen will be on the 350 for Red Bull KTM, and he told me earlier this week how much he's looking forward to not only this race, but finishing up SX all together and turning his attention to the outdoors and the Lucas Oil 250 Motocross Championship. Roczen has ridden well in the East, but maybe below the high expectations some have had for him—especially his fans in Europe, or anyone who saw him at the last two Motocross of Nations races, where he was the top 250-class rider. When asked what the biggest surprise has been for him in this first year in America, Roczen said it was the grind of travel.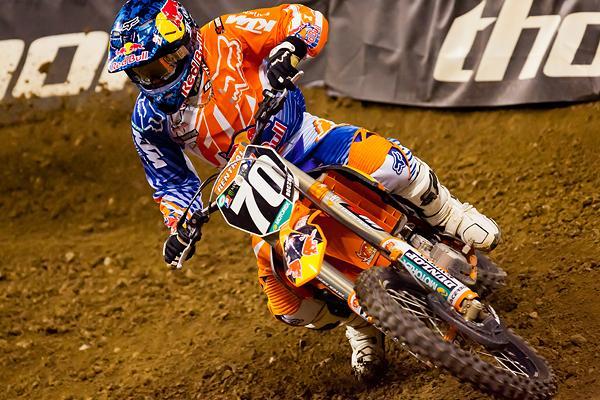 Ken Roczen is enjoying his American racing adventure, but the travel has been more than he expected.
Andrew Fredrickson photo
"I honestly did not realize the travel was going to be what it is," he admitted, explaining that in Europe he and his family traveled together in a motor home. But since got hurt and ended up on the East Region, he's had to fly everywhere. "The pace is very different here, and I have to figure that out because it all kills me a little bit right now. I have to figure some things out. Like last weekend [in New Orleans], going back and forth to the hotel and all, it was just a lot of work. In the beginning I thought traveling back and forth, the flying, it wouldn't matter, but it does. It's a whole day of flying. You have to get up early, like four in the morning, go to the airport, then it's three hours riding the first flight, stop, and then three hours again.... It's hard as hell!"
Think about it this: By the time the second Grand Prix of the year is run on Sunday, we will have fifteen rounds of supercross in the books. Roczen didn't do them all, but that's still quite a change from the relatively spaced FIM World Championships where he raced the last couple of years.
The third member of the Red Bull KTM team, Marvin Musquin, will also be back, as will the entire West Region Lites class. After a long hiatus, the title battle between Monster Energy/Pro Circuit Kawasaki's Dean Wilson and GEICO Honda's Eli Tomac begins anew. When we last left them in San Diego in February, Tomac threw away a sizable points lead with a huge crash in the whoops. He's all healed up now, and ready to go—and so is Wilson, so this should be epic!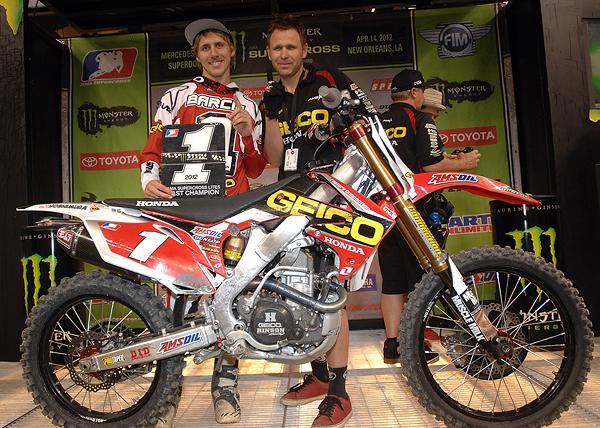 Congratulations to Justin Barcia on winning his second East Region SX title.
Carl Stone photo
And speaking of title chases, congratulations to
Justin Barcia
and the whole GEICO Honda team for winning the East Region, as well Darryn Durham, a longtime family friend—I raced with his dad Chris for many years—who got his first professional win. I also want to give a pat-on-the-back to Chad Sanner and the whole crew at Eleven10 Mods. Darryn doesn't ride for them now, but he did last year, and they worked together to get him to the Pro Circuit ride.
On a different note, if you are a bench-racer like I am—if it's incredibly important to you to know exactly what place Kevin Windham got in all 200-and-some starts, or if you just have to know who got fifteenth at the 1976 Anaheim Supercross, or just how many times has a European-brand been on the podium—you're in for a good weekend. That's because the Racer X Vault has been expanded and is now packed with every AMA Supercross result since 1974! Thanks to historians like Larry Lawrence and Nick McCabe, plus help from the AMA, and finally master engine builder Cole Thorsen of Impulse Studios, we are really doing some bench-racing now!
Be sure to swing by and check it out. While it's still a work in progress, it's come a long way in recent weeks. We've cleaned up all of the motocross results too, as well as added the WMX/WMA results. It's all searchable and sortable in a variety of ways. Data throughout the years has been relatively inconsistent, but we're working hard to remedy that so there's a legitimate, one-stop resource for all historical professional results in the United States. And you can help! If you spot inconsistencies in our data, please let us know at vault@racerxonline.com.
Also, coming soon: every rider, every class, every moto, every year from the Red Bull AMA Amateur National Motocross Championships at Loretta Lynn's Ranch!
And speaking of the old school, it's always good to hear from David Bailey. He and Ludo from 100% were doing some bench-racing about this crazy old photo from Broome-Tioga in 1984, when he and Broc Glover were battling for the 500 National title, and both were wearing #1: Glover as the defending class champion and Bailey as the Wrangler Grand National Champion from the previous season, when they combined all points from SX and MX.
"Wardy went 2-1 and got the overall and Johnny (O'Mara) was bummed, RJ swept the 250 (hardest class) and I swept the 500. Gina took this shot of me passing Broc in the second moto. Somehow I didn't fall. One of those years where everything went smooth, except for those milk jug hand guards."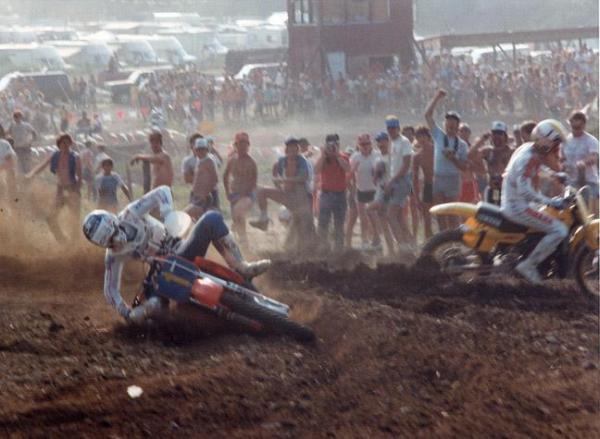 Somehow, David Bailey did not crash at this moment!
The way we were: Check out this funny old Honda commercial, a classic  starring Malcolm Smith, back when Malcolm was easily the most popular motorcycle rider in the country (at least the most famous besides the actor Steve McQueen). Thanks to Pat Schutte for unearthing this gem on YouTube.
Ricky Carmichael University is going global! RC is teaming up with his old friend James Dobb and some folks in England to a special riding school on June 18-19 in Doncaster. I have been to RCU a couple of times at Daytona and it's as much about fun as it is about riding faster—Carmichael is an excellent instructor and his race stories are just incredible. He also has very good advice for parents, having been raised in the spotlight of amateur motocross (and raised well by his parents, Rick and Jeanie). If you're anywhere near that part of the world, it's an incredible opportunity to spend some time with the GOAT and go faster!
Sadly, news from New York says that a Ryan D. Mills, 26, from Modena, was arrested again on suspicion of burglary. According to the Daily Freeman Journal, Mills was arrested Wednesday at 3:30 p.m. by state police at Gardiner and charged with felony burglary and four misdemeanors: possession of burglary tools, petit larceny, possession of a controlled substance, and possession of a hypodermic instrument. He was released on bail.
Okay, on that sad note, let me turn this over to Jason Weigandt:
It's tempting to say that the DNA Energy/Jeff Ward Racing Kawasaki team was ready to celebrate—or was simply relieved by—their first podium finish last weekend in New Orleans with Josh Grant's excellent effort. But anyone working for the team is quick to point out that podiums are nothing new for them. It just looks different now.
The JWR team is actually the old L&M team, minus one high-profile team manager (Larry Brooks) and a mega-star rider (first Chad Reed, later James Stewart). Otherwise the name is different and the bike brand is new, but the staff and shop are the same. And while Wardy is now involved in the operation, Mike Kranyak, who owned L&M, is still the owner of this team. Because it's the same team!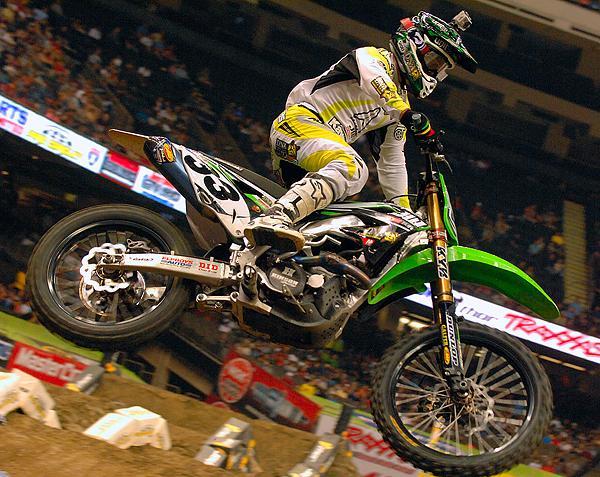 A revitalized Josh Grant had his best race of the year in the Big Easy.
Carl Stone photo
Perhaps that is why the group has remained so relaxed through what has been a lean season for results. This crew grabbed the 2008 and '09 SX titles, and even after Brooks went away for "family time" last year, they were still backing Stewart through the end of the SX tour, and still came close to pulling off a title despite so much drama and so many crashes.
Honestly, I think these guys are relieved to actually not be battling for this year's title, if that makes any sense. From the start, L&M was right in the thick of the pressure and drama, driven hard by the notoriously competitive Brooks and the very high standards of Stewart and Reed.
The men at the helm now are much quieter, and it reflects in their demeanor. Team Manager Paul DeLaurier is not a trash-talker or an ego guy. He's as knowledgable and passionate about the sport as anyone but doesn't go out of his way to show it. And Ward, of course, is one of the most successful racers of all time, and yet he is known for being humble and not at all flashy.
I've talked to Ward and DeLaurier all season and they've never seemed alarmed over a lack of results. Even in an injury-depleted field, Chisholm and Grant have been hard-pressed to find the top five, let alone the podium. But Paul maintains that this is a rebuilding year, with an eye on the future, both this summer's Lucas Oil Motocross Championship and next season. In fact, I don't think I know of another team with this kind of personnel and resources that thinks this far ahead—when you're used to winning, you usually can't help but live and dye by the results every weekend. So far, this team continues to preach patience. And so does Grant, actually, who warned in an interview that just because he finished second in New Orleans doesn't mean he will kill himself for a podium at the final three SX rounds. He, too, is just trying to rebuild himself for the future.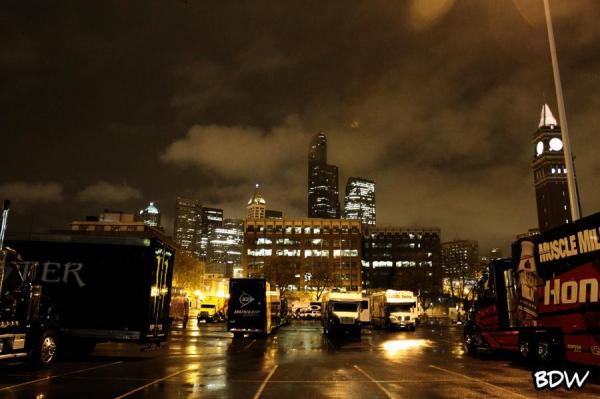 The forecast is calling for a sunny day tomorrow in Seattle.
BrownDogWilson photo
With that, I turn the mic over to Steve Matthes:
We're heading to the Pacific Northwest this weekend for Seattle, and just like Washougal for the outdoor series, I enjoy going to this part of the country. And it looks like the weather is going to hold off, which is great for the fans who have to sit in the open-air home of the Seahawks. I've written this before, but every year I hear from everyone wondering why Paul Allen, the owner of the NFL's Seahawks, built an open-air stadium when the Pacific Northwest is known for its wet conditions. I wondered the same thing also, and one year I met the guy who runs the place in the elevator and asked him that very question. He told me that Allen did research on what the weather was like for the previous 100 years on Sundays during the football season and found out that it really didn't rain all that much. So, henceforth, the stadium was built with no roof and, as the guy told me, Allen doesn't care all that much about anything else that goes on there other than the Seahawks. So now you know.
The SX series is coming to an end but we're slowly getting some of the walking wounded back. Last week was Nick Wey and Andrew Short and this week it's Chris Blose and Ryan Dungey. That's right, The Dunge is coming back, and things just got interesting insofar as who is going to get second in the points behind Ryan Villopoto. Davi Millsaps has a small lead right now over Justin Brayton but you have to think that Dungey is going to have a chance at it now as well. This is the battle, folks!
Shout-out to Blose's mechanic this weekend, Scott Donkersgoed, who is working for Blose on the Motosport.com team along with his regular rider Justin Sipes. He's pulling double duty! He'll go to the line with Blose but along with Nick Wey's wrench, Big Nasty, both guys will make sure Sipes is taken care of. You just don't see this type of heart and effort in the mechanic's ranks anymore. Incredible stuff.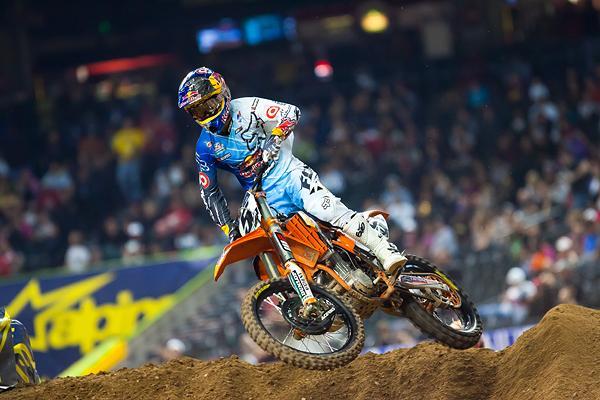 Ryan Dugey's return provides a much needed spark to the Supercross class.
Andrew Fredrickson photo
I'm looking forward to the resumption of the West Region Lites Series, and as I said in Going for the W earlier this week, look for guys like Wil Hahn, Cole Seely, and Marvin Musquin to be a little sharper and a little more on point than the other guys because they've been racing. The battle between Dean Wilson and Eli Tomac should be great. Lots of people are asking me who I've got, but honestly, it's too close to call. Both guys are great and I suppose it will come down to the starts, which it so often does.
As far as the James Stewart JGR saga, well, nothing new to report there. James is hurt and won't be at the next two races, and the team has privateer Gavin Faith to fill in. Faith's been sneaky good this year—he's got some real skills—and kudos to the JGR guys for once again helping out the little guys.
And there is something to the James Stewart-leaving-JGR thing: it's real and there are talks behind the scenes. Whether he does or not, we should know real soon. If he goes anywhere, it will be factory Suzuki and it will be officially for the start of the 2013 supercross series, although my sources say that if he feels comfortable on the yellow bike, later on in June or July he could show up for some nationals. But I don't think he's racing motocross on a JGR Yamaha—he doesn't have to by the terms of his contract, and with the way his year is going, I'm not looking to see him on the line at Hangtown on blue or yellow. Best-case scenario is later on in the summer, methinks.
Whether or not it's true, the fact that James thinks the Yamaha is not the bike for him is in his head. And if you've ever dealt with riders, you know that the brain is often the strongest tool these guys have. Whether it's true or not, James thinks the bike is part of the reason why he's not having the same success as before and that's an open or shut deal. What are you going to do? Convince him otherwise by typing out an online manifesto on why the Yamaha works for you in the local Vet B class?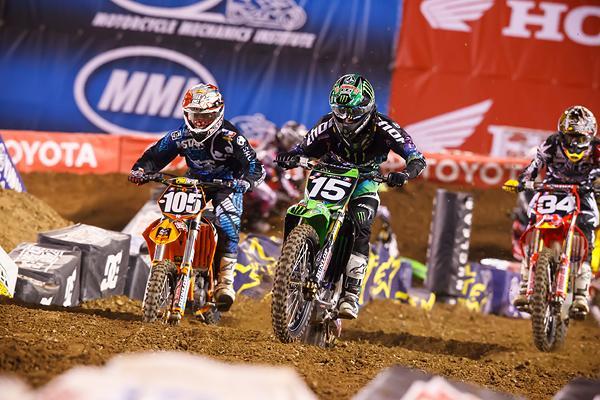 Can Wilson hold off Tomac and Seely when the West Region Lites Series returns tomorrow night in Seattle?
Simon Cudby photo
So what's the hold-up? Well, like a lot of things, it's the dollars and cents of the deal. We know that James almost went yellow before the season but the deal just wasn't good enough, and when Stewart rode the JGR Yamaha, he was convinced that the guys there could make a bike that worked for him. Sources also tell me that Suzuki is going to be able to find out its budget for 2013 this week and that it would take "a couple of days" for Stewart and his lawyers to get out of the JGR deal. I'm told the JGR guys, some of the nicest people in the pits, would be open to James getting out of his contract if he asked because we can all see it's not working and they're shelling out some serious money for not-so-serious results.
So let's wait and see what happens. I know the fans and the industry are salivating with every rumor they hear but for right now, we're all just waiting. These things aren't easy to do—a lot of pieces have to come together, and in the end, if Suzuki can't make it work for Stewart, it's back to the drawing board for Stewart and JGR.
Stay tuned next week!
Okay, over to Ping:
This link looks pretty good for a place that rains, on average, about 366 days per year. My guess is that the track will be pretty good come race time. That's great news, because you hate to see a supercross title skewed because of a mud race. The most exciting part of the weekend will be the Lites-class main event where Tomac and Wilson will go head-to-head for that championship. The two points separating them aren't much of a cushion, but they could be the difference when the checkered flag falls in Las Vegas. If Wilson wins this Saturday it puts Eli in a must-win situation for the last two. That's a lot of pressure. However, if Eli shows up in Seattle with the same speed and fire he had at the opening rounds, he is going to have Wilson on his heels. Good luck to both of them—it's going to be fun to watch.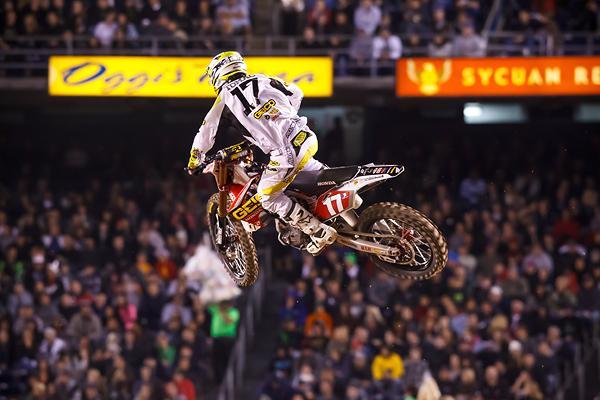 Tomac looks to regain the points lead after coughing up over 20 in San Diego.
Andrew Fredrickson photo
It's great news that Ryan Dungey is healthy and returning to action. In the grand scheme of things it really doesn't change much, though. I'm sure he just wants to get a few gate drops under his belt again before Hangtown where he at least has a shot at the title. I'm hoping he can make that series interesting.
Since DC is putting up cool, old-school Honda commercials, here's one with Steve McQueen himself. The actor was paid $1 million for his part in the ad, which aired in Japan.
Now here's
Aaron Hansel
:
The title may be clinched but there are still some great stories happening in supercross, ones that would normally be overshadowed by the action at the front. One of those stories is Cody Gilmore, a privateer who has been trying since 2011 to make a 450 main—a feat he was finally able to accomplish in New Orleans. While qualifying for an AMA Supercross-class main certainly makes you one of the baddest dudes in the world on a dirt bike, the fact that Gilmore is a cancer survivor makes this story all the more interesting. When Gilmore was 18, he was diagnosed with bone cancer, and a growing tumor in his back temporarily caused him to lose all feeling in his legs. We ran a story about Gilmore in our May 2011 issue, so I won't rip off my own article and repost it here, but needless to say, Gilmore's recovery process wasn't fun. Of course, surgery, radiation, feeding tubes, chemotherapy, and brittle, broken bones never are.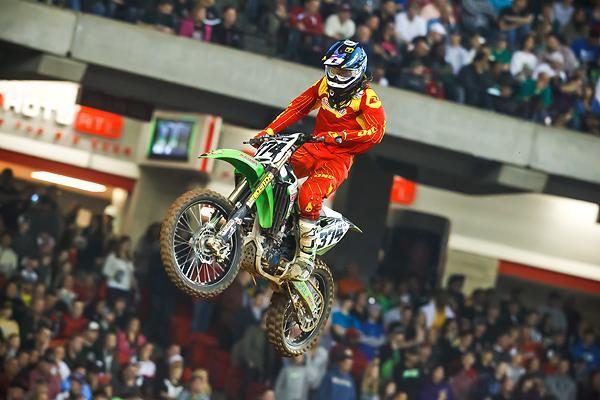 Cody Gilmore made the main at New Orleans. Well done!
Andrew Fredrickson photo
Fast-forward a few years to last weekend in New Orleans, where a 24-year-old Gilmore was lining up behind the gate to compete in yet another heat race.
"New Orleans was just another night," Gilmore says. "I was by myself all weekend, I didn't have a mechanic with me or anything, but as far as the night, it felt normal. In fact, I didn't feel good on the track at all. In practice, I didn't feel comfortable, it was kind of weird." But despite feeling out of sync, Gilmore was able to put some good laps together in his heat and transfer to the main, where he would eventually finish in sixteenth place.
"I've made a few Lites races before, but this was the first 450 main I've made it into," Gilmore explains. "I didn't even realize it right away. I didn't have a mechanic with me, so I didn't know what place I was in. When I pulled off, Gus, the guy who hauls our bikes, told me I got tenth, so I was pretty bummed. But back in the pit area, I found out I had gotten ninth. I'm just happy to have finally made one! I've been close a few times, but for the most part I've been struggling all year, and it's been tough. There was a few times that I didn't know if I was going to keep racing, just based on funds and all that stuff. But I was able to keep going, and I'm glad I did. I'm glad I didn't give up before the end of the year!"
Congrats, Cody, you deserve it. Back to DC.
If you've been playing the Mad Skills Motocross for iOS Tournament, you're in for a treat when the next round begins tomorrow (Saturday) at 4 p.m. Eastern. That's because this week's track was designed entirely by Ryan Morais, and it's a good one. Ryan's still on the mend, so he's got some time on his hands, which you'll sense when you see how carefully build his track is. It's a technical supercross track, and it's a ton of fun. I think it's safe to say you'll see more Ryan Morais tracks in Mad Skills Motocross in the future.
The FIM Motocross World Championship gets back underway this weekend with their second round in Bulgaria. Sevlievo is a much different track than the sandy opener at Valkenswaard, so we may see different winners than title favorites Tony Cairoli and Jeffrey Herlings. Also, Michael Leib is joining the circuit to fill in for the still-injured Zach Osborne on the Monster Energy Yamaha team. Leib has raced the GPs before, and he had a stellar winter in the West Region in the first Monster Energy AMA Supercross events he ever entered.
We got in touch with Leib to see how the whole adventure came about:
"Steve Dixon contacted me a week before the first GP and we tried to put a deal together but ran out of time so I started training for Seattle SX. I had been riding mostly outdoors and my speed and fitness was good. In the back of my mind I knew that I left the GPs not on my own terms and it would be cool to race a few of them on good equipment. After the first GP (in Holland) Steve contacted me again and with the help of Josh Pitts we figured it out.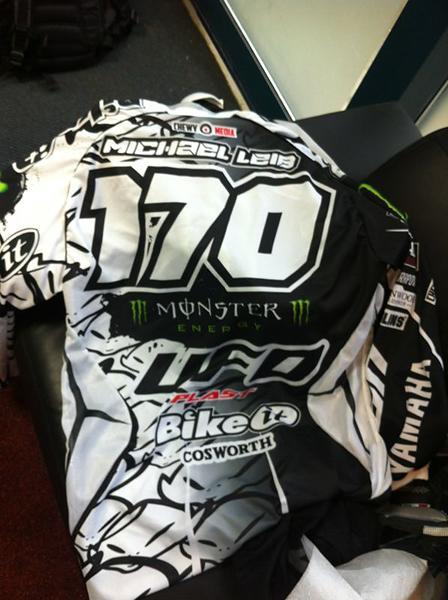 Leib's new jersey for the Bulgarian GP and his fill-in ride for Zach Osborne.
"I am in for Bulgaria and Fermo (Italy) for sure. I arrived in London Wednesday and the team wanted me to ride the bike but the weather was bad. Thursday we drove to a test track but the weather did not cooperate again. We left Friday morning at 4 a.m. for Bulgaria, which is where I am right now. I'll be riding the bike for the first time in free practice Saturday. Hoping for the best!
"As for after Italy my plans are to get home and possibly race Vegas and be ready for Hangtown. My Dad (Don Leib, of Rocket Exhausts) is building bikes for the outdoors, Chad Sanner (Eleven10 Mods) will be bringing my bikes to the races and that's our current plan. I also really want to give a shout out to JT Racing. I have a contract with them and they have been really cool allowing me to pursue this opportunity. Thanks JT Racing!"
Also, the Gorna Rositza track in Bulgaria will also host the first the UEM EMX125 championship, which is a pan-European series for promising young riders on 125cc motorcycles. You can watch the races online at www.mx-life.tv on Sunday for a fee, or you can purchase a season pass.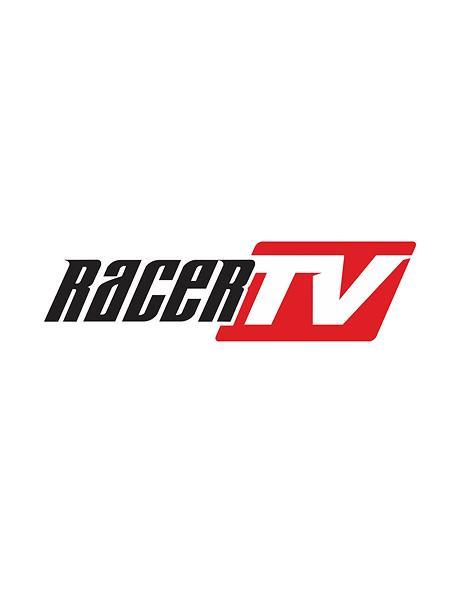 RacerTV returns to the airwaves this Sunday with coverage of the Can-Am Grand National Cross Country Series, the AMA ATV Motocross National Championship, the Red Bull AMA Amateur National Motocross Championship presented by Amsoil, and the Amsoil Championship Snocross Series. The newly expanded fifty-two-week television package airs Sundays on NBC Sports Network, beginning in April and running through March, and will be brought to viewers by television sponsors Can-Am, Amsoil and Rocky Mountain ATV*MC.
See the full TV schedule below.
| | | | | |
| --- | --- | --- | --- | --- |
| Episode | Date | Time (ET) | Race | Series |
| 1 | Apr 22 | 3:30 | River Ranch ATV | GNCC |
| 2 | Apr 29 | 4:30 | River Ranch Bikes | GNCC |
| 3 | May 5 | 6:30 | Aonia Pass MX | ATV MX |
| 4 | May 26 | 6:30 | Georgia ATV | GNCC |
| 5 | Jun 10 | 5:00 | Georgia Bike | GNCC |
| 6 | Jun 10 | 5:30 | Steele Creek ATV | GNCC |
| 7 | Jun 17 | 3:30 | Steel Creek Bike | GNCC |
| 8 | Jun 24 | 5:30 | Muddy Creek | ATV MX |
| 9 | Jul 1 | 4:30 | Big Buck ATV | GNCC |
| 10 | Jul 1 | 5:00 | Big Buck Bikes | GNCC |
| 11 | Jul 8 | 4:30 | | ATV MX |
| 12 | Jul 15 | 4:30 | Mammoth ATV | GNCC |
| 13 | Aug 19 | 4:30 | Mammoth Bike | GNCC |
| 14 | Sep 2 | 5:30 | Walnut | ATV MX |
| 15 | Sep 9 | 5:30 | Indy 100 ATV | GNCC |
| 16 | Sep 16 | 6:30 | Indy 100 Bike | GNCC |
| 17 | Sep 23 | 5:30 | Loretta Lynn MX | MX |
| 18 | Sep 30 | 5:30 | Loretta Lynn MX | MX |
| 19 | Oct 7 | 4:00 | Balance | ATV MX |
| 20 | Oct 14 | 5:30 | Masontown ATV | GNCC |
| 21 | Oct 21 | 5:30 | Masontown Bike | GNCC |
| 22 | Oct 28 | 5:30 | | ATV MX |
| 23 | Nov 4 | 5:30 | Millfield | ATV MX |
| 24 | Nov 11 | 5:30 | Snowshoe ATV | GNCC |
| 25 | Nov 18 | 5:30 | Snowshoe Bike | GNCC |
| 26 | Nov 25 | 5:30 | | ATV MX |
| 27 | Dec 2 | 5:30 | John Penton ATV | GNCC |
| 28 | Dec 9 | 5:00 | | ATV MX |
| 29 | Dec 9 | 5:30 | Loretta Lynn | ATV MX |
| 30 | Dec 16 | 5:00 | John Penton Bike | GNCC |
| 31 | Dec 16 | 5:30 | Unadilla ATV | GNCC |
| 32 | Dec 23 | 5:00 | Unadilla Bike | GNCC |
| 33 | Dec 23 | 5:30 | Power Line ATV | GNCC |
| 34 | Dec 30 | 5:30 | Power Line Bike | GNCC |
| 35 | Jan 6 | TBD | Ironman ATV | GNCC |
| 36 | Jan 6 | TBD | Ironman Bike | GNCC |
| 37 | Jan 13 | TBD | Loretta's Bike | GNCC |
| 38 | Jan 13 | TBD | Loretta's ATV | GNCC |
| 39 | Jan 20 | TBD | UTV/Utility | GNCC |
| 40 | Jan 20 | TBD | UTV/Utility | GNCC |
| 41 | Feb 3 | TBD | UTV/Utility | GNCC |
| 42 | Feb 3 | TBD | UTV/Utility | GNCC |
| 43 | Feb 10 | TBD | UTV/Utility | GNCC |
| 44 | Feb 10 | TBD | UTV/Utility | GNCC |
WPS in Boise is hosting a very special ride day for their dealers at corporate headquarters on Monday at their own private track. Invited dealers will be treated to riding sessions, fresh tires from Pirelli, and tips from JGR/Pirelli rider Davi Millsaps, Tom Carson, and the Asterisk Mobile Medical Unit will be on hand for tours of the unit and will have the new Ultra Cell knee braces to try on and be fitted. Doug Dubach himself will be here to install Dr. D pipes for testing and will be available to answer any questions. Leatt will be there fitting Fly neck braces. Also present will be company reps from Dragon, EBC, Liquid Image, and Fly.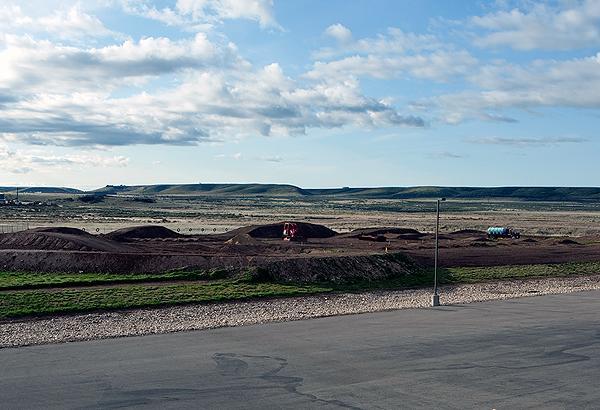 Getting the WPS track ready for company next week at the WPS track in Boise.
In addition on display will be:
▪ The Pirelli Event truck
▪ Two of the Team Honda trucks
▪ The Joe Gibbs Racing truck
▪ The JDR Motorsports truck
▪ Both of the Hart and Huntington trucks
▪ The Team KTM truck
▪ The Jeff Ward Racing truck
Look for a Racer X Film from this event soon after.
Okay, that's it, but that's a lot. Stay tuned all day long to Racer X Online for news from Seattle, as well as our tweets and some Instagram stuff. Thanks for reading Racerhead, see you at the races.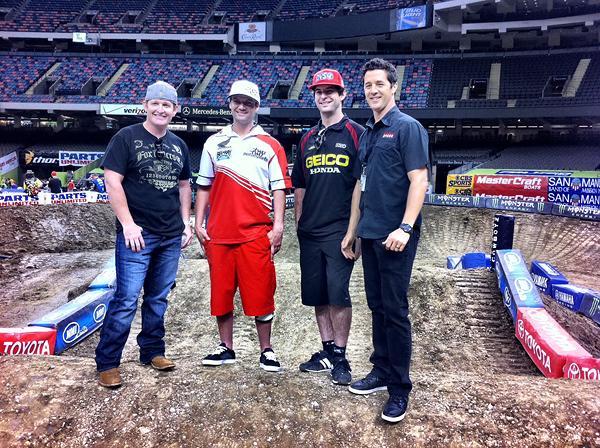 World's most interesting track walk?