Superdome
New Orleans

,

LA
New Orleans
Monster Energy AMA Supercross Championship
Time changes a lot of things. Just a few years ago Josh Hill was under the factory Yamaha tent (which is now defunct) grabbing his first career SX win. By 2010, he was challenging Ryan Dungey and Ryan Villopoto for the SX Championship. But a gruesome crash while contesting a back-flip for X Games Speed and Style would cost Hill his 2011 season. After spending countless hours in rehabilitation and surgery, the always upbeat Hill was left searching for answers. Would he be able to ride again? Would he ever return to form?
A year later Hill was back on the gate at Anaheim 1 looking to prove he still had what it took to be grouped alongside the likes of Villopoto, Dungey, Reed, Stewart and Canard. But tragedy struck Hill once again. A first turn crash at the opening round (in his first heat race) left Hill sidelined with a broken tibia and heel. After missing the first twelve rounds of the series Hill was set to return in Houston but suffered yet another setback just days before.
Racer X: You were all set to return at Houston, but suffered an arm injury just days before. Take us through what happened.
Josh Hill: Well, it was actually a weird deal. I had just got done doing some motos and was pulling off the track and took my hand off the bar, kind of relaxing my hand, and something got caught on my throttle. I don't know if it was my glove or my jersey but it just twisted the throttle back and I ended up jumping a jump, with no hands. I ended up crashing with my hand stuck out. At first we thought I just hyperextend my elbow, so I got an X-ray that night and they didn't see anything wrong. I waited about two weeks to ride again and rode about 20 laps at Milestone to see if I could get through the pain. It wasn't getting better so I went the doctor and we found out it was broken. I actually broke the radial head in my elbow. I actually just found that out two days ago, so just trying to figure out how long it's going to be before I can come back.
What was going through your mind after yet another setback?
I have made a lot progress. The way I was riding the day I crashed I was really confident going into Houston. I was going to practice one more day and practice a couple more starts just to make sure I was feeling right. It's a bummer that I got setback, but it hasn't got me down or over racing yet.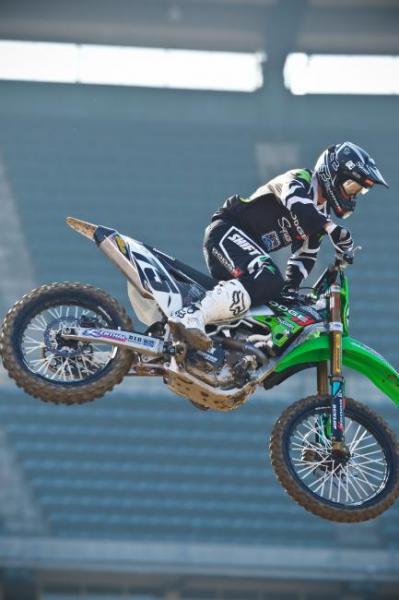 Hill was set to return at Houston, but suffered a broken arm just days before.
Simon Cudby photo
You were also coming back from a broken tibia, how is that injury coming along?
It's going good. My foot is doing good. I really wasn't having any issues with that when I was riding – I was feeling really solid. This little crash I had was really awkward. I was going really slow and the throttle hooked on something and threw me off the bike. I didn't hurt my leg at all, it was just the way I landed and the way I stuck my hand out, it just messed up my arm. It's just such a weird deal.
You've been through a lot the past few years, but always seem to have an upbeat attitude while going through your toughest times. What gives you the will to keep striving to race and get back to 100 percent?
I just want to race man. All I've ever done since I was five was race dirt bikes. I don't really accept what's going on. I don't really think that it's any indication on how my progress has been getting back on the bike. I just keep having these little setbacks that have cost me time. That's the way I look at it, and if I keep working hard it will come back.
I'm guessing you're looking forward to 2013 for a return?
Yeah, pretty much. I'm going to try and see how I'm doing. The break in my arm really isn't bad at all; it was a real clean fracture. I'm going to get a few more tests to see what's going on with it, to make sure nothing else is going on with it. The doctors are saying that it shouldn't be that long of an injury. I'm going to get re-evaluated in two weeks to see where we are at and if it's healed that will give me a few weeks to get ready and maybe come back for Las Vegas. I definitely feel like I have something to prove, to show that I can still ride a dirt bike. It's been so long that I've actually been in a race; people are starting to forget that.
You've had a real supportive team behind you with Hart and Huntington. What has that meant to you having those guys standing behind you after all you've been through?
It's killer. You pretty much just explained it. Those guys have stuck behind me through thick and thin – through this whole deal. I can't thank them enough. It's really uplifting to know that someone has the faith in you that you have in yourself. It's definitely great to have those guys. It gives me motivation to keep trying to comeback for those guys, and for myself. It's just starting to set in that I might not race again, professionally, until 2013. It's bumming me out, but it's one of those things where I just have to get over it. I'm going to try and come back for Las Vegas if everything works out perfect. This summer I think I'm going to go back up to Oregon to start training with my dad again and do everything I can to be fit and ready again for next year.
Have you been in any talks with the team for 2013 yet?
No, not really. My contract is up in 2012 and I feel like we'll cross that bridge when we get there. Those guys have supported me so much and I just want to keep doing my job that I'm doing for them now.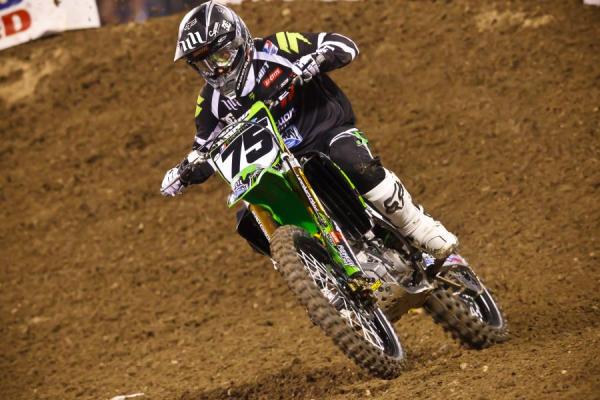 Although he is hoping to be back for Vegas, it may be 2013 before we see Josh Hill again.
Simon Cudby photo
Looking forward to 2013, do you expect to be 100 percent -- including all your previous injuries?
Everyday it makes progress. I'm getting to the point now where my leg doesn't bog me down nearly as much when I get on the bike. I have feeling in those parts of my foot again. I can feel when the foot is out on my peg and grab my shifts comfortably. It's coming around and I'm getting stronger. At this point I think a few more months of really hard training and getting some time on the bike over the summer will put me back on track for next year. It's a bummer to say, because it's so far to look ahead. I want to be back on the bike and show what I have in me but it just hasn't been in the cards.
I want to back track to A1. You had done so much to get back to racing and then in the first turn you got hurt again. What was going through your mind at that point?
It's funny man. I think I wanted to come back so bad that I put the pain out of my mind. I mean, I have broken three bones since January. I ended up breaking my heel in that crash as well as my tibia, we found that out later. I think I want to race so bad that I block out the pain so that I don't think this stuff is broken when it happens. I just think "Oh, yeah, it just bumps and bruises and I'll be alright in a couple of weeks." This last injury I went out and rode with a broken arm because I didn't think anything was wrong because nothing showed up on the X-rays. Then I went to our team doctor, Dr. G, and it just looked bruised and beat-up. I thought it was just a little sprain in my elbow, so I continued to train like I was getting ready to go race. Then I went riding and it kept hurting and that's when we found out it was broken.
You've been through a lot these past few seasons, but obviously still have a deep passion for racing. With that being said, did the word retirement ever enter your mind?
Yeah, I definitely thought about quitting. But the thing about it is I think I would beat myself up for a while if I didn't give 100 percent of my effort without coming back and trying. I couldn't give up now and be satisfied with what's happened. I feel like I had a lot more to show this year than with what happened. All these things that have happened have been such minor setbacks. It's not like they have really hurt my physically, it's just hurt me enough that I can't get back on my bike and perform like I need to. It literally feels like charlie horses compared to what I've been through in the past. I can't let it get to me and I got to keep looking forward.
So it's more mental rather than psychical?
Well it's a little of both. It's physical because of what I can do on the bike, but it's mental because of all this time I've had to sit on the couch and watch these guys race. But I have to continue to stay positive and keep my eye on the prize.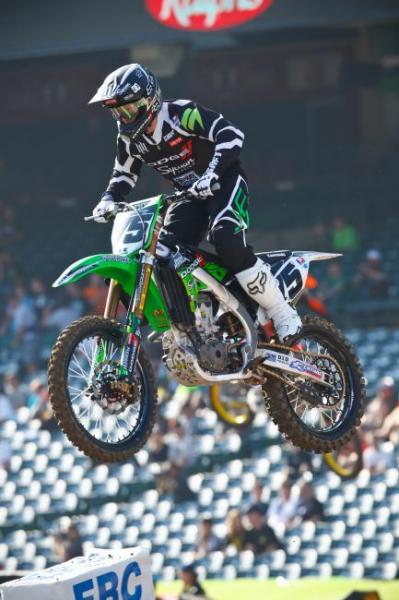 Hill thinks he can be back to 100 percent by 2013.
Simon Cudby photo
I think everyone is looking forward to a healthy Josh Hill in 2013.
Yeah in a perfect world I would like to come back and race Vegas and show what I've got in me. I know it won't show a whole lot, but just that I can do it. Then maybe go race Mammoth possibly and then maybe, I've I'm feeling really strong, race Washougal if everything works out perfect. I'm just going to keep my nose to the grindstone and just keep working like the season is just around the corner.
Changing gears a bit. Your brother, Justin, is steadily climbing the ranks himself. What has it been like watching him achieve some of the same success you have?
Man, I'm so proud of my little brother. He's working his butt off. He's got a really good program going. I think having my dad go through everything with me, getting a taste of what it's like in the pros, he has a better program than me. He's probably one of the hardest working kids I've seen. He's dealing with a knee injury right now. Actually, he had surgery today. But I'm really proud of him and I know he will bounce back from this.
You have had a lot of people behind you the past few years. Who you would like to thank?
Yeah, I really got to give it up to the team –Dodge/Hart and Huntington/Sycuan – they have stuck behind me from day one. Also, DC Shoes. They have been behind me this whole time and are a really great sponsor. I also want to thank my family, who has helped me stay strong through all of this. Also my girlfriend, she has been with my everyday and stayed by my side this whole time. I really can't thank everyone enough.