Racer X June 2012 Digital Edition Now Available
Get your June issue of Racer X Illustrated now!
The newest issue of Racer X Illustrated is now available! In it, you can read about what's trending with the 2012 Monster Energy Supercross Series, Ricky Dietrich's plans, the roughest race of the season: the Daytona Supercross by Honda, and follow Ryan Villopoto across the country. You can also get caught up on the Can-Am GNCC Series and get even more scoop about Daytona from our own Mike Fisher. These and more are featured in the June issue of RXI, and the digital edition is now available for only $9.98! Racer X Illustrated's June 2012 issue has been shipped to subscribers, is now available on Droids, iPads, iPhones, and iPod Touches.


Subscribers will be receiving it as early as today. If you subscribe digitally, it's ready for you now. Remember, not only can you read it on your computer, but it's also readable on Androids, iPhones, iPads, and iPod Touches via the free Zinio app.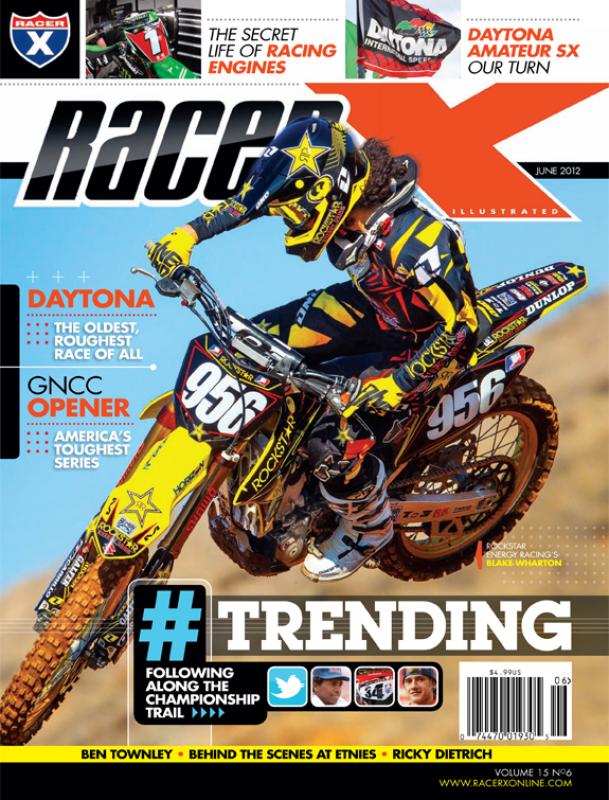 Learn more about what's in this issue here. Or view Current Issue under the Subscribe tab.

Subscribe now digitally and read it now here.

Subscribe now via print.

To download the free Zinio iPhone/iPod app, click here.

To download the free Zinio iPad app, click here.