Rogers Centre
Toronto

,

ON
Toronto
Monster Energy AMA Supercross Championship
Another race and another win for Monster Energy Kawasaki's Ryan Villopoto, who now has a 79-point lead over the idle Ryan Dungey, and a 102-point lead over the closest active rider in the series, Davi Millsaps (who still sits fourth in points behind James Stewart).
The wins keep coming and the points keep piling up for RV. Does that change his mindset? Matthes asked him about that after his Toronto victory.
Racer X: Good job tonight.
Ryan Villopoto: Thank you. It was good, I got a good start, or a pretty good start, and I saw Nico [Izzi] on the outside of me and came into the first turn and he came in really hot and started to slide and the berm caught him. That kind of upset him and then I kind of slid into the side of him. Luckily I was still able to triple out of the first turn and stay in second through there.
Then from there, you marked Justin Brayton and made a move on him?
Yeah, I felt really good on every part of the track other than the whoops. I don't think anyone felt good in the whoops. I had some close calls in the whoops, actually. I came in one lap, had a big one, saved it, changed the line up. I had like three big ones in a row or something. Then I was able to finally get through them, but you couldn't blitz them and if you tried to jump them, your foot pegs would drag. So, yeah, the whoops were tough.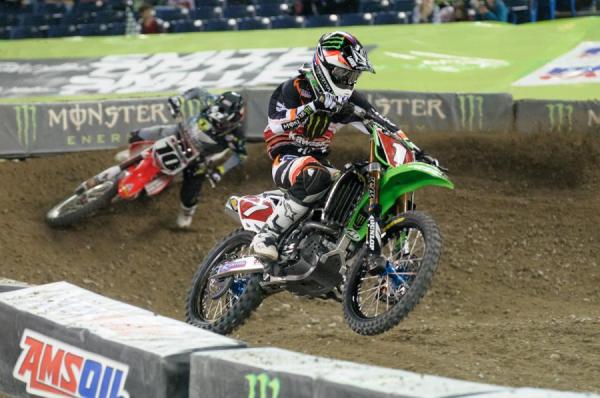 After getting by Justin Brayton (far) early it was smooth sailing for Ryan Villopoto (near) in Toronto.
James Lissimore photo

The left side of the whoop section was no good. You had to go down the right.
Oh yeah? No, I'm kidding.Yeah, it was. I started going down the right and I was going I don't even know how fast. I don't know what those other guys were doing.
Brayton's on a roll right now. He looks to be trying to get in there, maybe get a piece of your glory!
I know. He's riding really good right now. So, I think it definitely shows that he's going to be a guy to race with.
How was the track? Was it really beaten down?
For Toronto, the whole track held up really well and it was better than usual, except for the whoops. They were so bad that, even if you had big balls to go through them, it really wasn't going to do you any good. You just had to take your time.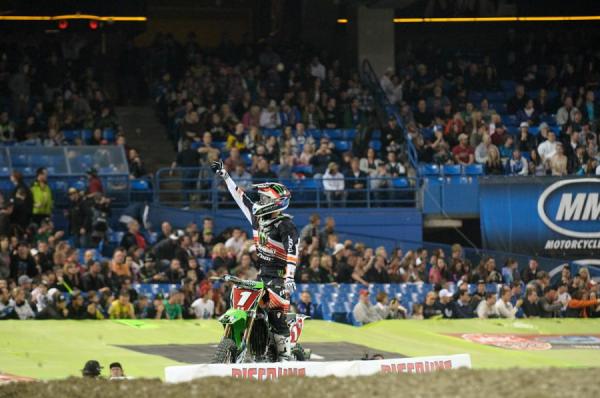 RV stretched his points lead to 79 with his win in Toronto.
James Lissimore photo
Alright man, you're on a roll now. Big points lead. Different mindset a little bit now, maybe? We're getting late in the season. Does that come into play?
Yeah, it's tough to not have a different mindset, but it happens. With the points lead, you get put in a situation where you don't want to ride too hard, don't want to ride over your head, don't want to make a mistake. But then you get put in a situation where they guys like Brayton and Jake [Weimer] and some other guys are riding well… I don't want to sound cocky about it, but you get put in a weird situation and those guys see opportunity. I don't want to say that I'm backing it down, I'm not backing it down, that just sounds cocky. But they see opportunity, then their confidence rises, they start riding better than they have all year, then I'm like 'don't make a mistake' and I kind of ride timid. So, it's tough. The last few weeks, like you said, Brayton's been riding really well. I think it caught me a little more off guard last weekend than it did this weekend.  This weekend, I was ready for it. I was more prepared.
Squash that confidence before it gets too big.
[Laughs] Well, I try to.