Rogers Centre
Toronto

,

ON
Toronto
Monster Energy AMA Supercross Championship
Although it was a bit of a predictable night here in Toronto for round eleven of the AMA Monster Energy Supercross Series, it was still exciting with some real action, especially in the Lites Eastern Regional main event. We may have seen the usual winners, but the story behind the results indicates that it was one of those nights where you just had to be there.
The Toronto race has been growing and growing in terms of attendance the last few years and in 2012, it set a record with 47,010 rabid fans. The Canadian fans were mostly subdued compared to some American fans but were very loud for GEICO Honda's Kevin Windham. More on that later.
LItes Heat 1
The first heat starred the series points leader from beginning to end, as GEICO Honda's Justin Barcia took the holeshot and sped off from there. It was a crushing win and an impressive one at that. Red Bull KTM's Ken Roczen, fighting the effects of the flu all day, rode behind Barcia for the entire time while Eleven-10 Mods Alex Martin was strong in third. J-Star KTM's Malcolm Stewart rode an impressive race coming from the back to get by Martin and then on the very last lap, stuffed his way by Roczen to end up second.
1-Justin Barcia
2-Malcolm Stewart
3-Ken Roczen
4-Alex Martin
5-Tyler Bowers
6-Kyle Peters
7-Matt Lemoine
8-Lance Vincent
9- Shane Sewell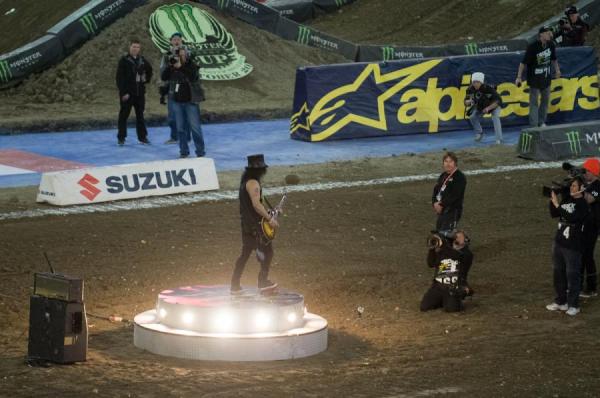 Slash performed in opening ceremonies!
James Lissimore photo
Lites Heat 2
Just as heat one was a Justin Barcia runaway, heat two was a Monster Pro Circuit domination by Darryn Durham as he led start to finish for his second heat win of the year. Early on his teammate Blake Baggett was right there but last week's winner, Rockstar Suzuki's Blake Wharton made some smooth moves and got by Baggett and into second. In the end, Wharton made a bit of a gain on Durham but it wasn't enough to make a move. Privateer Shawn Rife rode great to get fourth and Eleven-10 Mods Phil Nicoletti was fifth.
GEICO Honda's Justin Bogle, the fastest qualifier in practice, provided the highlight of the heat races. He crashed early and fought his way back into just outside a qualifying spot when he collided with Angelo Pellegrini over the finish and both guys spilled onto the pavement in spectacular fashion. Bogle would be forced to go to the LCQ.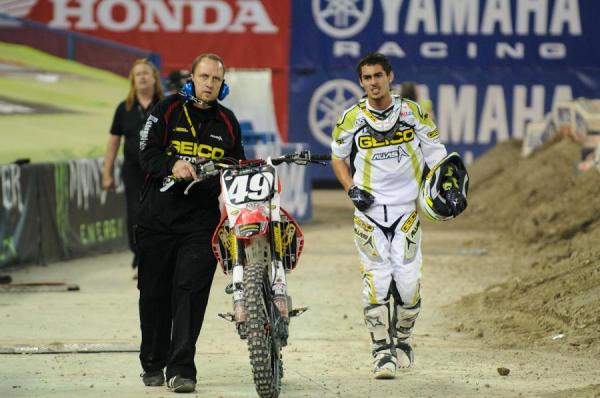 Justin Bogle had a rough night.
James Lissimore photo
4-   Shawn Rife
6-   Jake Canada
7-   Tommy Weeck
9-   AJ Cantanzaro
Supercross Heat 1
It was time for the 450s and Monster Energy Kawasaki's Ryan Villopoto showed why he is the series leader in victories as well as the current points leader: he took off and hid. Behind RV was Monster Energy Pro Circuit's Broc Tickle who was riding pretty well and RV's teammate Jake Weimer, who eventually got by Tickle and settled into second. DNA/Jeff Ward Kawasaki's Kyle Chisholm had maybe his best ride of the year, as he came from about sixth to second at one point, before Weimer got back past him on the last lap.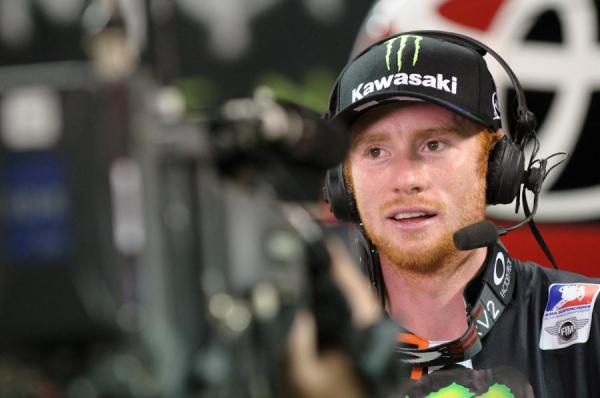 Villopoto after his heat race win.
James Lissimore photo
450 Heat 2
In his first race on the factory 450, Honda Muscle Milk fill-in rider Wil Hahn showed that he was a quick learner as he grabbed the holeshot and led early. He was quickly passed by JGR Yamaha's Davi Millsaps and from there, Millsaps continued his impressive riding by holding off Hahn's teammate Justin Brayton for the heat race win. At one point, Brayton appeared to have made the pass but couldn't make it stick. Behind those two it was a nice battle with Yoshimura Suzuki's Brett Metcalfe and GEICO Honda's Kevin Windham, with Windham on top.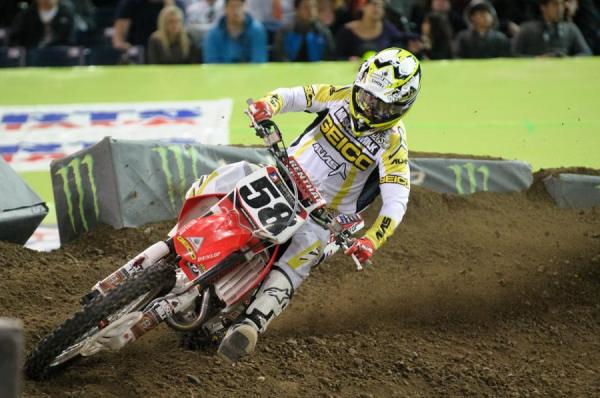 WIl Hahn holeshot his first heat race ever on a 450.
Eastern Regional Supercross Lites Class Season Standings
James Lissimore photo
1-Davi Millsaps
2-Justin Brayton
3-Kevin Windham
4-Brett Metcalfe
5-Nico Izzi
6-Wil Hahn
7-Gavin Faith
8-Matt Georke
9-Jimmy Albertson
250 LCQ
GEICO's Justin Bogle had the very last pick on the gate on the far outside but he burst from the blocks and grabbed the holeshot. From there he was unchallenged for the win and Eleven-10 Mods Jeff Gibson took home the last spot into the 20-man main event after a last lap battle with Ohlins KTM's Les Smith.
1-Justin Bogle
2-Jeff Gibson
450 LCQ
It was DNA Kawasaki's Josh Grant who holeshot, and although he had a frisky Rockstar Valli-Star Yamaha's Bobby Kiniry trying to put some moves on him, he held strong and won the race. Kiniry rode safely behind for the last spot into the main event.
Lites Main Event
Justin Barcia grabbed the holeshot but was quickly passed by Roczen in the first rhythm section. As we said earlier, despite being sick, Roczen was riding very well. The top two riders gapped the field a little bit while in the back, Bogle's tough night continued as he went down and started dead last.
Barcia slowly gained on Roczen and made a little bit of contact as he forced the matter and got into first. From there it was just like every other race we've seen this year save for one, as Barcia just sprinted away from the field. He pulled slowly away from the always-fighting German kid, and Wharton rode alone in third after making an early pass. These three riders at one point had a fourteen second lead on fourth place.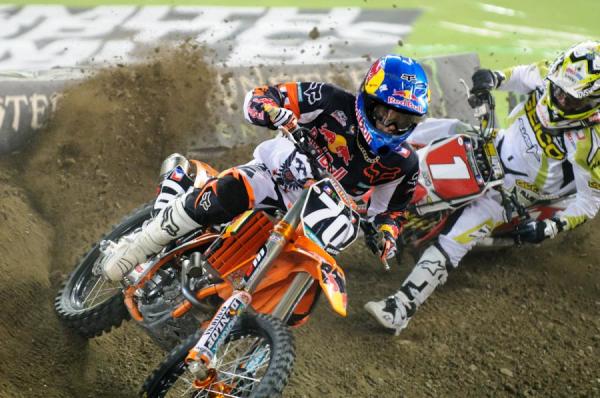 Roczen snatched the early lead from Barcia, but Barcia would get him back.
James Lissimore photo.
Before Wharton, it was Durham who was looking good to get a podium before he crashed in a turn while battling Wharton. Alex Martin and Tyler Bowers were fifth and sixth and in an intense battle before locking bars and the end result was Martin shooting over the berm and Bowers going down. It was the beginning of a bit of a crazy main event as Stewart crashed twice, and Baggett, Rife and another rider were sprawled out in a turn together. It seemed that the Toronto track was breaking down and catching riders left and right.
Taking advantage of the nuttiness was Motoconcepts Racing rider Jake Canada who continued his strong east coast performance with a steady ride into fourth. There were faster riders than Canada on this night, but he kept it on two wheels and rode fast to a career high fourth on the night. Oh Canada indeed! Somehow Bogle got eighth in a crazy race and he deserves props for this ride.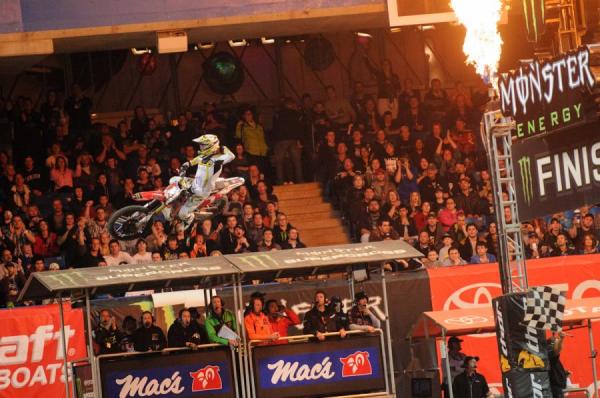 Barcia has won all but one Lites East race this year.
James Lissimore photo
But it was his teammate who once again stood on the top step and increased his series lead to 28 points. Roczen was second and Wharton third.
"Right now I couldn't be (happier)," said Barcia. "I got my first win here two years ago. My GEICO Honda was hooking up great. This track was really tough tonight. You had to be really smart and really smooth. I made a great pass for the lead and kind of just rode my own race from there."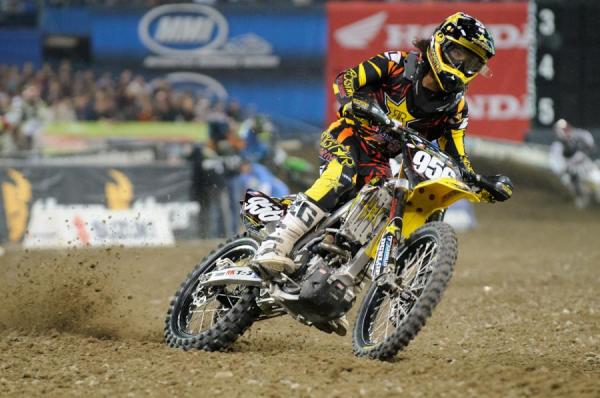 Wharton backed up his win last week with a podium.
James Lissimore photo
1. Justin Barcia
2. Ken Roczen
3. Blake Wharton
4. Jake Canada
5. Darryn Durham
6. Alex Martin
7. Tommy Weeck
8. Justin Bogle
9. Matt Lemoine
10. Jeff Gibson
11. AK Catanzaro
12. Shane Sewell
13. Malcolm Stewart
14. Tyler Bowers
15. Blake Baggett
16. Dakota Tedder
17. Lance Vincent
18. Kyle Peters
19. Shawn Rife
20. Phil Nicoletti
Eastern Regional Supercross Lites Class Season Standings
Justin Barcia, Ochlocknee, Ga., Honda – 145
Blake Wharton, Pilot Point, Texas, Suzuki – 117
Darryn Durham, Butler, Pa., Kawasaki – 114
Ken Roczen, Murrieta, Calif., KTM – 102
Jake Canada, Sun City, Calif., Honda – 90
Blake Baggett, Grand Terrace, Calif., Kawasaki – 86
Justin Bogle, Cushing, Okla., Honda – 74
Malcolm Stewart, Haines City, Fla., KTM – 50
Alex Martin, Millville, Minn., Honda – 50
Matthew Lemoine, Collinsville, Texas, Kawasaki – 46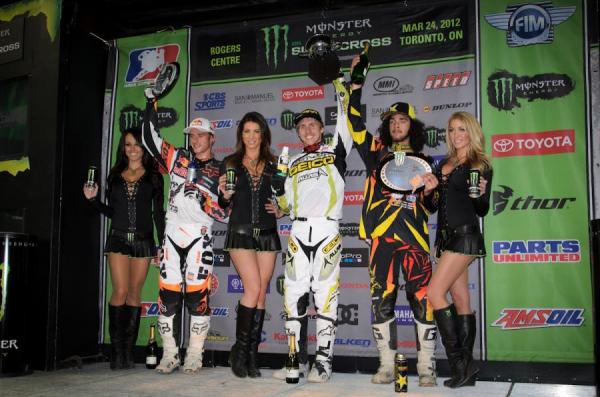 The Lites podium.
James Lissimore photo
Supercross Main
The Honda horsepower of Justin Brayton got to the first turn first and took home the holeshot money that goes along with that honor. Villopoto hung in tough and survived first turn contact with Nico Izzi and emerged second. He made some stabs at Brayton and finally early on made the move into the lead. RV was slowly pulling away early in the race but made a mistake in the whoops which allowed Brayton to catch back up. The Honda rider matched the Kawasaki rider for a few laps but in the end, Villopoto pulled out a nice comfy lead about halfway through the race. Brayton was the second best rider on this night and gapped third place, which early on was Davi Millsaps. Then a battle for third began.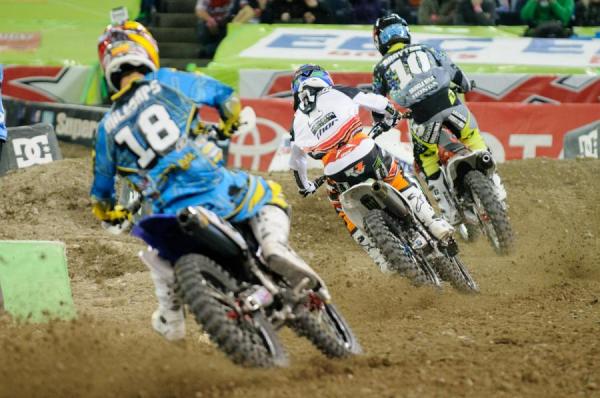 Brayton led Villopoto and Millsaps early.
James Lissimore photo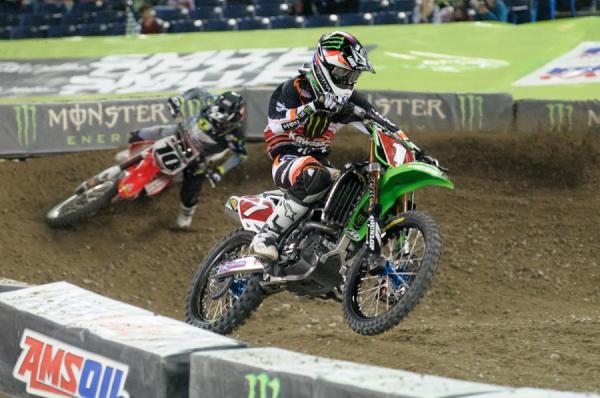 Villopoto made the move on Brayton to take the top spot.
James Lissimore photo
Millsaps and Weimer were battling for that last spot on the podium when Weimer snuck inside before one of the triples and pulled away from the Yamaha rider. From the back came the veteran Windham who made short work of Millsaps and set his sights on Weimer and the final podium spot. Slowly but surely, and using some lappers to his advantage, Windham struck and got by Weimer which caused the pretty docile Toronto crowd to finally get on their feet and cheer. Weimer's race sort of went to pieces after that, when he narrowly avoided a huge crash when he jumped off the track and onto the concrete. Millsaps got past and Weimer ended up fifth.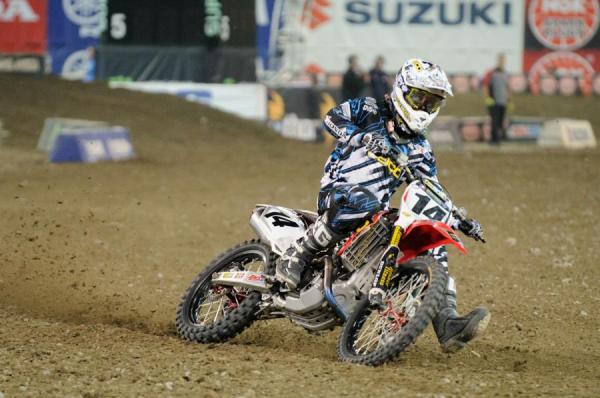 Windham took his first podium of the year after a charge around Millsaps and Weimer.
James Lissimore photo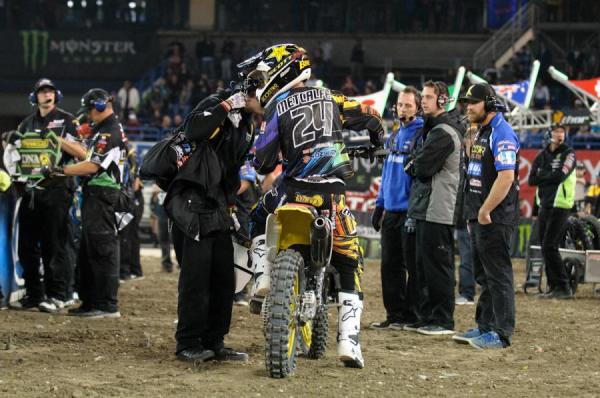 Metcalfe had a crash late in the main.
James Lissimore photo
Tickle and Chisholm were battling for sixth when Tickle washed his front end out and gave Chisholm some breathing room. The Frenchman riding the KTM 350,
Marvin Musquin
, put in a nice charge at the end of the race to make a last lap pass on Chisholm for the sixth spot.
Brett Metcalfe
was looking good as well until he went down at the end of the whoops and couldn't start his Suzuki.
Again, with the track breaking down, the riders were trying to survive at the end and there were plenty of mistakes made by everyone not named Ryan Villopoto. He rode a great race to get his seventh win of the year and further cement his hold on a series that he looks to clinch in the next couple of races.
"Out of the first turn, it was just me and Brayton right off the bat," said Villopoto. "I made some pretty big mistakes in the whoops. They were tough. We'll go to Houston, where I think there's a chance to wrap up the title. That's the plan."
Brayton got his third podium out of the last four races and Windham got a very popular third place on the night.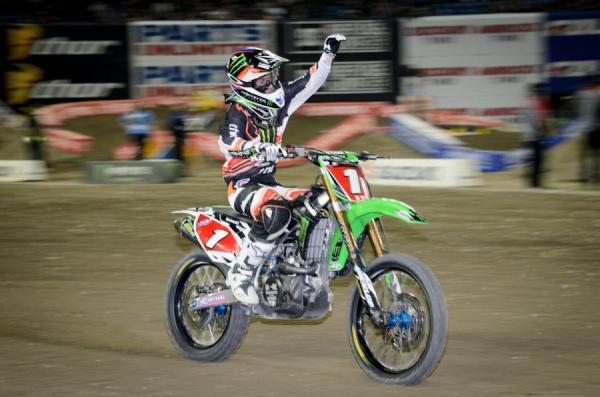 Boom! Villopoto wins again.
James Lissimore photo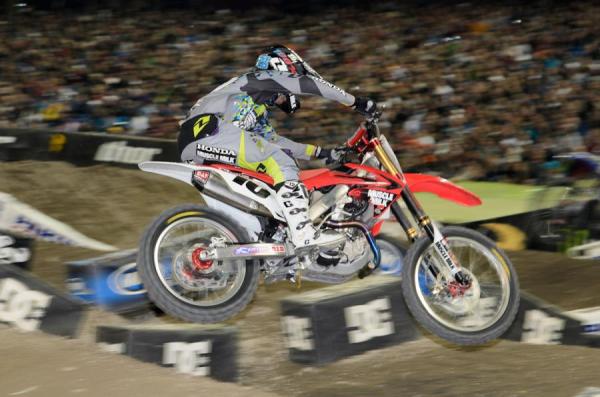 Three podiums in four races for Brayton, who is surging against the injury-depleted field.
James Lissimore photo
SX Main-
1. Ryan Villopoto
2. Justin Brayton
3. Kevin Windham
4. Davi Millsaps
5. Jake Weimer
6. Marvin Musquin
7. Kyle Chisholm
8. Broc Tickle
9. Robert Kiniry
10. Wil Hahn
11. Justin Sipes
12. Josh Grant
13. Mike Alessi
14. Matt Goerke
15. Jimmy Albertson
16. Jeff Alessi
17. Kyle Regal
18. Brett Metcalfe
19. Nico Izzi
20. Gavin Faith
Supercross Class Season Standings
1.     Ryan Villopoto, Poulsbo, Wash., Kawasaki – 271
2.     Ryan Dungey, Belle Plaine, Minn., KTM – 192
3.     James Stewart, Haines City, Fla., Yamaha – 177
4.     Davi Millsaps, Murrieta, Calif., Yamaha – 169
5.     Kevin Windham, Centreville, Miss., Honda – 166
6.     Justin Brayton, Murrieta, Calif., Honda – 165
7.     Jake Weimer, Rupert, Idaho, Kawasaki – 150
8.     Brett Metcalfe, Lake Elsinore, Calif., Suzuki – 145
9.     Mike Alessi, Hilliard, Calif., Suzuki – 136
10.  Chad Reed, Dade City, Fla., Honda – 128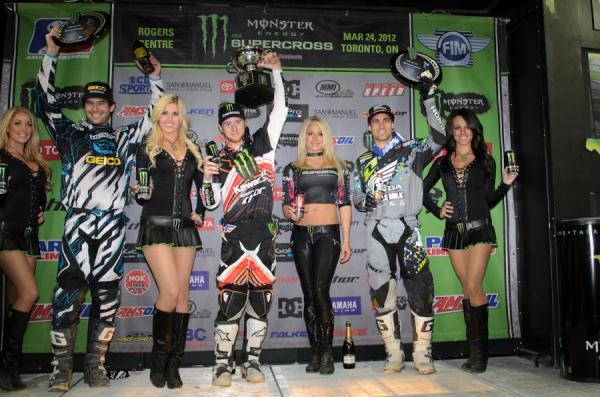 Villopoto has a shot at wrapping his second-straight Monster Energy SX Title next weekend in Houston.
James Lissimore photo