Indianapolis, IN
Indianapolis
Monster Energy AMA Supercross Championship
The 2012 Monster Energy Supercross Series is approaching a dangerous area right now. Rider after rider has been going down to injury and we're starting to see the field trim down a bit. And this after a tremendous 2011. I guess we were spoiled last year—maybe we should've appreciated it a little more. The guys are still going for it, but right now it seems to be all about attrition after this weekend in Indianapolis.
When I walked out onto the track on Saturday morning, I was pumped with what I saw: the returning over/under bridge, some sand thrown down, a nice section of whoops (Dirt Wurx, we're all still waiting for another San Diego set of whoops), and some dirt that looked to be pretty good. However, as tough as the track was (and it was one of the more challenging ones), the dirt dried out quickly and made for a very slick track. We saw a ton of crashes all day on Saturday as the dry track and obstacles claimed more than a few guys.
Ryan Villopoto was the heavy favorite for the main-event win after James Stewart dropped out of the show after a heat-race crash. But early on, it looked like Villopoto was having some trouble out there moving forward. He also crashed in practice and in his heat, so clearly he wasn't just loving it out there. Eventually, though, the fastest guy in the series this year was just that: the fastest guy out there on Saturday night. He passed leader Justin Brayton (Mike Alessi also led!) and walked home for the win. Afterward, RV expressed to me that the track was one of those where he couldn't just pin it and hope for the best. It had to be a calculated attack to the front—you had to test the track and see where you could go and find some of that vital traction. Once he established a relationship with the track—you know, what the boundaries were—he went past third base and took it home in a walk.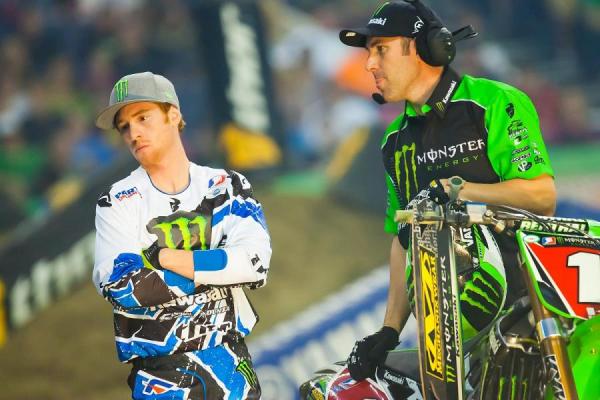 With his stiffest competitors out, the Indy track became RV's biggest competition for the night.
Fredrickson photo
And because his main championship rival Ryan Dungey, I mean Chad Reed, oops I meant James Stewart crashed out of the heat with a bout of "bike landed on my head-ness," RV stretched his lead in the series to 69 points (almost three races), and if you listen closely, you can hear the fat lady warming up. It's over, folks. Villopoto's going to repeat his championship unless something terrible happens. I don't believe in "jinxes" or hocus-pocus that says something is now going to happen because this tubby media guy writes that he's going to win it. That isn't real. RV's the champ, baby. Stamp it.
As far as James, he got silly in the heat race, came up short on a double, and got KO'd. Not really anyone's fault—it was a racing move—but it just packs itself onto Stewart's year. After a dominating win at Daytona some thought he would get on a roll and start racking up the wins. After all, there was definitely no championship pressure on him. He had to win and hope for the best. Bad deal for JS7 and the team, but he'll be back.
Justin Brayton's really stepping up his game as he gets healthier and healthier. As he told me in a post-race chat, he's been better because he's been doing less. A leg injury at San Diego has made practicing hard and he's been forced to rest and relax during the week. And it's been paying off for the #10, as he led the race for a while this weekend before eventually taking home second. Justin also credits a conversation with Chad Reed before Daytona, where Reed also advised him not to do too much. Sometimes these guys that are so highly motivated  figure that if they just pedal their nuts off and pound motos till they have monkey butt, they'll be great. But just like slowing down to go fast, sometimes rest and relaxation helps as well.
JGR's Davi Millsaps has been on fire this latter half the year with some great rides. In Indy, Millsaps came from eighth to get the last spot on the podium. It was a flashback to some of Millsaps' earlier rides when he rode for Honda. Never known as a hard charger, Davi started the season slow but Indy was his second podium in a row and third overall. He also moved up into fourth in the series points and has to be considered a big surprise this season. At St. Louis he led early on before dropping pretty far off the pace, but at Indy he showed that if he doesn't have to be forced to go a speed he doesn't want to, he can build during the race and get stronger.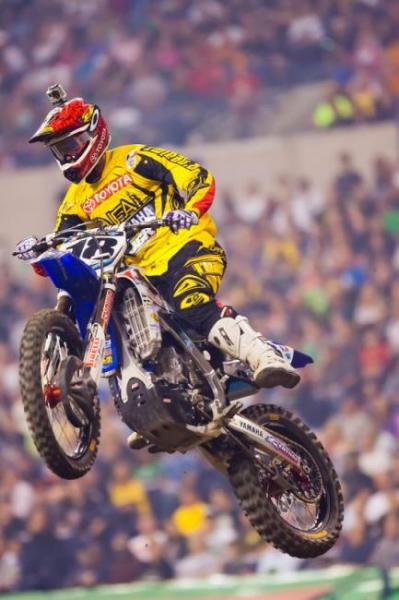 'Saps was strong at Indy.
Fredrickson photo
Tough night for the Supercross class as, besides Stewie's DNQ, we had Kevin Windham down hard late in the race while trying to get by Mike Alessi. K-Dub DNF'd with a back injury. Nick Wey will be out for a while, as he suffered a hernia in a bit of a strange crash. Jake Weimer didn't qualify after being collected in Wey's crash in the heat and then a bad start in the LCQ. It was a strange night in Indianapolis to be sure.
Did I mention it was strange? Yeah, well, in a topper to the night, we had a restart in the 250 main event—not that big of a deal, except that it was a staggered start! I have never seen one of these in my life at an AMA Supercross, but because the race was already past three laps, the call was made to line them up in their running order from the previous lap, which confused everyone, but it's in the rulebook, folks. The riders went back to the gate first for a bit, then they lined up front-wheel-to-rear-wheel before eventually getting into a staggered order to prevent any pile-ups. It took way too long, but in the end it was the right call by the AMA as the race was already underway and a full gate drop would've been unfair to the leaders.
And the rider who caused the red flag, Kyle Cunningham, eventually came to and walked off under his own power. It was a scary crash. Cunningham's not had the season that he wanted, that's for sure. No word right now on whether he'll line up this weekend in Toronto either. I think Stewart and Windham will be there, while I don't think Wey will be.
And the restart, while the best way to do it, definitely hurt the leader Ken Roczen—he was, in my opinion, feeling it and going to win the race. When the flag flew on the restart, Ken was in the lead again and no doubt trying his hardest to sprint away again when he crashed. And that was it for King Kenny—he was done and finished back in the pack.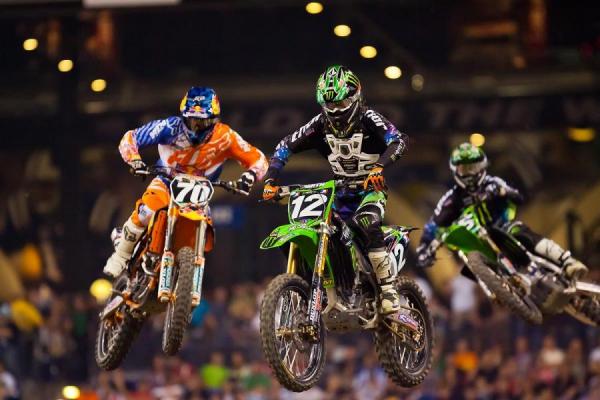 Once Roczen (70) made the move on Baggett (12) it looked like a win was assured. Then  things got crazy!
Fredrickson photo
The rider who was seriously on the move to the front before the red flag flew was Blake Wharton. The Rockstar Suzuki rider has been a bubble guy through four races—as in he's right on the bubble of doing some damage in the class with scores of 4-4-3-5 so far. Wharton's a talented rider who got lost in the shuffle over there on the GEICO Honda team for years as rising stars like Josh Grant, Trey Canard, and Justin Barcia were in the spotlight. Last year he rode with a bad shoulder for the SX series and then took the nationals off to get both of his wings fixed. But this weekend in Indy, he won his second race in a semi-dominating ride. Good for Blake and good for his Rockstar Suzuki team that's definitely had some tough times on the West Coast.
I made a comment to Blake afterward about how it's got to be nice to show the GEICO guys who gave up on him (and to be fair to those guys, they had him for a while but they chose not to re-sign him this year. Although they have nothing bad to say about Wharton, the bottom line is they thought that he couldn't win races and let him go. It's not personal, it's business) if it was nice to win to show them that all he needed was to be healthy to win. Wharton wouldn't take the bait in the interview but his smile and a comment after I hit stop made me think he did indeed like showing those guys that maybe he should still be there.
Justin Barcia's streak to start the season ended at four but he's still plenty fast enough to walk home with this title. When things are going your way, you end up with a red flag thrown and a restart where you go from about six seconds off the leader to being able to throw a dirt clod and hit him in the helmet. Barcia still rode great and could've won if it not for Wharton stepping up his game and running away with it. It took a great night from Wharton to win it, but there was not any Barcia slippage that I saw.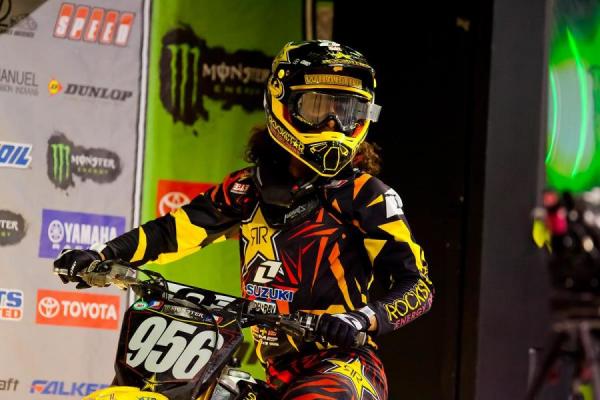 Wharton resisted Matthes' attempts to get him to talk trash on GEICO Honda.
Fredrickson photo
Lites East Overall
1. Blake Wharton Suz
2. Darryn Durham Kaw: Somehow, despite being on a Pro Circuit Kawasaki, Durham is a little underrated this year. He's been great and looks to take that next step up one of these weeks.
3. Justin Barcia Hon
4. Blake Baggett Kaw: If anyone out there knows where Blake Baggett from 2011 has gone, please alert the authorities. Look, a lot of guys would kill for his results this year (two podiums), but he hasn't been the force that many of us thought he would be. Great guy but he's not riding like he can.
5. Jake Canada Hon: In case you're wondering, I am full-on driving the Jake Canada bandwagon. I have a lot of new people onboard recently but luckily for me, I got on real early when I saw his last name. It's taken a while but get on while you can, this thing is getting REALLY full.
6. Justin Bogle Hon: Bogle was just okay; he fell while up there in the mix. No matter what, even if the results aren't there at the end, we can all see he's got some serious speed and talent. Hey, he's a rookie. You get a break when you're a rook.
7. Matt Lemoine Kaw: Good to see Matthew rebound from his DNQ last week in the muck.
8. Tyler Bowers Kaw
9. Les Smith KTM: Les gets a little better on the Langston Racing KTM ride.
10. Shawn Rife Hon: Rife, a former Canadian national winner, has shown some speed in the past here and there but seems to end up crashing a lot. I'm just guessing here, but this might be his best finish ever.
11. Angelo Pellegrini Suz: Everyone's favorite Italian contesting supercross gets back into main after missing the last two weeks and logs a career best.
12. Kyle Peters Yam: Career best for the Star Racing rider who just started racing supercross.
13. Shane Sewell KTM: Sewell's brother Travis, fresh off the arenacross circuit, was in the house as well but failed to make the main. Still, the power of the Sewell's increase when they're both racing. Like those super twins from the comic book.
14. PJ Larsen KTM
15. Alex Martin Hon: I spoke with Martin on the track walk and he's looking forward to outdoors. His supercross season just hasn't gone as smoothly as in the past.
16. Ken Roczen KTM: Oh what could have been for Da German. No red flag and he wins it.
17. Tommy Weeck Hon
18. Kelly Smith KTM: One of my old riders who's been racing arenacross this past year shows up for Indy and puts it in the main. He had to withstand a Malcolm Stewart "pick-up pass" (where both riders end up picking up their bikes) in the second-to-last turn of the LCQ to get in.
19. Brad Ripple Hon
20. Kyle Cunningham Yam
Supercross Overall
1. Ryan Villopoto Kaw
2. Justin Brayton Hon
3. Davie Millsaps Yam
4. Brett Metcalfe Suz: I was surprised that Brett got caught by Millsaps—he seemed to have third in the bag. Again, not due to Brett riding poorly, but sometimes guys are just on it and deserve props. That's why you have to give credit to Davi.
5. Cole Seely Hon: Seely's last ride on the factory CRF450R and it was a good one with a solid top-five. As a fill-in guy, he's all you could want. What is the deal with the guys filling in at Honda and just handling business? Canard, Barcia, and now Seely all excelled on the bigger bike. Okay, "guy who we know is next but can't say it until it's official," you're up!
6. Mike Alessi Suz: Alessi led some laps. Like, a lot of laps. And in the city where he got his first and only career 450 SX podium, he threatened to do it again. Bike problems forced him to drop back, but for a while there the 800 was back. Grabbed the holeshot and everything!
7. Marvin Musquin KTM: I think Musquin might be done as a 450—er, 350 guy, but if you ask me, keep him going. He's doing great, and without Ryan Dungey there, he's repping KTM pretty well. He's not going to win you a West Regional series title, and seriously, with all the injuries and weirdo stuff, why couldn't Moving Marvin The Martian Musquin make the podium?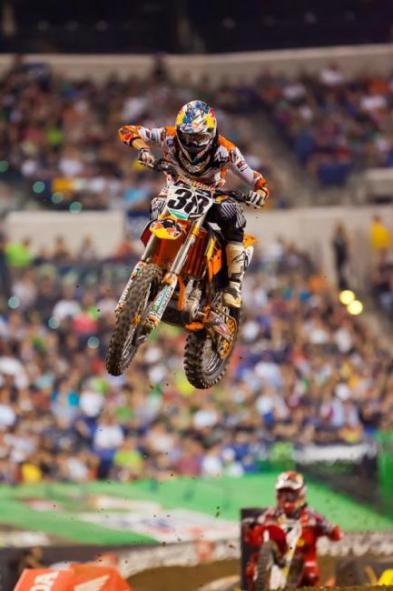 Matthes is a big fan of Movin' Marvin the Marv Attack Martian on the 350. Well, maybe he's not a fan of the 350 but he likes Marvin's performances on it.
Fredrickson photo
8. Broc Tickle Kaw: Tickle's been up and down this year, and after a great Daytona he was due for a fall this week. And he didn't do that. The streak is broken!
9. Weston Peick Kaw: Great ride for Peick, whose fill-in time ended at Star Yamaha and he was back on his privateer Kawasaki.
10. Nico Izzi Yam
11. Josh Grant Kaw: Man, Grant came back this weekend and hit the deck hard at least twice in practice. So he's either not scared and pinned it or he's rusty and made mistakes. Either way, he can't hit the ground like he's been doing and expect to stay on the track. For the night show he rode a calm and collected race. That's what he's got to do to stay on the track.
12. Justin Sipes Kaw: Career best for Pooh Sipes. Not taking anything away from guys like Sipes and Pieck, but when Weimer doesn't qualify, KW and JS crash out, and we have all these other injuries, good things are going to happen for privateers. And I've been there as a privateer mechanic.
13. Robby Kiniry Yam: Too bad Kiniry got thirteenth, with him scoring four fourteenths in a row. It just seemed fitting that he should let Goerke by.
14. Matt Goerke Suz: Goerke's been real good and seems to be getting better. He doesn't have anything for the outdoors yet but I bet he will soon.
15. Jeff Alessi Suz
16. Kyle Regal Kaw: Regal's first as an H&H team member and he seemed to crash quite a bit out there, but then again, he only had three days on a bike he's never ridden before.
17. Ryan Clark Kaw: That's two in a row for Clark, who must stroll the pits sometimes and wonder who in the hell all these people are.
18. Kevin Windham Hon: Windham crashed out and has a sore back but by all accounts should be good to go for Toronto.
19. Gavin Faith Hon
20. Kyle Chisholm Kaw: Chiz was fifth fastest in qualifying and that's a great thing for him. Crashing out while moving up in the main event is not.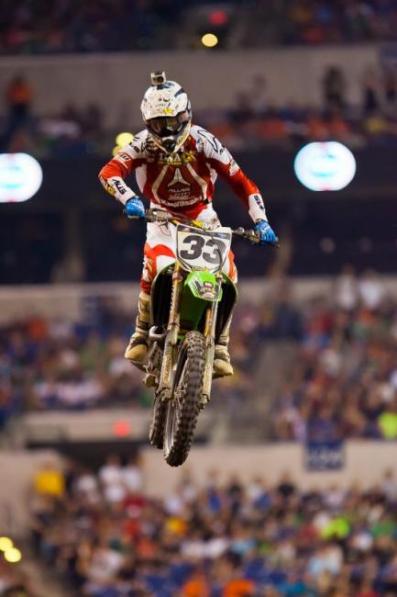 Josh Grant had some crashes in practice but managed to pull through--he needs to stop with this stuff or he'll end up back on the sidelines.
Fredrickson photo
When it's going your way, like a Justin Barcia, it's going your way, but the flip side is that sometimes things suck. That's where Team JDR KTM and Malcolm Stewart are at right now. Mookie Fever has been really low this year, as Malcolm has suffered from a really high number of mechanical problems and some crashes. He can't seem to get on track this year and take the next step up like I, and many others, thought he would. But it hasn't always been his fault. Whether it's practice or races, the KTM underneath Malcolm has been unreliable. Not sure if it's bike or mechanic, but team manager Nathan Ramsey has got to get it figured out soon. I've been there as a mechanic, and trust me, the tension and pressure in the team has to be high.
Thanks for reading this column. Email me at matthes@racerxonline.com if you want to chat.