TwoTwo Motorsports Bel-Ray Racing Honda just announced that Ben Townley will serve as their lead rider for the Lucas Oil Pro Motocross Championship while Team Owner (and rider!) Chad Reed heals up. Our crew weighs in on the move below. Be sure to tell us what you think in the comments section.
David Pingree:
This is just great news. Even if you are one of the Colorado native, die-hard Andrew Short fans who are still angry about their incident at the MXoN in Colorado a couple years ago you have to be excited about increasing the level of competition this summer. Because the bottom line here is that Ben is one of the few riders in the world who is capable of running the leaders pace here in America. He proved that again as recently as October when he beat Ryan Dungey straight-up at the MEC in one of the Las Vegas finals.
When BT raced here in 2010 he started the season way behind the curve. A freak preseason accident (false neutral going up a hill… never even crashed) left him with a pretty serious internal injury that would give him about three weeks on the bike prior to the Hangtown opener. Despite the lack of fitness, lack of seat time and lack of confidence he almost found himself on the podium in Sacramento if not for a small tip-over in the second moto. He went on to score multiple podium finishes that summer and also very nearly win a moto over Dungey and Reed in a nail-biter at Red Bud. And that bike that the Troy Lee Designs team and Pro Circuit spent a LOT of time tuning and tweaking was the platform for Chad Reed's 2011 race bike, which they improved tremendously over the year. There is no question that the bike Townley will ride this summer will be light years ahead of what he rode in 2010. He will have the help and support of a multi-time SX and MX champion, a few of the best mechanics in the sport and a terrific team manager and crew as he finally gets the shot over here he deserves. That has Ben, and all of his fans, very excited about this summer's national motocross series.
Davey Coombs:
I've come to think of Ben Townley as someone like a Greg Albertyn or a Sebastien Tortelli: he has the talent, speed and desire to win here, but he couldn't seem to keep from getting injured before the outdoor nationals while trying to learn supercross. Ben was just as fast as Ryan Villopoto back in 2007 when they had their epic battles for the 250 Motocross title, but then he began a string of injuries that pretty much led him back to Europe and then ultimately back to New Zealand. As a result, like Greg and Sebastien, I don't think he reached anywhere near his full potential while in the states, especially after winning a world title in Europe.
Now BT101 is getting another excellent chance, with the help of Chad Reed and TwoTwo Motorsports/Bel-Ray Honda, and I hope he can erase some of his unfortunate past summers on the sidelines. He appears to be completely healed up, and he's gotten used to racing again, having just clinched the New Zealand title. I know that's not exactly like winning an AMA or FIM title, but it's something to build off of. And now that he knows where and what he will be riding this summer, I imagine he and the team will have an early jump on everyone else who is still racing Monster Energy AMA Supercross. But once that title is clinched--and it's looking more and more like there will be at least two rounds left when RV is mathematically crowned -- you can bet he and his team will start gearing up for a successful title defense outdoors as well. And he probably remembers the fast, healthy Ben Townley from '07 better than anyone else.
Steve Matthes
It's great for Team Two-Two that they've managed to fill in their star rider Chad Reed's spot with returning to America yet again Ben Townley. It allows them to keep representing their sponsors out on the track and Townley will be able to be a top ten guy for them which will give them exposure and hopefully, the oft-injured Townley can keep it together for a whole series.
And not to be a negative Nancy but when we last saw Townley racing nationals here in America he acquitted himself pretty well on the Troy Lee Designs Honda team. But since then, Ben took a big money offer and headed off to do the GP's but that ended in disaster when a serious head injury basically knocked him out for the year and that was followed by a crash at an Australian Supercross round where he dislocated his hip. He raced the Monster Energy Cup and showed some speed but I'd be a bit cautious on going off that one moto that he didn't have problems in as an indicator of where he's going to finish for a 12-round series here in America. Townley had a signed deal to race the Australian nationals for Carlton Dry Honda but broke that to try his hand at America again, so clearly he wants to come back and desire counts for, well, something.
It's great for the Lucas Oil Pro Motocross Championship to have BT101 here, it's great for Reed and his team but I'd be a bit cautious as saying that he's going to be anywhere near the pace of a Ryan Villopoto, Ryan Dungey and James Stewart (who says that he's in as of now). Time waits for no man and since BT was last here, he's had a rough year.
Bring on Hangtown!
Jason Weigandt
I remember well last year's RedBud TV show, where we showed Chad Reed a clip of his epic battle with Townley and Ryan Dungey from that race in 2010. Reed's first reaction? "Man, I sure do miss BT out here."
Well, now he's gotten him back! This is yet another step forward for the TwoTwo team, as many a top-line effort has sputtered as soon as the lead rider or team owner went down. Jeremy McGrath and Jeff Emig tried building teams around themselves over a decade ago, but once they weren't doing the riding, try as they might, the other riders, sponsors (and soon, the teams) were not able to stick around for long. Reed has now proven, again, his team is much stronger than anyone expected--first by winning against the factory teams, then by getting full factory support, and now by jumping back into the contender fray with a different rider than just the boss. I think the BT move makes it official: TwoTwo really is here to stay.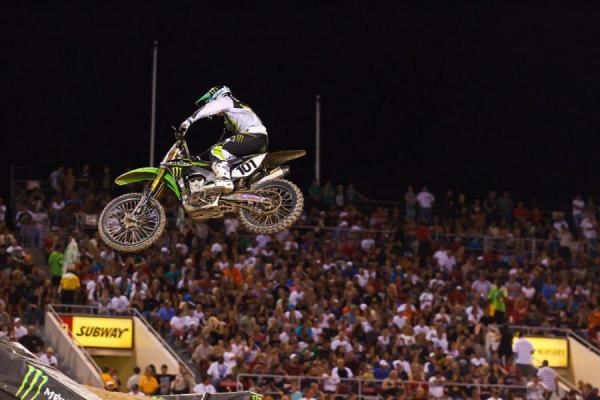 BT at the Monster Energy Cup.
Cudby photo
So how will Ben do? He's got a lot on his side, as Ping said above, he'll be on even better equipment than the Honda he did pretty darn well on in 2010. And Ben may have gone through some injuries and time off, but it seems like he knows how to build himself back up if given the right amount of time (he was off for awhile before 2010 and almost made it all the way back to the center of the podium). Right now it's hard to see anyone matching Ryan Villopoto's total package, but anything can happen in this game, and I wouldn't at all be shocked to see Townley get a win for his new team.
On a personal note, Ben is one of the coolest riders to talk to in the pits, so I'm glad he'll be hanging around. Plus, his personality is the perfect fit for the TwoTwo squad. I just hope Reedy's old Gotta' Be In It To Win It motto plays out--please, please, please, for once, let's not a get a "Townely injured during preseason training" PR. It's happened enough!
(And everyone just shut up about this stupid jinx stuff, okay? Again, if I had such mythical powers I'd be doing bigger things that moto journalism. And if you do believe I have such powers, would you really want to mess with me? Go BT!)