Unless you grew up and raced in Southern California, you might not have heard of Ron Turner. Turner raced professionally from the mid 1970's all the way through 1990, and made a good living riding dirt bikes.
"Radical Ron", as he was known to friends, was a Southern California hotshot. Turner was known to race 3-4 times a week and in whatever class was paying a purse. From Indian Dunes to Corona Raceway and down to Carlsbad, Turner was always a contender. We found Radical Ron getting ready to prep the new Lake Elsinore track late in the afternoon, and just as the sun was going down in the Inland Empire.
Racer X: Radical Ron, thanks for chatting with us. How about a little background on your career?
Ron Turner: Well, my family moved west in 1965 and I started racing all the way back in 1969. I raced all through the big days of SoCal back when the local scene was real big. We lived in El Cajon, and I was just always around people like Broc Glover, Marty Tripes and Ricky Johnson, though Johnson was a little younger than me. I raced a lot of CMC events when they were the big deal. I think I have the most winning's of any rider in SoCal history. If you can believe it, I have 947 professional wins in my career. I kept track of all my racing and moto's over the years, and that is what the numbers show. But I did race the nationals from 1976 through the late 1980's.
Wow! You were like an early version of John Dowd, but hailed from the "El Cajon Zone". That's cool. When did you first hang it up?
Well, I first retired in 1990, I just kind of quit completely. It started when I got hurt in 1988 pretty bad. That kind of affected me a little bit, but then tried to come back, but it wasn't the same.  But by 1990, I was just done. I retired to Arkansas with some money that I made and bought some property down there.
So you quit cold turkey and went from Southern California to Arkansas?
(Laughs) Yeah. I am originally from Arkansas. We moved to SoCal when I was real young though.  My family was all back there, and that is where I wanted retire. I kind of just wanted to get away from it all.  I was just going to live off the money I made from racing.
So even without a factory ride or a national championship, you did well enough financially back then so that you could retire?
Yeah. I tried to be smart with the money I made and just saved everything. But I worked real hard at it. I was always a test rider and really specialized in doing R&D for the OEM's. I spent 11 years with Suzuki and 10 years with Honda doing testing work on their bikes. I also worked at Cagiva for a bit as well. Through those jobs, and a little bit through racing, I was able to make some good money for the time.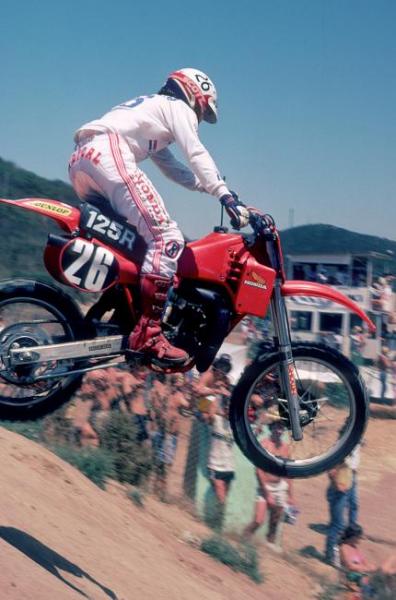 Radical Ron Turner back in 1982.
Photo: Dick Miller
What would you say were the big highlights of your career?
Probably earning national #6 on a production bike. That was a big deal for me. I also won Evel Knievel's Snake River race in the 125 class. That was cool—Evel gave me a Harley Davidson for winning. I also won the first year of the Golden State nationals, and the Aloha Supercross in Hawaii.  That was a real cool deal. But really, just winning local races was kind of my deal. I would arrive at a local race, sign up for all three pro classes, and do my best to win all of them. I think I did that 13 different times, which was pretty cool. This was back in the day when a CMC race would have over 1000 entries.
You are now living back in Southern California. What brought you back?
Well I was in Arkansas for six or seven years, but then I got divorced. I just kind of came back to what I knew, which was motocross. I was missing it. I moved back to California in 1997. I was gone from the sport for seven years.  But what really triggered the move was I came back out to the vet nationals in 1997, and I won my class. I just realized that I needed to come back to California. So, I moved out and just started all over again from ground zero.
So what are you doing now?
I am doing schools, private classes, personal training and basically just working with the kids. I am old school and pretty hard though, and my program is not for everyone. It works for some, but not everyone. Mostly I am doing private lessons and one-on-one daily training. I also started working for Gio and Joe at the new Lake Elsinore facility. They called me up and said they needed someone to help them. I have been prepping the tracks over there at night, and basically just doing whatever we can to make the place the best track in Southern California. I love being part of it, and these guys are serious about it. I have been involved in track prep for a long time, as I used to run Competition Park, but before it was moved to the reservation and they had that whole Motocross des Nations problem. I also helped get Milestone up and running as well. So we have the same goals, and I have some experience with other tracks.
How have seen the sport change over the four decades you have been involved?
Well, it really has changed from when I came up. Now it is more commercialized. It is not as family oriented as it used to be.  It seems like with me, being old school and I do all the hard work, you have a few guys who are willing to do the work. The rest – the rest of them just want to be rock stars but don't do the homework. They live the life, but they don't put the time in during the week.  There are very, very few jobs available now as well.  When I raced, we had three classes – 125, 250 and 500's, and there were perhaps a few more options for guys to get results and get rides. A lot of it has to do with the show, and what the show has brought. Before we didn't have the TV, we didn't have the real big name sponsors.  And with the outdoors, you see a lot of guys that don't ride it. It takes more training and more time and more commitment to get results in the outdoors. In the old days, a lot of the guys like Hannah and RJ, they were tough as nails. It just doesn't seem the same to me now. I guess it is just a different work ethic, and things are different now.
What else do you have going on?
Well, I was working with Weston Peick, he is doing ok, but nothing at his level comes easy. I have also been helping out a couple kids who are coming up, including Jeremy Girard from Minnesota and a few others. Jeremy got hurt and is coming back from that right now, but he is doing OK. I have also been doing some of the Marty Tripes events, which are called "Revenge of the 100's".
I heard about those, but don't know anything about them. Can you explain a little more about those?
Well, basically, it is all about fun. He is trying to give something back to sport. Everyone races old school 100cc motorcycles. They can be totally trick, but the motor has to be 1983 or earlier. You can change frames and everything else though, and use modern suspension and chassis. He has all sorts of different categories, and it is based on your weight and the bikes weight. We have had a good turn out, with guys like Scott Burnworth, Jim Gibson, Tommy Croft, John Desoto, Mike Bell, and many more showing up to ride.  Most of the races are in SoCal and it is just real fun low-key deal.  Its old school, but man, they are just fun.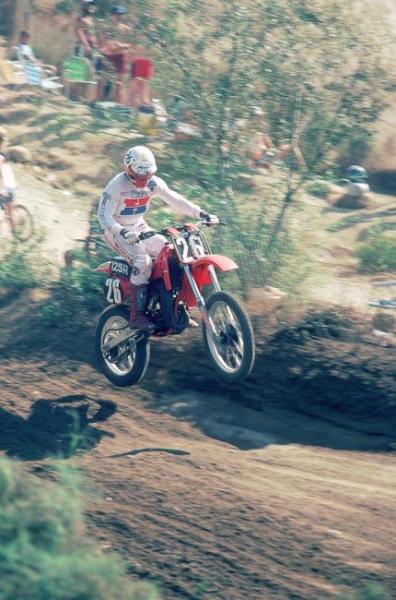 Turner is now teaching private schools and helping with the newly renovated Lake Elsinore.
Photo: Dick Miller
What about your family?
Well, when I moved back to California, I settled in Quail Valley, and I got remarried.  My wife Patti and I have been together for 11 years now. I have twin daughters from my previous marriage, and they both ride, but mostly for fun. They are working and starting college, and their names are Stormie and June. June was into racing for a while and won the girls class at the Yamaha dealer series a little while back. I also have a stepson Jimmy, and he is starting college as well.  I also have an older daughter, Marissa, and she has 4 grand children, so I guess that makes me old!
Some of the guys I have talked with have had struggles when the lights go down on their career. They suddenly find the rest of their life is ahead of them and no one is asking for their jersey anymore. How was it for you when you quit cold turkey?
Yeah, I know what you mean. I have had some struggles for sure – but in my heart I am a racer.  That's what I do. I don't think I will ever walk away from the sport again. I did that first time around, but not again. When I moved back east, I got to spend some time with brother back in Arkansas so that was great, because we lost him to cancer. I don't regret that at all. He had Lymphoma, and he fought it for 12 years. My brother was really a big part of my life. He was really good friends with Magoo, and he was faster than me, but he crashed all the time. He rode like Magoo, and thought the throttle was only meant to be held one way – wide open. He raced a few pro events, but I don't think he took it as serious. People don't ride that anymore. The bikes wont allow it. We lost him five years ago, so it was good to hang with him.  But after my brother got sick and the divorce, the motorcycles pretty much saved me. I came back to what I loved. I started doing some local races back in Arkansas and Oklahoma, and just got back into again.  Now, I don't think I will ever get it of my life.
Well Ron, thanks for chatting. Anything else you want to add?
Well, I have a lot of fans who come up and remember the good old days, I was just really lucky to do what I did. I never got that works bike – I think that might have changed my results on the pro level, but I am good with that. A works bike would have helped me to really show my skills. But I have no regrets at all. Motocross has always been part of my life and will always be part of my life.  I really enjoy hearing from people, and people can look me up on Facebook. I love hearing from old friends.  I am just thankful that everyday I goto work with motorcycles, and they are still a big part of my life.