Indianapolis, IN
Indianapolis
Monster Energy AMA Supercross Championship
Welcome to the BTOSports.com Racer X Observations column from Daytona. As many of you may know, I wasn't at there, which is maybe sort of a good thing seeing as how crappy of a day it turned out to be. But then again, I did sort of miss it while I was just sitting on my couch watching it like all of you, "normal" people. Anyway, because I wasn't there, I'm going to change the column up a bit and concentrate on the series as a whole. But first, here are some deep thoughts from Daytona:
-It looks like the track crew did a pretty good job in salvaging the track and making it somewhat rideable out there. Also, they shortened the laps, which was a good thing in my opinion because let's face it, when the conditions get that bad, it results in super long lap times. It's not fun to see the world's best riders just rolling around out there exhausted.
-The RC standing on a box for TV thing is silly. Who cares how short he is compared to Ralph Sheheen and Jeff Emig? We all know he's short, and if anyone wants to crack any short jokes, RC should direct them to his bank account and multiple number one plates on the wall and say, "Suck it!"
-I admit that when I re-watch the races after being there, I don't really pay much attention to the commentary but when I'm not there, I depend on the three guys in the booth (and Chad Reed when he was in there) to tell me what's going on. They generally do a great job but as I've said before, I think they need to get out and learn more about all the riders in the field. In a three-hour show, you have to know something about all the riders, and at times, you can see that the three guys have NO clue about anything when it comes to some of the riders. They just need to get away from the three or four big teams and start reading up on these guys because everybody at the races has a story to tell.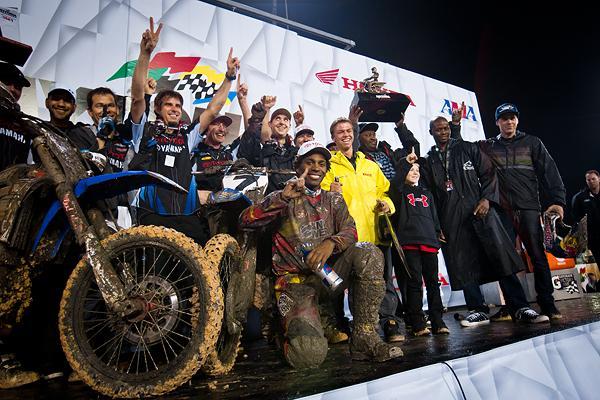 JGR and Stewart celebrate their second win of 2012 at Daytona.
Photo: Garth Milan
-Great to see James Stewart win; before the race, I called him for it in my podcasts and shows. Obviously with the mud, a lot of things go out the window, but Stewart must have had the entire race under control because they never really showed him on TV. That's a good thing for the seven.
-Ryan Villopoto had a miserable race, but it's these kinds of rides that save titles. Crashing on the first lap and getting mud on your grips, gloves, and goggles and up your butt, is not fun but he made the best out of it and got a fifth.
-Ricky Renner was out there on a two-stroke and would have easily made the main had he not DNF'd with a blown up YZ144. It's hilarious to me that the two-stroke people, who are completely over the edge in their fanatical desire to see them make a comeback, were sitting there with tears in their eyes thinking about how it wasn't possible the POS four-strokes weren't blowing up, and their beloved two-stroke did. Anyways, Renner was on the gas and did a  good job in the limited laps he rode.
-Josh Hansen, what were you thinking? Hansen got pushed off the track in the heat, and then instead of reentering in another area like another guy that got pushed off (Davi Millsaps who got second in the main event), just decided to cut out two straights and enter the race in fourth. Predictably, he got black-flagged which hurt his gate pick for the LCQ. Why he didn't just enter the track behind Millsaps and either make it into qualifying position, or at least get an inside gate pick for the LCQ, is beyond me. Just another bad decision by Josh "Johnny Drama" Hansen. In the LCQ, he made a racing move in chopping a guy off going into a turn and it didn't work out, as both riders went down. His anger towards the other guy wasn't justified, and clearly, Hansen woke up on the wrong side of the bed that morning. I feel for everyone on the H&H team who all busted their asses for their one guy, only to see him just implode himself, and their hard work, with a series of bad decisions.
-H&H team manger Kenny Watson tweeting after the race about the "bad luck" his team suffered was hilarious. Bad luck? I'd say in this instance, Hansen put his own feelings ahead of everyone else's on the team and then hurt everyone else. Many of us wondered how Hansen was going to make it through a complete 17-race series without drama and giving up. Don't look now, but it's started to turn south for him in recent weeks. It will be interesting to see if he can turn it around.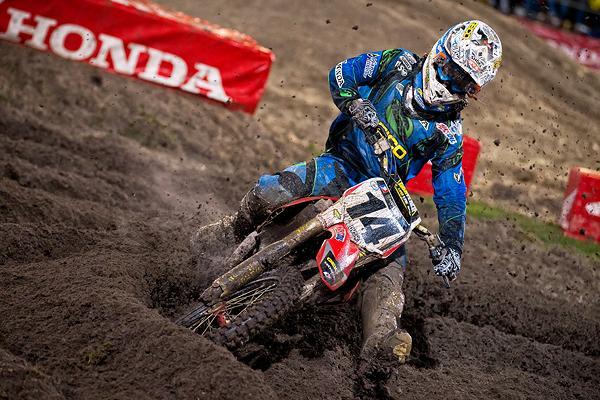 Windham captured his first podium of the season at Daytona.
Photo: Garth Milan
-Great ride for Davi Millsaps in getting the runner-up spot. Millsaps is a good mud rider for sure, and it's nice to see the JGR guys go 1-2. Put your hand up if you were one of those people that thought Kevin Windham was going to get Millsaps for second. Unless you're related to Millsaps, I'm pretty sure everyone has their hand up, and that right there is an indication of why it's a great ride for Millsaps; he did what many people felt he couldn't.
-When it's going your way, it's going your way and right now Justin Barcia is the king of the Lites class. He rode a great race and despite being caught twice by Blake Baggett, he rode strong to his fourth straight win. At this point, we have to seriously start thinking about him going undefeated. I know I will, he's been that good.
-Good to see Kyle Regal back as a full privateer on a Honda. Regal's got to be one of the more mysterious guys out there. He apparently wants to race really badly, but he's also turned down rides that offered decent money and equipment. He wants it to be on his terms and that's admirable, because many a career has been blown by going with the money or signing with teams that sucked. Still, I don't know if he's got the resume to do that. Anyways, he rode well in the mud as a true privateer and I think he'll be an H&H guy as soon as this weekend in a fill-in ride.
Let's take a look at the point standings with some comments on the guys as we're ten rounds down and seven to go:
Supercross Point Standings
Ryan Villopoto 221pts. Kaw - Clearly it's RV's title to lose at this point. The announcers were going on and on in the Daytona race about the points that Stewart was making up, but c'mon, wake me up when it's down to just over a race lead. As it is, RV has shown many times that he can beat JS7 straight up and right now, unless there's a total disaster, Stewart and Villopoto are going to go 1-2 the rest of the way out.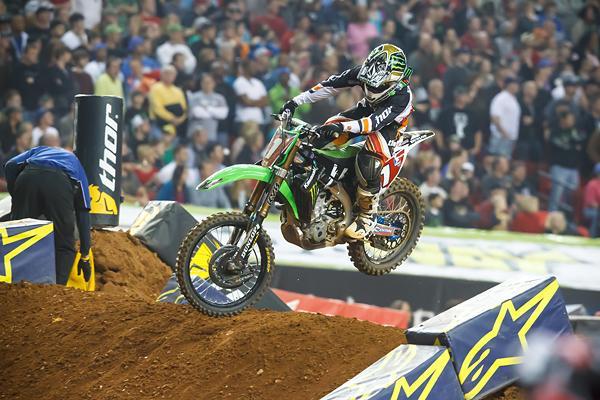 Although he struggled at Daytona, Villopoto still holds a massive points lead.
Photo: Simon Cudby
Ryan Dungey 192pts. KTM - Stewart and Villopoto should run the rest of the series because Dungey is out four to six weeks with a broken collarbone. I'd have to guess he's probably done for the rest of supercross, but we'll see if his team wants to send him out for a couple meaningless races at the end of the series. I still think that, with two wins in nine races, his season on the KTM has been above what was expected.
James Stewart 177pts. Yam - In some ways, Stewart has an easy time of it from here on out. He's basically got no pressure to win the title, and he can let loose and try to win out, which would allow him and his fans to ponder the question, "What would've happened if Stewart had gotten his bike in order at the beginning of the year?" There was very little testing down out west before the season started, and it's no coincidence that he's been better since the series went back east. Next year I'm betting that there will be extensive West Coast testing for Stewart and the JGR team.

Kevin Windham 143pts. Hon - The world is waiting to see if Windham can win one more race before he hangs it up. I wouldn't bet against him either; if everything lines up and he's feeling it, he could definitely win a race. Some people thought that win would come in muddy Daytona, but it was not to be. Windham's in a nice spot though, he's the fan favorite and absolutely NO ONE is going to go up to him and ask him to give more. His career dictates that we just leave him alone and be happy he's still racing.
Jake Weimer 134pts. Kaw - Weimer has been up and down and hasn't grabbed that "best of the rest" mantle like I thought he would. He's just got to be more consistent and be "that" guy each and every week. No matter what though, he's got two podiums and that is a surprise I would think. Three straight weeks of seventh places has to be chapping his ass though. But then again, he might end the year fourth in points and that is quite an accomplishment. It's a, "the is glass half-full half-empty" thing.
Davi Millsaps 131pts. Yam - Early on it looked like Millsaps was done and just riding around. But then he started being a consistent top ten guy and now, in the last few races, it looks like he's moved up from there and wants to be a top five guy. He's got the talent to do it, but he needs that fire. Maybe the fact that he's not getting paid very much and needs to do well to make more money has been motivating him lately. At least that's what some people on his team think. Whatever it is, it's working.
Chad Reed 128pts. Hon - Reed is out for the rest of the series and if I had to bet, I'd say he'll miss the outdoors as well. Too bad, he had a nice year going and to me, somehow at age 29, he was getting better.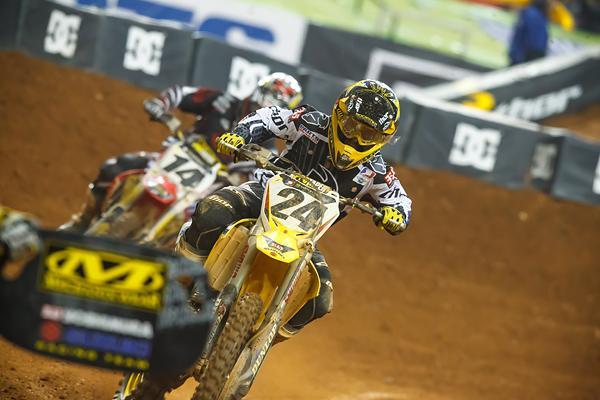 Metcalfe has had his share of up and downs in 2012.
Photo: Simon Cudby
Brett Metcalfe 124pts. Suz - Metty's like Weimer. Fast at times and he could always be right there, but for whatever reason, he can't be the "best of the rest" guy every weekend. He's got to be frustrated and knowing him, he's putting pressure on himself to do well as the only Suzuki guy. That may or may not be advantageous.

Justin Brayton 121pts. Hon - Even though Brayton is behind Weimer and Metcalfe in the points, I'd argue that he's had a better year than either one of them. In his first year on the factory Honda, he's missed one main event and he's been unable to practice many weeks because of a gnarly crash. But through all of that, he's still been pretty fast, and has been the "best of the rest" three times. Give him a tenth for the missed main, and he's right there with Weimer in the points (I know, I know, if your aunt had balls, she'd be your uncle but still, it's my column- so there).
Mike Alessi 113pts. Suz - Alessi told me that he's taking supercross more seriously than he's ever taken it before, including the factory Suzuki days when he got a podium. At times, he's been fast, but like everyone else, he can't seem to string two or three trouble-free races together. Like I said, he shouldn't feel bad because other than Ryan Villopoto and Kevin Windham, no one else can either.
Kyle Chisholm 91pts. Kaw - I thought Chiz would be better this year to be honest, and I know he did as well. He's been very close to breaking through, but five twelfth place finishes in ten races is not where he wants to be. Having only two top-tens in ten races makes him mad, but the good news is that he's been much better in timed qualifying in the last month, and just needs to put that speed into the mains. He's in shape but can't get a start to save his life.
Josh Hansen 87pts. Kaw - Hansen was an early season surprise, but as noted above, his recent run of four out of six races not being good makes it hard for him to focus, and soon everything just starts plummeting downhill. He's never done a complete 17-race series and maybe that's getting to him. I just know that when you start pulling off in races, it gets easier and easier to quit. Hansen needs to buckle down and regroup here, he's all the H&H guys have!
Broc Tickle 82pts. Kaw - Here's another guy that I thought would be better through ten races, and I'm sure he and his team thought so too. He did tie his season best at Daytona but then again, we always knew he is a good mud rider, so it wasn't that big of a surprise.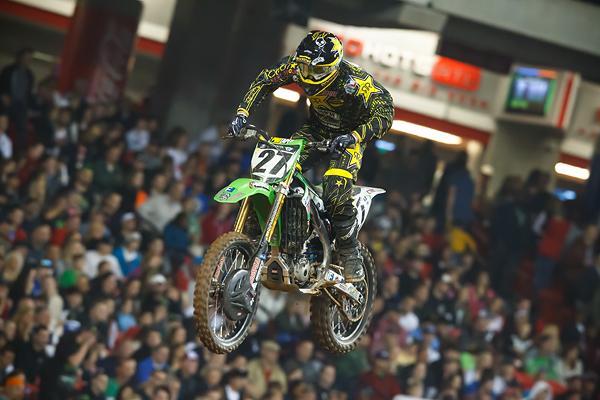 Nick Wey is beginning to feel more comfortable on his bike, and his results are showing it.
Photo: Simon Cudby
Nick Wey 76pts. Kaw - Wey's been better lately and according to him, it's because he's feeling more comfortable with his bike. Anyone who has worked with Nick (myself included) can attest to the constant changes that he does to his machine over the course of a race year, and some of his uneasiness with the bike stems from his own demands to make changes. No matter, he's been better lately, and working with David Vuillemin has no doubt also helped out the NYK.
Andrew Short 59pts. Hon - It hasn't been a good season for the injured Short, but the good news is when he's been able to race, he's been much better than last year. He started riding this week and hopes to return very soon, so there's that I suppose.
Matt Goerke 38pts. Suz- If your star rider got hurt before the season, and you had to pick a rider to fill-in him for him two races into the series, it would be a good deal if that rider soon became the top guy on the team, right? That's what's going on with Goerke and the BTOSports.com BBMX team right now. Goerke isn't costing the team much in the way of salary either, which makes this a win/win deal for all sides.
Robby Kiniry 32pts. Yam - I like Kiniry, and I can't say much bad about him. If I came home one day and found out my wife was having an affair with him, I'd still probably say, "That little rascal Kiniry," and then giggle myself to the nearest hotel. And no doubt while he was apologizing, Kiniry would be smiling. The sport of supercross is better with Kiniry in it, and how he didn't have a ride when the season started is amazing. He and Goerke deserve better in 2013.
Marvin Musquin 30pts. KTM - He's in the top twenty with only two races completed. That's pretty impressive for the Frenchman, and just like Cole Seely last year, he's going to be ripping fast when the Western Regional Supercross Lites series picks back up in Seattle. You watch.
Kyle Partridge 29 pts. - Another rider that is done for the year, Kyle was a hit and miss rider out there in the first half of the season. Sometimes he was good, sometimes he wasn't.
Weston Peick 27pts. Kaw - Peick's a journeyman privateer guy who's now on the Star Valli Motorsports Rockstar Yamaha team for what I imagine is the rest of supercross. Good for him that the bills get paid while he sticks it in the main most weeks.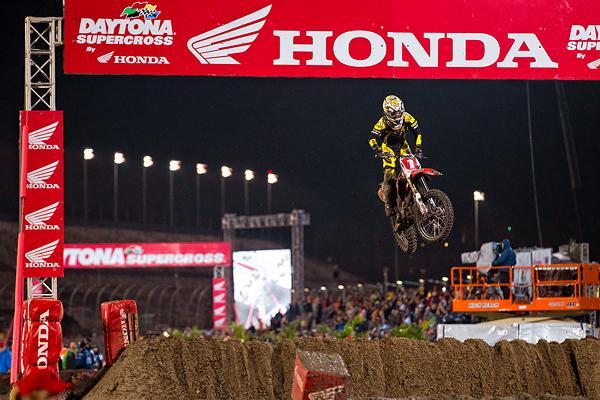 Four-for-four thus far for Barcia in 2012.
Photo: Garth Milan
Eastern Regional Supercross Lites Point Standings
Justin Barcia 100pts. Hon - Four races, four wins. The kid's on fire! He's got Jeff Stanton in his corner, he seems to be on point this year and no matter what he does, it's all rolling his way. I think I'm in the minority in this, but I think he's not being nearly as aggressive as he has been in the past. I see some maturity and Bam-Bam's come a long way from having Honda boss Erik Kehoe pull him aside and tell him about respecting his fellow racers. Unless he gets attacked by a swarm of killer bees, he's going to win this title.
Darryn Durham 76pts. Kaw - I know Durham's on a Pro Circuit Kawasaki, but I still put him as a surprise this year. He's been consistent for the most part and as a privateer, that's what he had troubles with. Look at what Durham is doing now, and at Wil Hahn's speed over the last few years, and you'll realize that Star Racing just gave up on these guys too soon.
Ken Roczen 75pts. KTM - I have no doubt that Roczen probably expected more out of himself, but he's got some wins coming at some point. He came into the series at a bit of a disadvantage with an arm injury and the one time he did match up to Barcia, he was sick. Daytona was a bit of a surprise, but to be fair, we just expect all GP racers to be good in the muck. Maybe he's one of the guys that isn't.
Blake Wharton 72pts. Suz - I sort of cheer for Blake out there because despite winning a race, he's been a bit of an afterthought on the GEICO Honda team his whole career. Not being able to stay healthy and then not being a factor in a lot of races while your teammates are winning races and titles is a bad combination. This year he's on a Suzuki and is riding well.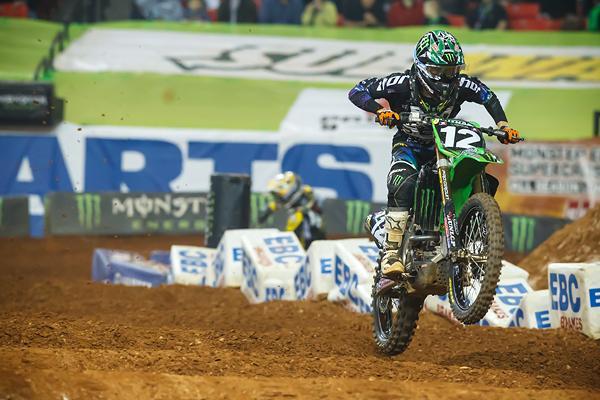 Baggett has been hot and cold thus far in 2012.
Photo: Simon Cudby
Blake Baggett 62pts. Kaw - Baggett's had two second places, and two races that suck. If the trend continues, he's due for a bad race this weekend in Indianapolis. I'm not sure what's going on with him but he's been a bit off, even when he's been good. Daytona was a good race for him in that he caught Barcia twice. He's got to hang on to that fact and turn things around this weekend.
Jake Canada 56pts Suz - Canada's been sneaky good. I've been pumping up Filthy Phil Nicoletti, but I may have to jump onto this Canada bandwagon real soon. It won't be hard for me to do, trust me. From complete privateer his whole career to now having a good ride with nothing to worry about other than concentrating on a being a pro racer, Canada's making the most of his chance. Boy those MotoConcepts bikes are great, wonder when they'll start selling them?
Justin Bogle 46pts. Hon - Bogle's obviously been better than his standings indicate. He should have had a top five at the opening round but got "Mookie'd," and he should have had a third in St. Louis but fell on the last lap. In Daytona, he got stuck in the mud. Ahhh, to be a rookie again in supercross. No worries, he's the real deal and will get everything figured out.
Malcolm Stewart 42pts. KTM - Stewart hasn't been as good as I thought he would be. Last year it seemed he did something every race that made me jump out of my seat and put everyone on notice that I had Mookie Fever. This year, a bad crash at one race, bike problems at another, a dumb move at one and a mudder have all equaled a cure for Mookie Fever. Like Bogle, he's too talented to not figure it out soon.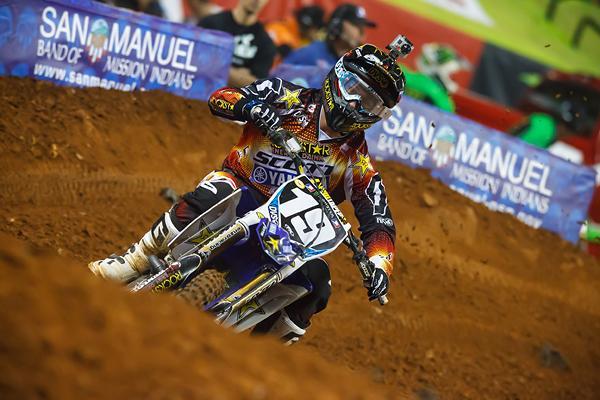 A wrist injury has hampered Cunningham in 2012.
Photo: Simon Cudby
Kyle Cunningham 42pts. Yam - More was expected out of Cunningham, but he's been riding with a hurt wrist since the first round and he's just been ok. If it were me and he was hurt bad enough that his struggles at the races are stemming from his injury alone, I'd pull him out and save him for outdoors where he was blazing fast last year.
Cole Thompson 32pts. Hon - A total privateer kid from Canada, Cole's been great this year right from the start. He's missed one main event but other than that, has been steady at every race with two top-tens. One of the things I like about Thompson's program is that he's going with a local engine and suspension company to do the stuff on his bike. I don't know, I just like the fact he's probably making the owners of those two companies very proud with what he's done using their stuff.
Thanks for reading, email me at, matthes@racerxonline.com and we can chat about this mudder.