Georgia Dome
Atlanta

,

GA
Atlanta
Monster Energy AMA Supercross Championship
Ladies and gentlemen good evening
You've seen that seeing is believing
Your ears and your eyes will be bleeding
Please check to see if you're still breathing...

Hello, everyone, and welcome to the Rev Up. It's that time of year and the diesel is puffing black smoke on all eight cylinders. What's that noise? Put your ear to the train tracks and you can hear the crackling thunder of 70,000 strong. It isn't the numbers that cave your chest in, rather the substance behind them that packs a punch. We got the crazies out for this one. Rabid motocross fans compose the southeast venue of the Georgia Dome, and they're ready to eat. They've sat dormant while the West Coast selfishly hosted the charge and now the Beast of the East is ready for dinner. Everyone knows what time it is. The latest, and what could be the greatest, Battle of Atlanta has arrived.

Let's stop mourning about losing Chad Reed to injury and presuming that the wind has fallen out of the sails on the 2012 Monster Energy Supercross series. Like I said last week, we have a great product. It isn't the names that make it grand, rather the substance of the show herself. You can go to a local motocross race anywhere in the world and a knock down drag out battle can take place. It can be the 50cc class, or the Vet Plus 40. This is motocross; and it while it breaks our hearts to see so many heroes get hurt, the show goes on. We were all proud of Reed and losing him to the championship fight is horrible, but we have a gate to drop. He knows this, and all he can think about is healing and getting back behind it. So are Trey Canard, Josh Grant, Ivan Tedesco, Tommy Hahn, and Ryan Morais...and more. Our horde remains steadfast.

"If you buy the ticket, you take the ride."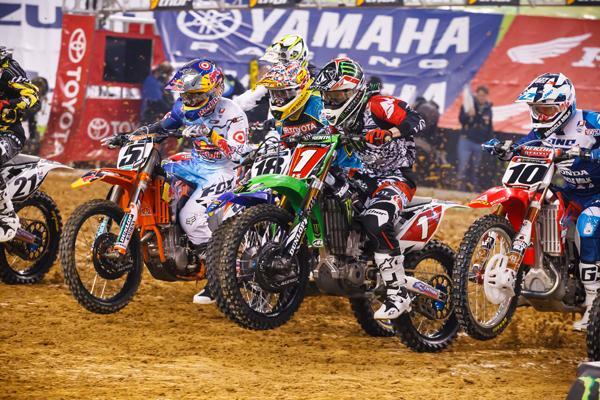 The charge heads to Atlanta this weekend and will be meet by...
Photo: Simon Cudby
So, what is so special about the Atlanta Supercross? Why have so many exhilarating races taken place there? Is it the coastal swing to the East, and the beginning of a pivotal chapter in the title fight? Yes. Yes, it is. And more. Some places on this mud ball simply quicken competitive instinct. Lambeau Field, "The Brickyard" at Indianapolis, Wrigley Field, Madison Square Garden, The Bermuda Triangle...I digress. Whatever milkshake of adrenaline embodies the Atlanta Supercross may be, it is very real, and time after time a full-blown "Donnybrook" goes down.  

It creates a sound that I've only heard there. The power of this sold out crowd is astounding, and it isn't their fault. Through the years they've had to undergo five-rider-fright-trains, hometown wins, and pick up passes. Mother Supecross created a beast with The Battle of Atlanta, and when they turn the lights down for opening ceremonies this Saturday night, you'll feel it. I can't wait for it. I'll be that guy jumping up and down, rolling my neck, and looking to land a high five with anyone that will square up with me. She's here, boys. Not sure I have ever had chicken skin on my knee caps, but when I just looked down through my glass desk, that just happened.

Oh my, the nastiness of the east side tiddler division. I'll go ahead and chalk last weekend's display of clean jobs up to, ahem, youthful exuberance. That said, nowhere in "the code" is it cool to intentionally jump into riders with your front wheel, or square up a 90 degree turn to blister your competitor in an effort gain position. You can stuff, block pass, and even brake check your man, but this deal is spooky enough without the dive-bomb-ankle-breakers. Professional supercross is rough, but stay true to the code. That's part of owning the title of being a professional sport. Abide, brothers.

Enough of that, this weekend is about the love of competition and being lucky as we are to experience what's on the way. Wow, what a big weekend. I've already mapped through my responsibilities in an effort to streamline my position inside the Georgia Dome Saturday night. I haven't missed this one since attending my first one, and I have my shoulders back.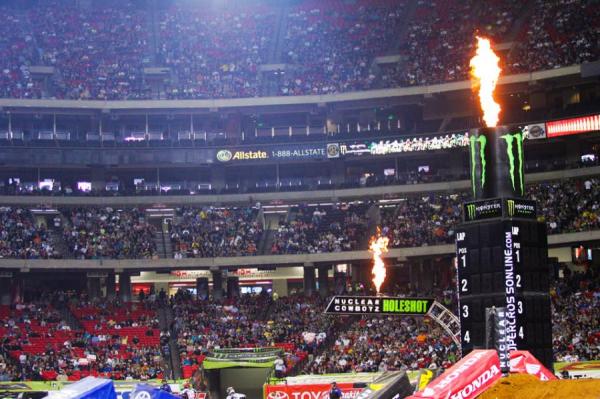 ...over 70,000 rabid fans that will pack the Georgia Dome.
Photo: Andrew Fredrickson
There's a lot more to it too. I'm going to cut this one short, because the Battle of Atlanta is on the board and those words alone land home. I mean, they better. I just have an additional kick in my step for the weekend because it's time for the Daytona 500 and my brother is ready to begin a new chapter. As you read this he will be racing in the second Gatorade Duel which will set his starting position for the 500. The No. 15 5-hour ENERGY Toyota is prepped for her maiden voyage this Sunday and Clint will be denting the floor board. He's a bad dude and I'm so very proud of him. I know you guys scoff when I write about that subject. My beloved readers and friends, please give my family a little push this Sunday morning. If the #15 is still there with 20 to go, look out. He is one of the best in the draft. Go get'em, son.

What are we going to do now? It seems like I'm already walking the pits, watching practice, preparing for the heat races, then all of the sudden the lights go down and I can't see much after that. I can only hear the cacophony when this happens. I can close my eyes and hear the crowd blast out approval for the show. And I can't wait to be among them.

Hold tight cause the show is not over
If you will please move in closer
Your about to be bowled over
By the wonders you're about to behold here

The Battle of Atlanta is here, ladies and gentlemen. If anyone wants to get together for a pre-race beer hit me up @hattica77 on twitter, I'm buying. Straight talk. I'm ready to run with the bulls. Who's with me?

Thanks for reading, see you next week.