McGrath Signs-Up for Five-Year Encore with SPY
February 23, 2012 10:50am
CARLSBAD, Calif.—SPY Inc. today announced a renewed sponsorship deal with seven-time AMA Supercross Champion and Motorsports Hall of Fame Inductee Jeremy McGrath. He will endorse signature SPY + Jeremy McGrath Klutch™ MX goggles and SPY Showtime sunglasses through 2017.
"Jeremy is a founder of our company, he's the winningest Supercross racer in history, and he helped turn Supercross into a pop-cultural and motorsports mainstay with his talent and showmanship—his is an integral part of SPY and an icon of our brand," says Victor Sheldon, SPY motorsports marketing manager.
McGrath won seven Supercross Championships titles between 1993 and 2000 and amassed a record 72 main event wins. His charisma and flair transcended the sport, propelling him to mega-stardom while recruiting to the sport of Supercross a fan base that extended well beyond the universe of motor heads.  Some would argue he is responsible for the birth of freestyle motocross, when he unveiled his signature Nac-Nac, a maneuver he started throwing around in races in '94 when he started with SPY.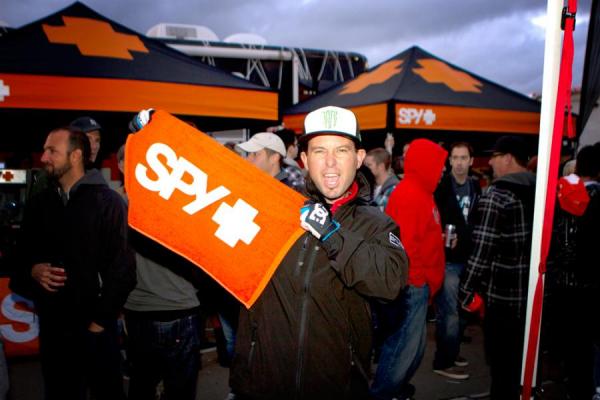 "I've been with SPY since Day 1, the Company is 'home' to me and the people that work there are like family to me," says McGrath. "They keep it real in everything they do and continue to make the best products out there—they just look better and work better. That's what we set out to do in the beginning and it's what we do today. The Klutch is sick and the Showtime is the best-looking pair of sunglasses I've ever worn. I'm just saying.'"
Since retiring from fulltime Supercross competition in 2003, McGrath still tests for factory Honda and competes in special events. He also pursues his passion for off-road truck racing as the captain of the Monster Energy/ReadyLift Stronghold Motorsports Pro 2 Unlimited (Toyo Tires) team in the Lucas Oil Off-road series.
For more information about SPY, log-on at
www.spyoptic.com
and
www.facebook.com/spyoptic
. To check-out McGrath's signature models, go to
http://www.spyoptic.com/showtime/d/1044?cs=1
and
http://www.spyoptic.com/athlete/klutch_mx/d/1033_cl_1020
.