Realtree Branches into SPY Collection
CARLSBAD, Calif. – SPY Inc. today announced its relationship with Realtree® has expanded from one eyewear style in 2011 to a nine-piece series for spring 2012: seven sunglasses designs and two goggle choices. The SPY + Realtree Collection will see the most popular artwork from Realtree—innovator and manufacturer of the world's most versatile camouflage patterns—applied to select SPY's Dale Earnhardt Jr. Signature models, in-line sunglasses, SPY Performance eyewear, and motocross goggles. All nine pieces will come with safety-orange logo hits and orange mirror or bronze lenses.
"Our expanded Realtree program developed naturally from our great working relationship with Realtree and a complementary product fit between our brands," says Devon Howard, SPY marketing director. "We had fun collaborating with the Realtree crew on the SPY + Dale Earnhardt Jr. + Realtree Dirty Mo sunglass last year, and the incredible response we got from retailers and consumers—as well as our athletes—led us to the conclusion: 'Let's do more.' So we did and, not surprisingly, the line is a cross-over success—a hit at leading outdoor stores, as well as with the coolest action sports and motorsports retailers."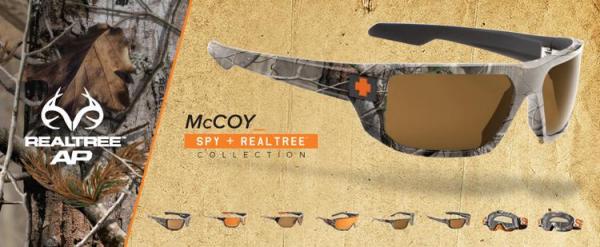 Kristy Barnes, Realtree licensing account manager says: "SPY makes incredible, high-quality, technical eyewear that also looks, works and feels great. This is a perfect offering for our core customers that depend on vision protection and also appreciate style. We're also enjoying new Realtree fans rising from the SPY ranks, which is a testament to our shared brand promise of getting out and having a good time."
The SPY + Realtree line was developed for both athletes and outdoorsmen wearing protective eyewear or sunglasses to help ensure unobstructed vision in all conditions.
"Clouded vision is not a good thing approaching 100 mph, soaring 30 feet in the air, or hiking around armed with a deer rifle," says Howard. "But it's a non-issue with our SPY Scoop® ventilation and lens treatments. Essentially, the SPY + Realtree collaboration brings together good-looking, high-quality and high-performance shades with fun-loving people who really enjoy the outdoors."
The Realtree collection includes their signature patterns on SPY's Trident™ polarized and non-polarized Dirty Mo, McCoy, Dirk and Kash shades (MSRPs: $130 to $160); Tron sunglasses (MSRP: $125 to $135); Alpha and Quanta performance models (MSRPs: $110 and $130); and Targa Mini and Whip moto goggles (MSRPs: $35 and $55).
For more information about the SPY + Realtree® Collection, go to http://www.spyoptic.com/store/productslist.aspx?categoryid=6&s=realtree&PageNo=0. For more information about SPY, log-on at www.spyoptic.com and www.facebook.com/spyoptic. For information about Realtree, log-on at www.realtree.com and www.facebook.com/RealtreeOutdoors.