RC Design Unveiled for Daytona
Daytona International Speedway
Daytona

,

FL
Daytona
Monster Energy AMA Supercross Championship
Ricky Carmichael Signature Design Unveiled
For 2012 Daytona Supercross By Honda Course
Supercross Legend Designs Course for Fifth Straight Year
DAYTONA BEACH, Fla. – For the fifth-straight year, legendary Supercross champion Ricky Carmichael will challenge riders with his latest signature course design in the 2012 Daytona Supercross By Honda scheduled for Saturday night, March 10, the only AMA Supercross event in Florida this year.
"It's an honor and a pleasure to design the course for Daytona, where there is so much racing history involved," said Carmichael, who owns a record five Daytona Supercross By Honda victories. "The fans are great, and there is a great group of people working at Daytona International Speedway.  I'm flattered that they continue to want me to keep coming back to design their race course.  It's a pretty cool deal."
The Ricky Carmichael Signature Design course will draw some parallels to last year's layout with the placement of the starting gate remaining on pit road and providing fans with a great view of the first turn. It will feature slight changes in the course's configuration, particularly in the corners.
"It's fun to sit down at the drawing board and to think of a design that will be fun and challenging for the riders, as well as exciting for the fans and for the people watching on television," Carmichael said.
Top riders such as two-time defending Daytona Supercross By Honda champion Ryan Villopoto, James Stewart, Chad Reed, Andrew Short, Kevin Windham and Ryan Dungey will battle for victory on Carmichael's tough and challenging course.
Following the Daytona Supercross By Honda on Saturday, March 10, the Ricky Carmichael Amateur Supercross will take center stage on Sunday, March 11 and Monday, March 12 on a modified version of the layout. Amateur riders interested  in competing in the Ricky Carmichael Amateur Supercross can sign up by visiting https://secure.tracksideonlineresults.com/daytonasx/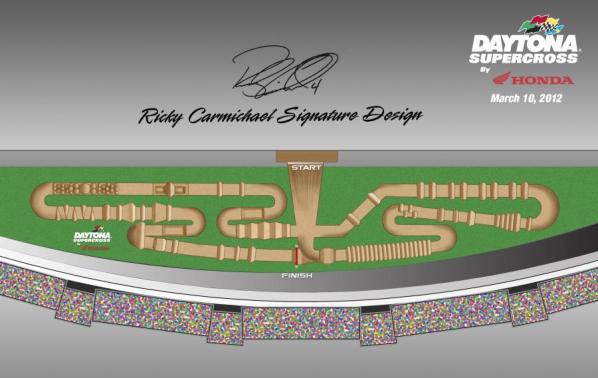 "Ricky Carmichael is the most decorated Supercross rider in history and there's no better course designer than 'The Greatest of All Time,'" said Daytona International Speedway President Joie Chitwood III. "We have received positive feedback on Ricky Carmichael's course designs for the Daytona Supercross By Honda from both riders and fans. Year in and year out, Ricky has created a course that has provided a tough test for the riders as well as a thrilling show for the fans."
Daytona International Speedway has been home to the original Supercross since    1971 – the longest continuous Supercross event in America – and stages the grueling and demanding race in the tri-oval. Aside from Carmichael, Supercross greats like Bob Hannah, Jeff Stanton and Jeremy McGrath have captured career-defining wins at the Daytona Supercross.
Grandstand tickets for the Daytona Supercross By Honda are on sale now. For ticket information for all Daytona International Speedway events, call 1-800-PITSHOP or go online to www.daytonainternationalspeedway.com.
Fans can stay connected with Daytona International Speedway on Twitter (www.twitter.com/disupdates) and Facebook (www.facebook.com/DaytonaInternationalSpeedway)