AT&T Stadium
Arlington

,

TX
Arlington (Dallas)
Monster Energy AMA Supercross Championship
Interviews by Jason Weigandt and Steve Matthes
Jake Weimer, Monster Energy Kawasaki, 3rd in SX Class
Racer X: After the Dungey hit, I noticed that you broke off your shifter there and there was oil leaking. Did you kind of know that or was it just like you were in the mode?
Jake Weimer: I knew my shifter broke, but I didn't know about the oil and apparently the bike was smoking. I knew about the shifter, obviously, because I was stuck in first gear and I was wanting to shift, but I couldn't. So, I knew about that, but it's racing, I guess.
Yesterday you said you were going to change your attitude in the races and get more aggressive. Did you do that?
I was definitely more aware. And then with how the end of the race went, it just reconfirms it, you've got to be on your toes and you've got to be ready for it.
Did you ride more aggressively with Dungey or anything?
I'm happy with how I rode the last five laps of the race. Lap probably ten to fifteen, I was not happy with. Dungey was far enough behind me and RV, God knows where he was. So I was so far by myself that I think it just kind of gave me time to think to myself and kind of make a few mistakes and there were a couple of lappers and whatever the case was. From ten to fifteen, I didn't ride good. And then from five to nineteen at least, I was like 'Ok, that's better'.
So you're happy with what you did.
I didn't want to get third, but I am happy with the fact that I fought, which I think has been a little bit of a problem. I think that I maybe wasn't as ready to fight like I needed to the last few weekends and I kept telling myself sitting on the line, 'Be ready to fight. No matter what, just be ready to fight. Be ready to fight.' So it wasn't absolutely ideal, but with that overall result, I'm happy. It's a hell of a lot better than twentieth and it's good, so we'll move forward.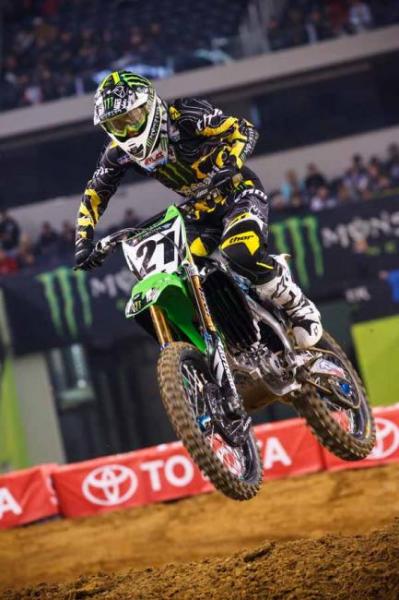 "I didn't want to get third, but I am happy with the fact that I fought, which I think has been a little bit of a problem." - Jake Weimer
Photo: Simon Cudby
Mike Alessi, MotoConcepts, 4th in SX Class
Racer X: You got fourth. How'd it go?
Mike Alessi: Yeah, it was good. I got a pretty good start. Me and Jeff [brother, Alessi] were battling for the holeshot.  He nudged me out by about a half a wheel length, but I guess I could give it to him. He deserved it, he got there first. Honestly, it's pretty cool, brothers going at it, first and second in the first turn. Actually, he almost took me out honestly! He kind of drifted out and nearly took my front tire out. It was cool. He saw me in the next turn and he kind of gave it to me easy, which was cool, but he's my brother. Other than that, I started right there, pretty much stayed third for a while, and battled with [Jake] Weimer for second. Then [Ryan] Dungey came up on about the tenth lap and got me. I was battling with him and he was going a little faster and I knew that. So I tried to stay with him, but I stayed in fourth until the end of the race. It was a good finish and a good building block. We've been striving to get the bike better and to get faster and stronger and fitter. I think as MotoConcepts and as us, we're all striving to get better as one unit. I think we're doing a great job in showing people that we are for real this year and we're making a stand and showing people that we can do this on a privateer bike and a privateer system.
You told me earlier that you're really focused on supercross this year.
Yeah, like I've said in previous interviews, I really am not just riding supercross this year like my mentality has been in the years passed. I really want to race supercross and be better. I believe that I can race the front and get good starts and I have a good shot of being, like tonight, top five every single weekend. Like I said, I don't want to just kind of survive through it and roll through supercross injury-free and then get to motocross. I end up doing that and then I get hurt in the first motocross round like I did last year, so my mentality this year is let's just go for it. If I'm gonna get hurt, I'm gonna get hurt and I'd rather know that I'm going for it in supercross. That's my mentality. I'm going to race supercross as hard as I can and I'm not gonna give anybody nothing. I'm gonna fight and scratch and crawl and do what I have to do to be better week in and week out.
Do you have any idea what happened when Windham came up on you? It looked like there was going to be a battle and then there just wasn't.
I turned up the heat and I pushed hard to get back away and I pulled out a two-second, three-second lead over him and that was about it.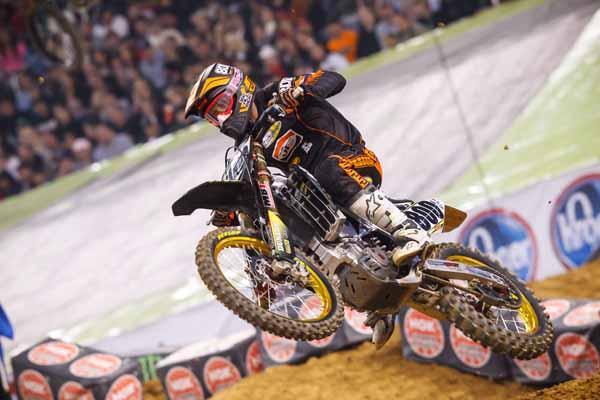 "Yeah, like I've said in previous interviews, I really am not just riding supercross this year like my mentality has been in the years passed. I really want to race supercross and be better." - Mike Alessi
Photo: Simon Cudby
Josh Hansen, Dodge Motorsports Hart and Huntington Kawasaki, 5th place in SX Class
Racer X: First of all, was your goal to just be solid and consistent like you've been? Was this like a plan?
Josh Hansen: Yeah, definitely. I mean, I just want to concentrate on doing all my races and just not trying to just blow it. I mean, me doing good in one race and not doing good at the rest, that was no good. So, I don't know, I just want to keep my head in the game and just try and do better every weekend.
But I feel like people, when they think of you, they think 'Oh he can go as fast as anybody.' Like they're expecting huge flashes of brilliance.
And I can do that!
But that's coming maybe somewhere down the road?
It's coming, man. I mean, it's just, I need to come in on my own. I need to crawl before I can walk. I feel like that expectation will always be there. I want to be realistic for myself and get in better shape and just build every weekend. That whole time will come. There's plenty of races. In the Llites class, you've got to light it up immediately because you've got eight rounds. So here we've just got more rounds. We're being patient, we're being smart. I really, really, really want to hit every round this year and be healthy. And even if I'm the tenth place guy, that's it.
Tonight was pretty solid. How did you end up fifth? You must have come on late.
Yeah, I got a bad start once again and I worked my way up and I got up to like sixth or seventh. I got around [Brett] Metcalfe and then I just started seeing the prize and that was [Kevin] Windham and [Mike] Alessi. I started catching them and then I got a little jacked up by (lapped rider) [Davi] Millsaps for like four laps. He would not get out of the way and that screwed me up. I kinda' put the late close on Alessi, so I actually ended up passing Windham on the last lap and almost Alessi, but I needed to get around Millsaps. He needs to watch his flags a little closer.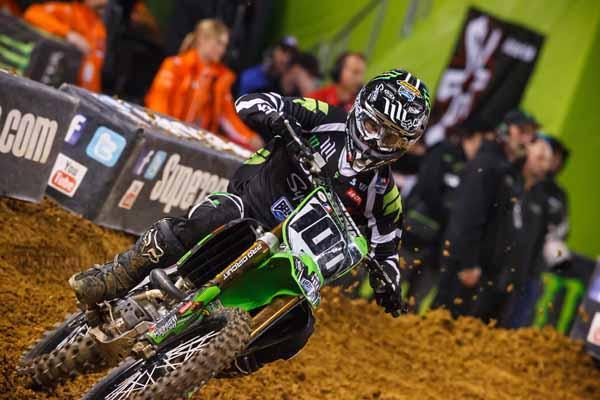 "It's coming, man. I mean, it's just, I need to come in on my own." - Josh Hansen
Photo: Simon Cudby
Kevin Windham, GEICO Powersports Honda, 7th in SX Class
Racer X: What happened at the end of the race?
Kevin Windham: Dude, I don't even want to talk about it, man.
You were closing in.
Yeah, yeah I was and then there was a dragon back section where he kind of ate up the main line where we were all jumping from one area and the dude just put a major block on me and I rolled that thing like two or three times behind him just from crazy stuff happening. Everybody got me. [Laughs] I was one step away from [Chad] Reed passing me and he was in the Asterisk unit! It was horrible. And it was such a good opportunity, I'm just so frustrated. The GEICO Honda's running incredible. I need to get it on the podium. I'm tired of my highlight of my weekend being the damn opening ceremonies. That's frustrating. I really feel like I'm there. I'm disappointed [Ryan] Dungey got past me and checked out. I really wanted to latch on to him. I mean, he's a great rider, not taking anything away, but I need to start latching on to guys like that and picking up the extra second.
It was, up until the end of the race, one of your better races all year, I thought.
Yeah, but the damn thing's twenty laps and I didn't get it done which makes it that much more frustrating, but I guess you have nights like that. I don't want to get down. I want to go Atlanta, that's (career supercross start number) 200. That's the big one for me. It'd be a good time to flip the script and do something cool.
Let's talk about the transfer from tonight. Gnarly. Big.
It was the biggest yet. Bigger than even Vegas last year, but I took two runs at it which was a little bit frustrating, but that's kind of like the Evil Knevil buildup, right? It's like psych! I was just kidding. But reality was I got a little wide on that first take off. It's like when you think about something down the road, you make mistakes before you get there and that's what happened to me. Feld stuck with me. The lights stayed on, the music kept going.
Alright, man. Another frustrating night for you, but I think you're getting close to being there.
Yeah, thanks. I hear you, and that's supercross as we know it these days. Great rides can go bad real quick. It's great to be a part of it, it's just unfortunate when it ends up like it did tonight.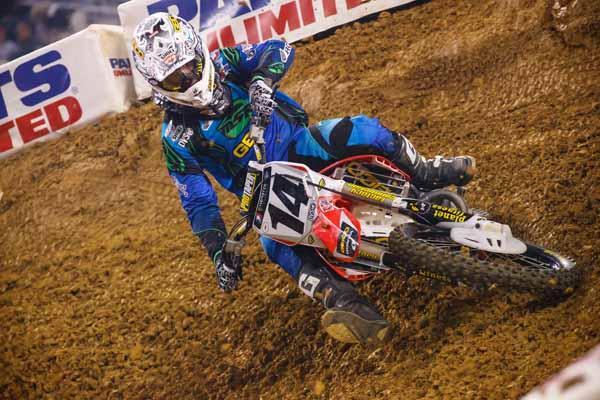 "Everybody got me. [Laughs] I was one step away from [Chad] Reed passing me and he was in the Asterisk unit!" - Kevin Windham
Photo: Simon Cudby
Darryn Durham, Monster Energy Kawasaki, 2nd place in Lites Class
Racer X: Good ride, second place. You've got to be happy.
Darryn Durham: Yeah, I'm happy. Made it through the first round in one piece and got good points, pulled the holeshot, rode fifteen pretty good laps. So it was good.
Did you change anything from the heat to the main? Because in the heat you were a little ways back and in the main it looked like you had a pretty good race going. Any changes?
No, I didn't change anything. I just got two second places. Justin [Barcia] beat me both times. I need to work on a couple things like the whoops. I was kinda' slow in the whoops tonight, but it's just something I'm going to work on and come back and try to improve next week.
What's it like, man? Pro Circuit, here it is. Were you nervous?
Yeah, I was pretty nervous out front. I wasn't nervous on the line. I just knew I was going to holeshot! I'm confident on my starts right now. But other than that it was a good race. I'm happy.
What'd you think he had you in? Whoops. Anything else?
Yeah, I don't know. Whoops. I was a little tight out front, you know. He's previous champion, he's won a lot of races and that was my first podium, first time leading the main event, so hopefully I can get used to that and do it more often.
I don't think you've ever led a race. So this was the first.
Yeah, this was the first main event. I've led some heats and stuff, but this was the first main. So it's a step in the right direction for sure.
It's a cool story for you. Total privateer last year. Eleven 10Mods team. Talk a little about them and how they helped you out to get you to where you are here, Pro Circuit.
Yeah, the Eleven 10Mods Honda team helped me out all last year. I had a good bike and was able to put some good results together with the help of them, to get this ride with Mitch and everyone at Monster Pro Circuit Kawasaki. There's a lot of people who helped me get here and I'm thankful for that and I just want to try and do the best that I can.
Is this semi a little bit better than a black box van?
Yeah, the semi's a little bit better than the black box van, but it's cool to get back to the roots. It helps you appreciate this.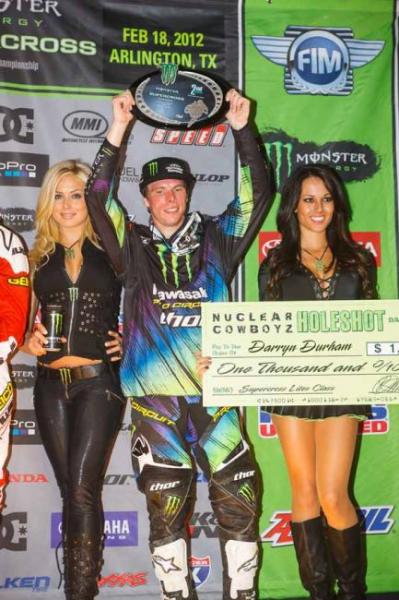 "Yeah, I was pretty nervous out front. I wasn't nervous on the line. I just knew I was going to holeshot!" - Darryn Durham
Photo: Simon Cudby
Broc Tickle, Monster Energy Pro Circuit Kawasaki, 11th in SX Class
Racer X: There was a tuff block out on the track. Nineteen guys went around it. You didn't.
Broc Tickle: Yeah, you know my starts were better this week. That's the only positive, probably, out of the weekend that I had. I had the best heat race I've had. With that being said, I need to relax a little bit. I'm like panicking on the first lap of the main and I actually had a good start. I was sixth going down the first rhythm section. I stayed in sixth until the whoops and just went a little too hot into the first corner and kind of washed out my front wheel and a bunch of guys got around me on the outside. So with that being said, I just need to relax a little bit. I know I can be in the top five if I ride to my potential and maybe even better than that if I can get myself like I was last year, comfortable. That's what it is right now.
It seems like you can't get any momentum. I always think if you want to step up to Dungey and those guys, you've got to be the fifth place guy every week. But no one seems to be able to do that every week.
Exactly. What's frustrating me even more is knowing that I can be there and seeing guys that I know I can be around. It's just a frustration thing, but I think that the more starts I get, the more comfortable I'll get and then that'll lead into better finishes. I'm hoping by the end of this season that I can get at least five or six races that are good in a row. I've just got to build off of what I have. I have to start somewhere. So, that being said, Kyle Lewis did help me this week with starts and it showed definitely because tonight, even in the main, I didn't get the best start, but it's better than what I have been every weekend. I need to build on my starts and put myself in a good situation to get up there in that area of fifth, sixth, seventh.
What's the one thing Kyle helped you with off the start? What's one thing that he saw that you were doing wrong?
I don't want to give away everything. Just staying down on the bike and not lifting and, obviously, not dumping the clutch. That's the main things that he taught me and obviously there's a little bit more, but I'm going to keep that to myself. That start in the heat race pumped me up, so like I said, I'm happy with that. But I need to build off of that, then I'll get up there to the front in the main and just kind of get used to the people I'm around. I know once I get comfortable, I can do it because, honestly, I'm not even riding at like 70 percent of my ability with me being tight and what not.
Track? Everybody seemed to like the track tonight.
Oh, the track tonight was the best so far. I'm pumped that we've made the trip back East and I'm looking forward to the next couple of races. It kind of got a smile on my face just getting those starts and motivated for the weeks to come.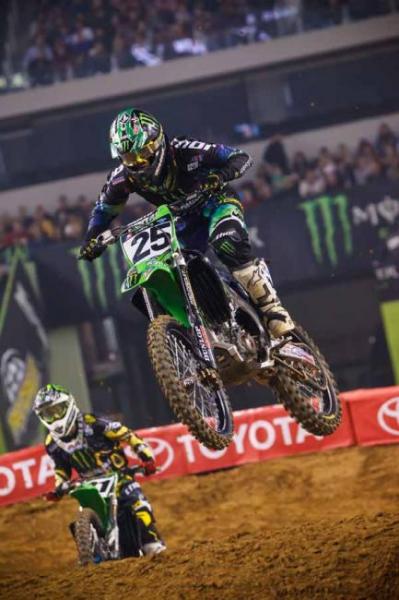 "Oh, the track tonight was the best so far." - Broc Tickle
Photo: Simon Cudby