AT&T Stadium
Arlington

,

TX
Arlington (Dallas)
Monster Energy AMA Supercross Championship
Welcome to Racerhead, coming at you from the Indy Trade Show. There's a lot going on in our sport today, much of it here in Indianapolis, and much of it down in Dallas, where the Monster Energy AMA Supercross will go off tomorrow night, kicking off the East Region and also adding another chapter to what's been an incredible season so far. But first, here's something about a birthday that is upon us.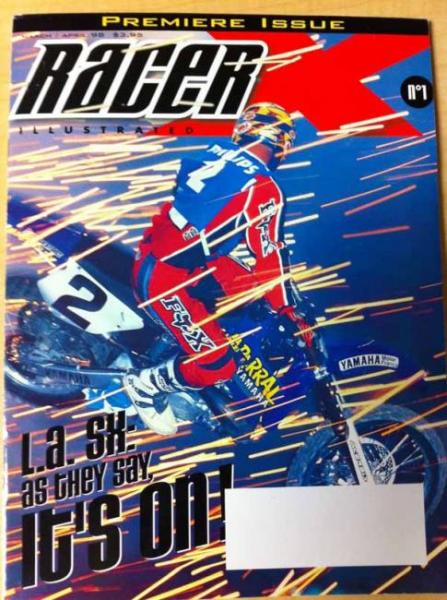 That's Jeremy McGrath gracing the first cover of Racer X Illustrated, 15 years ago today.
Fifteen years ago I drove out to the Indy Dealernews Trade Show with Bryan Stealey and Julie Kramer and a van full of our brand new magazine,
Racer X Illustrated
. We had worked for a few months to turn our underground newspaper into a full-fledged magazine. We were the Morgantown crew, and out in California was the first editor, Chris Hultner, designer Marc Blanchard (who also happened to be working on his own new company, ONE Industries), and Rob Valdez, who was helping out with ad sales. And of course there was Eric Johnson, who was writing epic features on big stories like the history of JT Racing, Team USA in 1981, and more.
We couldn't afford a booth at the trade show, but my longtime friend Keishi Wada of the Kayo Corporation could, and he let us hide boxes of magazines behind his display. Also, the NPG was meeting there at a nearby hotel, and I took a box over so my dad and mom could be the first people to look at the new magazine. I can't really explain what a great personal moment that was for me.
Hultner came out for the trade show too, and we had some really great moments that day, walking around and handing out the book that we thought would be a breath of fresh air in the motocross magazine business. It was a full-color, lifestyle-oriented publication that focused on racing and racers, motocross and fun. The people at the show really seemed to enjoy it, which was the exact reaction we were hoping for. Jeremy McGrath was on the cover, and we had some pretty good advertising support from Fox Racing (inside front spread) and Renthal (back cover). Fifteen years and about 150 magazines later, they are still in those spots. And the magazine was dedicated to Damon Bradshaw, a longtime friend who always pushed me to make our little newspaper into something that could take on the magazines and editors who constantly bashed him.
In the Reason for Being of that first mag, I began with this: "Obviously the rumors of our existence aren't rumors anymore. After several years of planning, several months of talking, and a lifetime of hard work, the first magazine issue of Racer X Illustrated is finally in your hands."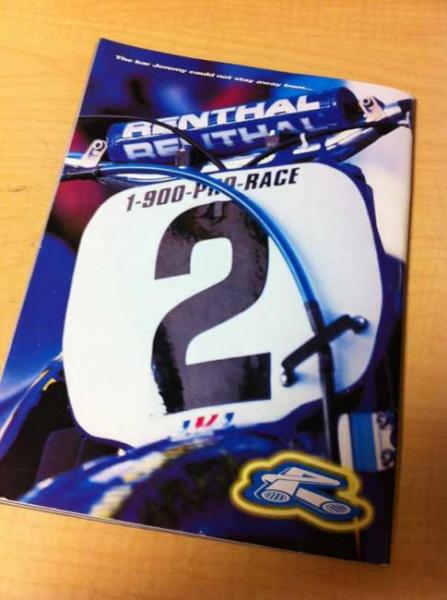 Renthal has been on the back cover from Day One.
Now, fifteen years later, we're still at, Bryan and Julie and myself, as well as EJ, and we've picked up a lot of friends and contributors along the way. And man, has the motocross world changed. But putting together a magazine every month is still the best part of my job(s), and coming to this trade show is still one of my favorite weekends.
So here's a thanks to all of our readers over the years, and all of the advertisers, contributors, event promoters, and especially the riders who let us take their pictures, give us time for interviews, and always let us inside their minds. Racer X Illustrated is now 15 years old, and I think it's still getting better with every issue. Thank you again to everyone who helped us along the way, especially my mom and dad, my family, and Bryan and Julie, plus longtime staff and contributors—some still here, some moved on—like Hultner, Langers, Jeff Kocan, "Bad" Billy Ursic, EJ, Ping, Jason Weigandt, Scott Wallenberg, Simon Cudby, Steve Matthes, Fran Kuhn, Frank Hoppen, Steve "TFS" Bruhn, Marty at RR Donnelly, Beeker, CJ, Pete Martini, Heather, Andrew Fredrickson, Adam Wheeler, Sir Jack Burnicle, Nick McCabe, Tim Crytser, Andy Bowyer, Jason Berry, Chase Stallo, Aaron Hansel, Alissa Murphy.... Man, there's too many to list here. Just thanks to everyone.
If you want to see how the magazine has evolved over the years, check out this cool cover gallery.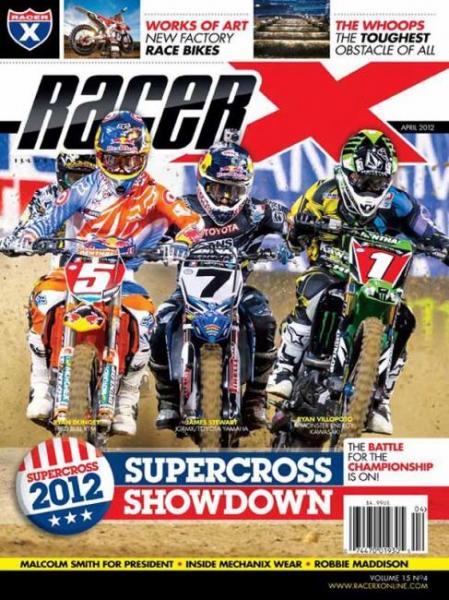 And here's what we look like now.
Be sure to watch LIVE coverage of Monster Energy Supercross from Dallas tomorrow night on SPEED starting at 8:30EST. And make sure to follow Racer X Online on
Twitter
,
Instagram
and
Facebook
for breaking news and in-depth coverage from the Big D.
Okay, I've got about a dozen meetings here today, so I have to turn this over to the other guys. Let's start with Jason Weigandt.
A few weeks ago I wrote about the new Impact concussion test the Asterisk Medical crew has implemented at the races. This test provides a much more accurate assessment of concussion status than anything used in the past, which obviously means it can help stop a rider from getting back onto the track too early. But on the flip side, the test can also help riders get back out there sooner, depending on the circumstances. When Justin Brayton crashed hard in practice last week, he thought for sure he wouldn't be able to race, but he took the Impact test and passed it, proving he didn't actually have a concussion. Brayton had clearance to race, and he went on to finish sixth in the main event. If the Impact test wasn't there, he may have sat out. I had a long talk with Eddie Casillas, Dr. Reiman, and Dr. Bodnar about the Impact test last week, and it's pretty impressive how far sports medicine has advanced in concussion study.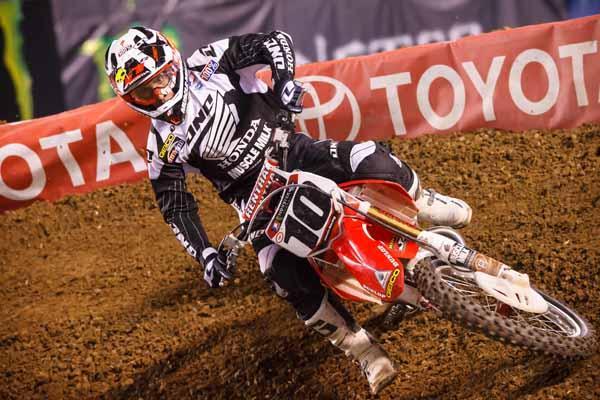 Brayton WAS cleared to race last weekend after a big crash in practice.
Photo: Simon Cudby
We've had a lot of success this year online with our Breakdown feature, where riding coaches dissect photos of the races to figure out why the top riders go so fast. Matt Walker has done a great job so far, and this week Gary Bailey provided some photos from San Diego along with breakdown of whoop and passing techniques. We're excited about this project and hope to eventually build an ESPN-like resource of riding coaches and ex-racers breaking down the things regular folks (like me) don't see.
The hype is still there for Monster Energy Supercross' annual visit to Cowboys Stadium. SX nearly became the first event held in the billion-dollar dome, as the building was scheduled to open in the spring of 2009, which could have worked out perfectly for the '09 SX schedule. But for some reason, bringing giant piles of dirt into the absolutely pristine new building just didn't seem like the best grand opening—and the building didn't end up opening until the end of May, anyway. Instead, a country music concert with George Strait and Reba McEntire served as the first event. But the supercross is still spectacular!
Next week will be another big race on the tour, the Atlanta Supercross, and of course the DMXS Radio boys will serve as industry hosts for the weekend. It's their home race! Sunday's annual charity ride for AT is still on as well, but it has moved to a new track operated by former pro racer Matt Schue. Bring your bike down for the weekend and do some riding on Sunday, with your riding fee going directly to charity. Check out www.ride4AT.com.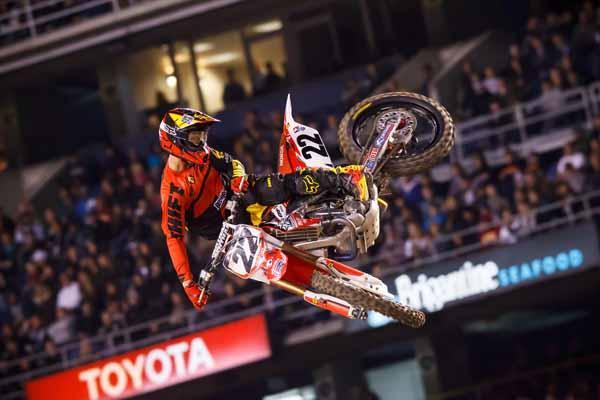 Can Reed fend off Villopoto in Dallas tomorrow night?
Photo: Simon Cudby
And in other track news, I'm hearing the Brett Downey Safety Foundation has given the new Lake Elsinore track a full stamp of approval. The foundation surveys a variety of elements, such as flagger training, before giving the track a thumbs-up from the safety standpoint. The Lake Elsinore folks were happy to join in the process and make sure their new track was as safe as possible, which is a pretty cool deal. Go to www.mxsafety38.org to find out more about what this all means.
Here's Ping:
The guys at Ironclad Gloves sent me this video of the Jeff Ward Racing team on their brand new supercross test track in Corona. Chisholm and Mackie both had the team's best finishes at San Diego, but from the sound of it, Wardy and company are hard at work to keep improving. The video came out pretty cool.
Steve Matthes and I voiced over a Classic Commentary on the Anaheim supercross from 1996. It was a pretty comical race for me, looking back, but I was pretty emotional about it at the time. A pretty simple block pass by Greg Schnell, even sixteen years later, sends me into an anger spiral that culminates with me insulting Greg, who I've since buried the hatchet with, again. Strong work, Pingree. Anyway, it's worth watching just to see a young Kevin Windham and one of the most maniacal pass attempts through the whoops you've ever seen by yours truly. And Greg, if you're reading, no hard feelings.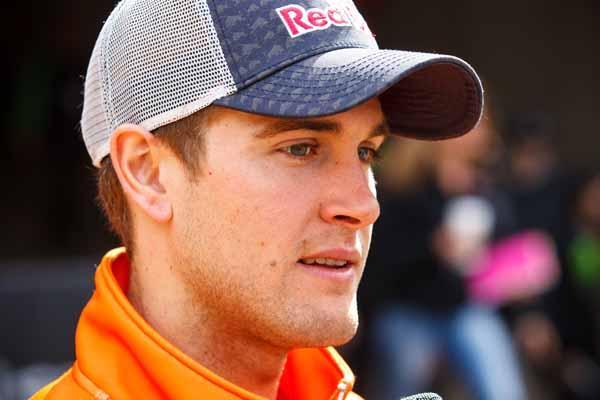 Can Dungey find another gear in Dallas and take home his second win of the season?
Photo: Simon Cudby
The buzz in California this week has been around the release of the new KTM 450 Factory Edition. This is the machine that was built just for Ryan Dungey—it even comes standard with a #5 on it. They only built enough to meet the homologation rule, and the price tag is nearly $10K. We're taking ours out on Monday, so check back for more on the new machine.
The 250 East Region gets underway tomorrow night, and it's looking to be very competitive. Roczen, Barcia, and Baggett have to be the early favorites, but there are several more riders capable of hitting the box. Can Malcolm podium? How will Durham do on the PC bike? How will Bogle do in his first supercross? Can Kyle Cunningham keep it on two wheels? All good questions.
Here's Aaron Hansel:
With so many guys hitting the deck this year, it reminds me of a round of golf. You can be having the game of your life, then all of a sudden you whack a ball or two (or forty-eight, in my case) into the pond and your score is ruined. This is exactly what happened to Eli Tomac in San Diego. Sure, the guy had had to scramble for pars in the first two rounds, but ever since then he's been shooting birdies and aces. Then, bam, one mistake and his massive points lead is gone. How ironic is it that he went down hard and DNF'd in the same stadium that had given him his first supercross win one year ago?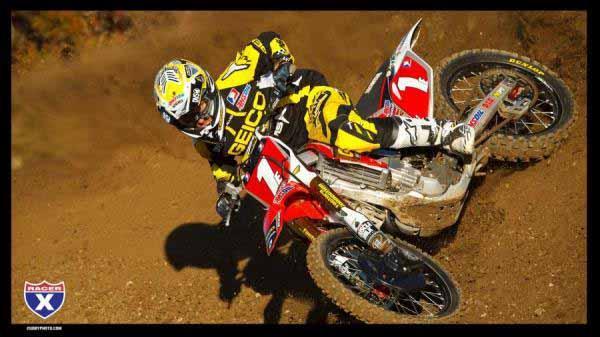 Justin Barcia begins his East Region Lites class title defense this weekend in Dallas.
Photo: Simon Cudby
Of course, one man's misfortune is another man's opportunity, and unless you're part of the GEICO squad, it was good to see Dean Wilson put in a good ride after struggling for a few races. It was also good to see the return of the celebratory victory lap, in which Wilson ripped off a few whips that were more than worthy of an X Games Best Whip Competition. Congrats on the win, Dean-O, and keep those whips coming. With only two points now separating Wilson and Tomac, things just got a little more interesting in the wild west.
Speaking of entertaining riders, what can be said about a guy like Kevin Windham? We all know how popular he is; whether it's Lurch or Erv Braun yelling it through the stadium speakers, or the massive autograph line at the GEICO hauler, the fact that he's a fan favorite is clear at every single race. Oftentimes I find myself just accepting that he's popular with the fans without really remembering the reasons why. Well, in San Diego I was reminded why when I went to the GEICO Powersports Honda pits to ask KW some questions for an upcoming magazine story.
It was about an hour before opening ceremonies, and for some reason they hadn't closed the pits yet. Naturally, a big portion of fans were gathered around the GEICO rig, where Windham was out singing autographs, dispensing hugs, shaking hands, taking pictures, and kissing babies long after his scheduled autograph session had ended. He wasn't mindlessly signing posters without a smile either, he was interacting with each fan, engaging them in conversation, making jokes, and letting kids inside his pit area for photo opportunities. He didn't even stop when the rain started coming down! Every single person there left smiling and no doubt told Kevin Windham stories at work this whole week.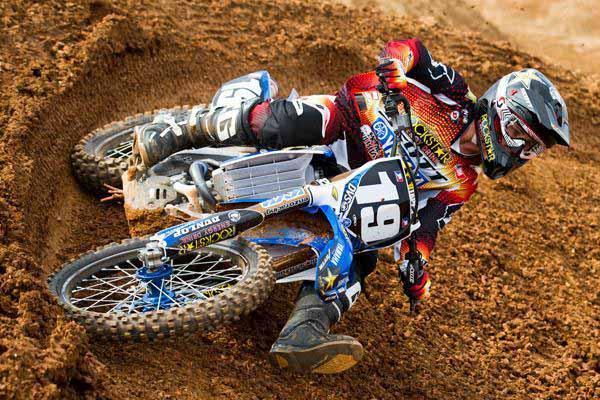 Kyle Cunningham could be a real threat to Justin Barcia, in the East Region, if he proves he can keep it on two wheels.
Photo: Garth Milan
When there was finally an opportunity for me to jump in and shove my voice recorder in K-Dub's face, he was trying to eat his dinner. I offered to come back later, but he insisted that I stay and interview him as he ate. Furthermore, he didn't go into interview mode and say things like "Everything is awesome, we made adjustments and are going to keep plugging away and improving" like a lot of riders would. He delivered real answers and provided true insight, and thanks to the info he gave me, readers will get a better article. Take note, young up-and-comers. You can't find a much better professional to emulate than Windham.
Here's Haley:
East Coast is coming! The cool thing about the 250 East Region series is that, unlike the 250 West, they get to travel all over the place. Texas, Florida, Georgia, and Indiana are all some of the states that will be hit up in the upcoming weeks. While Texas is great and all, I think that New Orleans is going to be THE East Region race to watch. Louisiana is a culture of its own, and we'll definitely see that going into that race. But, for now, the focus is set on how the new 250s will stack up with each other.
Now, I can't just outright say who I think's going to take the East series, as I haven't really seen any of the guys ride yet. Sure, there's been practice videos, but that's not really a good basis for judgement. While I'd love to say I think Justin Bogle and Darryn Durham are going to be surprising a lot of people come Saturday, I really can't. But what I can say is how ready a lot of these guys are. I talked to Hunter Hewitt, who's back on the Rockstar Energy Suzuki team this year, and he was more than ready to get back at racing. While the West Region guys have a break in the middle of their series, the East Region guys have to deal with an even longer break between motocross and supercross than anyone else does.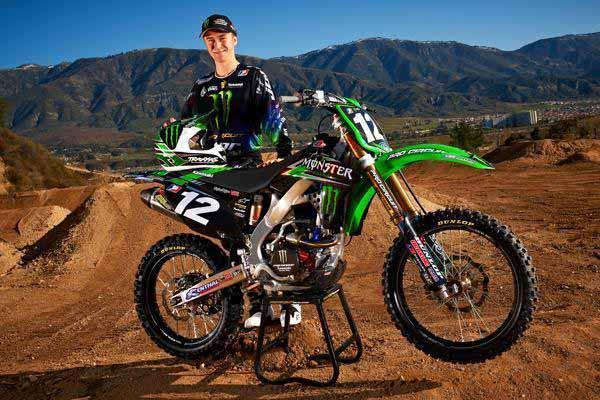 Blake Baggett and Pro Circuit are looking to add another title to their trophy case in 2012.
Photo: Pro Circuit
Hewitt's another guy I'd say to keep on your "to watch" list for this season. He had a lot of awesome finishes last season on his privateer bike, and now that he's back on factory support, he has a lot of promise. Not to mention he's got a teammate like Blake Wharton, who's posted some pretty smoldering times the past few years despite a lot of bad luck with injuries. Yellow is Wharton's color, though. He'll be a three-digit that's almost guaranteed to make an impression this season.
Then we've got infamous ladies man Ken Roczen. The German who shares my birthday has proved that he can make almost any teenage girl – and even some grown women – swoon with a simple hello and a smile. But now it's time for him to prove that his first supercross win in Las Vegas last year wasn't just a fluke. He's got all he needs to run at the top. All he has to prove is that he can do it.
As in the West series, the GEICO Honda and Pro Circuit Kawasaki teams boast the most highly anticipated riders for the season. For GEICO, three strong potentials will be racing for the top. Justin Barcia, the fans' choice to win Dallas, will be looking to defend his title in his last season on the 250. For him, this is his chance to prove that he isn't fading, especially after his less-than-spectacular outdoor season in 2011.
His teammates Justin Bogle and Jimmy Decotis will both be looking to prove themselves as well, but for different reasons. Jimmy looked strong last year in the West Region before he crashed in Seattle and dislocated his elbow. Justin, on the other hand, is the new kid. Fresh from the amateurs, he raced a few outdoors for GEICO. And now it's his chance to test out supercross. As we've seen in the past, 250 riders fresh from the amateurs tend to take a couple rounds to warm up to the setup and pace of supercross. The most impressive I've seen yet this year was Gavin Faith, who filled in for an injured Wil Hahn on the GEICO squad. He made the main in his first race and finished sixth in San Diego – his last race of the season. The question is, can Justin do the same?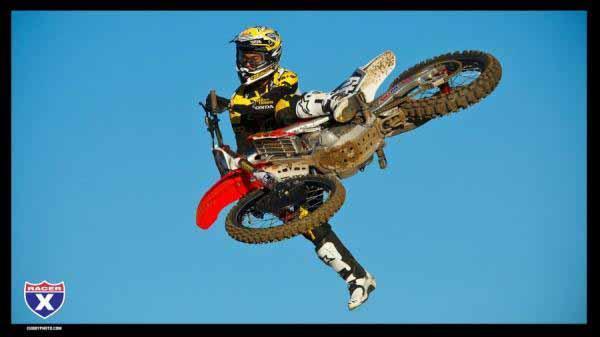 Justin Bogle will make his highly anticipated SX debut for GEICO Honda in Dallas.
Photo: Simon Cudby
Pro Circuit's got a bit of a risky hand in terms of their East Region team. Blake Baggett, who looked awesome on the Kawasaki in the outdoors most of the time, had a hard time matching the consistency of Justin Barcia and teammate Dean Wilson in supercross last year. It's no doubt he's been training more than anyone can say in preparation this year, but there are some things that have to be learned on race day. I just wonder if he'll have what it takes to stay up with the top guy – whoever that may be – week after week.
As for the other rider on the PC team, Darryn Durham was a pretty solid rider last year considering his privateer efforts. Anyone who's followed the races at least a little knows that Darryn's a fast dude. I talked to him a little after press day on Thursday and he was itching to get racing. He's feeling super solid on the bike and is ready to see exactly where he stacks up with his new factory backing.
With so many options, hopefully you all understand why I simply can't chose someone out of the blue. I have to see all of them race at least once to pick. So, until Saturday night, I will be waiting and wondering.
As always, I will be tweeting live on Saturday (@heyitshales). I will also be featuring a Stickam chat during the live Speed coverage. Be sure and stop by to chat with me and other moto fans that are at home watching the broadcast (or maybe even not watching the broadcast at all!). The chat will be going live here at 8 p.m. EST.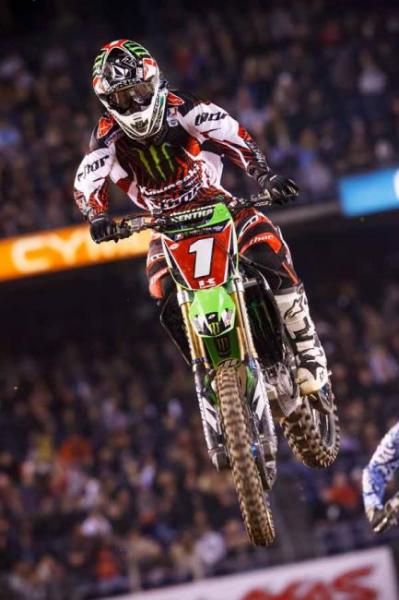 Can Villopoto pick up his third consecutive win in Dallas?
Photo: Simon Cudby
Now some random notes:
It's time for the annual industry marathon known as the Dealernews Show in Indianapolis, and Racer X Illustrated will once again be on hand in support of our partners. If you are an advertiser, motorcycle dealer, or even just a reader set loose in the Indiana Convention Center, stop by the Racer X booth (#2001) for some bench-racing hospitality.
We are also offering our existing advertisers and shops a chance to get in on some Scrub-and-Win racing, as we present the brief thrill of scratch-off lottery tickets to provide respite in the heavy grind of Indianapolis. You can win Racer X T-shirts, beverage koozies, cover posters, coffee cups, hats, and more.
In addition, magazine advertisers will be added to an end-of-each-day drawing for a free full-page ad in Racer X, while dealerships will be put into an end-of-each-day drawing for a "staff pack" that includes enough swag for your team back home: ten shirts, ten hats, ten koozies, ten coffee cups, and ten cover posters. You don't want to miss it!
Look for the Racer X staff at Booth #2001 (or selected drinking establishments nearby).
On Instagram? So are we! Follow @racerxonline for a completely different look at the races, riders, personalities, and road trips that make this sport so amazing. Our crew will be updating from Dallas this weekend, as well as from the Indianapolis Dealernews Dealer Expo trade show.
If you're on an iPhone, iPod Touch, or iPad, you can download Instagram for free here. It's coming to Android devices soon.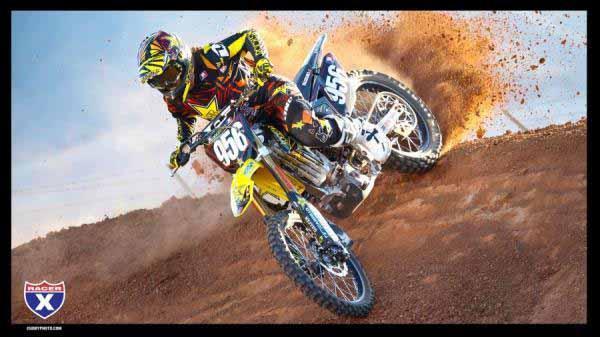 Former GEICO Honda rider Blake Wharton will make his debut for Rockstar Energy Suzuki in Dallas.
Photo: Simon Cudby
In case you missed it there was an interesting back and forth between David Vuillemin and Chad Reed earlier this week.
@DavidVuillemin
Can someone put a #7 on Davi's bike and let Bubba try it without telling him? He might be surprised...
@CRtwotwo
@DavidVuillemin you honestly think its his set up and that the #18 is good???
@DavidVuillemin
@CRtwotwo I think chassis is more forgiving and engine not as snappy = better set up in my eyes
@CRtwotwo
@DavidVuillemin I think your crazy! I think it's more riding style and pace...
@CRtwotwo
@DavidVuillemin a bike thats very unfriendly and a rider that wants to push the limits is not a good combo..take your blue hat off and watch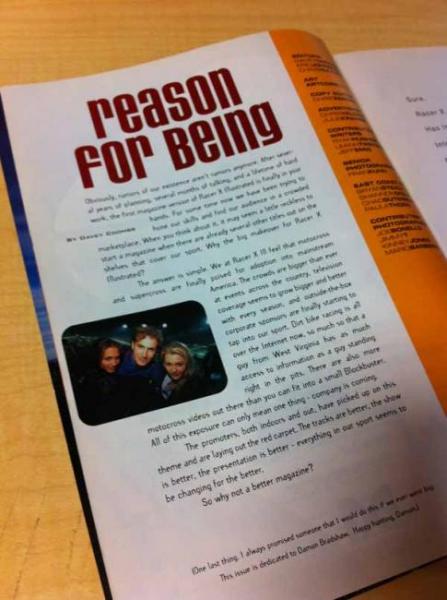 Another staple in Racer X Illustrated over the years has been DC's Reason for Being column.
GuyB at Vital MX got to the bottom of a mystery for anyone who watched James Stewart's big crash last week at San Diego. He wrote:
One of the lingering mysteries from last weekend was what exactly was it that had pinned James to the ground after his crash in the whoops during Saturday night's main event.
Speculation included stuff as varied as cables running along the track, a clutch lever in the boot, etc. From my vantage point on the wrong side of the bike, it looked like he was caught under it...or in it. He was obviously struggling to get up, but wasn't making any progress. After the race, he told me, 'Everybody was going down through the whoops. I haven't seen the replay, but I'm going to guess that I missed one, front end got deep, and that was all she wrote. Honestly, I don't even know what happened, I was on my head so quick. Then I got stuck on the bike. I was completely stuck on something. I was trying to pull it off, and finally the guy (Aaron Cain, one of the Feld Motorsports crew) pulled his knife out and cut me out. It's probably a freak one-in-a-million chance.'
The Feld track crew guys set up everything the week before the race, tear down afterwards, and do all they can within the rules to assist the riders on the track, whether it's retrieving errant Tuff Blox, or protecting downed riders. These are the guys who also wear the green/black Monster Energy Supercross shirts that often get mistaken for the Monster Energy Kawasaki crew gear. While James thought that there was nothing inside the pants, Aaron told us that it was indeed James' clutch lever that had gone through the material and was preventing him from a rapid remount.
This one goes on the list of strange happenings, but below Shane Trittler landing on the back of Damon Huffman's bike at the Las Vegas SX, Jason Upshaw doing that somersault when he crashed at the L.A. Coliseum, and Regis Harrington's bike catching on fire during the parade lap!
In case you haven't checked it out yet, here's Ryan Dungey's revamped website: www.ryandungey.com.
Okay, that's it! If you're in Indy, stop by the booth and say hi. Otherwise, have a good weekend and we'll see you at the races.