Qualcomm Stadium
San Diego

,

CA
San Diego
Monster Energy AMA Supercross Championship
In 2011, Kyle Chisholm was beginning to show some serious speed. He was consistently battling at the front of the second group, and at times, it seemed like he was just one small breakthrough away from making a run at the podium. Unfortunately, right when he was beginning to peak, he got injured. Fast forward to San Diego, where Chisholm took a big step toward getting back to where he was in 2011 by finishing eighth after four consecutive twelfth place finishes. After the race, we caught up with Chisholm in the pits to talk about his night.

How'd it go out there for you?
It was good. The day went pretty good, we were all pretty close in times in practice. The heat race was ok, I didn't get the best start. I've been struggling with my starts a little bit. It was kind of the same thing in the main, I struggled on the start, but got past some guys in the beginning and rode a good, solid twenty laps. I got through the whoops consistently, and stayed up off the ground; a lot of people didn't. It was good, I ended up in eighth, which is my best result of the year. In the top ten finally; I've been right outside the top ten all year. One step conquered, and closer to that top five. Now it's time to keep progressing and keep working at it.

Talk about the track.
The track, when we were walking it, and in practice, it was really easy, we were all really close. The whoops were obviously tough, but they weren't too bad yet. They were the only thing that was separating us, the rest of the track was pretty easy. By the main though, it got slippery. The moisture started coming out, probably from the rain earlier this week and today, and that separated us a little bit too. The whoops, they didn't really touch them all day and they were definitely tough, that's where everyone was going down. I'm kind of glad they left them, we're professional racers. I was bummed they knocked them down last week at Anaheim, we're professionals. It's one thing if something is dangerous, but just because the whoops are hard and we're struggling, that doesn't mean we should knock them down. We should have to deal with them, we're supposed to be the best of the best, so leave them. So I'm glad they did that, you had to be smart.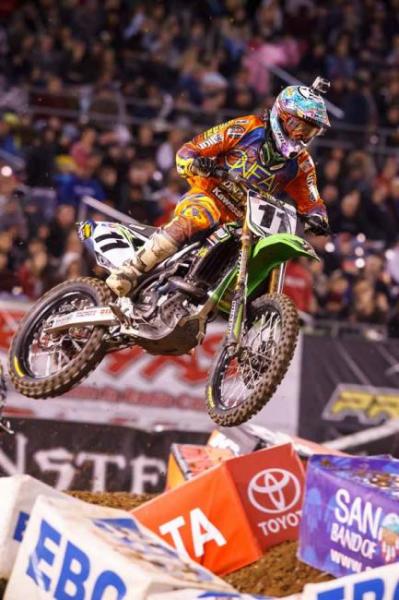 Chisholm found his groove in San Diego, scoring his first top ten of the season.
Photo: Simon Cudby
They were definitely deep, but they didn't really look deeper than other whoop sections. What was it about them that made them so difficult tonight?
Walking the track, I was thinking, "Okay, we've got a good, long set of whoops." They were really round and fat, and decently spaced apart. They weren't really that steep, just big and fat. Last week, they were really steep, sharp and pointy. This week they were the opposite; farther apart, big, and not steep. When they started getting cupped out, because they weren't steep, they were almost like little tabletops. There was nothing on top to hit, so you were just hitting your wheels into the big cupped out, inverted parts. That's what made it hard, there was nothing to really hit. If they had been a little steeper and then got cupped out, you'd still have the front of the whoop to hit your wheels on. Tonight they were so flat on top and curved out on the bottom, your wheels were only hitting the bottom. That's what made it difficult.
In practice, you guys were using a lot of different lines in the rhythm lanes, especially in the lane before the whoops, and it seemed like nobody could really agree on what the fast line was. But in the heats and mains, everyone pretty much did the same thing. Why?
When I first looked at the track map, and then the track, I was like, "We're going to do the same thing through there." Then, once we started riding, we had three pretty good options through there [Chisholm is referring to the lane before the whoops]. I studied video after practice, timed all three options, and they were like two tenths of a second apart. You could go outside and do a big section, but it wasn't much of a reward for the risk. That's where [Justin] Brayton went down really hard in practice. To go outside to make up two tenths of a second wasn't really worth it with the risk of crashing. And, you had to go outside, so somebody is going to pass you there every time.