DeCal Works New T-9 DeCal Kit
DeCal Works New T-9 DeCal Kit
The Triple Crown of Options
Chicago, IL
– From the original, and still #1 Graphic and Number company, comes the latest design from DeCal Works, the T-9 series.  The T-9 provides riders with three new elements; Ready Made Kits, available in three color-ways, new Semi-Custom Kits, that are fully customizable, and a radical new approach for unparalleled personal customization, the Interactive Design Tool.  
The much-anticipated T-9 Ready Made Kits feature fresh new artwork and more options than ever with three (3) color-ways for each make/model.  Riders can view the color-ways and select the designs that best fit their personal style.
For racers looking to add their name, sponsors logos and select colors, DeCal Works Semi-Custom Kits are the answer. Choose from a myriad of colors, logos, designs that stand out from the crowd and feature those logos/sponsors that help the most with your racing program.
Semi-Custom Kits options are virtually limitless with DeCal Works innovative Interactive Design Tool (IDT). Utilizing IDT riders can become designers customizing preferences from graphics, logos, numbers, colors and even text font, from the fork legs to the swingarm and all plastic in between.   
When selecting either the T-9 Ready Made ($99) or Semi-Custom ($199), DeCal Works provides an option of new OEM-quality plastic kits from ($99).  The plastic, along with backgrounds professionally mounted (free of bubbles, creases) are shipped to your front door saving you time, money, and headaches.
Check out the latest T-9 designs and all the product offerings at www.decalmx.com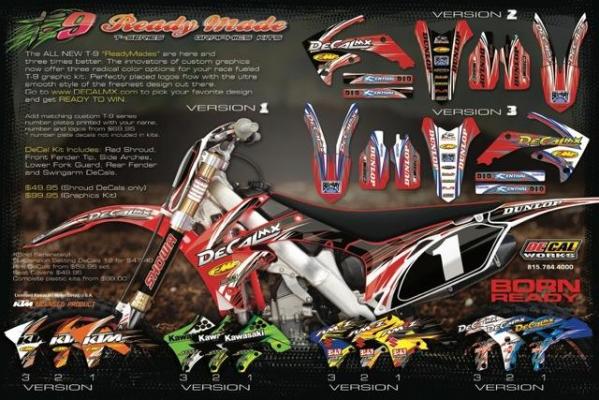 T-9 Ready Made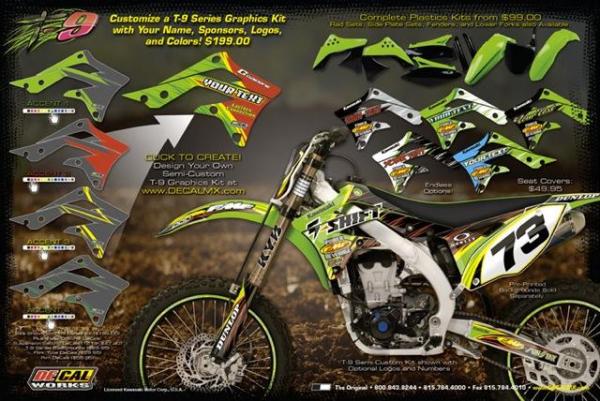 T-9 Semi Custom
About DeCal Works:
Founded in 1989 by Ron and Janeen Joynt, DeCal Works has been the industry leader in pre-printed decals and custom graphics for over 22 years. With a passion for racing and innovation, DeCal Works has, since its early days, focused its attention on a high quality product with great customer service. "DeCal Works -The Original". Visit www.decalmx.com for more info, or follow DeCal on Twitter (@DeCalWorks) and Facebook (www.facebook.com/DeCalWorks).