San Diego, CA
San Diego
Monster Energy AMA Supercross Championship
We were back at the house that Jeremy (and Walt) built this weekend for round five of the 2012 Monster Energy AMA Supercross Series and there's a certain comfort in going to Anaheim Stadium for a supercross. It's like your favorite pillow or Basset Hound— there's just something there that feels like home.
The track was good—at least I thought it was good. Yeah, it didn't have the over/under bridge but it did have some sand and some big whoops. I like those two things as much as I like tacos and pizza. The sand almost always ends up one-lined but makes for some interesting photos and it surprisingly gets pretty rough. The big whoops were really gnarly for the first practice, semi-gnarly for the second practice, kind of grooved up for the third practice and not very hard at all for the night show.  The reason for the decline in difficulty was because of track maintenance and I for one, wish they had left them alone. We need big tough nasty-ass whoops every now and then and the way they were set up (right out of a turn) they weren't that dangerous. C'mon Dirt Wurx, make'em (and leave'em) Dolly Parton big!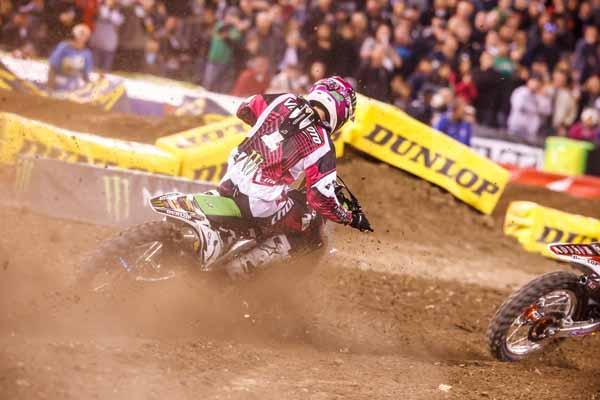 Villopoto picked up his second victory in Anaheim over the weekend.
Photo: Simon Cudby
We had four winners in four races and let's review how we got there:
A1- Ryan Villopoto checks out early and is gone. Tumbleweeds and crickets for the rest of the field. He's the man!
Phoenix: Ryan Dungey, much like Villopoto the week before, grabs the lead early and is gone. The only riders who see him are the ones he laps as he wins with a big lead. Hooray for him and KTM!
LA- Chad Reed has to work for it a bit but gets by Dungey, Stewart and Jake Weimer and pulls away for the win in a fantastic ride. The old man still has it!
Oakland- James Stewart starts near the front, passes Chad Reed and takes off for a pretty easy win. Crazy Balls is back!
And after Anaheim 2, we're still waiting for the great big battle for the lead as Villopoto passed Reed early on in the main and checked out for his second win of the year and, more importantly to him, the points lead. We've been saying that RV's shown some serious speed but it doesn't matter what he does, he's not that much better than everyone without a start, he can come from the back and win. But he didn't need to be this weekend. He got the start, figured out the tricky and slippery track and won with ease. Part of RV's victory was no doubt due to the trick master cylinder covers with his number on one and his initials on the other that were put on this week. Probably worth a few seconds a lap!
Early on Saturday, myself and Jason Weigandt were accosted by Ryan and his crew for something that was on Racer X saying to the effect that maybe Villopoto wasn't going to be as dominant as we thought he was. I have no clue what it was because all he or his guys could say was it was on the site "this week" but couldn't give us any information. We tried to deflect and explain the best we could and at some point, it was determined that Weigandt wrote it so I was off the hook. In the middle of explaining himself even further, RV yelled that he's only giving interviews to me and only for Pulpmx, which perplexed myself and Weigandt, but just goes to show you the mood over there at Kawi—they're loose and happy and the results proved it.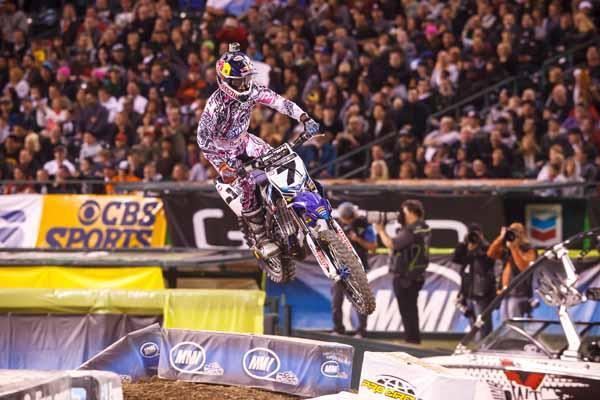 Stewart was able to overcome a hard crash in his heat race to finish second at A2.
Photo: Simon Cudby
James Stewart was doing his usual amazing stuff in the heat race in the double/triple section off the start. I even pointed out to Weigandt to watch James wheel tap the one jump and then triple after that. About 3 seconds after I said that, Stewie got sideways in that very section, spun a bit and ate poop pretty hard. He DNF'd the race after getting the wind knocked out him. He lined up for the LCQ and won that easily to make the main. I was thinking that he was going to be "effed" for the main with a gate pick all the way to the outside (well he'd have Top Jimmy Albertson to the right of him so he wouldn't be that lonely).
And what did we have when the main event came around? Somehow Stewie had an inside gate (yeah it was far inside but riders that had a better pick than him, like Pooh Sipes and Kyle Chisholm were further, yes I said further, inside than him). What was up with that? In talking to his team manager Jeremy Albrecht it seems there was a big hole right after the gate that everyone avoided and Stewart gambled and picked it. And you can see on his GoPro video that the hole is real and it does slide him a bit sideways. Still, picking the holy gate (get it?) was a smart move as James came into the turn almost in last but tiptoed around the inside and came out all right.
Great job of strategy by James and the JGR team no doubt and from there, he got past Chad Reed (these two have been WAY too conflict-free to start the year by the way) and took a second place on the night. With a gnarly crash, a trip to the LCQ and a potential crappy gate, I'd say a second place was about the best thing to happen to Stewart.
Reed rode a fine race to get third but like Oakland last week where he led for a while, this race he was in second. Generally, and again, I'm no motocross instructor, the racers seem happier when they move forward in a race—not backward. Reed's gone backwards the last two weeks and with these guys, that ain't good. Still, Reed said he was sick all week with stuff coming out of both ends (all of us media dudes love Reed's interviews and honesty, but this is one time I feel he could have hid some of the details on us).

Reed finished on the podium at A2, but lost control of the points lead to Villopoto.
Photo: Simon Cudby
In case you're wondering, here are the points after five rounds. All four guys have nothing to worry about right now. With his win in Oakland and second at A2—Stewart's right back in this thing.
1-Ryan Villopoto 108pts. Kaw
2-Chad Reed 105pts. Hon
3-Ryan Dungey 103pts. KTM
4-James Stewart 95pts. Yam
Cole Seely should've, could've and probably really wanted to win Anaheim 2. The TLD Honda rider was impressive all day and it was his type of track. Which means it was technical and required throttle control. Early on in the main event Seely and the points leader Eli Tomac were checking out with Seely holding a nice cushion. You can't say for sure but I believe that Cole would've won his second race of the season because he was riding really well. But then he slid out on the start straight and lost the lead to Tomac. Luckily he kept the bike running and thanks to the nice riding early in the race, only lost one spot. He would go on to take second but I'm sure that night he was pondering the "What ifs" pretty hard.
But when you're on a roll, you're on a roll and that my friend is Eli Tomac. Tomac is killing it with his third win in a row and he's got that "look". You know when you just know you're going to ace a test, pick up that girl, or be able to eat that last chicken mcnugget in the box—you're just able to do whatever you want. Tomac can do that, he's flicking the bike around, putting it wherever he wants to and he's the man in the class.
We've been debating this on my podcast shows and I guess we really don't know the answer just yet but the question is interesting. Is Dean Wilson that much better at outdoors than supercross? Don't get me wrong, Wilson's a great rider, has an outdoor title on his resume and he's an elite supercross rider, but here we are, his last year in supercross and he's probably going to not win an indoor title. He's won races sure, but he can't seem to get it done in supercross. Not that it's a horrible thing—not winning a title—but I can't remember the last guy that was so drastically different outdoors than in. Maybe Mike Alessi but Wilson's better than Mike and so it's hard to compare. I don't know, just something to chew on.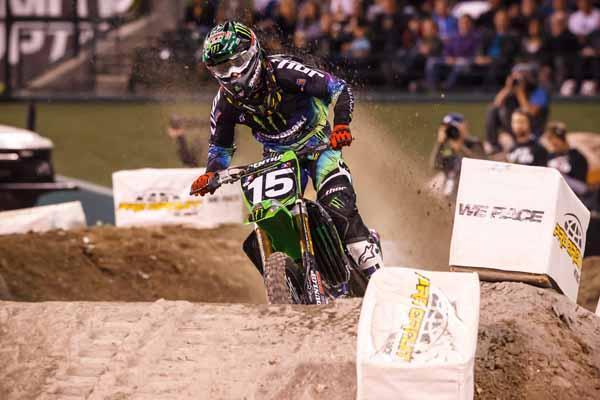 Can Wilson rebound in San Diego and get a win before the long break?
Photo: Simon Cudby
I called Wilson for the win after the first practice because he was out there, riding aggressive, attacking the track and looking good. He just looked like he had "it" on that day. In the main event, he took too long to get by Nico Izzi and even though he closed on Moving Marvin The Martian Musquin, he wasn't making the gains on the first year supercross rider that he probably should.
By the way, the Dean Wilson 2013 sweepstakes have already begun. In speaking to some teams and agents, Wilson's already in demand with everyone for a 450 ride except maybe Yamaha. They seem set on James Stewart at JGR and don't really have a place for Wilson to go. No doubt, Dean's going to be the hot commodity for next year because I would bet that Justin Barcia just goes with factory Honda thereby there will be no "Justin Barcia Sweepstakes" to speak of.
Let's take a look at the results shall we?
Lites West Overall
1. Eli Tomac Hon
2. Cole Seely Hon- A2 wasn't a pink race like in the past but that didn't stop the Troy Lee team from doing it up. Looked good, but then again, what did you expect from TLD?
3. Marvin Musquin KTM- All you Musquin fans must just be cursing Marv's fall late in the race in L.A. He'd be right there in the points.
4. Dean Wilson Kaw
5. Nico Izzi Yam- Izzi set the fastest time in practice and rode well in the main to get his result. He dropped off late in the race but with Nico, he's got to run before he can walk to get back to where he was. And he's working on it.
6. Michael Leib Hon- I have to admit, I'm very surprised at Leib's results on the privateer Honda. After riding for Husky in the GP's, one wouldn't think he'd be that great first year out in SX but he is. Definitely impressive.
7. Matt Moss KTM- Matt was dead last after lap one. So to get seventh is a great result and he appears to be getting better as the series goes on, but too bad for him, this week is the last round of the west series before a long break. Still, awesome ride for Matt and the JDR team.
8. Vince Friese Hon
9. Travis Baker Hon
10. Martin Davalos Suz- At least he didn't break your heart this weekend eh fantasy league owners?
11. Ryan Sipes Yam- Sipes fell twice within 15 seconds and that sort of symbolizes his season so far. And to make it worse, Ryan jacked himself up in a crash and won't make the race this weekend.
12. Killy Rusk Hon
13. Billy Laninovich Hon- Billy's going to ride a 450 on the east coast to keep this comeback story going.
14. Bruce Rutherford Hon
15. Gareth Swanepoel Yam
16. Jean Carlo Ramos Hon- He's back! Brazil's favorite SX rider (taking the crown from Antonio Balbi) put it into the main once again. In Jean Carlos Ramos, we trust.
17. Ryan Marmont KTM
18. Topher Ingalls Hon- At least his bike looked good!
19. Gavin Faith Hon
20. Jason Anderson Suz- Anderson had a rough main event but still, he's looking like a much better rider than last year.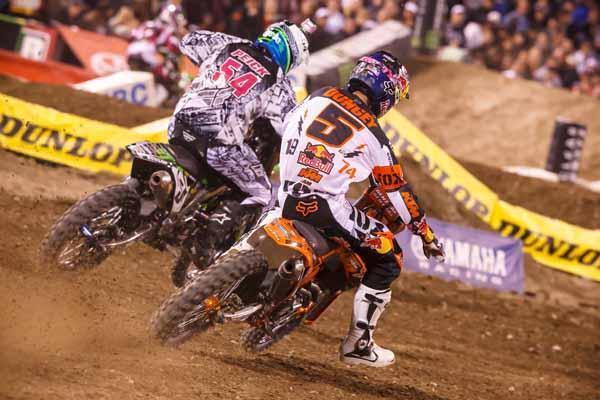 Back-to-back rounds without a podium is not were RD wants to be.
Photo: Simon Cudby
Supercross Overall
1. Ryan Villopoto Kaw
2. James Stewart Yam
3. Chad Reed Hon
4. Ryan Dungey KTM- I thought that if Dungey had started up front last week, he could have won but this week, not so much. Here's betting that his week at the KTM track consists of a whole bunch of starts. I also heard that there were a few motor swaps at A2 for whatever reason.
5. Justin Brayton Hon- Brayton was fastest qualifier and he had a race a lot like Andrew Short last weekend where he was the best of the rest and held of Dungey for a while before eventually succumbing to the #5. Short, Weimer, Metcalfe and Brayton have all been in the "Best of the Rest" category at some point but none of them have grabbed a hold of that award. Maybe this is what Brayton needs.
6. Kevin Windham Hon- Kevin's getting frustrated because he's riding hard for 20 laps and can't get into that mix for the lead. And he's right, there's no cruising with him, he appears to be on it but he's just a tick off of those top guys.
7. Davi Millsaps Yam- Davi's not setting the world on fire with his results but that's three races in a row that he's been solid in, and he had a battle to the death with Windham for the whole race. Sometimes you looked at Millsaps in the past and he was just riding out there but when I watch him now, he looks to be really putting in the effort.
8.
Mike Alessi
Suz- Wait, I thought Mike rode a MCR bike? I'd love to see that in the results.
9. Brett Metcalfe Suz
10. Broc Tickle Kaw- Great ride for Broc, Weege is impressed.
11. Jake Weimer Kaw- Weimer tangled with Short on the first lap and that's two so-so races for Jake. He's got to get back up into the mix real soon before his confidence gets too battered.
12. Kyle Chisholm Kaw- Chisholm's result is a 12th but he was 8th for most of the race before losing 4 spots when he made a mistake and was on the board inside the top five in practice. So if you weren't there, you see the 12th and think "Chix sucks" but you had to be there to know that this was Kyle's best race of the year.
13. Nick Wey Kaw
14. Andrew Short Hon- Shorty went down first lap and was forced to pull into the mechanic's area to get his front end straightened out. After that, he matched the leaders lap times as they lapped them. That was something to build on.
15. Weston Peick Kaw- Peick has been riding well the last little while and to get 15th with this field is an accomplishment.
16. Kyle Partridge Kaw- The smaller those whoops got, the smaller Partridge's chances of doing well went.
17. Justin Sipes Kaw- Sipes is filling in for Chris Blose on the Ti-Lube Kawasaki team and I wouldn't be surprised if he just stays with them when Blose comes back.
18. Jimmy Albertson Suz- Albertson probably wouldn't admit it but I have to wonder what his buddy Trey Canard's accident did to him mentally. He may have come back from that thought this weekend as he made his first main in two weeks.
19. Jeff Alessi Suz- Jeff didn't look like he had 5 more laps in him but I suppose you have to start somewhere.
20. Josh Hansen Kaw- Hanny had front brake problems and was forced to DNF.
I've got to stop complaining about the new Kawasaki coffee machine they have. For whatever reason, the guys there decided to replace the Keurig machine they had for a few years and went with this fancy-dancy espresso real coffee machine. And I don't like it but I keep complaining about it and the guys have decided that if I keep it up, I'm not going to be able to drink their coffee anymore. What is this? Iraq?
I'm getting excited for the east coast in Dallas in a couple of weeks. Should be exciting with defending champion Justin Barcia, Pro Circuit's Blake Baggett and Darryn Durham, KTM's Ken Roczen and Malcolm Stewart (Mookie fever!) and Kyle Cunningham. Should be a great series and I'm thinking it's not going to be like the west where we see a guy with a huge lead.
Thanks for reading, email me at matthes@racerxonline.com and we can chat some more about what went on at the races.