Replacement rides are the new standard for the sport, so it's no longer a surprise to see a rider in need get a shot when a star goes down. That's the case with Bobby Kiniry, who has picked up a spot on Rockstar Energy Star-Valli Yamaha in place of the injured Ryan Morais. The friendly New Yorker didn't have much time to prepare for Oakland, but he put his YZ450F in the main and finished eighteenth. We caught up with BK after the race to see how it went.
Racer X: How was your race?
Bobby Kiniry: It was a rough night, you know, it's a big steep learning curve. I haven't ridden a Yamaha, we tested two days this week. So I had minimal experience on it, and was just a little uncomfortable. I need to get back to the test tracks this week and burn as many laps as I can. Not to necessarily test, but to get comfortable. We got into the main, and that was the goal, just to see where we were at. We didn't have the best finish, I expect to be in the top ten, and I made it a little rough on myself. At least we have a starting point now. I'm fresh off the couch and I made the main, and it's a pretty stacked class this year, everyone can see that every week. Even good guys aren't making the main. But I don't expect to be in the back. Shoot, all in all, it was a good night.
Yeah, you got taken out on the start in your heat, there's not much you can do about that.
Yeah. I got good starts all night, and I got good starts practicing on it last week, we figured out some stuff. Unfortunately in the heat, I was a touch too far outside and [Chad] Reed just kept pushing me out. And that's just racing, nobody's fault by any means. I ended up having to ride the LCQ, and I snuck 'er in. Luckily I got a good start, and I got a good jump in the main, but was just too far outside. You play the cards you're given.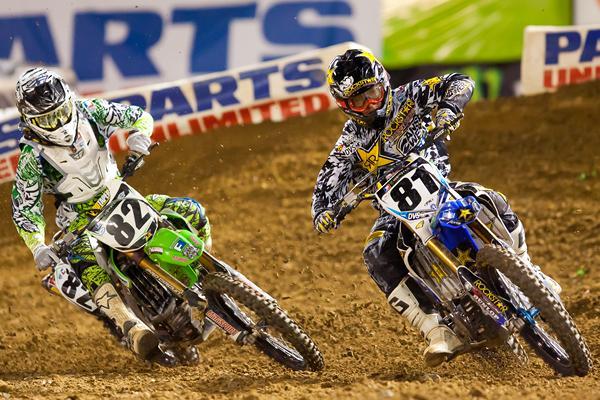 Kiniry (81) outlasted Justin Sipes (82) in the LCQ to take the final transfer spot in Oakland.
Photo: Andrew Fredrickson
You had a pretty hard battle in the LCQ.
Yeah, it was chaos! In that last transfer spot, people are going for blood, and you have to know when it's coming. I heard [Mike]  Alessi coming in there on [Justin] Sipes, and I just kind of checked up because I knew it was going to be ugly! I ended up getting back by Sipes and held some other guys off to get into the main.
When's the last time you raced supercross?
I raced in Germany in the off-season, but it's been a couple weeks. That's more like Arenacross, and not so much like supercross. I raced all the way through Vegas last year, so I'm just like everyone else here, just minus three or four weeks.
What's your arrangement with Star-Valli Motorsports?
At this point, it's my understanding that I'll finish off the supercross season and keep putting it in the main, and building every week on what we're doing. The plan is to just finish out supercross with these guys. Obviously, it's unfortunate for Ryan [Morais] what happened, but it opened a great opportunity for me, and I want to take full advantage of that. I want to get some good finishes for these guys, and thank them for the opportunity.

Kiniry finished 18th in his first ride with the Star-Valli team.
Photo: Andrew Fredrickson