"Terrible" Teddy Maier (and if that's not his nickname, it should be) is probably one of those guys that a lot of fans turn to their buddy and ask, "Who's that?" The Fort Dodge, Iowa rider has made his return to supercross in 2012 and is battling for a top ten spot as a full-on privateer. Maier may be new to some fans this year but he's an old face in the professional moto ranks and in this interview, he tells us what he's been up to.
Racer X: Teddy, thanks for doing this. I think a lot of people forgot about Teddy Maier and the fact that he can ride supercross.
Teddy Maier: Yeah, it has been kind of a long road back for me. The 2008 season was my first year doing it, I did decent and ended up eighth in the series in the east. The following year I was promised a deal and I ended up getting socked in the face at the last minute with that and was forced to go do arenacross after that. That kind of hurt my exposure and I had some injuries along the way as well. I got this opportunity to do supercross again and I took a chance at doing it, money-wise, but I wanted to prove that I can do pretty good on a privateer bike and I'm happy so far with the way it's been going.
Tell us about the support you have this year.
I wouldn't be out there if it wasn't for Stu Bailey from Hyper-X Racewear.  He's the reason why I'm out there and I owe a lot to him. All the sponsors on the team like Ti-Lube and Race Tech have been great. Race Tech has done a lot of testing with us which helps a lot and everyone else is onboard.
How do you assess your season so far?
I think it's going pretty good, I've been struggling with my asthma the last couple of races. At A1 I felt good but at Phoenix, something triggered and I had only half-breaths. I got some medicine and I'm on it, I feel a whole lot better. I can take a breath and my chest doesn't get tight. I've had problem pumping up because I can't get oxygen.
Are you doing all the west rounds?
Yep, we'll do Seattle and Salt Lake and all that. That's the plan.
I get a lot of people asking me who you are out there on the track. That's what happens when  a three-digit guy is running up front. You've raced in Canada the last few years, do you get the sense that people have forgotten about you also?
Yeah definitely, but people ask why I don't race in the USA. I need to make money and I'd rather be a big fish in a small pond and make some money then small fish and not making any money. We'll see how it goes from here but I like racing up in Canada, I feel like it's my home now. I signed another deal to go back there and I have fun up there. I'm able to make some money and that's always fun.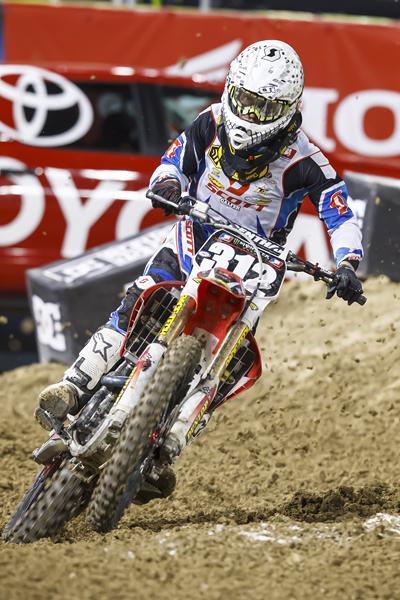 Look for Teddy Maier's #312 machine to be contesting
in the remaining West Coast Lites rounds.
Photo: Simon Cudby
You're a past MX2 champion in Canada, but this year you raced the MX1 class. I hear you're going back down to the 250s?
Yeah, I won the title in 2009 and almost won it in 2010. I came up a bit short in that one and then I went to the 450's this past year. It was a good year for me, but they wanted me to ride it (250) and I'm on one now so why not? It was fun this past year in the big bike class, but I broke my collarbone in Germany in the off-season which took 13 weeks to heal because it was right at the tip and didn't get a lot of blood flow. And I was working around the house, which I probably shouldn't have been doing. It's just hard to sit still.
You know, I just wasn't as ready as I thought and riding the 450 is a lot harder than the 250, I found out. Especially at the level that (Colton) Facciotti and (Dusty) Klatt are going. It was good, I had fun and I met my goal so I can't complain.
What's the goal for you from here on out in supercross?
There are a couple of guys out there like (Zach) Osborne that came out of nowhere. That class is stacked and the kids are going fast. I'm getting more comfortable at hanging it out more and a top ten is the next goal and I'll work on it from there. I've got to get a start and be aggressive the first few laps because that's what is killing me. I get into a groove and I can't get out of it. I just have to do the best I can.