O.co Coliseum
Oakland

,

CA
Oakland
Monster Energy AMA Supercross Championship
The Monster Energy L.A. Supercross at Dodger Stadium has become an interesting stop in its second year. I love the idea of going to new cities and buildings and iconic Dodger Stadium is certainly one of those things that make you stop and go, "Cool". However, the reality is that the attendance hasn't been where the promoters would probably like it to be, and to be honest the stadium is kind of dumpy. Still, we've seen good racing both years and its uniqueness is to be celebrated.
Rains in the L.A. area meant we were probably due for a mudder, as people who stayed at the track reported that it poured on Friday night. Upon arriving at the stadium on Saturday, the tarps on the track were covered with lakes, and with more rain in the forecast, it seemed that we were in for it. But then a strange thing happened: the 80 percent chance of showers never showed. The Dirt Wurx guys come under criticism from people (including in this column) from time to time so it's only fair to point out what a great job they did with the L.A. race and protecting the track from the rain. It was actually dry (and slippery) all night.

An aerial view of Dirt Wurx's efforts to save the track in rainy L.A.
Photo: BrownDogWilson
As far as the track itself, the over/under bridge was back this week and I'm happy to report this. Regular readers will know that I'm a fan of this obstacle as it opens up the designers to some new ideas, provides a good finish line jump and just looks cool. It harkens back to a day with Hannah, JT Racing, 100%, Wardy and the O'Show. Actually, all four of those were back and at the L.A. race so maybe you can indeed go home again.
Interesting to see social media and its effects on the series. Upon seeing the track map and the fact that it didn't have whoops, a bunch of riders took to Twitter to voice their displeasure. And interestingly enough when we showed up at L.A., there were whoops on the track! I haven't spoken to anyone at Feld (series promoters) or Dirt Wurx but you can't tell me that the Tweets by the riders had nothing to do with a section getting put in. I can't wait for the riders to get together on Twitter complaining about how the media people don't get a private jet to each event.
I feel like I've created a little movement with the over/under bridge (just by the amount that people make comments to me at the races where the bridge is used) and so my next obstacle that I want is the first turn berm that you use as a ramp to enter into a rhythm section. Sometimes it's lower on the inside so riders have two different lines to choose from. Those things were a staple of Pontiac SX for years and I don't know why, I just like'em.
Before we get too far into this thing, let's send get well soon wishes to two of the nicer guys on the track in Trey Canard and Ryan Morais who were both involved in an ugly crash on the first lap. Canard checked up on a triple when he had a tuff block cover caught on his peg and doubled the triple. Morais was already committed and the worst possible outcome happened. Morais landed right on Canard and there was carnage on a level that we haven't seen for a while. Both riders got hauled off with back injuries (among other things) and we won't be seeing either guy for a long time, although it looks like they're going to be okay in the end. Scary stuff. Get well soon!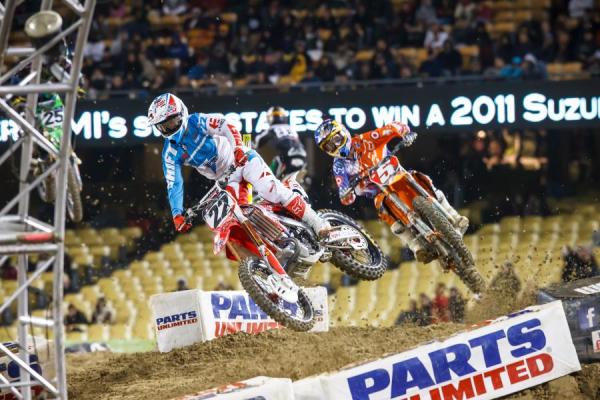 Reed made moves early in the race to get out front and stay there
Photo: Simon Cudby
Chad Reed scored an impressive win at Dodger Stadium and he's fortunate (and admitted to as much on the Pulpmx Show this past Monday) that there was a restart after the bad crash involving Canard and Morais. CR22 was pretty far back on the first start due to his 16th gate pick (after he fell in his heat race) but on the restart, he made it happen and came out inside the top five. From there he passed Jake Weimer, James Stewart, Ryan Dungey and Brett Metcalfe and motored away for his first win of the year (and third winner in three races if you're keeping track). It was an impressive ride and it sort of came out of nowhere. Reed's been good this year but we're at the point in our series where parity is to be expected. Reed was on-point on this night and the TwoTwo showed that he's ready to get some momentum in this series.
Ryan Villopoto had the start in the first drop of the gate and seeing as how he was the fastest qualifier in practice and smoked his heat race, it looked like it was over when he got into the lead in the second turn. But on the restart, RV jumped off the track (which could've been disaster but wasn't) and then got hung up on a tuff block trying to reenter the track (on that note, what's going on with the tuff blocks? Have they all gotten together and decided that they were going to take over the supercross series like some sort of Planet of the Apes movie?) and was forced to come from the back. Last week it was 18th to 3rd, this week it's 17th to 4th which is all fine and dandy but RV's got to start putting it together soon.
And despite my co-host on the Pulpmx Show (H&H Team Manager Kenny Watson) thinking I'm crazy for counting heat races, I think you definitely can count those as gate drops. So counting those, RV's gone through six gate drops this year and had crashes or "issues" in four out of those six races. Sometimes the moto gods are just against you and right now, it seems that way with RV. He keeps having these little things and despite having the most speed right now out of anyone, his little problems are threatening to turn into a big one.
Last year, I said that James Stewart was going to win the supercross title in podcasts, in print and I shouted it from any mountaintop I could. It's always dangerous to make predictions about a 17 race series beforehand, but fans like to hear what people think. I'd rather put myself out on the ledge then just be like some media dudes and say, "I don't know man, they're all great riders and great people and we are so lucky to have them on the track." So my 2011 pick was Stewart. James is just able to do things that others cannot on the track and is very special to watch out there.
But that was last year. This year we've seen the crashes (which we have always seen to an extent from James) but we've yet to see the speed. To quote Ricky Bobby, that "hot, nasty bad ass speed" that we've come to expect out of Stewart just hasn't been there. Sure he busted out a quad at Phoenix to remind us all that he was James Stewart and we weren't, but he looks more…more…normal out there. In L.A., Stewart did get his first podium of the year (yeah, I said first) but he had to fight for it all night long. He doesn't look comfortable on the JGR Yamaha just yet and maybe when we go east on the tracks that more suit him we'll see more out of him, but for right now, some of the magic is missing.
James being James, he came under some heat from fans for his pass on Jake Weimer in the main. In my eyes, I saw nothing wrong with that move. He tried that pass on the lap before and Weimer got out of it. Then on the next lap, James came in for the pass again. Jake had to know it was coming and it was your typical SX block pass.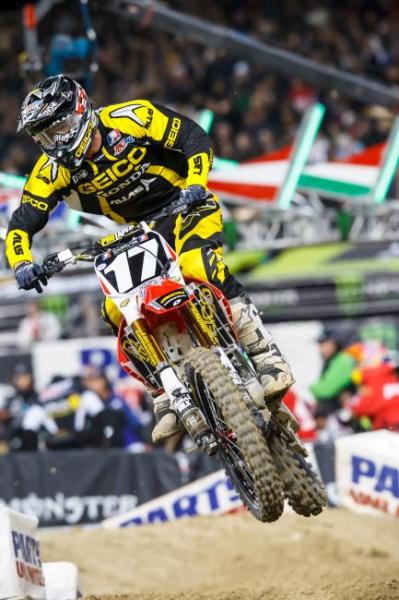 Eli Tomac was able to unleash his true speed after grabbing the holeshot.
Photo: Simon Cudby
In the 250 class, it was Eli Tomac's race from start to finish and probably rightfully so. If Tomac hadn't won this week he was probably going to start wondering what he did to upset the moto gods. He's been hella-fast at every race this year but just had a third and a fourth to show for his efforts. At L.A. he was gone and won easily while Dean Wilson had to come from a ways back to get second. Wilson told me before the season started that he needed to work on his starts and while there have been some good ones, they've still been hot and cold.
The west region is shaping up like we thought it would with Tomac and Wilson starting to come to the front. Cole Seely can win if he holeshots and gets a clean track (or rides off the rails like he did at A1), Marvin Musquin is still figuring things out and while I admire Tyla Rattray as a rider and as a person, I don't think he's got the #17 or #15's speed. He'll be consistent but I can't see him beating either of the kids.
What about Zach Osborne? The lone American to represent the red, white and blue in the GP's this year is coming over and riding the first four supercrosses while he begins to start his program. Osborne had to ride the unseeded practice at Anaheim 1 and most mistook him for Jason Lawrence (can we finally say there aren't going to be any comebacks from our wayward J-Law?) but there's no doubting him now. The Zach-Attack secured his first AMA supercross podium (he made the podium when we had those World Supercross Rounds in Canada years ago. Remember that? Yeah, we didn't either). He had nothing for Tomac but Wilson got by him late in the race and Zach actually counter-attacked at one point.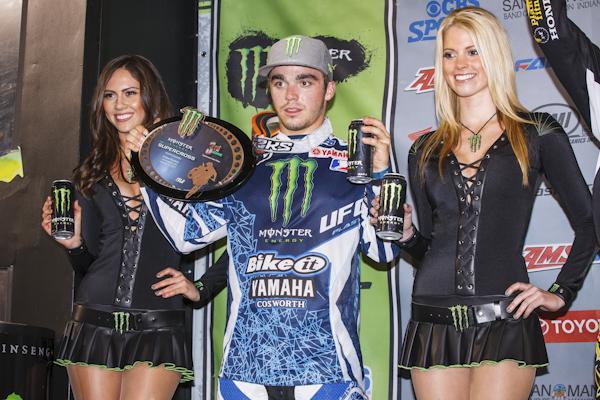 Osborne answered any questions remaining by earning a podium in L.A.
Photo: Simon Cudby
There's no doubting that Osborne is coming back here next year to race SX and MX with an American team (although there are whispers that the Englishman who owns his current team, Steve Dixon, might field a squad over here next year) especially with him being too old for the MX2 series over in Europe next year. We know he can ride the outdoor series but the question was, could he ride supercross? Well, we all know now that he can.
Lites West Overall
1. Eli Tomac Hon
2. Dean Wilson Kaw
3. Zach Osborne Yam
4. Tyla Rattray Kaw- Rattray was solid. Again, I could be writing this in 2007 or 2017- it doesn't matter.
5. Jason Anderson Suz- Anderson won the LCQ so considering that, a fifth isn't so bad. He's a tick off the front guys but he looks like a different guy from last year, just charging and going forward.
6. Max Anstie Hon
7. Michael Leib Hon- Leib's been a pleasant surprise in his first year in supercross after taking an unusual start to his pro career in Europe.
8. Matt Moss KTM
9. Martin Davalos Suz- That wheezing sound is everyone's fantasy moto leagues going down the drain after Davalos, who won a heat and got a good start before he crashed his way back to ninth.
10. Billy Laninovich Hon- Great series by Billy. Not sure what's the bigger story, Lano or Leib?
11. Nico Izzi Yam- Izzi's been the bright spot for the Valli/Rockstar team and that isn't good in case you're wondering. He's fighting for top tens.
12. Ryan Sipes Yam- Sipes won a heat (which shouldn't have caught anyone by surprise) and it's too bad he went down early in the main or he could've done something. Sipes is 11th in the points but would anyone be surprised if he won this weekend?
13. Vince Friese Hon
14. Teddy Maier Hon- Lano, Leib and Maier are fighting for the "Guy doing the most with the least" award.
15. Cole Seely Hon- Hey, at one point TLD Honda riders were 19th and 20th in the race so this is a win!
16. Scott Champion Hon
17. Nick Paluzzi Kaw- Paluzzi made his first main of the season.
18. Gavin Faith Hon- Faith is the fill-in at GEICO Honda for Hahn and I don't know much about him. I definitely thought it might have been one of Lano, Maier or Leib. I do know that L.A. was his first supercross ever. Talk about a learning curve.
19. Marvin Musquin KTM
20. Travis Baker Hon
Supercross Overall
1. Chad Reed Hon
2. Ryan Dungey KTM- Dungey's got the points lead and he's going to be a contender all year for wins and podiums. Clearly, we were all wrong about the bike needing some time to get set-up and working perfectly.
3. James Stewart Yam
4. Ryan Villopoto Kaw
5. Brett Metcalfe Suz- Metcalfe told me that he went completely back to last years settings and his bike is working much better for him. It shows, as his fifth is a season best for him.
6. Davi Millsaps Yam- I don't know what it is, but Millsaps looks different this year. It's not the weight loss but maybe the gear or something like that.
7. Josh Hansen Kaw- Who would have thought that Hansen would be H&H's rock three races in? He's not hurt and he's inside the top ten. I think that's all you can hope for if you're a Hanny fan.
8. Broc Tickle Kaw- From DNQ last week to an eighth this week. Ladies and gentlemen, welcome to the 450 class in 2012!
9. Kevin Windham Hon
10. Mike Alessi Suz- Alessi was very good in his heat race, where he finished a close second behind Stewart.
11. Jake Weimer Kaw- If you just looked at the results, you don't know that Jake's 11th was actually very impressive. Before he fell when Stewart passed him, he was leading for a while before looking to get a podium position. Weimer's really starting to be a factor every week.
12. Kyle Chisholm Kaw- The Chiz got into it with Alessi out there where they were playing a game of "I stop, you stop, I try to ram you" because Kyle felt Mike looked over at him at one point and swerved to keep him behind.
13. Nick Wey Kaw- Wey had to ride the LCQ three straight races to get into the main. Twice it worked, once, it didn't.
14. Andrew Short Hon- Morais is Short's brother-in-law and Canard is Shorty's buddy so imagine sitting on the line seeing those two carted off and wondering how they were doing while at the same time you're trying to get ready for another start. It's amazing Shorty could race at all. Of course he fell in the first turn and was dead, dead last early just to add to it.
15. Weston Peick Kaw
16. Kyle Partridge Kaw
17. Josh Grant Kaw- Grant collided with Tedesco in the race that Tedesco's team manager Kenny Watson said on the Pulpmx Show that it was Grant's fault but I think if you watch the video HERE you can see Ivan cuts underneath Josh.
18. Ivan Tedesco Kaw-And because of that, Tedesco's out for eight weeks with a badly broken finger.
19. Trey Canard Hon
20. Ryan Morais Yam
Some notes:
-Matt Georke, who has been riding a privateer Kawasaki and been on the bubble to make the main events, has been picked up by the BTOSports.com BBMX Suzuki team to fill in while waiting on team member Michael Byrne to heal up. Which is nice because our eyes will be spared from that "Sexy Devil" gear that Matt's been rocking.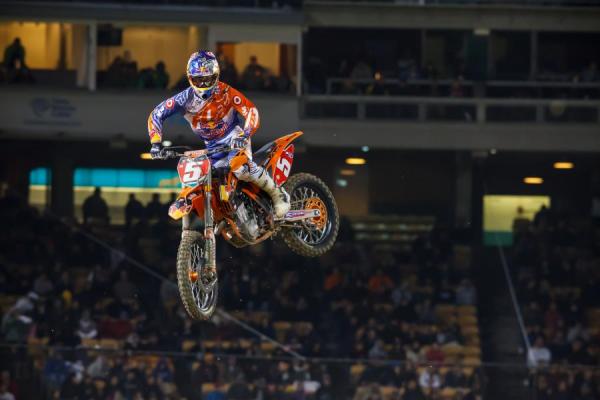 Dungey brings a different to flavor to the front of the pack for the 2012 season.
Photo: Simon Cudby
-I've got to say that everyone who reads this column knows I'm a big fan of the JT gear that's come back. I used to have a coolest gear award winner each week in this column before people started getting butt-hurt. So I'm just going to stick to the basics, but I have to say, one of the shining stars of the gear wars this week was Ryan Dungey. His Fox orange/blue stuff was basic in its design but stunning in its own way. It went well with the KTM (one of the nicest looking bikes in the pits by the way). I haven't always liked all the Fox stuff but this week, they knocked it out of the park.
-Winning the "Baddest Men on the Planet" award were Nick Wey and Weston Pieck for taking their sight laps before the main without any jackets on. The rest of the field all wore something over top of their jerseys. Here's to you Wey and Weston, you two are truly bad-asses.
Thanks for reading, send me a note if you want at matthes@racerxonline.com if you want to chat some more. Thanks for reading!