Angel Stadium
Anaheim

,

CA
Anaheim I (A1)
Monster Energy AMA Supercross Championship
Jimmy Albertson, BTOSports.com, 17th place in  SX Class
My main didn't go the way I wanted it to but it's been since '09 since I raced a supercross and that was in the 250 class. So yeah, I made it right into the main which was good and I was riding decent in there but I got cleaned out by [Josh] Grant about eight laps in. Once I got up, I followed [Ryan] Morais around forever until the lead guys came around. They wave the flags so early you're wondering if they're on my ass and you take a look, they're five seconds back. I don't want to get into those guys way at all but I think I checked up a bit too much. The 450 class is gnarly, you gotta' watch those guys. Those guys I was battling with got away from me too much from that.
After Monster Cup and all the riders complaining about that track, I just think they thought that they would show us the crappiest track ever (laughs). Oh yeah guys, you think that was bad (laughs), wait until we go to Anaheim! But everyone has to race it, it had some lines believe it or not, and there were places to pass out there. Phoenix should be much better.
Kyle Chisholm, DNA Energy Drink/Jeff Ward Racing, 14th place in SX Class
It was okay, every time I got on the bike I got better and better. In the main I didn't get the greatest start and was working my way through when [Jake] Weimer went off the track by home plate and he came back onto the track right in front of Broc Tickle and t-boned him, which also collected me into it. I know he didn't do it on purpose but he just rode off and we both went down! It's racing and we have a lot more racing to go.
My bike is different from my Yamaha, I rode Yamaha for the last three years and I'm still getting used to it for sure. With my team, we got a bit of a late start but the first few weeks, I rode a stock bike. I'm just getting adjusted to the bike, I'm not a critic on the Yamaha--I did good on it--but this Kawi does things different than on the Yamaha and I just need to get used to it.
I feel like I rode good, it may not look like it on paper but I feel good about my performance. My lap times were right in there and I'm healthy so we'll work on that this week.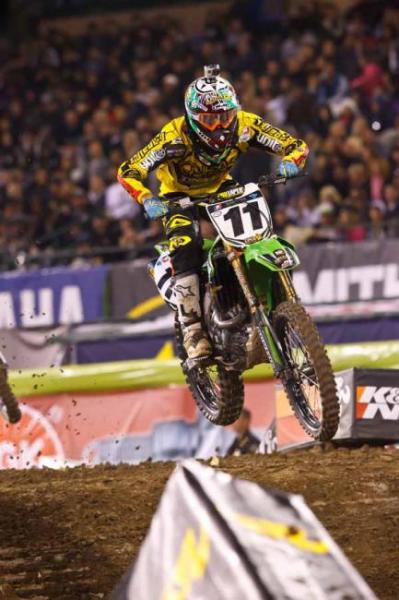 "I feel like I rode good, it may not look like it on paper but I feel good about my performance." - Kyle Chisholm
Photo: Simon Cudby
Andrew Short, Supercross.com Honda, 7th place in SX Class
I was pumped to go race. My heat race was a lot of fun and leading was cool, it had been a long time since I did that and my eyes were bug-eyed out there. The main event, I didn't get a great start and got tight and didn't go the way we wanted it to, but it was still great to be out there. Myself and [Justin] Brayton were really going at it and I started making mistakes out there. I kind of slid out, I cased a jump and I was kind of holding him up out there. I did my best, fell off a bit and it's kind of to be expected with my injuries that I had. I'm only going to get better. My elbows are stiff, but they are good and I'm happy with how I did and I know I'm going to get better from here on out.
The stadium was great, there was a buzz out here and everyone was excited about what was going on. The only thing holding me back is between my ears right now, my team worked hard to get everything ready and they were on it.
Zach Osborne, Monster Bike-It Yamaha, 9th place in Lites Class
I had a good night, I can still ride supercross but it appears that I forgot how to start in supercross. In the main event, they held the gate for, like, three days or something. It was really long with the clutch in! Overall it was good, I was third fastest after practice and my heat race I came from the back after a bad start. I was too tight in the main event and I guess that's to be a given seeing as how this was my first supercross since Anaheim 2008. My bike is super good and we can build on this as we go on. My Ohlins suspension is working good and we have all the pieces to the puzzle here and now we have three more nights to try and put them together.
I hope I showed some people that I can ride supercross and turned some heads. That's all I wanted to do and before the end of the series, I'd like to make the podium.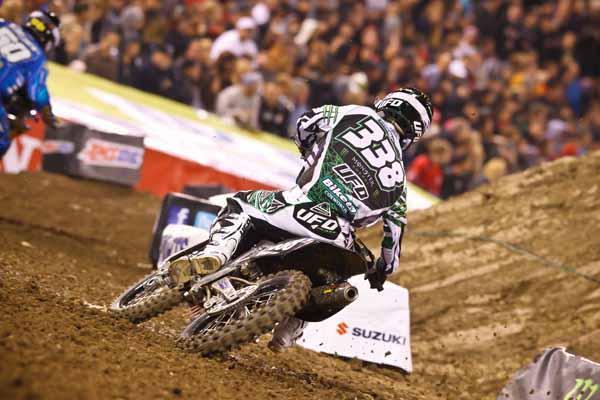 "I had a good night, I can still ride supercross but it appears that I forgot how to start in supercross." - Zach Osborne
Photo: Simon Cudby
Marvin Musquin, Red Bull KTM, 4th place in Lites Class
The weekend was good, I'm really happy about my speed, and my bike was really good. I had fun on the track. I had good lap times in the qualifiers, I just need a better start. Overall, it was good, and to get fourth place in my first one ever, it's good.

Was the level of competition above, below, or about where you thought it would be?
You know, I was riding with [Eli] Tomac, and he passed me, and I had a good battle with [Ryan] Sipes. Tomac was riding very well, he was pushing so hard, and I think that helped me. I was trying to stay with him, and I pushed hard and passed Sipes. But the level is really good. It's supercross in the U.S., it's the best of supercross, the level is very high! I'm really happy to be one of the top guys, and we're going for this championship.
Wil Hahn, GEICO Honda 8th place in Lites Class
I got points! It's 13 more points than I got last year. And I got a heat race win tonight. You know, I'm pumped. I feel like I gained a lot tonight with what I learned. I made it through healthy except for a cracked nose, and I can deal with that. It's all good.
Take me through the crash.
I broke loose and got sideways, and then did a reverse 180 back flip. And the handlebars hit me right square in the nose. It couldn't have hit me any more perfectly than that. I got up and I felt fine at first, but then I felt the blood gushing. But hey, again, we're all good.