Goerke Wins German SX Cup
Matt Goerke wins German SX Cup – Cole Siebler "King of Dortmund"
After an exciting three days supercross event Matt Goerke could finally win the German Supercross Cup even though the weekend didn't start well for him. Goerke came to Dortmund with the points lead in his bag, but Friday night didn't turn out the way he wanted. After a crash in the whoop section during his qualifying heat Goerke found himself in the last chance race. While he was able to win there and go to the semi final a battle between him and strong riding US-Rider Robert Kiniry took both riders out after the whoops. Goerke couldn't manage to qualify for the final on Friday and was set aside to see other riders taking important points away.
Friday nights win went to French rider Cyril Coulon in front of Cole Siebler and Joaquim Rodrigues.
On Saturday there was a new game. The whole weekend turned out to be a showdown of US-riders against a hard French competition. But Goerke was focussed on the title and won his heat race, was second in the semi final behind French rider Florent Richier and won the final on Saturday in front of one of his hardest competitors Robert Kiniry and again Joaquim Rodrigues in third. With this win on Saturday Goerke had enough points to be finally the winner of this years German Supercross Cup 2011/2012.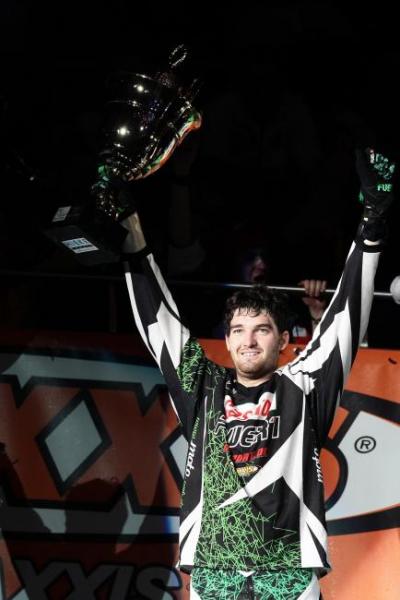 But the weekend was not over yet. There was still one rider to be appointed "King of Dortmund". Lacking points from Friday Matt Goerke's chances to win this title as well were almost gone. But Cyril Coulon the winner of Friday night was not in the final on Saturday, so his chances got smaller as well. The battle for the title "King of Dortmund" seemed to be faught between another American rider Cole Siebler and Portuguese rider Joaquim Rodrigues.
Sundays event was Siebler's event. He won his heat race, got second in the semi final behind Florent Richier and after an amazing start he was able to win Sundays final. After the 18-laps race he had enough points to be crowned new "King of Dortmund" and take home a brandnew Toyota Auris. "I'm so happy. This win means a lot to me and my team in Germany", said Siebler after the race.
US rider Mike Brown who just turned 40-years old showed again an unbelievable strong performance in Germany. Brown was able to qualify for all three main events in Dortmund with a 5th position on Saturday as his best result.
In SX 2 class US rider Austin Politelli was able to earn the title "Prince of Dortmund" for the second time in a row. The 17-year old Californian rider won 5 of 6 heat races this weekend. Only once he had to give away the win to German rider Dennis Ullrich on Saturday night.
But the winner of the German Supercross Cup 2011/2012 was French rider Boris Maillard.