Angel Stadium
Anaheim

,

CA
Anaheim I (A1)
Monster Energy AMA Supercross Championship
Finally. Thankfully. The 2012 Monster Energy Supercross Championship is about to begin. After a long off-season full of ... well, not much—with the exception of another Team USA win at the Monster Energy Motocross of Nations and the coronation of Monster Energy Kawasaki's
Ryan Villopoto
as the man of the year at the Monster Energy Cup in Las Vegas—there's only been a lot of bench-racing, rumor-mongering, and just plain waiting around for this thing to start. And you can watch the opening round of the '12 Monster Energy SX tour tomorrow night on SPEED, beginning at 7:00 p.m. California time (10 back east). It should be an awesome show!
Okay, looking back at that first paragraph of Racerhead (and welcome, thanks for stopping by), you may have noticed a lot of Monster Energy mentions. Get used to it. The biggest news to come out of yesterday's packed press conference was the fact that Monster Energy re-upped and replenished its stake in our sport with a contract extension through 2016 to be the title sponsor of AMA Supercross, the Arenacross tour, and the Monster Energy Cup—they're even putting Damon Bradshaw in a new Monster Energy monster truck! This bodes very well for our sport and especially this series. We will see nearly a dozen live broadcasts on SPEED, thanks to this new package, as well as reruns on FUEL (a first for SX). When Monster's own Bruce Stjernstrom spoke at the press conference, he said that no other sport speaks to Monster's audience as much as supercross and motocross, and they are investing more than ever into its future. That's very good news.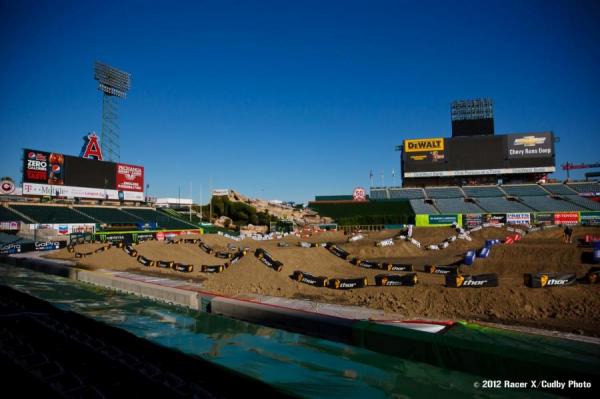 Anaheim 1 will air LIVE on SPEED tomorrow night starting at 10pm ET.
Photo: Simon Cudby
Also, the aforementioned Villopoto received yet another cool championship ring from FELD's Dave Prater, which follows the one with five diamonds he received from Kawasaki on Wednesday. He accepted in front of some very serious and focused-looking competition, as Ryan Dungey, Chad Reed, James Stewart, and Trey Canard all sat quietly and seemed to stare straight ahead as he accepted more championship lucre.
And I wanted to mention here just how damn cool the opening monologue was by Jeff Emig, who hosted the presser and told his own tale of the history of Anaheim and what it meant to him as a fan, an athlete, and a former champion. Fro got choked up when talking about his own good and bad times there, and it had everyone in the room locked in on his words—which is saying a lot, because the room was filled with SX and MX royalty: Emig's Anaheim nemesis Jeremy McGrath, Ricky Carmichael, Johnny O'Mara, the visiting Stefan Everts, and of course the nine guys who will race on Saturday night that have an SX main event win to their credit.
But a more important thing for all of the athletes, including everyone not up on the dais, was the announcement by new VP Todd Jendro that FELD Motor Sports, the organizers of the SX series, were giving a $100,000 donation to the Asterisk Mobile Medical Unit, which is the most vital big rig in the entire paddock. Dr. Bodnar, Dr. Reiman, and coordinator Eddie Casillas were there to accept, as was Asterisk's Tom Carson, who has been there since day one as the champion of this cause.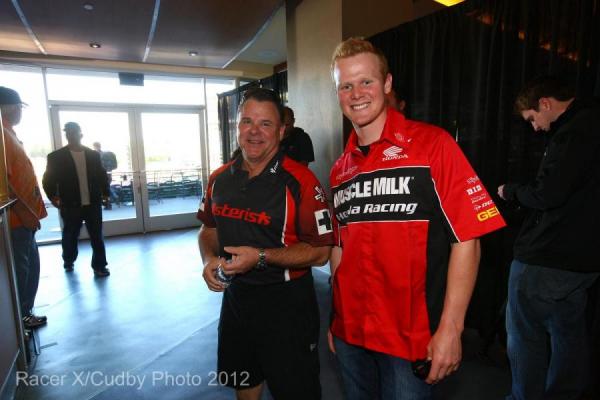 Doc Bodnar (far) announced yesterday that Asterisk will be coordinating a new ImPACT Concussion Management Test.
Photo: Simon Cudby
Then Doc Bodnar talked about the new ImPACT Concussion Management Test that Asterisk will be coordinating, with the help of Shoei Helmets. This was the result of ongoing studies and discussions between the Asterisk doctors and MX Sports, FELD Motorsports, and AMA Pro Racing. The ImPACT test is a "computerized neurocognitive assessment" tool that is designed to assist our series medical team "in determining an athlete's ability to return to play after suffering a concussion." In other words, riders are asked to take a 20-minute baseline test on a laptop in order to check their reflexes and memory, and then be tested again after a potential concussion from a crash, gives the doctors a chance to determine whether or not a rider's brain injury has healed sufficiently to allow them back on the racetrack. This program is voluntary for SX but becomes mandatory for the Lucas Oil AMA Pro Motocross tour, which begins in May, and then be mandatory for SX in 2013 and beyond.
This has been a topic of discussion for years between the sanctioning body and team managers, as well as Doc Bodnar, a longtime advocate of a meaningful concussion policy, and Eddie Casillas. The momentum really picked up after MX Sports called a meeting with Asterisk's Dr. Reiman and various team managers and rider representatives back in June in Morgantown, West Virginia, on the eve of the High Point National.
Concussions have long been on everyone's radar here. It hits very close to home: Travis Pastrana, Broc Hepler, and Mike Jones are all close friends who grew up racing in our area and have suffered multiple concussions. In Hepler's case, they ended his career. And then there is my own brother Tim, who also suffered too many big crashes over the years. You see, what's happened to former members of the Pittsburgh Steelers over the years has been front and center in my mind, as Dr. Julian Bailes, the neurosurgeon and former Steelers team doctor, was not only the force behind bringing this issue into the mainstream, he was my neighbor and friend in Morgantown.
Following a review of several systems, the Asterisk doctors decided that the ImPACT brand test was the one that was best suited for our sport. This system is used by other professional sports and we have been working closely with Asterisk to get this in place for the 2012 motocross season. To date, many of the top riders have already completed their baseline ImPACT tests and MX Sports has helped Asterisk, as the sporting organization on record for the program, which allowed us to get the discounted rate for the tests that are being provided to professional licensed riders at no cost during the supercross season. By making these tests available during SX, we hope to have most of the riders tested, well before the start of the MX season when tests will be mandatory as a condition for entry into an AMA Pro Motocross race.
One last note on Asterisk and concussions: On the way out of the pits yesterday I saw Mike Alessi in the Asterisk rig, getting his baseline test down. Mike looks good, fit, and focused. He's also a professional athlete who understands the dangers of head trauma and the need for the ImPACT program now in place and moving forward.
Don't forget to check out the Thor Race Center for everything A1 related, also make sure to follow Racer X Online (@racerxonline) on twitter for all the breaking news from Anaheim. And if you want to track Live Timing and Scoring from Anaheim tomorrow, click HERE.
So now let's talk about the racing and the days leading up to tomorrow's big season opener. I will start by turning Racerhead over to Weege right here:
Anaheim One fever. Catch it! After yesterday's big press conference, I headed over to Malcolm Smith Motorsports in Riverside to help host what had to be the largest lineup of riders ever gathered for one dealer autograph session—and they were greeted by perhaps the largest crowd ever gathered to get autographs. A good 40 riders were on hand, the likes of Ryan Villopoto, Ryan Dungey, and James Stewart among them. The line of fans snaked from the second floor of the big shop all the way out the door and around the building. I had to park my car five blocks away because the parking lots were jammed. People were pumped.

Trey Canard announced via twitter a short time ago that he will NOT be racing on Saturday.
Photo: BrownDogWilson
That's reality here during hype week. At the press conference, no one could avoid terms like "stacked" and "deep with talent." We say it every year, yes, but I think 2012 has numbers like never before. A generation ago, only four factory teams and a satellite outfit or two filled the gates. Now we have five legit brands, as well as teams like GEICO Honda, TwoTwo Motorsports, Dodge Motorsports H&H, L&Mc Racing (yes, that's the name of team Brooks/McGrath) and even a Monster Energy Pro Circuit Kawasaki in the field. The numbers have it. This week on this website, we previewed four championship contenders, eight dark horse picks, and fourteen wild card contenders. Two of the wild card guys are out hurt at the moment, but that still leaves twenty-four established names fighting for twenty spots in the aain!
With so many riders on hand for press day and the autograph session, I got some last-minute updates on the field. Ken Roczen's broken arm is already progressing, and doctors removed his cast and fitted him with an arm brace on Thursday morning. He'll have no problems being ready for the East opener in Dallas. PJ Larsen still has a cast on his broken hand, but he's sure he'll be ready for Dallas, too. Darryn Durham got back to riding outdoors this week after breaking his wrist, he'll get on a supercross track on Monday. Dean Wilson and Tyla Rattray are riding west, for sure, and so is Ryan Sipes and Gareth Swanepoel. Blake Baggett and Durham are east along with Kyle Cunningham and Kyle Peters.
And everyone wants to know the story on Trey Canard, who absolutely, positively belongs on the Villopoto/Reed/Dungey/Stewart list if we knew for sure he was racing all of the rounds. He told me yesterday he was going to try the supercross track on Thursday and Friday for the first time. Muscle Milk Honda Team Manager Erik Kehoe said they're also working with doctors to make sure he has clearance. Seemed to me like they were leaning toward racing, but now I'm thinking the opposite. I talked to a bunch of ex racers, and most feel that four weeks off, then two days on a supercross track, and then racing A1 seems a bit rushed. It's too bad, really, because you can tell Trey is fired up.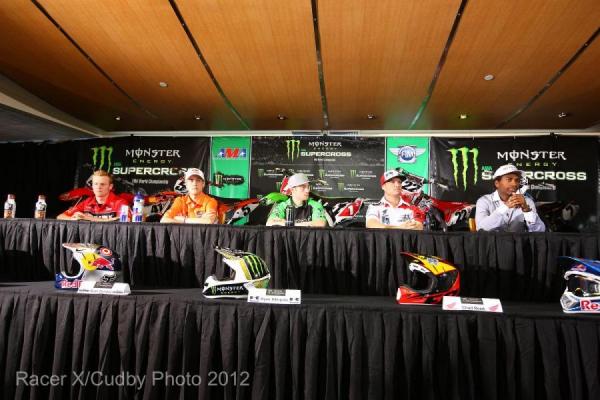 The "Big Five" at the A1 press conference yesterday.
Photo: Simon Cudby
Oddly, there seems to be only four people around here who don't have Anaheim fever, and they're the four active riders sporting AMA Supercross Championships. As usual during the preseason presser, the guys with championships on the brain are trying to keep this as low-key as possible. They want to avoid the hype of one race, and keep the focus on the big picture. For them, St. Louis is just as critical as Anaheim. For everyone else, Saturday night feels like the biggest darned race we've ever seen.
Hey, a shout-out to a cool indoor race coming to Atlanta on January 19-21. Muscle Milk is backing a race in the Henderson Area, and there's a pro purse and a pretty cool vibe going.
And now here's Ping:
It's finally here. I can't remember exactly how excited I was for the opener last year but I literally might not be able to sleep tonight thinking about the 2012 series. The press conference was, well, a press conference, with the exception of Trey Canard. Trey cracked a few jokes and had everyone laughing. Please don't send him bottles of Jack Daniel's as a gag, folks, because it will just get thrown away. Trey is a breath of fresh air when it comes to interviews, though. There are a few guys, and I won't name names, whose interviews make vanilla seem spicy. We need more Trey Canards in the sport. Actually, I'd take one Trey Canard right now. While he joked about racing on Saturday he still isn't sure it's the right thing to do. He wasn't healed completely from his leg when he started riding again this fall. He certainly wasn't 100 percent when he broke his collarbone. Hopefully he returns soon.


Stewart throwing it down at A1 press day yesterday.
Photo: Simon Cudby
I enjoy the press conference because I get to see friends that I haven't seen in a while. Ricky Carmichael is in town for A1 and he thinks RV and Stewart will be the guys who are winning races and in the hunt for the title in May.
"Those two guys are the only ones who will push the limit and really hang it out," said RC. "With Reedy and Dungey you're going to get solid efforts every weekend, but those guys don't like to go too far out of their comfort zone. Their pace is what it is."
It's tough to argue with the GOAT, but as we saw last year, anything can happen. One bad night and you give up 25 points. Reed seems to think five or six race wins will be the key to winning this title. There's no question that those wins will have to be coupled with consistency, and that is Reed and Dungey's strong suit.
I also bumped into Greg Albertyn. Albee has been missing the sport and it sounded like he was looking for something to get him involved again. I hope so. He is a great ambassador for the sport and just a good guy.
Did you catch the Red Bull New Year No Limits show on NYE? Good, because the camera crew didn't. The fog was making things difficult for the crew, and what was the biggest motorcycle/snowmobile jump ever done was sort of missed during the broadcast. Still, it was an amazing event, and I want to congratulate Levi and Maddo for an effort that was nothing short of amazing. How do you keep from thinking about the "what-ifs" in all of your practice jumps and during the down time before the big jump? Impressive indeed. Does anyone else feel a little unsettled, though, that currently a snowmobile has outjumped a motorcycle? I don't know. The universe just doesn't seem right. And, as we've been told by Tony Alessi, you don't want to piss the universe off.

Over the past five or six years I've had many people ask about my last factory ride. No, I don't mean Red Bull KTM, I'm talking about my brief stint with a Chinese motorcycle manufacturer. It is a harrowing tale and one that has been lost in an old Quark file until recently unearthed by our master designer, David Langran. So, to all of you who requested to see it again, and to those who've never seen the story, here is a link to "Chinese Takeout." Sorry for the grainy images, but this was written before the digital era. This piece is my favorite and by far the most popular story I've ever written. Enjoy.
And now Steve Matthes:
One more sleep and the 2012 Monster Energy Supercross series is upon us. I didn't go to the press conference yesterday but it sounds like some sponsorship deals were wrapped up for the next few years, which is cool to see for the sport. All the guys have been feeling good, all the guys love their bikes, and everyone has been working hard. That's just the way it is to start the season, any season in any sport as the teams and riders are undefeated! Soon the reality sets in and we see who has done the work and will be a player in each series.
We found out this week that Dean Wilson of Monster Energy/Pro Circuit is doing West Coast, which caught some of us by surprise. Wilson had wrist surgery after the MXoN, then sprained both his ankles soon after getting back into riding and does have a bit of a late start compared to some of his competitors. The decision to put him on the West was a bit of a surprise but there's no doubt he'll be ready. Racer X Films caught up with him at the Kawasaki team intro earlier this week for a lap around Anaheim with Red Arrow.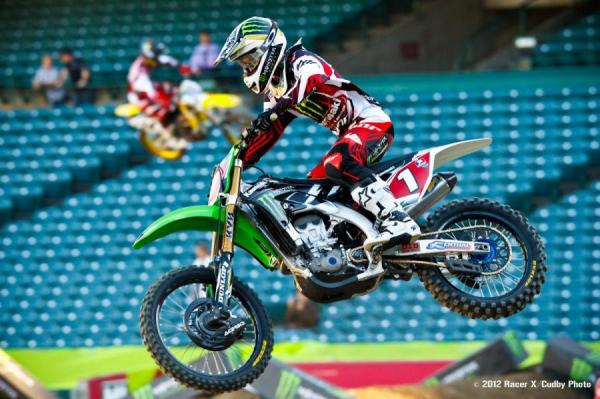 RV showing off his new #1 red plate at press day.
Photo: Simon Cudby
I was salivating thinking of Wilson, Justin Barcia, and Ken Roczen lining up on the East Coast, but either way, the East will be great to watch and Wilson just adds to the depth of the West. Wilson automatically becomes one of the favorites for the West title along with GEICO's Wil Hahn and Eli Tomac and Star Racing's Ryan Sipes.
As far as the 450 class is concerned, looking at photos yesterday it appears that JGR Yamaha has indeed addressed some of James Stewart's concerns with the girth of the Yamaha YZ450F. An all-new tank that is sleeker and tucked in and some different shrouds add up to a bike that's probably a little easier to flick around for the seven. During our podcast a little while back, James alluded to JGR "doing one thing that I asked them" in regards to the bike but wouldn't say what. Doing some digging around, I found out that he thought it was too bulbous in the middle and these mods should help.
Yamaha is notorious in the pits for not liking a lot of cosmetic changes to their bikes, and the JGR team's switch from standard KYB suspension to Showa forks last year caused some ripples with the blue guys and JGR, so this mod, where the standard plastic pieces on the side of the tank aren't even used, along with all new molded shrouds, probably caused some of the top Yamaha guys to have increased blood pressure. But in the end, if Stewart's standing on the box with that tuning-fork logo on the front of his jersey and a blue bike beside him, do the details really matter?
And speaking of Stewie, here's a detailed video we got today from Red Bull that shows James as he discusses Whoops Strategy and Theory:
A lot of people haven't been talking about GEICO Honda's Kevin Windham but the people's champ is riding well and it would be wise for you fantasy people to take a look at KW. Windham's not all about just being a field filler and has a tendency to come through when you least expect him, so I'm thinking that this weekend, with all the hype on all the other guys, the 14 could do something this weekend.
Trey Canard is not racing this weekend. Or maybe he is. But then again, his coach Tim Ferry is coming out to Anaheim and although Ferry told me Canard isn't racing, I wonder why the 1997 125 Supercross champion is making the trip out west if Canard wasn't going to at least line up in practice and give it a try? Hmmmm......
The little show that we have over on Pulpmx.com has teamed up with the friendly folks at Kawasaki to have a pretty cool contest to fly a couple of people to Anaheim and get them the ultimate Kawasaki VIP deal. All you got to do is be a bit creative.
Check it out here.
There was a new website launched this week that takes the stories of the day in moto along with some rumors, sneak peaks and editorial of the sport and combines them all into one easy spot for you to check out. It's promototalk.com and I urge you to at least click on it once.
Stay tuned to @racerxonline and @pulpmx tomorrow for all the info from Anaheim as I'll be tweeting (along with everyone else and their grandma) everything that goes on under the Big A.

And now our new intern, Haley Whisen-something [ed. note: It's actually Whisennand].

Every year, more and more people discover the unique sport that is supercross. The longer the sport continues, the longer it seems to grow. Now, don't get me wrong, I'm not talking about a huge, global expansion. But even just a few more fans a year is always refreshing. Not only does it bring in a brand new set of eyes, but it also brings a whole new generation in some cases. I've been part of the moto media community now for a little over a year and it's amazing how many friends I have made because of the tight-knit nature of the supercross and motocross communities. And every year, I know that more and more people are being exposed to the sport. This year, the fan base is going to grow even more, with the television coverage expansion that was announced. Not to mention that, with more fans, there's more people to spread the word. So, for those who are going to join the community in 2012, I welcome you.
As for my predictions, it's a tough choice for all the classes. It seems like every year, the pro ranks keep getting more and more stacked. Last year, I told myself that if the 450 class got any more stacked, that there would be no way a champion could be crowned each year. To be honest, I can see the champion being the rider who is able to bounce back from the off season at full force. Villopoto came back from the break in 2011 to win the season opener. And, though he had some rough patches, he took the SX title, as well as the 450 Motocross title, the MXoN and Monster Cup titles. I'm not even going to predict who will win the race this weekend because, honestly, there's no real way to gauge the talent. Villopoto, obviously, has the confidence coming into the 2012 season. But then there's Ryan Dungey and James Stewart, who are both on new teams, Chad Reed who never seems to lose his confidence, and Trey Canard, who proved last year that he can jump back strong from any injury. And that's not even mentioning the other talented riders in the 450 class.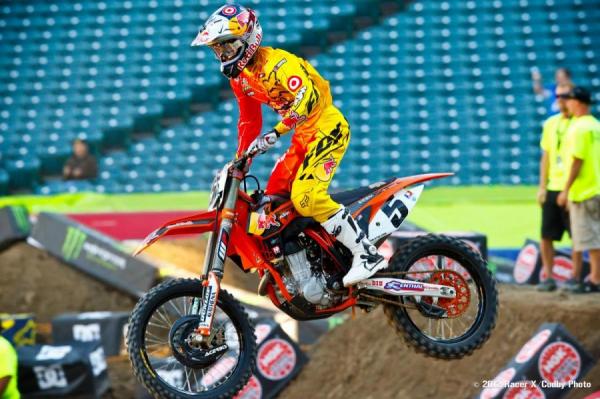 Can Dungey break the KTM streak this weekend at A1?
Photo: Simon Cudby
As for the West Coast Lites, during the preseason, it seemed like Eli Tomac, after losing the 2011 championship race by a tiny six points, was the clear favorite to take the championship in 2012. But now that the list of Lites riders that are attending A1 has been released, it goes to question if he can hold his own against the stacked competition. Not only did some of the riders from the 2011 East coast decide to switch to the West, such as Dean Wilson, but there's also riders coming over from across the pond to try out their luck in America. Mainly, Marvin Musquin. With all of these changes, as well as the numerous team changes, it's hard to say who could be standing on top of the podium on Saturday.
I can't wait for 2012 to start. If 2011 was the best season ever, then this will be the mother of all seasons. Be prepared to hang on, and warm up your vocal chords. It's going to be a trip filled with twists, turns, and lots of surprises. Everyone enjoy and, if you're lucky enough to go to even one race live, remember to soak everything in. Go in the pits, meet your favorite riders, and scream!
Okay, here's some final random note:
Now a special thank you to my old friend Steve Lewis for making good on that bet we had for a case of Stella Artois on the Orange Bowl. I'm sure Steve turned the game off early, along with every other Clemson fan, but I wanted to assure him here that the West Virginia Mountaineers did in fact stop scoring touchdowns as soon as the game ended.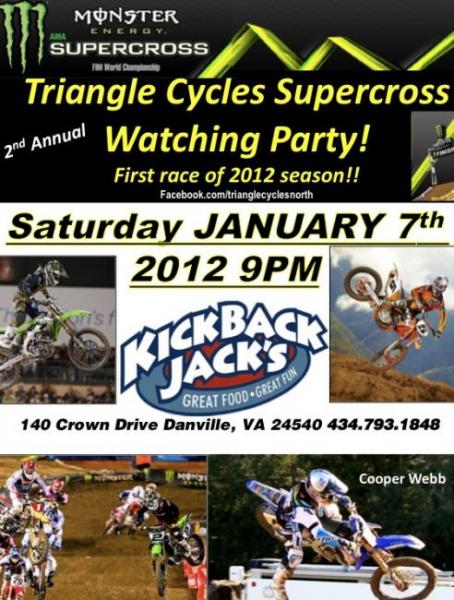 We received this inspiring note from privateer Ryan Smith, who has been growing a beard since October to raise awareness for Breast Cancer Research.
What's up guys,
First and foremost I appreciate you taking the time to read this. I have been growing a beard since October and planned to shave after Anaheim 1, I have decided to let it grow until Anaheim 2 and I will be dying it PINK for the annual Breast Cancer race. I would like to raise as much money as we can for Breast Cancer Research, I know it's a different way of raising money and most of you don't care about the pink beard but my only goal is to raise money to aid the researchers in the quest to cure this disease. I think it would be cool if we all come together, raise some money then present the check to the Breast Cancer Awareness representative at Anaheim 2! If each of you donate $1.00 it will add up, no donation is too small.
You can donate on PayPal, the account is mxhonda931@yahoo.com
Thank you for your time,
Ryan Smith #831
And congratulations to Red Bull KTM for having the coolest media kit of 2012, with this slick USB jump-drive, following in a close second by Kawasaki, which had a KX motorcycle carved out for theirs.
HOLY SMOKES I was wrong, the Mountaineers scored again!
A few weeks back we gave away a sick MOTO3 Element iPhone case. It fits all iPhone 4 and iPhone 4s phones and is priceless! You can't even buy this special edition case (similar Vapor Pro cases from Element start at $129.99). We were able to get our hands on one more, so we're going to let you have at it again. This time, it's easy. Just send a photo to contests@racerxonline.com of your Anaheim 1 party setup, in your man cave, living room, or neighborhood bar. Be creative, and we'll choose what looks like the best viewing party setup photo and the case is yours. And for some reason if you haven't already, go check out MOTO3 at www.MotoXCinema.com. Alright, now get planning and send your party setup picture to contests@racerxonline.com.
eligible to CONUS residents only.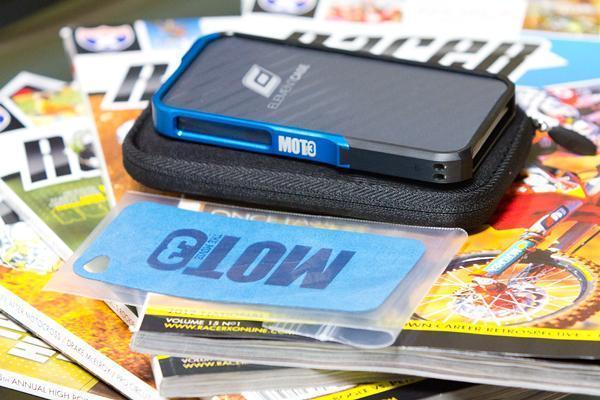 Okay, that's it from the Big A for now, and that's it for this week's Racerhead. Stay tuned to Racer X Online all day tomorrow for info, Racer X Films, and behind-the-scenes coverage of the Anaheim Supercross. And also check out www.supercrossonline.com for series info, films and updates, and live timing and scoring. Thanks for reading Racerhead, see you under the Big A.