Angel Stadium
Anaheim

,

CA
Anaheim I (A1)
Monster Energy AMA Supercross Championship
Monster Energy Kawasaki's
Ryan Villopoto
had the kind of year most riders can only dream of. Winning the supercross and motocross 450 titles in 2011 represented the completion of a climb to the top of American Motocross that was delayed a few years because of injury. Added to his three 250 motocross titles, it puts RV right up there in the pantheon of SX/MX greats.
But he's not quite done yet. The 23-year old from the Pacific Northwest certainly didn't dominate either series, as we saw some of the most competitive racing in the American series in years, but anyone who went to the races would have a tough time saying Villopoto wasn't the fastest rider all year. And with that fact comes the two titles and the cruel question: Can he do it again?
There are plenty of reasons to think RV is set up nicely to repeat. His main competition has all experienced some change, except for Chad Reed, who is coming into the season behind a bit in testing after suffering a minor preseason injury in November. And among the other riders to win a race last year, Trey Canard is hurt and may miss a race or two, and even if he makes it to A1, it's going to be some tough sledding in the beginning. Ryan Dungey has switched to KTM, and James Stewart, while remaining with the same brand, is on a different team and a bike he fought to get set up properly last year.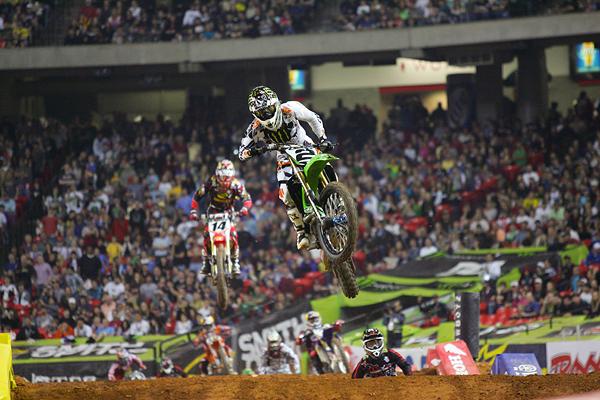 Villopoto is a favorite heading into A1, but can he repeat as champion?
Photo: Andrew Fredrickson
The only constant is Ryan Villopoto. Same bike, same team, same mechanic, same trainer, and the same everything else that proved to be so strong last year. And that program keeps improving. We saw how much better Ryan got when Kawasaki rushed the 2012 KX450F into race mode halfway through the nationals last year. RV won five of the last eight motos on the new bike and dominated the Monster Energy Cup.
But there is one big change. What's it like, mentally, to be the guy coming into the season with the bull's-eye on your back? Surely the pressure is there with wearing the #1, and mentally it's got to affect you, right?
For more on that, I called up a guy who was in Villopoto's spot in 1998. Jeff Emig, now the color commentator on Speed for the supercross and motocross series, swept the indoors and outdoor titles in 1997 and was the simply the man in American Motocross at the end of that season. Emig struggled through that '98 season, though he doesn't think Villopoto will fall into the same trap.
"I definitely think that my experience and his are going to be different," Emig says. "He's going to be driven and determined to keep winning. I look back at me in '98 and I didn't reset my goals. I reached my goals and was just coasting. I did think I was just going to keep the train rolling, and I felt like I had what it took, but by the third race it had come unraveled. I was a lap away from winning the opener, got third at the next race, and then a couple weeks later in Seattle I went backwards."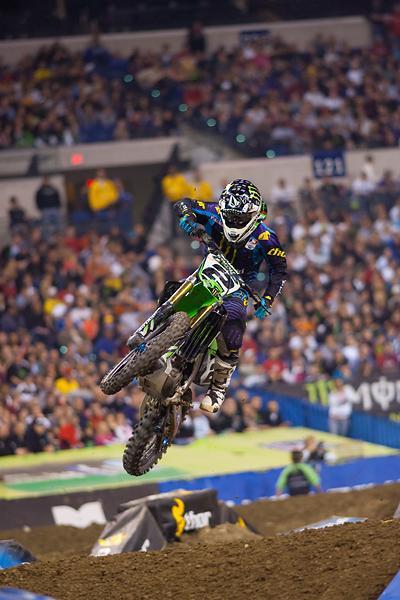 Villopoto is looking for a fast start to 2012 this weekend in Anaheim.
Photo: Andrew Fredrickson
Why doesn't Emig think that Villopoto will encounter the same issues?
"I just think he's going to be much more focused and more confident than I was," he says. "Look, the guy won the Lites title outdoors for three years, and every year he went back into that class, he had the pressure to win again and he did. He's one of those rare athletes that steps up when it's time."
What does Emig think of Ryan's chances to repeat?
"I like them. I think he's going to have the best of both worlds where he has the outright speed to win races as well as be able to play it safe. Look at the guys he's going up against. James Stewart is thinking about winning Anaheim 1 and nothing else—that's what he does. He tries to win every single race. Ryan Dungey and Chad Reed are going to have the strategy of being on the box every race. I think RV is going to be thinking that he's the man, and he's going to win Anaheim. And I think that mentality will be enough to stop James Stewart."
Injuries conspired to hurt Villopoto in his first two years in the big-bike class, but getting in shape and getting older have enabled him to reach his goals. He's going to face some stiff challenges in order to repeat … but does anyone really want to bet against him?