Angel Stadium
Anaheim

,

CA
Anaheim I (A1)
Monster Energy AMA Supercross Championship
By Steve Matthes and Aaron Hansel
10. MotoConcepts' Concept:
Unhappy with the support (or lack thereof) he was receiving from the manufacturers, team owner Mike Genova decided to take a much different approach to racing this year by fielding a team of riders on multiple brands. A multi-brand team isn't something you see every day in the pits, but Genova is excited about the possibilities. The departure from Yamaha also means that the team's star rider,
Mike Alessi
, is free to get back in the Suzuki saddle. Granted, Alessi has never been a dominant force in supercross, but if he starts ripping holeshots like he did when he was on a factory Suzuki, he could pull some solid results and keep MotoConcepts on the industry radar.
9. Team Wild Card: The The Dodge Motorsports/Hart and Huntington/Sycuan Casino/Loc-Tite/Kawasaki/we'vegotmoresponsorsthananyone team is showing up at Anaheim 1 in a big way. They have added another semi-truck and are running a four-rider team. The stripper poles and beer pong that used to fill this team's pit area has been gone for a long time. They are ready to go racing and make a mark in the sport, and they have the talent to do it. With solid veteran Ivan Tedesco leading the way, a coming back from injury Josh Hill, a coming back into the 450 class with something to prove Josh Hansen and the best ride he's ever had Kyle Partridge, the team is the wild card in the pits.
We know what we're going to get from Tedesco but Hill, Hansen and Partridge are the ones we're not sure about. Before Hill hurt himself, he was a top five-to-podium guy in every single race and was really coming into his own. Hansen's been in the class before and failed. He could have stayed in 250s for another year and probably done pretty well but he wanted the challenge of the big class and obviously has something to prove. And Partridge showed some good speed at the Monster Energy Cup.
This is either going to end up with Tedesco in the top ten and three DNQ's, or all four guys are going to make it and do great. There's no middle ground with this team, and that's why we should all be watching.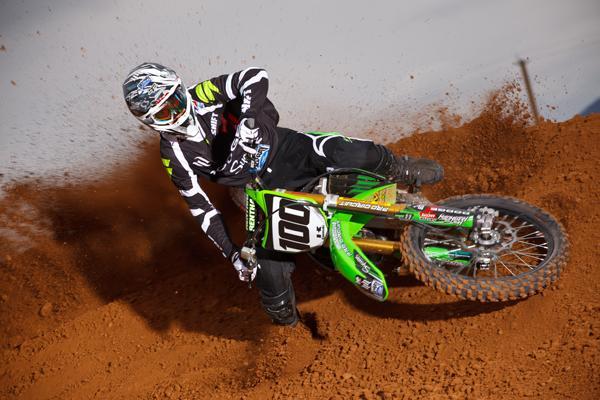 Hansen and the H&H team may be the biggest wild cards entering A1.
Photo: Simon Cudby
8a. The 250 Class: We told Matthes to write this one, and he said, "I would love to write about the 250 Class but since a lot of teams are not disclosing who's racing what coast, I'll just skip it. Maybe someone from a team will read this and think about how they missed out on some press because they didn't want to tip their hand in case of a last minute injury.  Thinking that your east coast riders are going to be on the couch drinking beer unless you kept them on their toes wondering what coast they're riding is ridiculous. I think that Eli Tomac, Dean Wilson, Blake Baggett, Wil Hahn, Justin Bogle, Justin Barcia, Blake Wharton, Jason Anderson, Martin Davalos, Matt Lemoine, Ryan Sipes, Kyle Cunningham, Kyle Peters and Nico Izzi are all looking great for the west coast. Or whatever coast they're racing."
8b. We do know Eli Tomac will race West: Last season, Tomac lost the Western Regional SX Lites championship to Broc Tickle by a mere six points. This year, Tickle will be racing a 450, as will Tomac's other West Lites antagonist, Josh Hansen. This leaves Tomac as a heavy title favorite, and no matter who joins him in the west, look for him to be running at the front and battling for wins every time the gate drops as he attempts to bring home the championship he came so close to winning last year.
7. CRtwotwo: Last year we had no idea what to expect from Chad Reed. This year we do—he's going to be up front. Armed from the get-go with a factory Honda, and with a larger staff packing even more experience, Reed will shock no one if he brings an early race win to his team.
6. James Stewart: Yep, it's that simple folks. We know what we're going to get from guys like Villopoto, Reed and Dungey, but what will we see from Bubba? If he was on another color bike, I think we'd all be more confident of what we're going to see, but with Stewart staying blue (albeit on a JGR Yamaha) most of us are wondering which James Stewart is going to show up at Anaheim.
Will it be the guy that won something like 90 percent of the races that he didn't crash in? Or will we see the guy who was actually caught and passed by Ryan Villopoto and Chad Reed at times last year? Will it be the guy that we saw wash his front end in turns, endo in the whoops and make weird mistakes? Or the guy who went quad-quad at Anaheim 2 last year and ran away with it?
Stewart didn't like his Yamaha last year but by all accounts of the insiders, he very much likes the JGR version, and we know that team is going to unveil something pretty trick on Saturday morning. Prediction? He's either going to kill 'em on Saturday night or he'll crash. Yup, get ready for some more hijinks!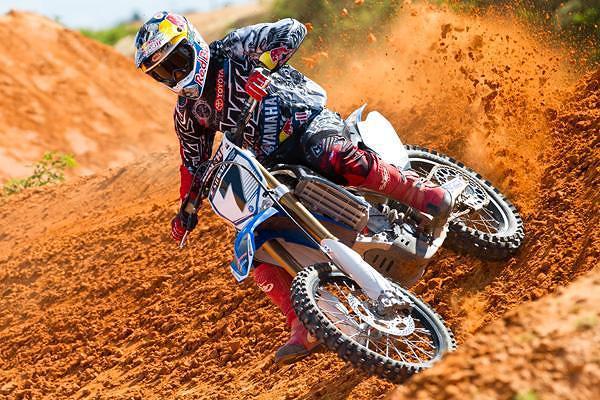 What James Stewart will we see at A1?
Photo: Garth Milan
5. RV1: Monster Energy Kawasaki's Ryan Villopoto lowered his number by one which means he's going to have the target on him at the races. All eyes will be on RV to see if he can keep on hauling butt. There's not much doubt that Villopoto, who continued his relationship with trainer Aldon Baker, will be coming in fit, fast and fealthy (that's healthy with an "F" to make it sound catchy).
With the new 2012 Kawasaki KX450F under him (a bike that seemed to be the spark he needed last summer), we have fewer questions about Ryan than we do for the other contenders. We know what we're getting and barring injury, he's going to be there right to the end.
4. Dungey's New Ride: You wanted questions? Well here's a whole bunch of them right here with the number 5. We're not worried about Ryan, though, we know he'll be ready to go and will be fast. But with apologies to Lance Armstrong, this is about the bike and more specifically about Dungey's all-new KTM 450SXF.
From Mike Fisher to Cliff Palmer to Jeremy McGrath to Nick Wey to Mike Alessi to Andrew Short, KTM has never made the podium in the premier class in supercross. To advance from that stat to go all the way to the top of the points by season's end is a pretty big task. And it's not like the bike Dungey's racing is tried and true. It's all-new! The learning curve will be steep for Ryan and his team but I have no doubt they'll figure it out soon enough and that podium-less streak will end this year. But last year, even on a proven bike, Ryan lacked some of the speed that his competitors had. This year, I think it's fair to say he might be lacking a bit in the bike department. At least for a while.
3. Trey Canard's Impact: Will he race? No one really knows quite yet, but he's back riding from his collarbone break and even if he lines up at A1, his fitness will probably not be where he wants it to be. Canard has to tip-toe a fine line when he does get back because no one, especially not himself or Honda, wants to see him back on the sidelines. The #41 will be a factor for race wins at some point, but as far as this Saturday? We'll just have to see.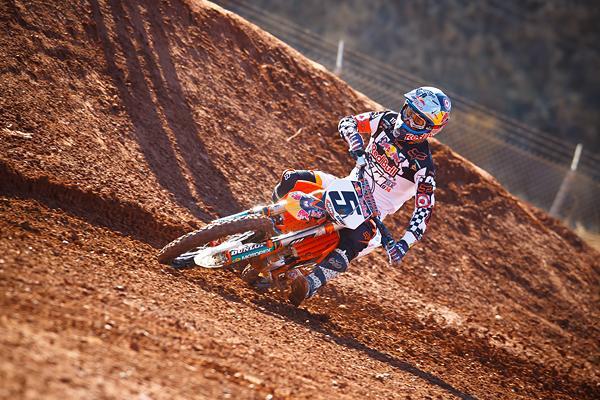 Can Dungey break the streak at A1?
Photo: Simon Cudby
2. New Faces and Old Places: Andrew Short didn't have the best year of his life in 2011, but his results weren't as bad as you think. He finished sixth in the points and nabbed a pair of fourth-place finishes on a bike that was 100cc's smaller than the ones he was racing against. Now he's back on a 450, and a factory Honda at that with the new Supercross.com team. He's got Larry Brooks and Jeremy McGrath backing him. Will Short's situation give him the edge he needs to get back on the podium? What about Justin Brayton? Does his move to Team Honda give him the edge he needs to become a podium guy?
Meanwhile, other riders are staying put. Monster Energy Kawasaki's Jake Weimer gets to hit reset after breaking his arm before the 2011 opener. Davi Millsaps gets a do-over with JGR after a sub-par supercross season. Brett Metcalfe is back with Suzuki after missing half of the year last year with injury. And you can never count out Kevin Windham, racing year infinity on his GEICO Factory Connection Honda.
1. The Opener Effect: Whether it's Sebastian Tortelli coming from way back to take the win in 1998, Ricky Carmichael crashing out in 2002, Josh Grant winning in 2009 after Chad Reed and Stewart crashed into one another, or Reed pulling out with wheel damage in 2010, the season opener has a way of producing some wild and unexpected results. Will 2012 keep with A1's reputation of unpredictability?