By: Alex Gobert / MotoOnline.com.au
JDR Motorex KTM's Matt Moss won his third Monster Energy Super X, Australasian Supercross Championship, in the Pro Lites class at Ipswich's season finale in Queensland on Saturday night.
The 23-year-old has been at his best in 2011, winning both the MX Nationals and Super X titles in his return to Australia, which has seen JDR Motorsports reward him with a position on their KTM-supported AMA team for next year.
Moss has already had a full season in the U.S. back in 2010 as teammate to Ryan Dungey at Suzuki, however he vows that his experience and comfort with the JDR team in Australia will carry over into his racing in America upon return.
Racer X: You've just won your third Monster Energy Super X title in the Pro Lites class, not all in a row, but now the championship is yours again. How does that feel?
Matt Moss: Yeah, today was just a great day, you know? With a 22-point lead coming in, my nerves were sort of settled. It's hard to lose a championship in the final round with that kind of lead, so if you lose it you deserve it. I got a good start, sat in second and then got into first toward the end. It means a lot to me to win the night and to win the championship.
I'm going to America with the same team, so it's a dream come true for me. The team is great, everyone around me is great and I couldn't be happier. When you're happy, the results show it, so I'm looking forward to America and just can't wait to get there. I want to prove everyone wrong after I had such a bad year in 2010. I want to say look at me now, so let's hope I can beat those top guys.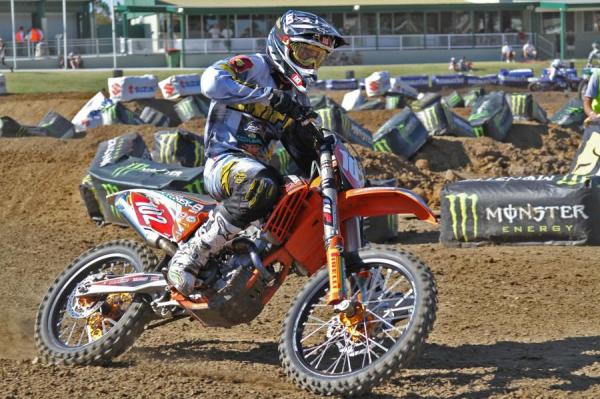 After winning his third Super X Lites title Moss is heading back to America.
Photo: Alex Gobert / MotoOnline.com.au
In Super X we have mixed formats for much of the year, but to finish the year we had the traditional 15-lap final in the Lites. It seems like you enjoyed that.
I did, yeah. I had a bit of arm pump at the start because I was riding tight, kind of thinking about the championship. Halfway through, I was like, let's go for this, I want to get the win. I've been practicing my butt off, doing 25-lappers at home. The 15 laps were nothing for me, I just had to get rid of that arm pump and try to charge for the lead.
It was great for me, a bigger track and not too much shorter than what we'll have in America next year. I just can't wait to get over there, test with the WP guys and get everything sorted. The bike is apparently awesome. Malcolm Stewart is here and said the bikes are great, so I'm excited to do some solid laps.
I remember when you came back at the end of last year, you said that 2011 would be a rebuilding year with the JDR team before you hoped to head back to America with them. Now you have two titles and a contract for America. I guess it's all going to plan.
It feels great because when you set a goal and reach that goal, the feeling you get is hard to explain. It's just a great feeling when you realize you've done it. I had the goal of going to America and JDR are getting me over there. They are doing the hard yards just as much as I am, so it's a big team effort and I know for a fact that JDR really wants a championship in the AMA.
I believe next year I'll be that guy to do it. I'm healthy and – touch wood – I haven't done anything stupid. I think I've matured a lot as a rider and supercross is what I like to do, so I'm looking forward to it.
When you were in America alongside Dungey you were on the 450 as a rookie and you were also injured for much of the year. Do you feel like that experience will be a big help for next year?
It'll help me a lot just knowing what it's like to travel so much, knowing how hot it gets and also knowing the tracks. But you know, it was a bad experience for me, so I have to look at the positive things. If that didn't happen then I probably wouldn't have been on JDR, so everything happens for a reason and you just have to take those positives.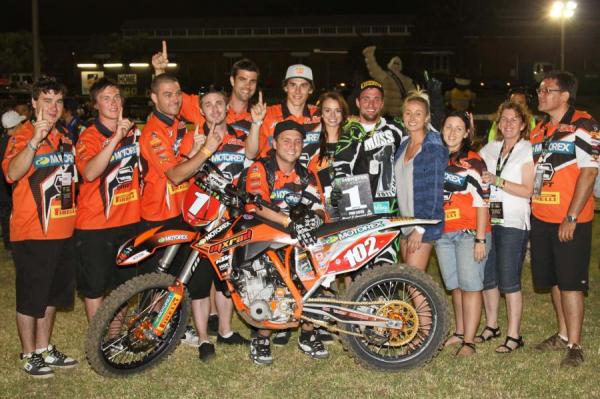 Moss and JDR are hoping to capture an AMA title to go alongside their Super X title.
Photo: Alex Gobert / MotoOnline.com.au
Last year was a bummer year, but Jay Rynenberg sat down and he committed to me. When someone commits to you it feels really good – makes you want to improve and do good for them. I've done what we set out to do this year, so over there next year they have a great team, a great structure and great mechanics. I'd love to take my mechanic from here, but apparently that's not happening.
I just want to get over there and win. I'd love to be Chad Reed, they are big shoes to fill and I know my limits, but I'm just going to give it my all. I want to get over there and wrap up a couple of championships, just enjoy life.
Are you heading straight over, or having some time off now that Monster Energy Super X is finished?
I'll head straight over. I've had to go to des Nations and I think I only did one day of testing in supercross before this season. Unfortunately I haven't had that much time on the bike, because it's only five weeks of riding in Super X. If you're tired after five weeks then you might as well give up.
I felt like I haven't hit my peak yet and didn't want to during the season before I go to America. I have three months until the first round, so I'll just get there and give it my all. I need to get a little bit fitter, work on some things that I feel I need to, and then try to win races.
Well congratulations, it's been a pleasure watching you all year long in 2011.
Thanks mate!