Another Friday, another airport, another bunch of meetings on American Motocross. I'm in LAX as I write this, having made a quick trip out here to check out a very interesting new motocross facility in Southern California, as well as a short meeting with some old moto friends. Now it's off to Las Vegas for tonight's Motorcycle Hall of Fame Induction Ceremony, where a couple of longtime friends—LeMans/Parts Unlimited founder Fred Fox and legendary race promoter Stu Peters—will be honored as part of the Class of 2012. And then it's right back home tomorrow morning to West Virginia.
The 2012 Lucas Oil AMA Pro Motocross Championship schedule will be released next week. It will be tentative, as far as the last two rounds on the schedule go. If you read Racerhead on a regular basis, you know I have been adamant about finding the right facility in the Southeast to move an event to, which has meant a dozen trips down there in the last two years just to check places out. I have another trip planned right after Thanksgiving, but we can't hold up the rest of the schedule as we try to find a new home for American Motocross down there. If we do find a suitable home and a workable deal, it's not too late to make that change for 2012. But we're still waiting on some responses and some visits—this has been an exhaustive task, to be honest, with a lot of moving parts. No one wants to give up their national, which is a good thing—unless you're waiting for that race in the Southeast like I am. There's still a chance, but there's also the growing likelihood that it won't happen until 2013. We are simply running out of time, and these are big races to move and big deals to work through.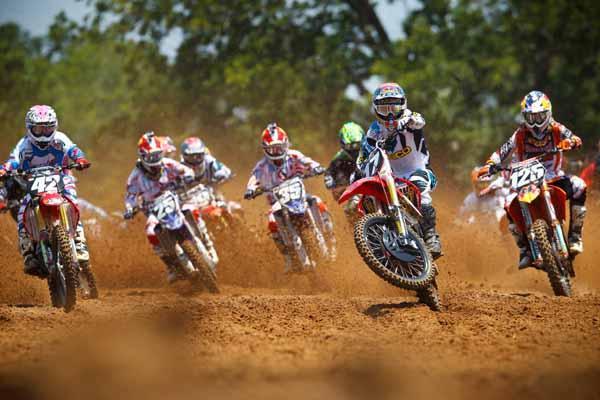 Seems like this year's American Motocross tour just ended, but 2012 is already shaping up as bigger and better.
Photo: Simon Cudby
The new broadcasting partnership with NBC Sports was already announced. Having NBC as an across-the-board partner for American Motocross will help us grow the package even more as we develop programs and grow the live coverage, so there's more announcements to come there. But some folks took umbrage with the fact that the first motos would no longer be live on FUEL, which is understandable. But it was shaping up as a choice between restricting coverage to that network and stop streaming the races online. With today's rapidly expanding online audience, and the huge international interest in the series, that wasn't going to work. There are too many fans all over the world who want to see their favorite racers as they compete here, and everyone can see them online now. So the first motos will continue to stream live and free online, and so will the Women's Motocross race. Nonetheless, we're still working on a domestic plan to also show the first motos live on television.
Here's the Sports Business Journal story on expanded motocross TV deal with NBC Sports.
And here's more on the TV package from EPSN.com.
Sorry there's so much business stuff, but that's consumed my last few weeks. Ask my wife and my kids.
The dates for the Areas and Regionals of the 2012 Red Bull Amateur National Motocross Championships at Loretta Lynn's Ranch will also be announced this afternoon, just as much of the amateur motocross fraternity packs up and heads south for the Mini Os at Gatorback Cycle Park in Gainesville, Florida. It's basically the last race of 2011 as well as the first big race of 2012. Good luck to all of the riders and their families over the always-fun and competitive Thanksgiving moto classic.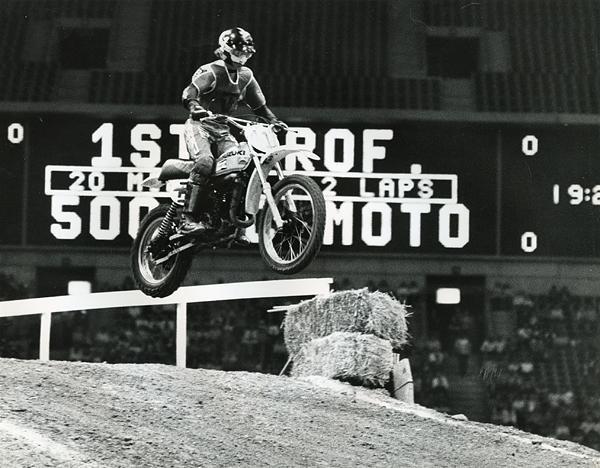 Godspeed, Monte McCoy
This marks the 40th Anniversary of the Mini Os, and it comes just as one of Florida's all-time fast guys, Monte McCoy, passed away last weekend while riding at a local track. And then last night I received news that another great old friend of our sport, Dane Leimbach, lost his battle with cancer. Dane was a Gold Medal-winning ISDT rider and a lifelong enthusiast. He was also a member of the Team Green family for many years. Both Monte and Dane will be sadly missed.
Switching gears, here's a glimpse of Taylor Congdon's exceptional new film Moto3, featuring Racer X's 2011 Rider of the year, Ryan Villopoto, as he prepared for the season:
One trip I did not get to make this year was to Kevin Windham's Party in the Pasture down at his home in Centreville, Mississippi—the best and biggest backyard party I have ever attended! But Racer X contributor Matt Ware did go and will be posting a video soon.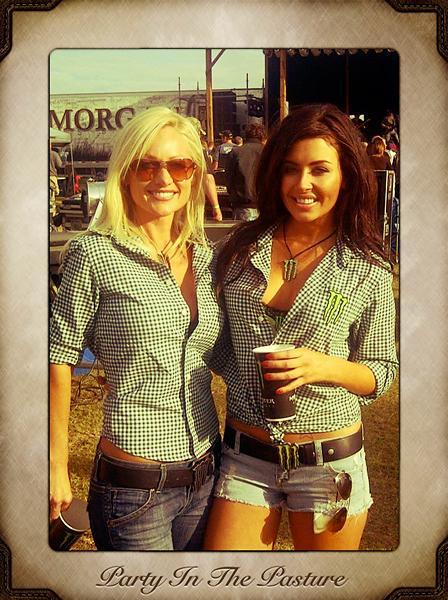 Here's Kelly Louch and Gemma from Miss MEC fame at K-Dub's Party in the Pasture...
I was helping out our friends at
Moto Verte
with a piece on KTM's new push for U.S. success by asking Mitch Payton if he thought it was possible for them to begin the top team in American Motocross. Mitch answered, "If you would have asked me four or five years ago, I would say no.... But they obviously have done a great job in Europe, and you can't disrespect them. Over the last few years they have worked really hard on their equipment, they have made a huge investment, and their bikes are winning over there. That's where they're from, that's who they are, and that's been their point of focus. Now they have decided to get back over here, and they have the man they think can do it in Dungey.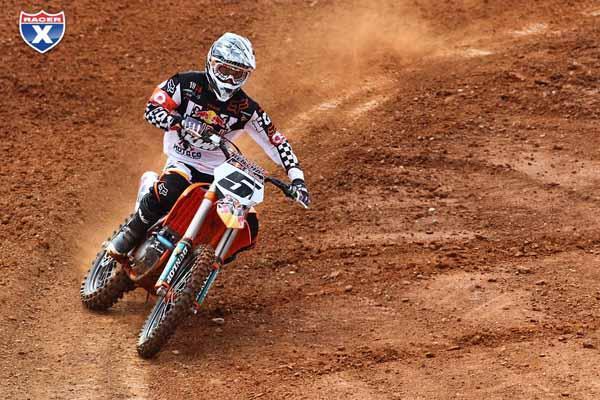 KTM is hoping Dungey can push them to the forefront of American motocross.
Photo: BrownDogWilson
"I don't know.... They sure look like they are giving it all they have. But I think the really great thing about racing here in the States is that everyone gets their shot at it. You have all kinds of teams in the pits with good riders and good bikes and some race wins and titles under their belts. It's like the lead spot just bounces around here from time to time. That 's the one thing that makes it so good in America—we have so much depth that all of the success doesn't just stay in one pit area all the time like it does in Europe. And now it's getting even more competitive. They say 2011 was the best year, but I think 2012 could be even better in both classes."
In our January 2011 issue, Nick McCabe wrote a story about the short, glorious history of high-school motocross racing. Yes, once upon a time there were actually high-school racing teams, especially in Southern California. Well, someone posted a video recently on YouTube for one of those rare events: Canyon High School, 1975. Check it out:
The second week of the 2011 GoPro/Racer X Amateur Film Fest is in the books, and the second contestant to advance to the finals and join Ian Gutierrez is Pescadero, California's Nick Gust. Huge congratulations to Nick for making it to the finals, which begin on Dec. 2.
Week 3 is now underway. This time it's a heated battle between Robert Slate and Will Posey. You decide who makes it to the finals for a chance to win an awesome prize package from GoPro, Answer, MSR, Pro Taper, and Racer X.
Watch and vote now!
Okay, here's Ping:
Do you ever catch yourself checking out the murals on the sides of U-Haul vans? There are so many amazing places in this country, and U-Haul really seems to capture them with images of patriotic locales such as Mt. Rushmore, Yellowstone National Park, Glacier National Park, Unadilla…. Wait, what? Reader Jaime Rivera sent me this photo on his way to work. I'm pretty sure that motocross riders on pizza boxes and U-Haul trailers are a sign of the apocalypse.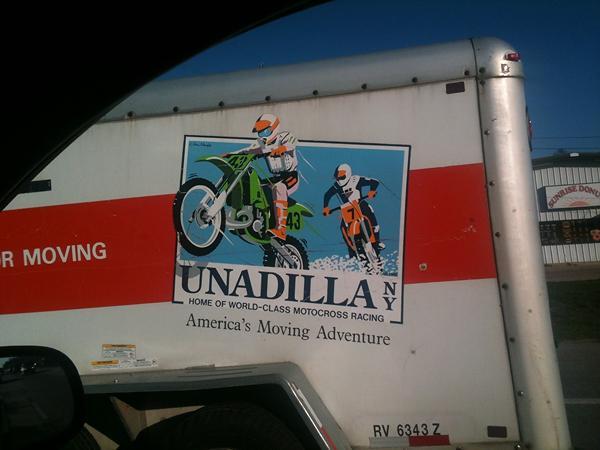 Few people are more interesting to me than Micky Dymond. He is one of the most introspective and unique personalities this sport has ever had. I consider him a friend, but I'm also just a big fan. Recently he's been working on a project that is, for those that know him, very "Micky." Do yourself a favor and check out his latest undertaking, where he is helping a guy set the world record for distance jumping on a motorcycle. The kicker? The guy he's helping is blind. Mick, you are amazeballs, dude. Check out his website for more.
I like the first version, but both are great. Click HERE to view first version, and HERE for the second.
I dropped by the Deft Family office (Nate Adams' house) this week to chat with Nate and catch up. He's has been rehabbing a shoulder/arm injury he sustained a few months back after having a pretty stellar 2011. Nate won three out of four Red Bull X-Fighters events as well as two gold medals at this year's Summer X Games. His fledgling glove company is doing well, and he has been "going steady" with a girl for almost four years. It's good to be Nate Adams right now. His business partner, Logan Darien, is doing well after his scary crash this fall. Logan basically lost about a week of his life before his brain "clicked" back on.
"I don't remember much about the day that it happened or the week that followed," Logan said. "I remember all of a sudden I was sitting in my hot tub, and I looked over at my parents who were there, and I was like, 'What are you doing here?' And right at that moment I was back with it. They told me what happened, and I remember everything from that point on. It was weird." It sounds weird!
I picked Justin Brayton as the 450-class sleeper in 2012, and I have a 250 guy for you who is going to do big things next year. If you're working tirelessly in your nerdery with other nerds online constructing the perfect virtual nerd race team, you need to add Jason Anderson to your roster. It was a rough year for the kid but he's doing the work right now and he has "it." You heard it here first.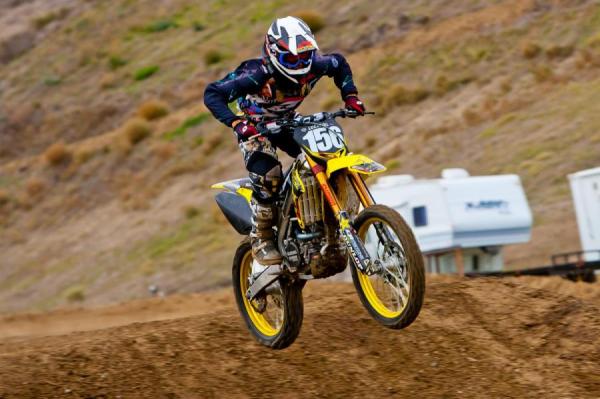 Jason Anderson is looking to rebound in 2012 after a tough rookie season.
Photo: Matty Fran
The annual Day in The Dirt motocross grand prix at Pala Raceway is one week away. If you live on the left coast, be sure to sign up for some of the events and check it out. The Moto-A-Go-Go team race on Sunday is always popular and filled with good people. I'm teaming up with Jimmy Albertson on that one, and if we don't win we're going to make sure we have more fun than anyone else. A first-place trophy would be better but, you know, I'll take what I can get. There is practice on Friday and a Saturday night go-go party trackside that will be a good time. Go to www.adayinthedirt.com for info and to sign up.
I've been helping a kid named Bryce Vallee this year. If you don't know Bryce, he is a second-year pro who is pretty much doing things on his own dime. He works hard and has a lot of talent, but I'm most impressed by who Bryce is off the bike. Every year he takes a weekend to work with kids from the Make-a-Wish Foundation, teaching them to surf. The annual event began seven years ago when Bryce's local Rotary Club joined with the local chapter of the Make-a-Wish Foundation to give free surfing lessons to kids suffering from cancer and other serious conditions. Bryce, who has been surfing since age 5, volunteered that first year and every year since. This year, Bryce was teamed with 14-year-old Allison.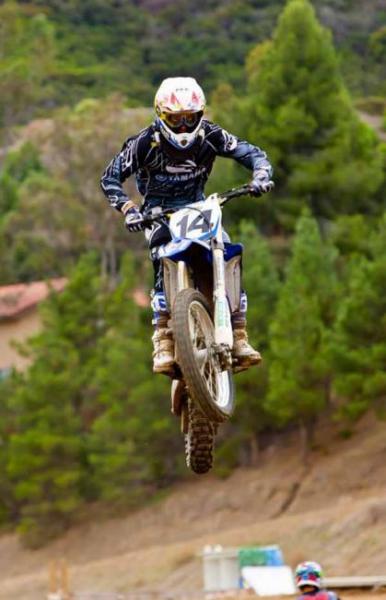 Bryce Vallee is as impressive off the track as he is on.
Photo: Matty Fran
"Despite her condition, Allison charged all morning," Bryce said. "She began getting up on the waves on her knees but after a few waves was standing and surfing all the way to the beach!"
Bryce also donates his time with Kids At Risk and with his church, Panic Rev. He'll be running the #90 in 2012, and he's a good kid to root for. His racing is supported by Wireless Works, Law Office of Jeff Larrimore, Wave Dancer, Bettencourt State Farm Agency, Yamaha, North County Yamaha, Pro-Tec, DrD, Applied Racing, Pro Taper, MSR, Truth Soul Armor, DT 1 Filters, Mantis United, ICON Sports Performance, Custom Decal, Panic Rev, Gaerne Boots, Torco Oil, 3GR.com, ValleeLaw.com, Enzo Racing, Leatt Brace, Bridgestone Tires, and Braaap Energy Bars.

Okay, time for Steve Matthes:
Well, folks, there is racing this week at the professional level. There are a couple of things going on. The Endurocross is in town this weekend here in Las Vegas and I'm going to go check it out. If you've never been to one of these things, I recommend it highly, as they are full of excitement, and although you will buy a whole seat, you'll only need the edge.
This weekend marks the final round of the series that has so far seen KTM's Taddy Blazusiak dominate the series. I met Taddy at Bercy, as he was a guest of the Eric Peronnard, and he seemed like a nice guy. I'd like to see what he could do on a supercross track. I bet he would be pretty good. Talent is talent, and Blazusiak can ride with the best of them over some tricky terrain.
Over in Italy, Chad Reed and Justin Barcia are among the racers competing in the annual Genoa Supercross. Should make for some interesting races over there as well, and I believe this is Reed's first European supercross in a long time. Probably since Bercy in 2004 or so, methinks.
"Top" Jimmy Alberston has inked a deal with the BTOSports.com/BBMX Suzuki team for 2012. He'll be racing a 450 in both SX and MX for the guys and be teamed up with Michael Byrne and Jason "Da German" Thomas. The team is also using JGR motors and suspension in 2012, and I look forward to seeing how that venture works out. It should be great for both sides as JGR gets some established riders to use their work and BBMX gets that one on one service that every team craves for.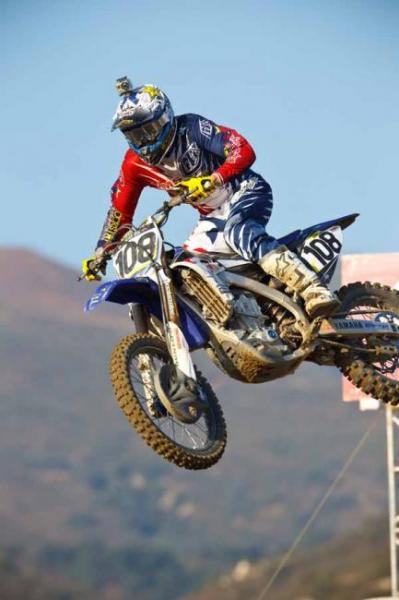 "Top" Jimmy has inked a deal with BTOSports.com/BBMX Suzuki team for 2012.
Photo: Simon Cudby
Last word I heard about Tommy Hahn was he's picking up some Hondas and going the privateer route, and the rumors are that the Larry Brooks/McGrath team isn't going to add a second rider, which leaves potential pick-up Kyle Regal also loading up the van and hitting the road.
Trey Canard is just back riding his Honda this past week, and for now he's sticking to the motocross track to get his riding shape back and make sure he's 100 percent ready to go for Anaheim. Look for Canard to pull off some his of his ridiculous scrubs real soon.
I did a podcast with Mike Webb, the team manager of Suzuki this week, and what an interesting listen. Webb has been in the industry a long time and has some great stories. He also gets into detail about his relationship with Ryan Dungey and what he believes to be the reasons Ryan chose to go to KTM. He never felt like he was able to get in there and gain Dungey's trust, as Ryan just really believes in Roger DeCoster and had his eye on going orange (no doubt with some conversations with RD prodding him along) pretty much from the start of the year.
Anyway, it's a good listen and I encourage you guys to check it out.
Once you read everything on here, check out Pulpmx.com for more silly stuff. And listen to the Pulpmx Show this Monday with Kenny Watson and myself. I guarantee you will learn something, even if you wish you hadn't.

MISC:
And now for something really stupid.
Our own Simon Cudby has a 2012 Motocross Calendar that is published by Motorbooks International. It is available in many calendar stores world-wide. Check it out here.
Good Luck to TZ22 and the University of Maryland Field Hockey Team in the NCAA Final Four this weekend in Louisville! Go Terps!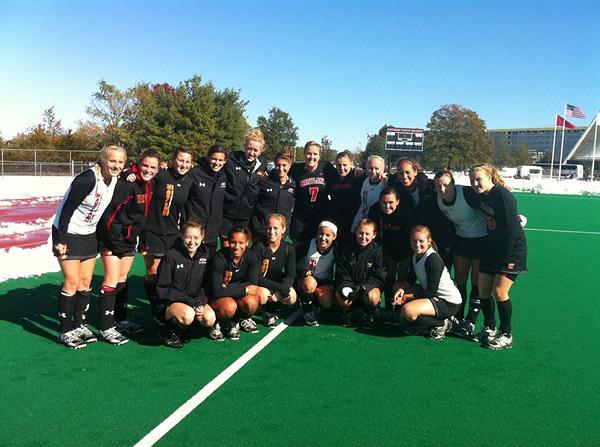 If you missed the special offer going on over at www.motocross101.com you should click on the link below and check it out. Those who purchase the Nobel Prize-winning* DVD between now and December 20th will be eligible for a weekly prize and also be included in a grand prize drawing, which includes a new TLD SE3 helmet (signed by all the team riders) and an Epic HD Action Sports helmet cam to go with it! The weekly prize packs include tees, hats, stickers and other swag from Renthal, Pro Circuit and Troy Lee Designs.
Pick up your copy now!

*Not the actual Nobel prize.
That's it from LAX—time for a plane ride. Thanks for reading Racerhead. See you at the races.