By: Jason Weigandt and Chase Stallo
We're going through a stash of our best 2011 racing pictures before they go into the archives. Today, we look back at Yamahas season in supercross.
For a look back at Honda's SX season, click here, for a look back at KTM's season click here and for a look st Suzuki, click here. Check back next week as we take a look at Kawasaki!
King of the Heat Race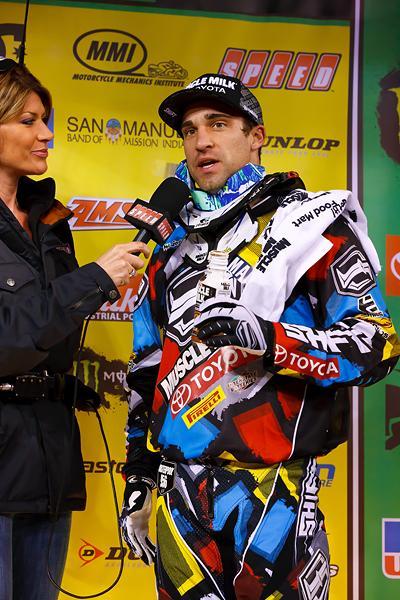 With a massively stacked field that would eventually produce what many said was the "Greatest Season Ever," the first 450 heat race win of 2011 came from...Justin Brayton??? The Muscle Milk JGR Yamaha rider indeed proved he could be a player, and notched another heat win later in the year. He couldn't turn that speed into a main event podium against this field, but Brayton, once an unknown from the Arenacross ranks, has proven he can run with the best in the SX business.
Stewart Back on Top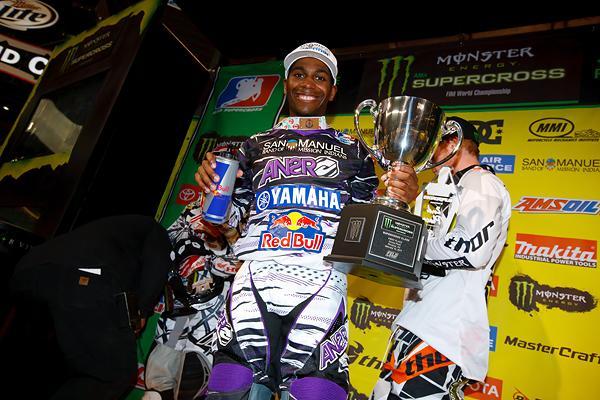 After missing nearly the entire 2010 season with a wrist injury incurred in Phoenix,
James Stewart
came back and won the Phoenix race 365 days later. At Anaheim 1, Stewart looked like the fastest rider in the class but suffered from a bad start. At Phoenix,
Ryan Villopoto
ran him down but crashed, and Stewart won the patience game. Early, it was looking like a James versus Ryan showdown for the championship.

Stewart Dominates at A2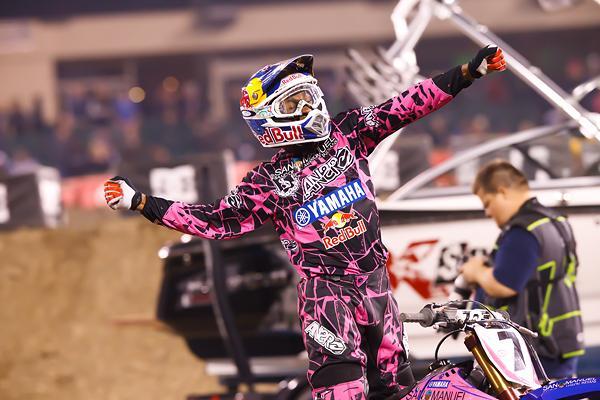 Jumping two massive quads that no one else would attempt earlier in the day—and continuing to jump one of them in the main event, there was no stopping
James Stewart
at Anaheim 2, arguably the most dominant performance anyone turned in all year. It looked like
Bubba
was about to take over the series—but soon, it all started to fall apart.

Stroupe Flashes Speed Early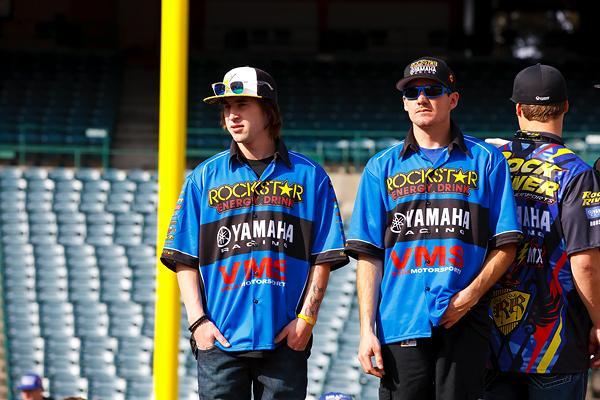 Austin Stroupe
was still on the mend from a shoulder injury when the 2011 season began, but he showed up at the races anyway to test his speed. And that speed was impressive, as the Valli Motorsports Yamaha rider proved he could run in the top five on a 450 before his lack of training time sent him backwards.

Cunningham Gets Close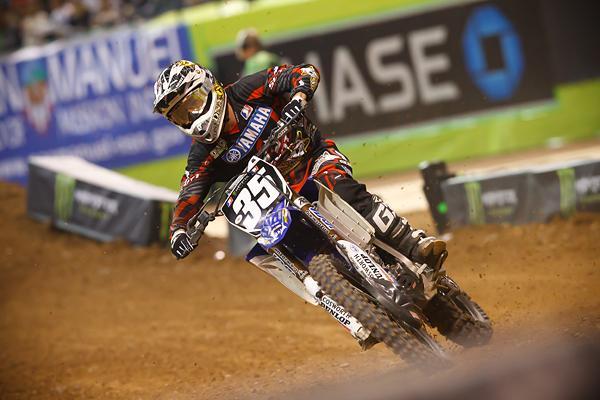 Didn't take long to see that Star Racing's
Kyle Cunningham
had the speed to run with anyone in West Region Lites. Unfortunately, that speed was set back by crashes, keeping Kyle from the winner's spot on the podium. Months later, he would take his indoor lessons and apply them into a consistent outdoor season.

Stroupe, Hahn Bitten By Injury Bug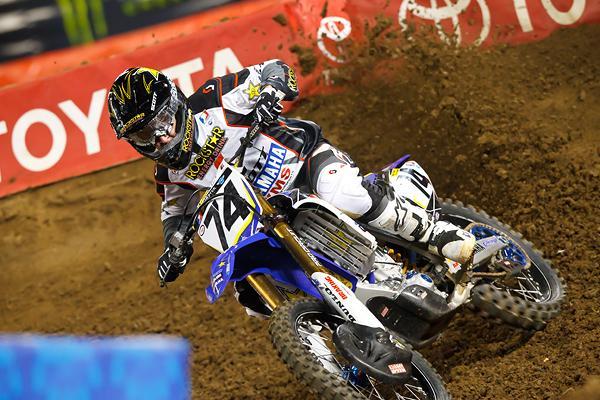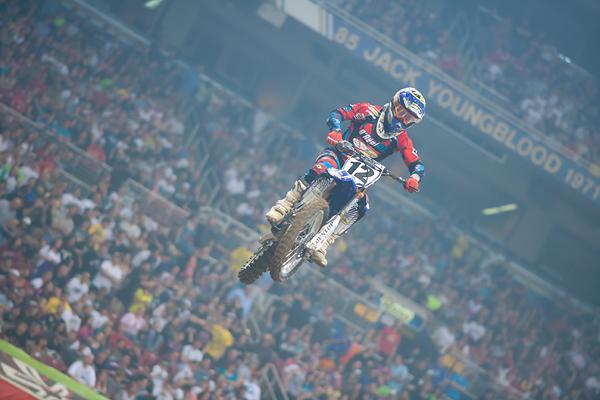 Yamaha support teams were expected to fill the starting gates with blue bikes, but injuries knocked out a few contenders. Stroupe could never get on track consistently, and MotoConcepts Tommy Hahn missed a bunch of races at mid season with injuries, too.
The Chizz Take a Digger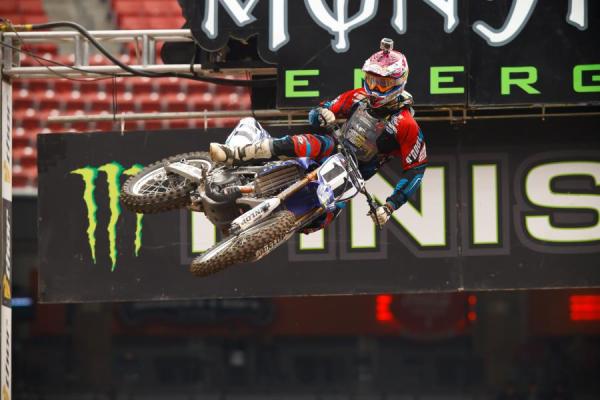 Kyle Chisholm was showing gradual improvement in his 450 supercross career, from struggling to make mains in 2009, to top privateer efforts in 2010, to logging top-five lap times in practice early in 2011. He was fifth fastest in Houston and looking for a breakthrough, until a massive crash in his heat race left him with a busted lung, ending his supercross season.
Down an Out in Daytona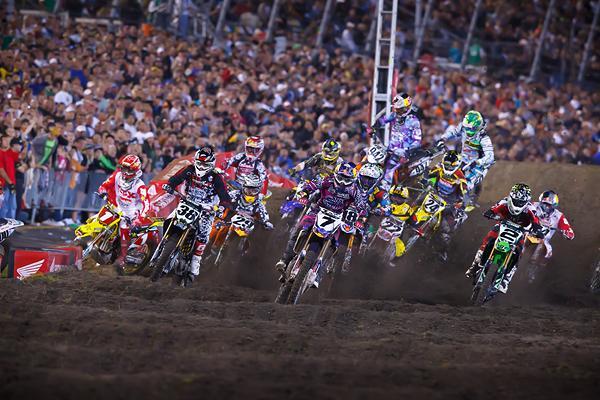 James Stewart's speed in Daytona was absolutely mind-bogglingly ridiculous. But then he crashed, hard, while leading and had to put in a rugged effort to score any points at all. The constant crashes began to produce an unexpected storyline—Stewart just kept losing ground in the series' standings.
Late Arrival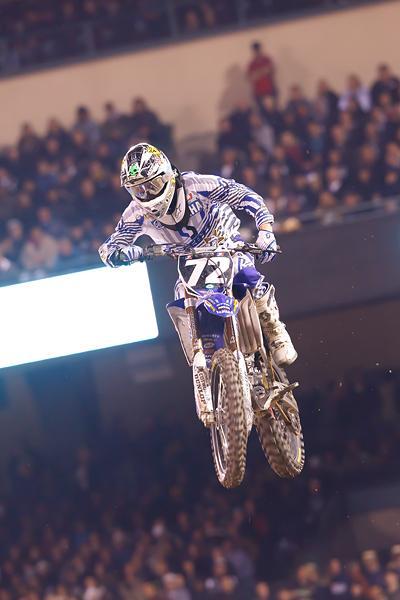 SX rookie
Nick Paluzzi
jumped into the West Lites fray for Star Racing Yamaha as a replacement rider and showed great speed at times. He struggled for consistency, though, like many rookies do, and ended up with just two top-ten finishes for the season.
The Wait is Finally Over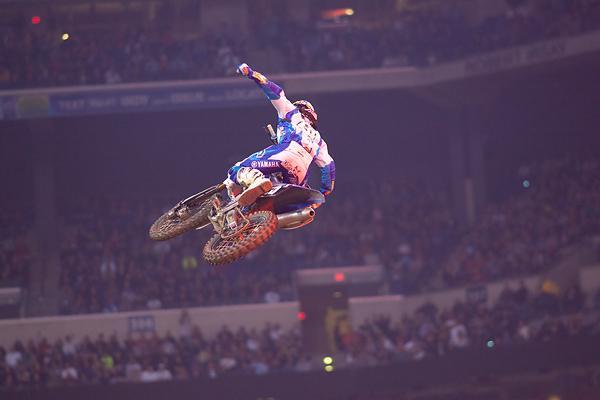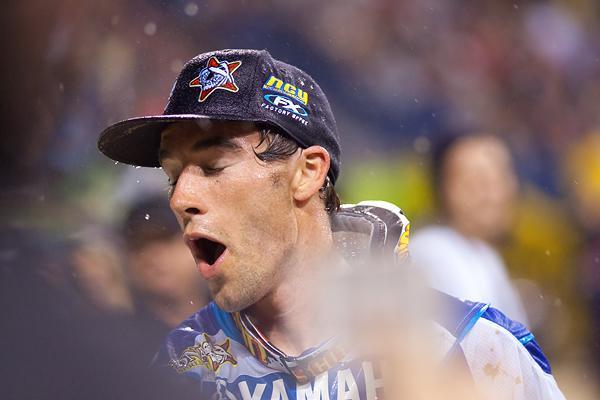 One of the more over looked storylines entering the 2011 Supercross season was Ryan Sipes looking to nail down that elusive first career Lites win. The 2010 season looked to be Sipes' time as he escaped the first turn carnage in Dallas to grab a commanding lead. But lappers would derail Sipes' chances that fateful evening. Entering 2011, Sipes showed up ready again. He would grad the early lead in Indy after applying pressure to Blake Baggett, and never look back. And as Sipes took those final turns en route to his first career victory the press box exploded with applause. Although we were behind a window and couldn't hear the crowd, the industry folks up top provided plenty of cheers. This was a victory well earned.
Reed, Stewart Renew Rivalry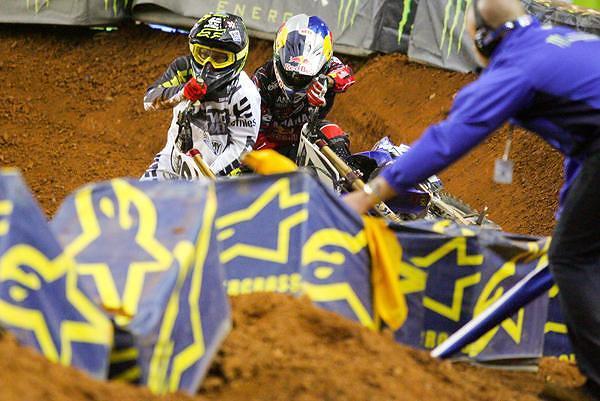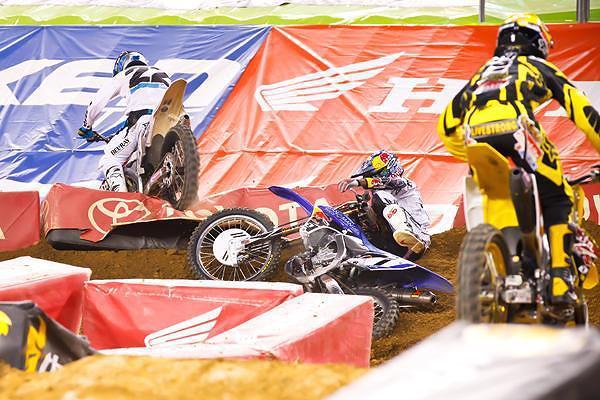 James Stewart rolled into Atlanta with some behind-the-scenes drama brewing—or possibly already behind him—as Team Manager Larry Brooks was no longer traveling with the team. This made Stewart fast friends with his long-time rival Chad Reed, who had also formerly ridden for Brooks. But it would get crazier that night. After playing nice all season, his rivalry with Reed reared its ugly head again. Under the roar of 70,000 fans Reed and Stewart engaged in a heated, yet clean, battle. That is until the final lap. With Stewart and Reed locked at the hip entering the final lap, Reed dashed to the inside of Stewart, igniting a collision. The two went down in a heap, sending the packed house into a frenzy.
Just when you thought the Reed-Stewart rivalry had come to a boiling point in Atlanta, the crazy train hit light speed in Dallas. Looking to make up valuable points on Reed, Stewart came barreling through the whoops in hopes of tracking down his long time nemesis. Unable to hang on, Stewart went crashing into the back of Reed, knocking himself down and sending Reed off the track and over the bars. It would cost Reed the points lead and Stewart valuable momentum in the title chase.
Swanpoel's Season Ends Prematurely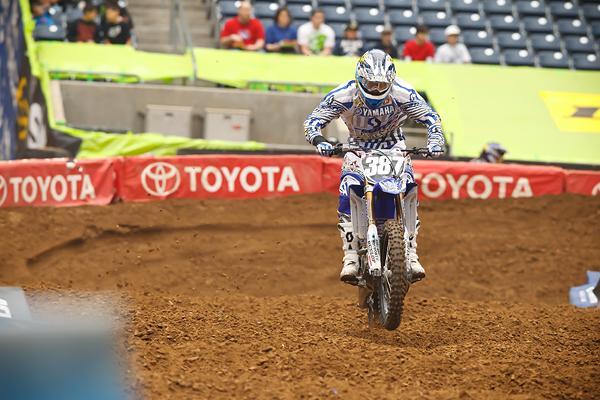 After a few brief appearances on the American Motocross scene, South Africa's Gareth Swanepoel was signed to a full-time AMA schedule by the DNA Shred Stix/Star Racing team for the 2011 season. But Swanepoel's supercross season never came to fruition as he crashed in qualifying at the opening round of East Lites in Houston, sidelining the South African for the remainder of the season with a compressed T 12 vertebra.
Wild Night in Jacksonville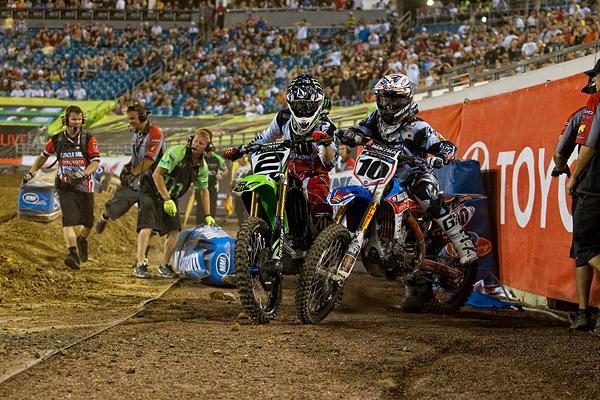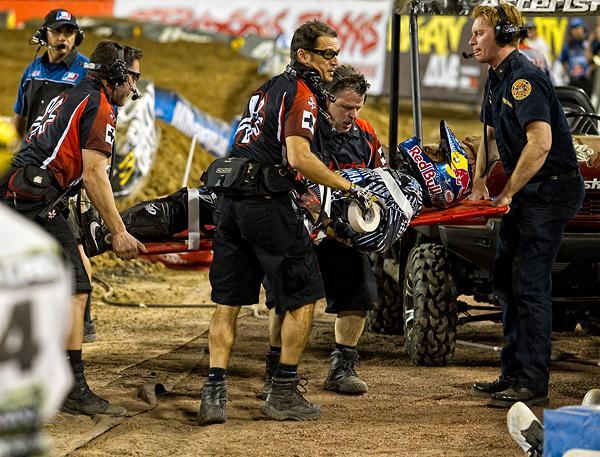 Under pristine conditions in late March, Jacksonville, Florida forever engraved its place in supercross lore. Ryan Villopoto entered the night with a tight grip on the supercross points lead. But as the clouds slowly began to drift apart, the so-called Super Moon would light the sky. Only cosmic forces—or the oft-criticized right hand turn off the start— could explain what would was about to take place. A series of first turn/first section mistakes would contribute to the demise of Villopoto, one being in the LCQ with JGR's Justin Brayton. Villopoto's mistakes opened the door for James Stewart to gain a bundle of points. But the first turn would also wreck havoc on Stewart. Stewart would collide with Matt Goerke off the start, which ended with Stewart being carried off the track on a stretcher, although somehow gaining three points in a pivotal night in Jacksonville. Was this the work of some super cosmic force, or just controversial track design?
Rookie Challanges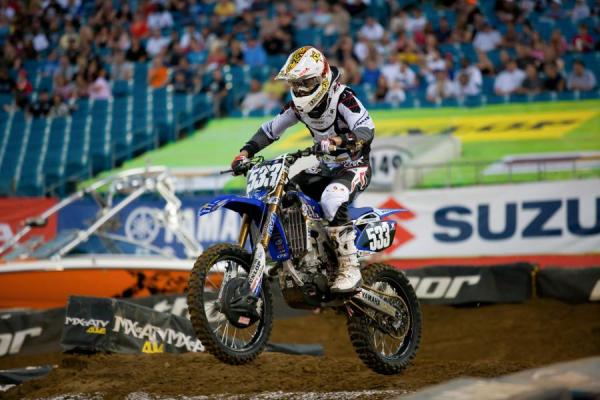 After winning the prestigious 450 A title at Lorretta Lynn's, Minnesota native Gannon Audette entered the pro ranks with a fist full of confidence and a rising team—DNA Shred Stix/Star Racing—to support him. Early struggles would plague the young star, but by season's end Audette was beginning to show the speed that garnered him such high prestige—finishing inside the top ten in three of the last four rounds of the Lites East Series. Audette would finish the season thirteenth overall in the final points standings, third among rookies.
Stewart Arrested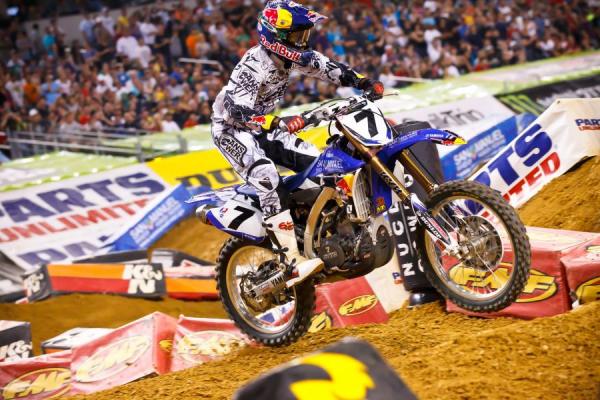 Somehow all of
James Stewart
's on-track drama managed to be topped by an even more bizzare incident off the track—he was arrested for setting up police lights on his truck, and  pulling over a car that happened to be full of off-duty cops! He was able to make it to the final races of the season, and will now do 75 hours of community service. Just another hard-to-believe story in a season full of them for Stewart.

Millsaps Finishes Strong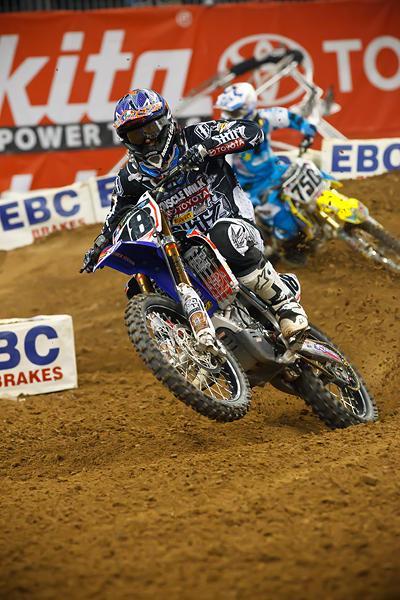 Coming of a devastating crash at Budds Creek in 2010—causing him to lose a kidney, and leaving him with a broken thumb, broken ribs, and a bruised lung—Davi Millsaps entered 2011 struggling with a variety of side-effects from that fateful day in Maryland. Hampered by fatigue problems, Millsaps would struggle with consistency early. But after a mid-season change to his diet after finding more revelations about his lingering health issues, Millsaps began to turn around a once forgotten season. Although he was unable to make a return to the winners circle, or stand atop the podium, Millsaps found a spot inside the top ten (8th) when the curtains closed on the 2011 supercross season.
Stewart's Run Ends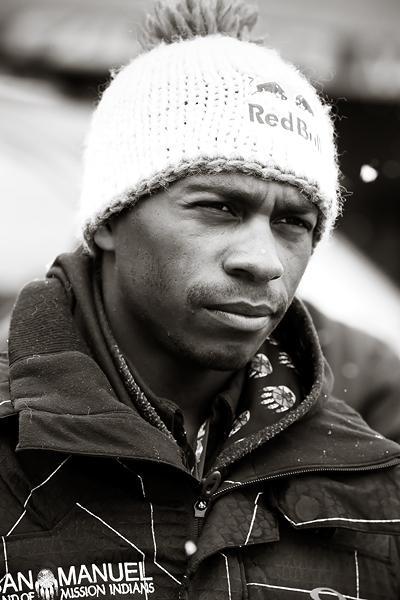 As the snow began to pile on top of the factory rigs in Salt Lake City, the championship pressure was squarely on the shoulders of Stewart. After those off-track issues grabbed the headlines earlier in the season, Stewart had rebounded with two wins to put himself right back in the thick of the championship hunt. Stewart jumped out to an early lead in Salt Lake, but like we had seen too many times in 2011 he crashed, and then crashed again. Ending the night with a disappointing tenth place finish, Stewart and Yamaha's championship hopes ended on a cold night in Salt Lake City.