Last Saturday night at the Bercy Supercross, things got ugly. Sorta. Justin "Bam Bam" Barcia, no stranger to aggressive and entertaining racing, took umbrage with French rider Gregory "No Cool Nickname" Aranda after a crash off the start of an elimination race. Barcia waited for Aranda, did some stop-and-go stuff, and nearly caused a riot in the Palias Omnisport.
By Fight Club standards it was pretty tame, but Barcia was booed and whistled at loud enough to get everyone's attention, and fines of 500 euros were soon handed out to both riders. (The fines were later dismissed). It was over before it really started, and the two even addressed the crowd jointly in a Kumbaya moment of Franco-American moto diplomacy. No matter, it brought to mind enough other on-track scuffles between helmeted combatants to generate this list for kicks (and some unfortunate slaps). If we missed any good ones, send us a reminder: letters@racerxonline.com.
10.) Mike LaRocco and Mike Kiedrowski at RedBud. Following one rather testy moto between the then-Kawasaki teammates who were battling for the 250 National Championship, they got into it just after the checkered flag when one Mike basically ghost-rode his bike into the other after they went 1-2 in a moto. It was the most embarrassing moment in motocross history for a team that went 1-2 in a championship moto!
9.) At the 1994 Steel City 125 National, Doug Henry had already wrapped himself up a second straight title, but his teammate Steve Lamson was battling with Ryan Hughes for second in the final tally. Henry got into an aggressive session with the then-Splitfire/Pro Circuit Kawasaki-backed Hughes, dropping Ryno in an off-camber right. How did Hughes respond? With a right cross. How did Henry react? With a tackle and takedown that was immortalized in one of those Fox Racing Terrafirma films that our man Aaron Hansel found on YouTube (fast-forward to about 2:15):

8.) While it seems like Chad Reed and James Stewart have really gone at it a few times, the two rivals haven't actually thrown any punches at one another. But after one particularly exciting race in Jacksonville back in 2009, supercross did witness "The Neck Grab" by Reed on Stewart...
7.)
How about RC vs.
Tim Ferry
at the '03 Salt Lake City SX? Carmichael was feeling the pressure from
Chad Reed
, then on a Yamaha, late in the AMA Supercross season. After the race, which Reed won, RC felt Reed's teammate Ferry was slowing him up. They got into a fairly heated shouting match after the race, with Carmichael supposedly telling Ferry, "I'm going to go home and get my gun and shoot you!" Good times.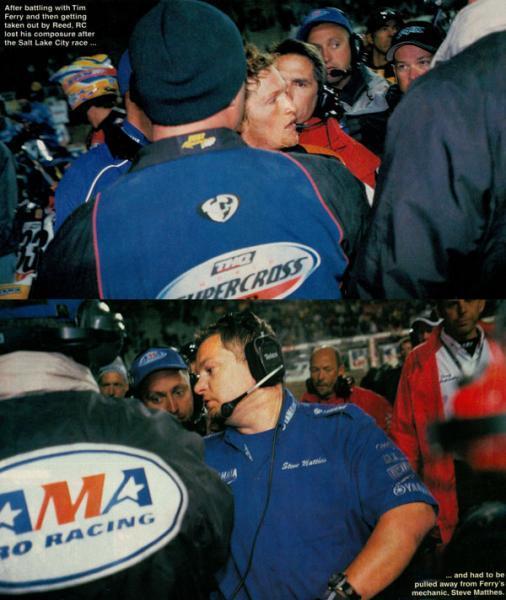 6.) Jaroslav Falta vs. the Russians. Back in 1974, Czech CZ rider Jaroslav Falta was battling with the Soviet Union's Gennady Moiseev for the FIM 250cc World Championship. Moiseev was leading going into the final round in Wohlen, Switzerland, but he had a knee injury, opening the door for Falta to gain enough points to win the title. But then Moiseev's teammates from Russia, including Victor Popenko, basically assaulted Falta with their motorcycles, ramming the popular Czech rider time and again. He got knocked down, kicked around, but kept fighting back, earning enough points to take the title ... or at least he thought he did. When the dust settled, the FIM penalized Falta one lap for jumping the starting gate, but they didn't do anything to the Russians who kept blocking him and knocking him down. Eric Johnson detailed it all in an epic Racer X feature called "Stolen Glory" (July 2003).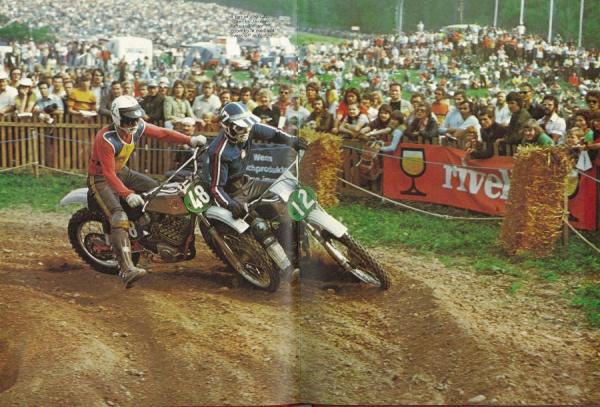 5.) Rick Johnson vs. Ron Lechien at the California Golden States race. This one is the stuff of legend. No video exists, but apparently the two rivals from El Cajon got mad at one and other at a warm-up race. Punches flew, security was called, and the resentment seemed to linger for years to follow.
4.) Doug DeHaan vs. Tyler "One Punch" Evans at the Detroit SX. Watch the video and, like us, you probably won't be able to figure out what exactly triggered Evans to attack DeHaan with a forearm shiver, but Canadian responded well. It happens about 50 seconds into this clip:

3.) The Slap: David Vuillemin and Stephane Roncada grew up racing together in France, then both moved to America to chase their moto dreams. Unfortunately, they got into a little scrap at the Atlanta SX one year that both would probably like to forget:

2.) Vic Allen vs. "Rocket" Rex  Staten on ABC's Wide World of Sports at the Carlsbad USGP. This was the first famous fight in motocross, as it happened on network TV! Unfortunately, it didn't have the same effect on the growth of the sport that the big Daytona 500 fight between Cale Yarborough and Donnie Allison did right here:
1.) Ryan Villopoto vs. Jason Lawrence at the Hangtown opener. This one actually took place in practice on the day before the race. The two rivals got in each other's way, basically ruining their fast laps for the session. When Lawrence came to a full-block brake-check on the defending AMA Motocross Champion, Villopoto launched his bike up over him and then it was on!