The Bercy Supercross held each year in Paris, France has a unique blend of racing, show, pom-pom girls and glitz to make it not only a good race, but a great show as well. The event has been going on for 29 years now and always produces some sort of controversy or drama for the French fans. The track is tight (think arenacross), fast (in the tunnels) and there is only one rule. Don't ever, no matter what, mess with a top French rider. There will be repercussions.
The Americans that came over were last years champ GEICO Honda's Justin Barcia and his teammate Eli Tomac. Monster Energy Kawasaki's Jake Weimer, MotoConcepts Suzuki's Mike Alessi, Nick Wey and Kyle Chisholm. Chisholm and Wey are still setting up their 2012 rides, while the other guys are either returning to their teams for next year or still working the kinks out with their new scooters.
There's usually some top flight European talent at Bercy but for different reasons, the only real true fast guys were Tommy Searle and Frenchman Gregory Aranda. Marvin Musquin was probably not allowed to go after hurting his knee at this race a year ago. Christophe Pourcel was signed up but crashed hard in practice a few weeks ago, and Gautier Paulin was testing on Kawasakis in Spain. So the hometown guys had Aranda and Fabien Izoird there to cheer on.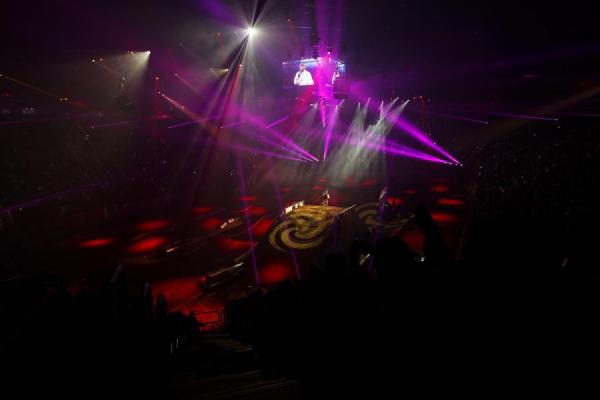 Bercy always puts on a magnificent show.
Photo: Sarah Gutierrez
Last year Chisholm was a surprise at Bercy, the Floridian seemed a bit off on Friday but then started to get the hang of things by Saturday and by the time the final was run on Sunday, he had a real shot at winning the whole kit and caboodle.
Justin Barcia
denied him the King of Bercy crown with some great rides and in the process became the youngest King of Bercy ever. This year however, it was Chisholm that got revenge and won the overall on the weekend with stellar 2-1-3 finishes to capture the crown of King of Bercy. His name goes in the record books with guys like Jeremy McGrath, Jeff Stanton, David Vuillemin, Jean-Michel Bayle and many other greats.
Not one to just go out there and dominate speed-wise, Chisholm used good starts, consistent lap times and some bad fortune by his main competitors to win what is probably his biggest race of his career. It was a cool thing for him and although he's got a couple of offers, he's got nothing signed for 2012 as of right now. He was riding in his old MotoConcepts O'Neal gear and brought a pipe, suspension, bars and a sprocket to the race as opposed to the full factory bikes of Barcia, Tomac and Weimer.
Early on Friday I was thinking that Tomac was going to have a rough time this weekend. Sure he had shined at the Monster Energy Cup, but that was a full supercross and not tight and twisty like Bercy. He struggled setting a fast time and figuring things out—and even in the main event for the first night he was on the second row because of his poor performances. But he caught a break with some crashes in the first turn and snuck around the inside to grab the lead. The open track, some confidence and pressure to make something happen all caused Eli to ride away from the pack. He had a good four-second lead for most of the race before Chisholm was able to catch up to him a bit. He took a very surprising win on the first night and that was it, the ball was rolling and Tomac was a threat the rest of the weekend. Funny how that works, huh?
Afterwards, Tomac commented that the dirt was the stickiest he'd ever ridden and he was suffering from arm pump because of it. He figured it out pretty quickly though! On Sunday he was tied with Chisholm for the overall and both riders had struggled in the elimination races, which gave them poor gate picks for the final. And right here is where the 2011 Bercy Supercross was decide. Chisholm went second row inside and Tomac, based on the fact that he pulled a holeshot from that gate earlier in the weekend, went about six from the inside in the front row. It was admittedly a big gamble on Tomac's part and it didn't work. Chisholm again snuck to the inside and came out pretty well while Tomac was buried somewhere around eighth. That was all she wrote folks! The Chiz brought it home in third, while Tomac fought up to a fifth.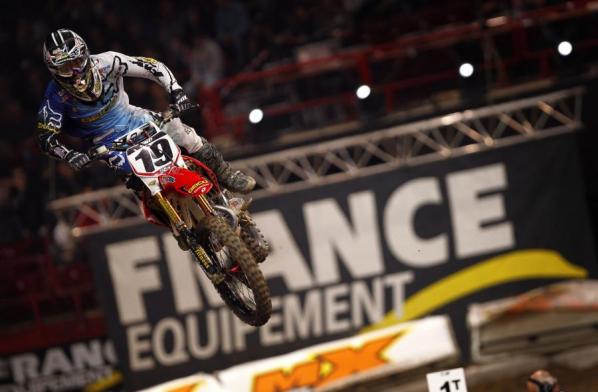 Tomac took the win on Friday and finished the weekend second overall.
Photo: Sarah Gutierrez
There's a lot of races in Bercy over the three days and if you include the Superpole, the heat races, the three elimination races and the single main event, the riders potentially compete in six races a night which is 18 races over the three nights if everything goes well. So all told there were seven total gate drops (if you count the Superpole where there wasn't a gate dropped technically, but you know what I mean) a night. So that meant twenty-one races total. And how did the wins break down you ask? Well wonder no more, as I have broken them down. You can send your thank you cards to me via Racer X:
Justin Barcia 10 wins total (six elimination races, three heat races and one main event)
Jake Weimer 4 wins total (three heat races and one Superpole)
Mike Alessi 2 wins total (two elimination races)
Gregory Aranda 2 wins total (two Superpoles)
Nick Wey 1 win (elimination race)
Kyle Chisholm 1 win (main event)
Eli Tomac 1 win (main event)
So as you can see, Barcia won the most races by far on the weekend and he did indeed show some serious speed on the hydraulic clutched CRF450 (in case you wanted to know what level the GEICO guys went to in sending bikes over. They weren't fooling around), but bad luck the first night and some bad judgment the second one doomed Bam-Bam.
In Friday's main event his front wheel made contact with something in a first turn crash and knocked a bunch of spokes out. That was it, it was a DNF for Barcia, as well for Frenchman Aranda—he tweaked something and called it a night. So right away two heavy hitters were out of the running for King of Bercy. The second night Aranda took out Barcia and Weimer in a racing incident right after the first turn, which didn't make either rider happy. Weimer rode back to the pits and Barcia waited for the pack to lap him and at that point blocked Aranda out in a corner and prevented him from any success.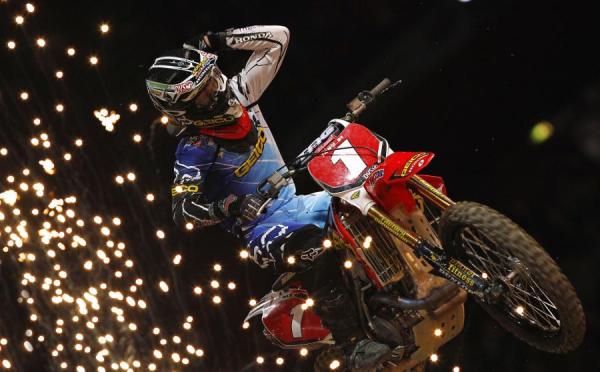 Barcia had the most wins at Bercy,10, including the a victory on Sunday in the main event.
Photo: Sarah Gutierrez
As one can imagine, this did not go over well with the 99 percent French crowd. This broke the only rule of Bercy, which I clearly spelled out above. Do not mess with a French rider. Barcia did and he felt the wrath of the fans. They were not happy with this turn of events and neither was Aranda. He wanted to "discuss" this with Barcia but some Donk got in the middle of it all, and Barcia rode off to the pits. Aranda, however, decided to sit down on the track in hopes of getting a red flag. He was eventually dragged off. If I told you next that "Hacksaw" Jim Duggan came down from the ceiling and KO'd a bunch of people while doing that dumb dance of his, would you believe me? Of course you would because at Bercy on this night, things were getting kooky.
Barcia didn't come back out for the main event on the advice of French officials and to be fair, both Aranda and Barcia came out onto the track, shook hands and tried to make peace. But I couldn't really tell because my ears were ringing from the boos still coming down on the Honda rider.
What I thought was funny was GEICO was using gas borrowed from BUD Racing which was Aranda's team. After that snafu and before the second main I saw Barcia's mechanic, Schnike, pouring gas into Tomac's bike from Barcia's tank. I guess at that point, French/USA relations were not so good and Ol'Schnikes decided he'd better not push his luck and ask BUD for some gas!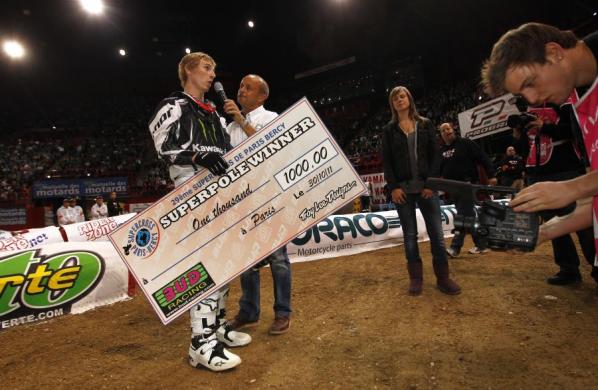 Weimer was solid in his first trip to Bercy, finishing third overall.
Photo: Sarah Gutierrez
Nick Wey is back on Kawasaki's and loving life again. Not a fan of the Yamaha YZ450F he rode last year, Wey got a Kawasaki and is in the process of figuring out what he's going to do next year. If I had a gun to my head, I'd say he's going to do his own team, but I guess we'll see. Anyways, Wey was really figuring it out by the second day and if he had gotten better starts, would've run with the top guys. In Saturday's main event he ended up fourth coming from the back and ended up with the fastest lap of the main event.
Wey was in position to claim third OA on the weekend (thereby matching his best Bercy finish ever which was with yours truly as his mechanic) by just getting a decent finish in Sunday's main event. That all went to hell early on when he got loose coming into the left-hander outside the first tunnel and went into the wall breaking his helmet and DNF'ing.  Nick's dream of third overall went bye-bye. His DNF also dropped him from an easy third to eighth!
Still, the highlight for me was the chainsaw he found for opening ceremonies on Sunday. He seemed to enjoy himself running around with it wide-open while the announcer tried to talk to him.  Bravo, Nick, bravo.
Thanks to Nick Wey and Kyle Chisholm for running Pulpmx.com stickers for me. Wey ran them on his rear fender while Chisholm was gracious enough to put them in prime viewing on the side of his helmet. No doubt, Pulpmx.com stock has shot through the roof.
Mike Alessi came out and was another rider that got better as the weekend went on. If it wasn't for a couple of incidents with Chisholm, we might be talking about Alessi as the surprise of the weekend. Both times Alessi was right up there before getting passed in the tunnels by Chisholm and ending up in the bales. It had to be frustrating for Mike who still rode pretty well, but not without controversy.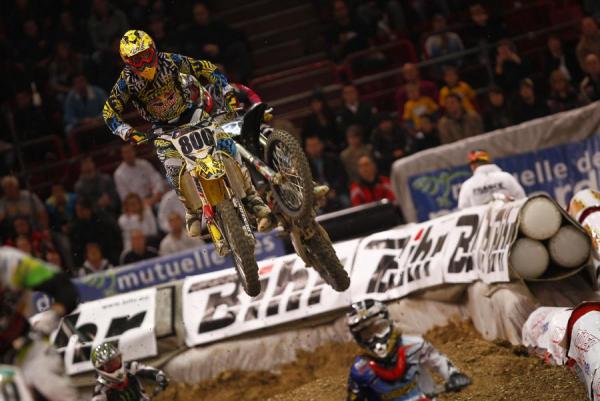 Alessi rode well in Bercy, but not without a little controversy.
Photo: Sarah Gutierrez
You see Mike or his dad Tony figured out that the gate was going to drop on a six count after the board went sideways. I can't verify this to be true but that's what the other riders told me. Anyways, Mike would pull his bike back a good ways from the gate, count to six (and you could see his head bob a bit as he counted to himself) and basically just drop the clutch. Sometimes, this worked amazing and he pulled some holeshots. Other times, he'd hit the gate (like on Sunday in the elimination and main events) and it jacked with all the other riders around him. It made some of the American's a little peeved for sure but hey, the Alessi's are racers and if the gate was really dropping on six and no official was stopping him from backing his bike up, then golf claps to Team Alessi.
Jake Weimer had never been to Paris before and obviously had never raced Bercy. Weimer was definitely on par with Barcia in many ways but couldn't get a start to save his life. They were either good or bad and unfortunately for him, the heat races saw all his good ones used up. Weimer won all three of his heats and always looked to be setting up for a battle to the death with Barcia. We finally saw it on Sunday but Jake wasn't able to close up the gap and battle with Justin. He settled for second and by virtue of his 3-DNF (he crashed out)-2 finishes, he ended up third overall.
Bercy is always good for some serious hanging out time as there is some major down time during the day where you can really break it down and get to know someone. Or if you're Jake Weimer, you spend the time trying to get away from me. I'm pretty good friends with Wey and Weimer so I hung out in their pit but that didn't stop me from really getting to know the Tomac's as well. I'm pretty sure that if Weimer's mechanic Dana Wiggins wasn't sick of me from chilling in the Kawi truck all year, he's definitely sick of me after Bercy.
Funny to hear that John Tomac (Eli's dad, who was the best mountain biker in the world for a long time) actually raced in the Bercy Arena back in the mid-90s. There was a trails competition in the arena with a mountain bike race in which John raced. The things you find out when you're hanging out in Bercy…
Thanks to Paul Malin of Motors TV who clearly was desperate for help and asked me to come by Saturday and Sunday for a good couple of hours to help him with the play-by-play of the race. I had fun doing it and I'm not sure what Paul found funnier, me asking him if Kurt Nicoll did backflips to prepare for the 1994 MXDN or if he knew that I had four Manitoba motocross titles. Watch out Weigandt, I'm coming for you (said in the John Rambo voice from First Blood Part 2).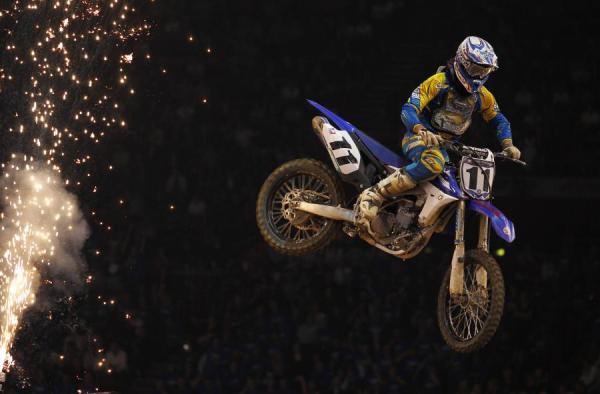 Chisholm was the big winner on the weekend, taking home the King of Bercy crown.
Photo: Sarah Gutierrez
Allow me time to rant here. At the beginning of 2010, Kyle Chisholm had absolutely nothing going on. He had hurt himself at L&M and suffered through a terrible season indoors. He didn't do any outdoors and pretty much everyone forgot about him. He couldn't even get his helmet sponsor to call him back so he could get a new visor. So he misses Anaheim 1 that year because he's in Germany racing to try and make some money. Second round he's on the Rock River Yamaha squad with duct tape on his visor, bars, a pipe and suspension and goes out and barely misses out on the top ten. The next round, same result and then the next round after that, he's picked up by the MotoConcepts Yamaha team (and it wasn't a very good deal for Kyle, but he took it and went with the fact that he would do well and get a raise in 2011--which he did) and the rest is history. He was that close to being out of a ride but he put the work in, rode great, got a few breaks and here he is two years later as a bona-fide top ten 450 rider.
I know that multi-time Canadian champion Colton Facciotti just signed with KTM Canada to race up there next year, but I also know that he was looking to get a ride down in the USA. I sincerely believe in Colton's speed and talent. He's a great rider and I just don't know why a guy like him (and I know I'm singling him out but this could go for a lot of riders) wouldn't spend the time and some of his own money to try and make it happen for themselves ala Chisholm. To think about where Chisholm was at the beginning of 2010 and where he is now, it's a real look at someone who was helping himself out. Ok rant over.
Thanks for reading, I had a good time in Bercy and hope you enjoyed this little report. Email me at matthes@racerxonline.com if you want to chat.