Justin Barcia, 7th overall, DNF-DNF-1
What a crazy weekend for sure. The first night I was feeling great and had a bunch of wins going into the main event and then got my spokes ripped out of my wheel. I wasn't able to finish and that was a super-bummer for me. The second night was great until I got landed on. That wasn't cool and I kind of freaked out. I waited for the guy in the corner there and "bam-bam'd" him. It didn't go too well, I had a lot of people booing me. I came out and apologized. I meant it also. We made our peace right there.
The third night I wanted to redeem myself and get a win. I was on the pipe all night, collected a bunch of wins and won the last main event. I felt like I was one of the fastest guys here this weekend, for sure, but it just didn't happen.
When you didn't line up for the second night's main event, was it because you were DQ'd or did you just not want to?
They didn't say, "don't race" but they didn't say "race" either. [Laughs] It would've been super gnarly for sure, plus my bike was all beat up. We didn't have all the parts either; my airbox was all crushed and stuff. I was pretty sore also and I'm glad to get out of here safe. I think I won some of my fans back, maybe 50 percent? [Laughs]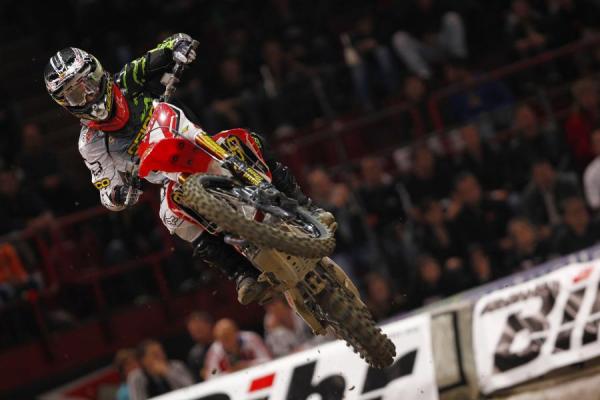 "I think I won some of my fans back, maybe 50 percent? [Laughs]" - Justin Barcia
Photo: Photo: Sarah Gutierrez
Nick Wey, 8th overall, 5-4-DNF
I was pushing to be faster today [Sunday] and I think I was. I had the fastest lap time yesterday in the main event and today I was on it. I would've done better in the Superpole but I made a huge mistake. I had a good heat race with [Jake] Weimer, so today went pretty well. Today I was hoping to get up there and race with Jake and Barcia—it was basically win or do really well or nothing. There were some shenanigans on the start there in the heat and the main event. The gate didn't go down, I got a bad pick for the main, second row—anything goes.
One of the reasons why I wanted to come was its good practice. It's three days in a row with sprinting involved. I'm not disappointed at all in my results. If I wasn't going to win or get second then I was going to crash trying and try to learn from things. All in all I was happy with my results this weekend despite crashing out in tonight's main event.
Eli Tomac, 2nd overall, 1-2-4
First day it didn't start out very awesome, I was in 13th early in the qualifying times and I was like, "What's going on?" I somehow made the start happen in the first main event from the second row and went on to win. I put together some smooth laps and just thought about trying to be consistent. The second night was good; I was putting in some good laps and got a good start to get second.
Tonight [Sunday] I took a gamble on the start in the main and thought that sixth from the inside would be okay instead of the second row. I thought that because I pulled a holeshot earlier from that same gate position. So I went with that and it cost me. I didn't get the start I wanted to and that was the race. That second row on the inside was more conservative, but I went for it.
The whole weekend was cool, getting use to a different country. It was the stickiest dirt I'd ever rode on for sure, that took some time to get used to. I was getting arm pump and locking up pretty bad from the front tire grabbing it. It took until today to get use to it.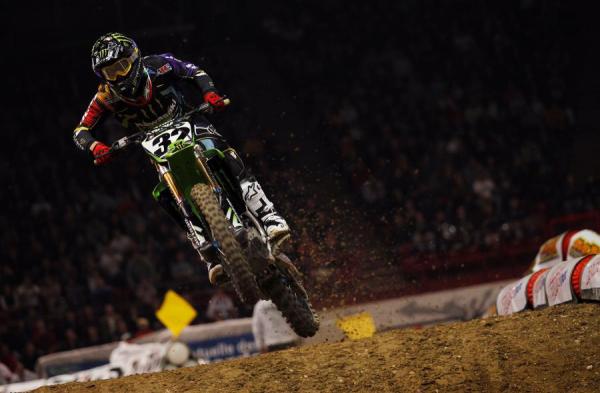 "Three nights is tough, you have to be ready for it."
Photo: Sarah Gutierrez
Jake Weimer, 3rd overall, 3-DNF-2
I got three heat race wins so that was good. There was some definitely some good I can take from the race. I wanted to win the whole thing, or at least win a main event. It's quite different over here; my starts were either on or off. The gates take time to get used to and there was, like, a ten-inch drop after the gate. That hurt me a little bit. The crash last night wasn't good—I had a headache all day and my neck hurts. I didn't feel as good today as I did the first two days.
I knew what to expect over here, I watched the videos and spoke to enough riders that had ridden here to know what's going on. Three nights is tough, you have to be ready for it. There are a lot of races going on, back and forth to the pits. I got third overall. I don't know how that works, I didn't even finish last night!