Going into the third and final night of the 29th annual Bercy Supercross only two riders had a shot at the very prestigious King of Bercy title—GEICO Honda's Eli Tomac and privateer Kyle Chisholm. Entering the last night with identical scores of three, whoever crossed the finish line first would be the King of Bercy.
First up though were the elimination races followed by the Superpole and then, finally, the main event for all the marbles.
In the Superpole it was Monster Energy Kawasaki's Jake Weimer who came through with the fastest one-lap of the night, taking home the 1,000 Euros for his efforts. In the elimination races it was GEICO Honda's Justin Barcia, who had some bad luck all weekend (some his own doing, some not), who dominated those three 3-lap sprint races where the riders in the back of the field were kicked out.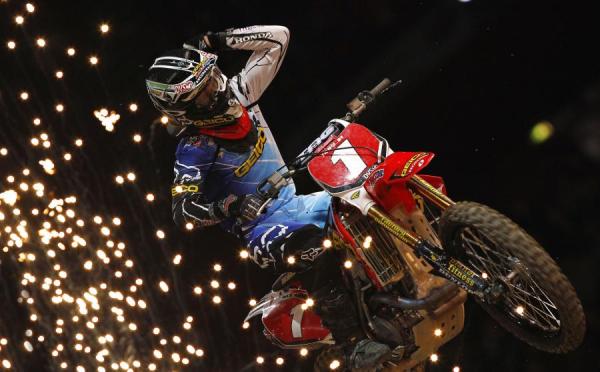 Barcia dominated the field en route to the win on Sunday.
Photo: Sarah Gutierrez
The interesting thing about those is that Suzuki's Mike Alessi hit the gate in the second race which caused a chain reaction with a bunch of riders including Tomac and Chisholm. Both riders weren't able to make it through the third race and seeing as how the elimination races determined your gate position for the final, it was going to be interesting for both of those riders.
When it came time to choose the gate for the main, Tomac took the sixth gate from the inside and Chisholm choose the very inside gate—but in the second row. It was an interesting look at a couple of different strategies by the two riders.
And when the gate dropped, we saw whose gate picked worked and whose didn't. Chisholm was able to sneak around the inside and come out pretty good while Tomac had to fight through the pack. Out front though was Barcia and he was checking out. Weimer wasn't far behind but for fifteen laps, Barcia was the man here. He avenged his previous two DNF's with a convincing win on Sunday. Weimer wasn't that far back in second and Chisholm got by Alessi for third.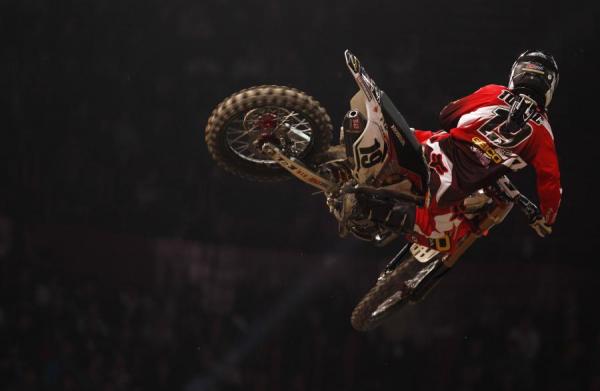 Tomac finished second overall at Bercy.
Photo: Sarah Gutierrez
The fastest man in practice, Nick Wey, went down on the first lap and DNF'd which ruined his chances for a third OA on the weekend. Also going down seconds later was French hero Gregory Aranda. Both Kawasaki riders called it a night after that.
It was Barcia winning the main event but Kyle Chisholm won the King of Bercy title with consistent 2-1-3 finishes. Tomac eventually ended up in fifth for second overall and Weimer, with his 3-DNF-2 rides, claiming third.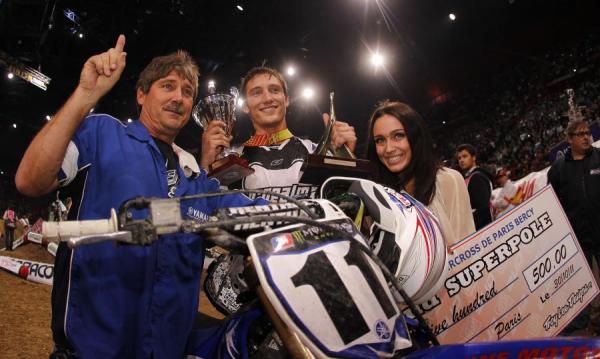 The 2011 King of Bercy, Kyle Chisholm.
Photo: Sarah Gutierrez
Sunday Results:
1. Justin Barcia
2. Jake Weimer
3. Kyle Chisholm
4. Mike Alessi
5. Eli Tomac
6. Tommy Searle
7. Fabien Izoird
8. Nicolas Aubin
9. Cedric Soubeyras
10. Cyrille Coulon
11. Matteo Bonini
12. Christophe Martin
13. Arnaud Tonus
14. Gregory Aranda
15. Nick Wey
King of Bercy Overall Results:
1. Kyle Chisholm - 2-1-3 = 6 pts
2. Eli Tomac - 1-2-5 = 8 pts
3. Jake Weimer - 3-11-2 = 16 pts
4. Mike Alessi - 4-8-4 = 16 pts
5.Cedric Soubeyras - 7-5-9 = 19 pts