A massive crowd was on hand for round 13 of the 2011 Can-Am Grand National Cross Series, the Amsoil Ironman GNCC, which drew more than 10,000 people (which rivals some outdoor nationals). FMF KTM's Charlie Mullins drew one step closer to capturing his first career XC1 title, and becoming the first American GNCC Champion since Rodney Smith in 2004.
Defending XC1 champion Josh Strang's string of bad luck continued at the race, which went pink in honor of October's Breast Cancer Awareness month. Strang grabbed the early lead but broke a bolt and twisted a foot peg, dropping him back to eighth. He would rebound to finish fourth, but the damage had been done. Strang now trails Mullins by thirty-eight points with only a double header round at Loretta Lynn's Ranch remaining. Mullins other championship rival, Paul Whibley, also suffered some bad luck at Ironman when he was discovered to have ended up just outside of the 25-feet of trail that defines the track in one section, and he was bumped from second to third in the results. He now trails Mullins by forty-one points. Also Kailub Russell, the winner of the previous GNCC round, ran into mechanical troubles.
In the XC2 class Steward Baylor Jr. and Jordan Ashburn took off the gloves and threw down at Ironman (figuratively). Ashburn would challenge the points leader all afternoon but would fall short at the finish giving Baylor his second consecutive win. Baylor has all but wrapped up his first career title with only two races remaining.
Now onto the lap charts, brought to you by Motion Pro, to see how it all broke down.
GNCC
XC1 Pro Class

| | | | | |
| --- | --- | --- | --- | --- |
| Lap Rank | Finish | Best Lap | In Lap | Rider |
| 1 | 1 | 29:40.172 | 7 | Charlie Mullins |
| 2 | 3 | 29:56.656 | 3 | Paul Whibley |
| 3 | 2 | 30:10.750 | 7 | Thad DuVall |
| 4 | 8 | 30:15.875 | 3 | Cory Buttrick |
| 5 | 6 | 30:26.140 | 2 | Russell Bobbitt |
| 6 | 5 | 30:26.641 | 2 | Jimmy Jarrett |
| 7 | 11 | 30:26.884 | 2 | Kailub Russell |
| 8 | 4 | 30:29.157 | 5 | Josh Strang |
| 9 | 14 | 30:44.547 | 2 | Jesse Robinson |
| 10 | 10 | 30:59.125 | 2 | Nathan Kanney |
| 11 | 9 | 31:25.984 | 2 | Eric Bailey |
| 12 | 7 | 31:11.203 | 2 | Scott Watkins |
| 13 | 13 | 32:11.250 | 2 | Kenneth Gilbert |
| 14 | 12 | 32:26.938 | 3 | Jedediah Haines |
XC2 Pro Lites Class

| | | | | |
| --- | --- | --- | --- | --- |
| Lap Rank | Finish | Best Lap | In Lap | Rider |
| 1 | 1 | 30:27.884 | 2 | Steward Baylor Jr. |
| 2 | 2 | 30:31.969 | 2 | Jordan Ashburn |
| 3 | 3 | 30:34.890 | 2 | Andrew Delong |
| 4 | 5 | 30:45.344 | 2 | Morgan Moss |
| 5 | 4 | 31:08.281 | 2 | Rory Mead |
| 6 | 9 | 31:11.297 | 2 | Cody Gragg |
| 7 | 7 | 31:18.844 | 2 | Steven Squire |
| 8 | 15 | 31:43.188 | 3 | Ted Mullins |
| 9 | 6 | 31:58.172 | 3 | Jason Thomas |
| 10 | 16 | 31:58.375 | 3 | Nick Davis |
| 11 | 12 | 32:06.718 | 2 | Zack Nolan |
| 12 | 10 | 32:25.735 | 2 | AJ Stewart |
| 13 | 11 | 33:15.125 | 2 | Zackery Smith |
| 14 | 13 | 35.32.219 | 4 | Trevor Cobb |
| 15 | 14 | 35.34.531 | 2 | Mat Herrington |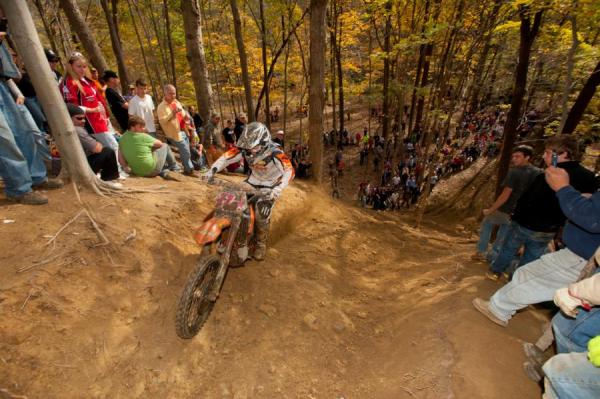 Mullins would set the fastest lap of the day en route to the victory at Ironman.
Photo: Shan Moore