It's Official: James Stewart to JGRMX
Signs Multi-Year Deal with The Toyota/Yamaha/JGRMX Team

HUNTERSVILLE, N.C. (October 25, 2011) – James "Bubba" Stewart has signed a multi-year contract to race with the motocross division of Joe Gibbs Racing, JGRMX.  Additionally, JGRMX has extended its relationship with Yamaha Motor Corporation, U.S.A. racing exclusively Yamaha motorcycles through 2014.

Stewart, who began racing at the age of four, is one of the most decorated riders in motocross history.  He won the first of a record breaking 11 amateur national championships by age six.  Turning professional in 2002 he would win the Lites AMA Motocross Championship in his rookie year.  After claiming another Lites AMA Motocross title and two Lites AMA Supercross Championships he moved up to the premier class for the 2005 season.  Stewart has since won two AMA Supercross titles and an AMA Motocross Championship (winning every moto in the process), becoming the first African American to win a major motorsports championship.  He will debut with the Toyota/Yamaha/JGRMX Team at the opening round of the 2012 AMA Supercross Championship on Jan. 7, 2012 at Angel Stadium of Anaheim in Anaheim, Calif.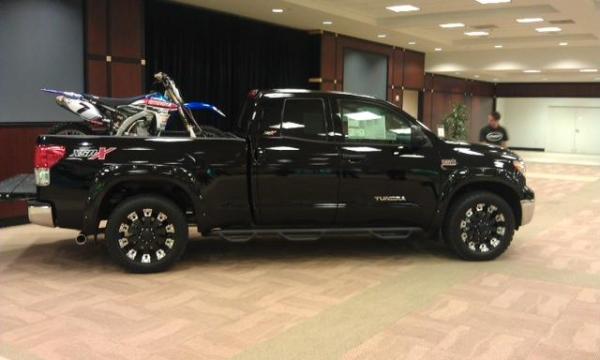 "I am excited about joining the Gibbs racing family," said Stewart.  "My goal in Supercross is to pass Jeremy McGrath's record of 72 Supercross wins.  I am more than half way there and look forward to realizing that dream during my time with JGR.  I have also had an interest in car racing and we are going to explore my potential in that sport through the NASCAR side of the operation."
"When we started the Supercross team in 2008 we had a building phase and a championship phase.  We spent the past four years learning the sport and the equipment and now we are ready to compete at the highest level with an accomplished and talented athlete like
James Stewart
along with our founding partners Toyota and Yamaha," said JGRMX President Coy Gibbs.  "James will also have the opportunity to explore his interest in racing some of the four-wheel vehicles we have around here as well."
"We are proud of what Coy and the motocross team has accomplished and landing a talent like James is certainly a huge step up for our program," stated Joe Gibbs.  "We are looking forward to being a serious championship contender in 2012."