Hello, everyone, and welcome to the Rev Up. So much has happened in the world of motorsports since the last time I put down some ink. "Put down some ink" is a term my grandfather used when he was sending hand written letters to my grandma while he was fighting the Germans in France during World War II. I think it's sad how the true written word has lost its place in modern times. Hand written letters carried so much more, what with the penmanship of the author, the feel and smell of the stationary, and the whole concept of both traveling great distances to their intended recipients. Today we hear a ping at our laptops and click back to the inbox to discover an e-mail. The written word will always be the written word, but technology and the hyper tempo of modern times has tarnished it to an extent.
Such is the case with a lot of things.
It seems like we don't take enough time to do things right and offer proper respect. I suppose one of the quintessential human flaws is that we allow efficiency to overrule substance. I think we all need to slow down a little, with everything we do, and give each obstacle the proper attention. I suppose this came to me this evening while I was celebrating my nephew's second year on the earth with my family. Lincoln Dale Bowyer is the first person I've ever been able to watch grow from the first time he opened his eyes, through his first steps, and all the way till he held a hand on the throttle for the first time yesterday on his battery powered four-wheeler. It's amazing how quickly babies grow and learn. Suffice to say the kid will be forever spoiled, but when I bought him his present today I made sure that he sat with me and watched me assemble it, put the bubbles into the "engine," and attach the proper parts before we took it for a spin. Part of me wished I could have taken the damn thing out of the box and just let him tear off with it, but the process of doing it properly made it that much better when we were racing circles around his Mom's car in the driveway.
Lincoln pushed "Tomater," (which is a tow truck that has bubbles flowing from the side pipes to give the effect of exhaust) as fast as his tiny legs could manage, and my heart just swelled up. As he was running he had his head tilted to the side so he could watch his plastic truck "blowin' smoke" as the bubbles poured out the pipes.
Life is such a miracle. It's a gift we all take for granted as we push to go faster, jump higher, and win more frequently. We live in a world of competition. From Wall Street to the classroom to the supercross stadiums, life is competition. Survival (and prosperity) of the fittest is the theme we all live. We are so passionate about the highs of victory, yet devastated by failure and tragedy. All of us are guilty of overlooking what is most important in the wake of our competitive nature. I know I do it all the time.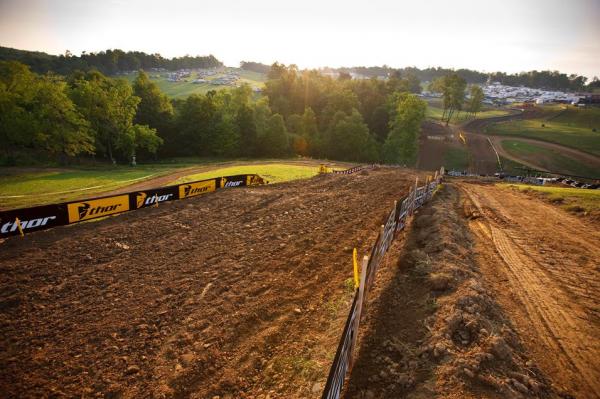 Photo: Simon Cudby
Case in point, I drove home from Charlotte Motor Speedway last Saturday night disgusted that the race was boring, and my brother Clint didn't perform well. It was all that was on my mind. The only solace was getting home in time to watch the Monster Energy Cup live on SPEED. And while Ryan Villopoto was able to pull off the inevitable and I was proud of the sport I love the most, I was still kind of left wishing for more. Maybe a high stakes take out, or somebody to challenge RV more.
Sunday was a lazy day that saw me go for a Harley ride and just kind of nomad around North Carolina. When I got bored with that I sat down to watch television and flipped to the Indy race in Las Vegas. I don't watch Indy racing much at all but I was marveling at the speed the cars were racing at and tightened my focus at how close the cars were at 220 mph. I still thought, "Well, they aren't even rubbin' or anything so how exciting can this be?" Then came the tragedy that struck Dan Wheldon and his family. Upon hearing the news of his passing, an overwhelming lump of guilt tightened my throat.
Then came the news of the plane crash with Rick and Dan Huseman.
Such tragedy is familiar within the motocross community. All of us have lost someone dear to us while they were riding or racing their dirt bike. The consequences of our trade are perhaps the most severe in all of motorsports. Every time we throw a leg over we challenge the ultimate risk. Yet, we bicker and complain. We want our brothers and sisters to go faster, jump higher, and win more. That is our primary focus. And that's perfectly fine. If we dwell on negative consequences we quicken their fruition.
That said, the dreams and ambition behind all forms of competition are a very good thing. Life is too much of a painful mystery to dwell or be timid. Each human being only has so many granules of sand in their hourglass. The very best we can do is to do our very best with the time we are allowed.
But, be grateful and cherish every moment. Get your ass out of bed and greet the sunrise with your fists clenched and your heart in the right place. Take more time to enjoy the little miracles that surround us every day. And if you attend or compete in a sporting event or race, bow your head and close your eyes during the prayer. Do it for appreciation and gratitude of the moment. Moreover, take the time to do it right with everything you do. Give more substance and respect to every moment we are allowed to compete in the race of life.
Happy birthday, Lincoln Dale Bowyer. Godspeed Dan Wheldon, Rick and Jeff Huseman.
Thanks for reading, see you next week.