What a way for the 2011 season to ride off into the Vegas sunset. With one million dollars up for grabs in Sin City at the inaugural Monster Energy Cup, the already tempestuous and batty Vegas strip got turned up a notch.
Ryan Dungey
made a last minute decision to make his KTM debut,
Ben Townley
made his long-awaited return indoors,
Mike Alessi
was back on a Suzuki and fighting for a factory ride, and
Ryan Villopoto
was in-line for one of the greatest seasons of all time--needless to say, the drama was at full throttle in Vegas. Throw in the best SuperMini and A/B amateur riders in the country and you have a recipe for success. We will be breaking down the race from every angle imaginable throughout the week, so let's get to the lap charts brought to you by Motion Pro.
MEC Open Class // Race 2

MEC Open Class // Race 3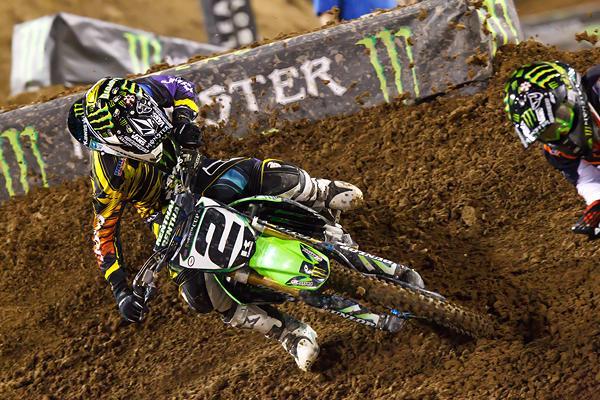 Villopoto set the fastest lap in all three races at the Monster Energy Cup.
Photo: Simon Cudby
MEC SuperMini // Race 1

| | | | | | |
| --- | --- | --- | --- | --- | --- |
| Lap Rank | Finish | Best Lap | In Lap | Avg Lap Time | Rider |
| 1 | 1 | 1:37.274 | 3 | 1:37.650 | Adam Cianciarulo |
| 2 | 2 | 1:37.504 | 3 | 1:38.528 | Cooper Webb |
| 3 | 3 | 1:38.953 | 2 | 1:40.591 | Blake Green |
| 4 | 22 | 1:39.806 | 3 | 2:07.579 | Chase Bell |
| 5 | 14 | 1:40.511 | 3 | 1:42.530 | Jon Ames |
| 6 | 18 | 1:40.868 | 3 | 1:56.633 | Tristan Miller |
| 7 | 6 | 1:40.884 | 4 | 1:42.334 | Mark Worth |
| 8 | 4 | 1:41.196 | 3 | 1:41.512 | Andrew Pierce |
| 9 | 5 | 1:42.507 | 4 | 1:43.081 | Bradford Young |
| 10 | 7 | 1:42.549 | 3 | 1:43.945 | Ashton Hayes |
MEC SuperMini // Race 2

| | | | | | |
| --- | --- | --- | --- | --- | --- |
| Lap Rank | Finish | Best Lap | In Lap | Avg Lap Time | Rider |
| 1 | 1 | 1:35.642 | 3 | 1:36.611 | Adam Cianciarulo |
| 2 | 2 | 1:36.036 | 3 | 1:36.036 | Cooper Webb |
| 3 | 3 | 1:39.497 | 2 | 1:40.844 | Blake Green |
| 4 | 5 | 1:40.625 | 3 | 1:42.096 | Tristan Miller |
| 5 | 6 | 1:40.821 | 3 | 1:42.368 | Mark Worth |
| 6 | 7 | 1:41.144 | 2 | 1:42.747 | Justin Hoeft |
| 7 | 4 | 1:41.993 | 2 | 1:43.490 | Bradford Young |
| 8 | 9 | 1:42.477 | 3 | 1:43.700 | Jeremy Byrne |
| 9 | 8 | 1:43.081 | 3 | 1:46.213 | Ashton Hayes |
| 10 | 12 | 1:44.323 | 4 | 1:46.822 | Chase Marquier |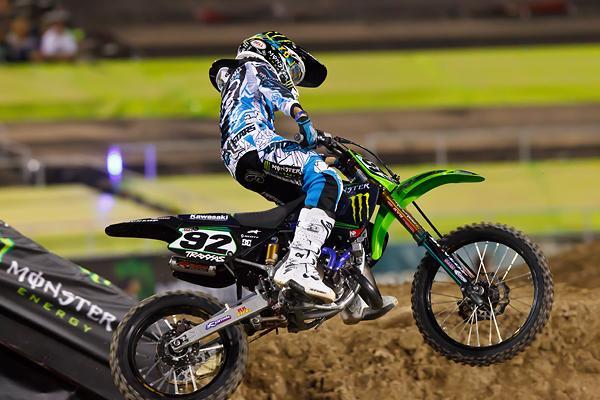 Adam Cianciarulo set the fastest lap in both SuperMini races en route to the overall.
Photo: Simon Cudby
MEC Amateur All-Stars // Race 1

| | | | | | |
| --- | --- | --- | --- | --- | --- |
| Lap Rank | Finish | Best Lap | In Lap | Avg Lap Time | Rider |
| 1 | 1 | 1:31.315 | 2 | 1:32.747 | Zach Bell |
| 2 | 2 | 1:32.929 | 2 | 1:33.134 | Cole Thompson |
| 3 | 3 | 1:33.592 | 2 | 1:34.566 | Austin Politelli |
| 4 | 5 | 1:33.677 | 2 | 1:34.171 | Jessy Nelson |
| 5 | 4 | 1:33.953 | 4 | 1:34.314 | Justin Hill |
| 6 | 6 | 1:34.564 | 3 | 1:35.698 | Grant Ransdell |
| 7 | 13 | 1:34.785 | 2 | 1:36.625 | Chris Alldredge |
| 8 | 9 | 1:35.063 | 3 | 1:36.003 | Brady Kiesel |
| 9 | 8 | 1:35.065 | 4 | 1:36.633 | Thomas Covington |
| 10 | 14 | 1:35.296 | 3 | 1:39.538 | Dillan Epstein |
MEC Amateur All-Stars // Race 2

| | | | | | |
| --- | --- | --- | --- | --- | --- |
| Lap Rank | Finish | Best Lap | In Lap | Avg Lap Time | Rider |
| 1 | 4 | 1:31.242 | 4 | 1:34.361 | Zach Bell |
| 2 | 1 | 1:32.515 | 3 | 1:33.209 | Justin Hill |
| 3 | 3 | 1:32.860 | 3 | 1:33.730 | Cole Thompson |
| 4 | 2 | 1:33.579 | 3 | 1:33.790 | Austin Politelli |
| 5 | 6 | 1:34.306 | 4 | 1:35.046 | Dillan Epstein |
| 6 | 5 | 1:34.725 | 2 | 1:35.802 | Thomas Covington |
| 7 | 7 | 1:34.902 | 3 | 1:36.418 | Jessy Nelson |
| 8 | 10 | 1:35.242 | 3 | 1:35.726 | Chris Alldredge |
| 9 | 9 | 1:35.341 | 4 | 1:36.512 | Zack Williams |
| 10 | 8 | 1:35.890 | 3 | 1:36.352 | Vann Martin |